Everyone hopes for adventure when traveling.
Adventure that includes: getting lost, getting found, discovering new cuisines, new cultures, new friends.
An adventure that no one hopes to have is…nearly being denied entry at their destination's border. Especially not when tickets across the country are pre-booked for certain dates, and therefore there's neither time nor flexibility to reapply for any visa.
It all began when I went to check in to my flight to Hanoi from Central Station in Hong Kong.  From the center of the city, you can check in for your flight and check your bags without having to take the trek out to the airport. (Brilliant! Why doesn't anyone else do that!?)
We presented our passports at the counter.  The woman behind the check-in desk was silent, typing away, pausing only to let me know that the passport number on my visa letter was one digit off from the number listed on my passport.  What was supposed to end in 3, ended in 8.  The staff began to reclaim my baggage from the conveyor belt, and I began to panic.
How could I have made such a small yet significant mistake? I made the mistake of searching the Internet for answers, desperate for my next step.  "Once you've made the slightest mistake on your visa, you can forget about getting into the country," I read.  I also tried the denial approach.  "It'll all work itself out, I'm sure they'll let me in," I told my friend.
We proceeded to spend the day in Stanley, strolling leisurely through the market and waterfront.  Pretending like my rejection at the airport had never happened.
The airline simply wouldn't let me board the plane bound for Vietnam when the numbers on my passport and my visa pre-approval letter didn't match exactly.  The airline claims to have made a call to Hanoi on my behalf for an exception, but even this promise seemed dubious.
What to do at this point?  Questions and scenarios raced through my head. Would I lose my ticket and have to rebook my flight?  Had a really made this amateur mistake at just the start of my trip?  Should I attempt to get an expensive rush visa today, or will I have to wait it out in Hong Kong and reapply online?
There comes a point (or two) in every traveler's time where luck plays a part in your make or break, at least for the smoothness of your journey.  This time, luck happened to be on my side.
After the denial wore off, we swiftly realized we could try to call the agency that issued our pre-approval.  Would they? Could they?  Was it too much to ask that they simply reissue the state document but change one digit?  It's not like we had spent weeks waiting for it in the first place…
The odds were not in our favor for this to somehow come together.  It was Sunday.   (Who's open for business midday on a Sunday?) The visa on arrival papers had a government seal and signature on it. (Can they even produce that in a few hours time?)
Even though I was mildly confident, deep down, that we could somehow find a solution…the thought of my friend moving on to Vietnam while I waited out a new visa in Hong Kong, of having to rebook all our overnight trains, of setting back our best laid plans for the country…tied my stomach in knots.
I checked the email I had sent in with my passport number…and here's the worst part…it was my mistake!  I typed the wrong last digit.
We called the agency again.  The number went through to a cell phone.  Amidst the chaos of much background noise, he asked us to send the correct passport number and in broken English, assured me he would resend the document.
We waited in silence, connected to the city's free wifi and anxiously refreshing my email inbox.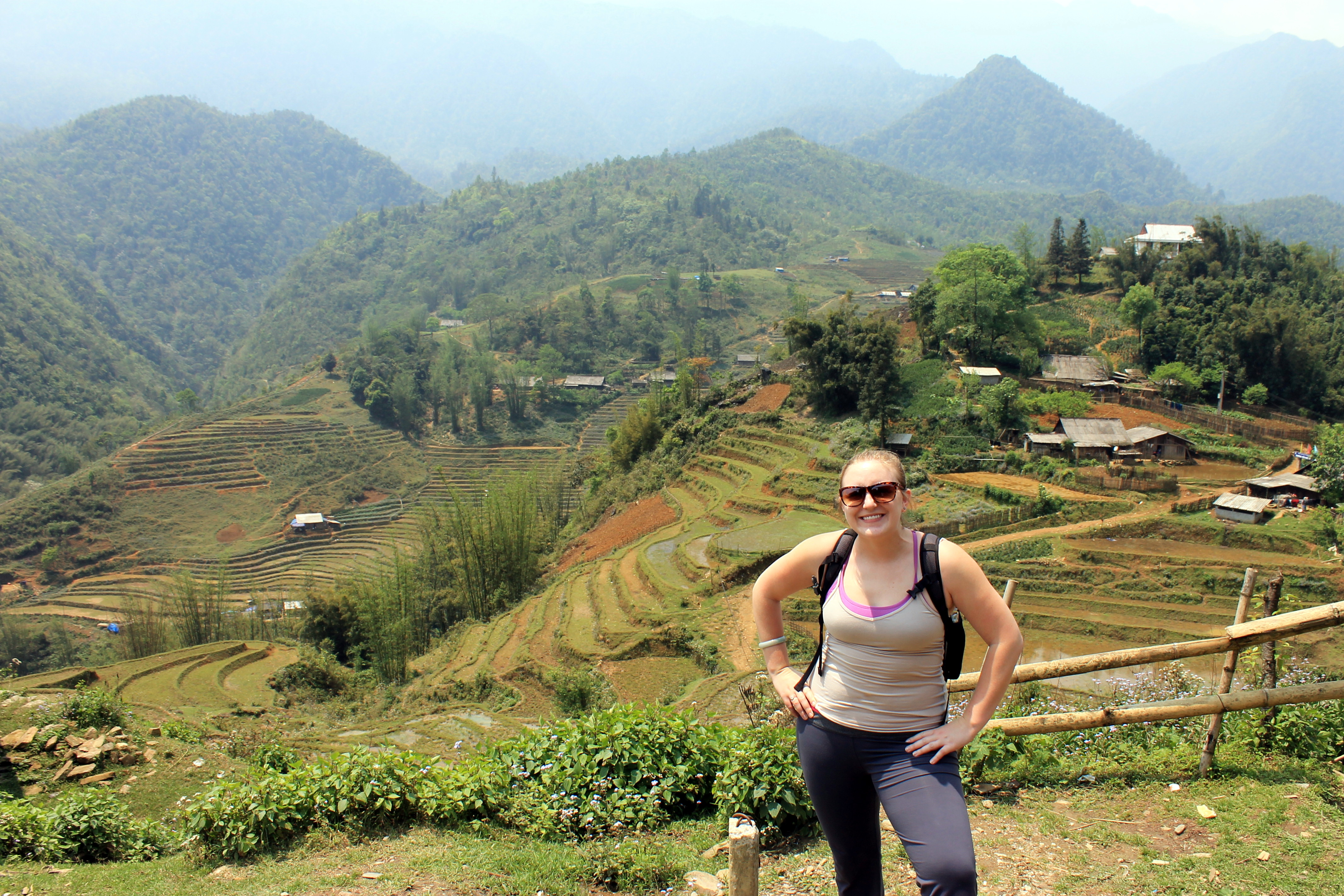 As you may have gathered, I made it to Vietnam.  The airline was confused, but they let me board.  It didn't end there though…
We had pre-arranged for visa on arrival and we had also pre-printed passport-sized photos required for the process.  My friend and I arrived into Hanoi to an enormously long line at the visa desk.  We submitted our forms, including the newly fixed pre-approval letter (thanks vietnamvisacorp.com!) and crossed our fingers no one would notice the mistake on their end.  We also realized…our photos were in our checked baggage, sitting on the other side of immigration.
Feeling quite silly at this point, my name was eventually called by the immigration window.  They pointed out a lack of photo submission.  I paid him a few extra dollars as a fee for them to process my picture, at which point he told me I'd have to wait until the entire line was processed to take a photo.  There were dozens of others waiting for visas.  I'd be there all night.
Facing my second hurdle of entering Vietnam, I decided to make a bold move.  I'd paid for the Vietnam visa, it was signed, and slightly changed on my behalf (phew!)
So I made for the immigration line with my newly printed visa, correctly numbered, took a chance it would work, and hoped for the best.
I nervously glanced at the officer and waited what seemed like an excruciatingly line time for him to grant me entry.  I made it!
Here are the takeaways from what I'm sure is just the first of many of my travel mishaps that you can learn from:

I was told, you'll be told, but I'm telling you again: double, triple check all digits pertaining to your passport and/or visa.
Have the contact information for any visa related communication readily available (email inbox and Evernote are great options.)
Be clear about the entry requirements, especially for visa upon arrival.
Have US cash available for visa payments (this I actually did right!)
Put passport sized photos in carry-on luggage.
Stay positive and as clear-headed as possible when faced with last minute barriers to travel plans!
More "adventure" to come. Thank you for reading and stay tuned…