A Mission District walking tour for travelers from around the globe…and this local.
It's an all too familiar scene.
Friends visiting San Francisco text to ask if I'd like to join them somewhere in the city. They know I love sharing my city with visitors, especially those who haven't been before. Yet a small part of me cringes when I hear their list of plans: Fisherman's Wharf, Pier 39, Union Square, Ghirardelli Square, riding in a cable car, clam chowder in a sourdough bread bowl.
I resist the urge to text them back with "No! Don't do it! It's a trap!" …Those are all parts of San Francisco that I have fond memories of, especially as a child. And for those who haven't been before, they're essential parts of the SF tourist experience.
The moment in which I shudder has less to do with any given person's San Francisco itinerary and more to do with thinking back to when that was all I knew of the city. It's all that most who visit know of the city.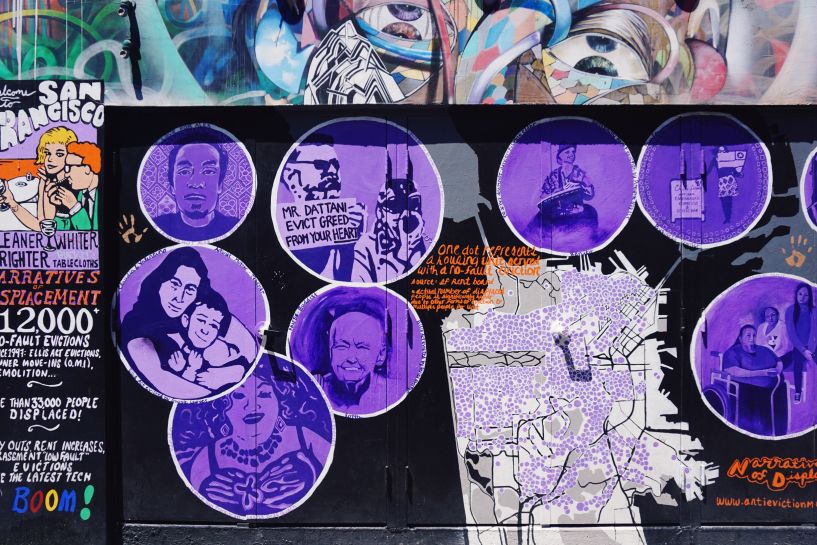 I grew up within a day trip's driving distance of SF. While certainly no local, I made enough trips to the city to know (or to think I knew) about where to go and what to see. I visited often, with a quiet but magnetic draw to someday living in the city (though I wouldn't become the person who could thrive there until later in life — I know this now.) Yet it wasn't until I eventually made the move…when I fulfilled my dream of being a real San Franciscan…that I learned how little I actually knew about it.
Perhaps the biggest case in point — and the first place I send visitors to — is the Mission District. The neighborhood doesn't tend to conjure up the classic visions of San Francisco that we see on postcards, but that's exactly what I love about it. And while it has changed significantly since I was a child, and arguably even more in the last few years that I've lived here, to me it's still one of the most interesting and exciting places in the city.
Another large part of why I love living in San Francisco is how walkable it is (car-free for three years here!) So when HI USA invited me along on one of their walking tours of the Mission District, I leapt on over there to take part.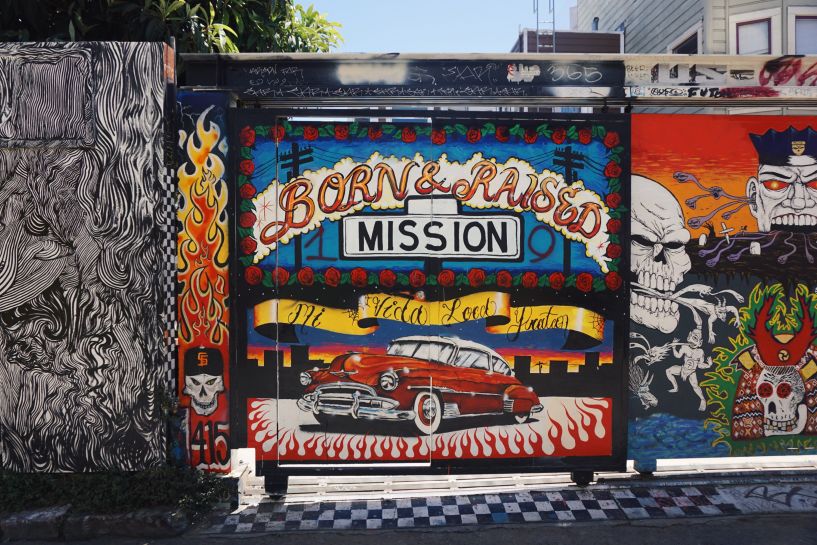 First Stop:
Zeitgeist
San Francisco's best beer garden is also an eclectic, locals-only bar and patio with one of the best Bloody Marys in the city. It's the kind of original joint that is getting harder and harder to find. It's the anti-trendy. Stop in for a beer, stay for the shaded back patio and people watching.
Next:
The Armory
One of the most intriguing buildings I've ever stumbled upon in SF, there's certainly more to this historic building than meets the eye. Once an arsenal for the United States National Guard, it was built to replace the one destroyed in the 1906 earthquake. From there it functioned as a sports and events venue, a filming location for The Empire Strikes Back (this is a true story,) and then was threatened until purchased by kink.com (you can guess the business they're in.) A fascinating landmark with many lives, it's under renovation for its next life stage, so I recommend checking out the exterior or getting a drink next door at The Armory Club.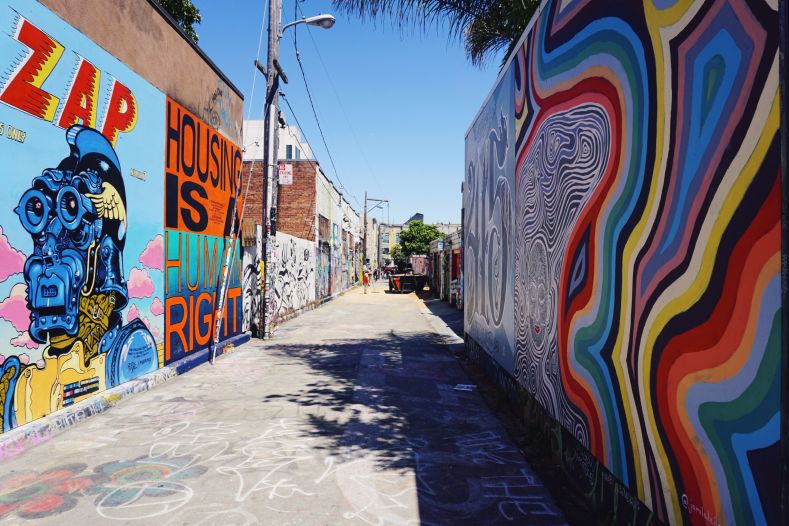 Next:
Clarion Alley
One of my favorite places in the entire city, Clarion Alley connects Mission Street to Valencia Street — and in some ways, it acts as a bridge between the two streets (traditional and gentrified…) and a symbol of the changing city. Social and political issues both local and national are present on its ever-changing walls, where beautiful art meets strong statements. Some sections of the alley's walls, which are covered entirely with street art, rotate regularly while others claim their permanent place. The tension between the old and the new SF is palpable, and the expressions of the community can be clearly seen. If you're lucky, you may even see one of the artists working as you walk down the alleyway.
Next:
Valencia Street
Other than Mission Street itself, Valencia Street is the main drag of the Mission District. Home to many of the shops, bars, and restaurants that have gentrified the area, it's where you'll find much of the city's trendiest spots. It's enjoyable to walk down Valencia and see old vs. new, classic vs. modern throughout.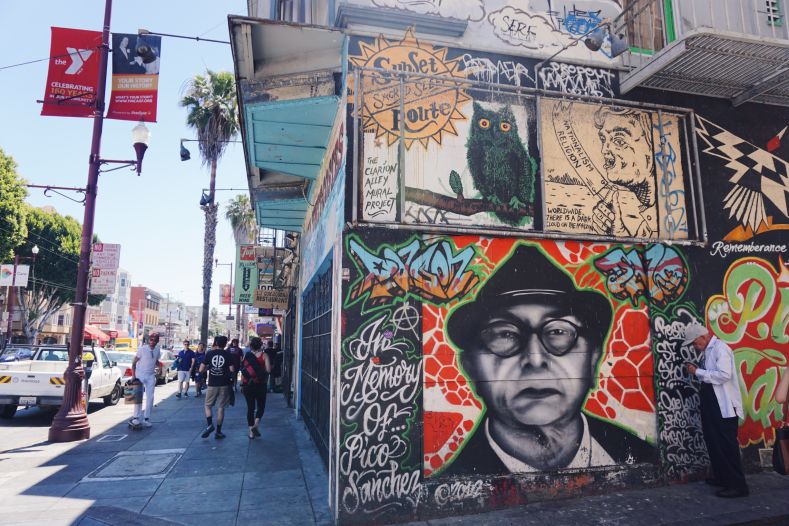 Next:
Taqueria El Buen Sabor
I was particularly excited for this stop on the tour — one, because food, and two, a taqueria I hadn't been to yet! It's the sister stop of another favorite of mine (Pancho Villa, near 16th and Mission) and it has an excellent taco happy hour daily from 3-5pm. The first and only thing I knew about the Mission when I first arrived was the Mission burrito, which to this day remains one of my biggest delights. This is the true San Francisco treat, folks.



Next:
Mission Dolores and Dolores Cemetery
For all the times I've walked through the Mission District, I hadn't ever realized the history behind the neighborhood's namesake. Mission Dolores is both the oldest intact mission in California and the oldest building in all of San Francisco. It was one of the only structures to survive the 1906 earthquake. Aside from that it's just amazingly beautiful. We were also told the history of the Dolores Cemetery, another one of few within SF.
(See, locals can learn something new, too!)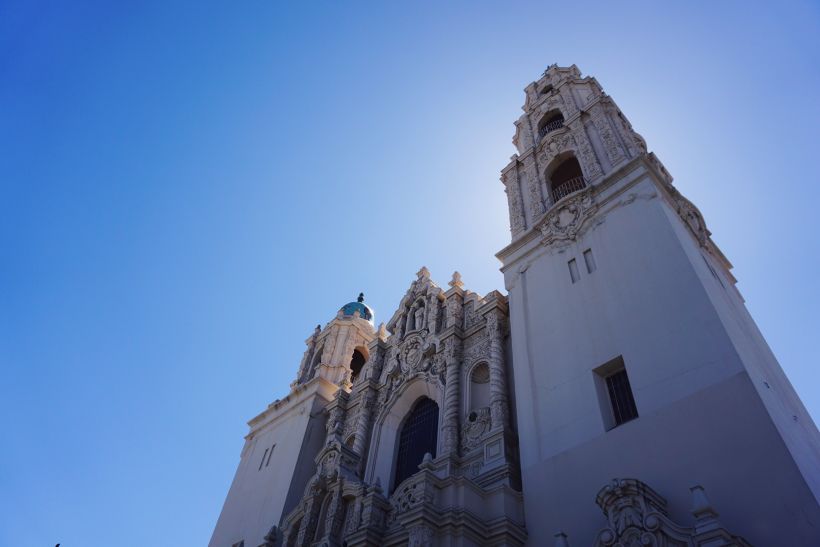 Last:
Dolores Park
If there ever was a place that summed up the Mission District, it's Dolores Park. Perhaps it's because at times it feels like the entire city is hanging out there — from tech bros to families to artists and hipsters. There's the coconut rum man, the Macaw parrots, and any combination of yogis and lawn games to suit your style. If you can tear yourself away from the people watching, it also has one of the best views you'll find of the city skyline.
Foodies may feel so inclined as to grab ice cream from Bi Rite or pizza from nearby Delfina and take it with them to the park (beware, everyone else does too.) Dolores is also one of the best spots to get some sunshine, even when fog creeps in on the rest of the city.

---
I couldn't have been grateful to the other travelers who allowed me to join them. Germany, New Zealand, China, Australia, and Russia were some of the many countries represented on our walk. Thank you for the gift of seeing my city through traveler's eyes!
The tour guides Mel and El were excellent, bringing to life some of what makes this my favorite city on Earth (and what might easily be overlooked by visitors.)
HI USA Downtown gives this Mission District walking tour to its guests every week on Saturday. I encourage you to learn more about HI USA's Green Footprints and sustainability initiatives in San Francisco and throughout the US!
And I hope the next time you're in San Francisco, you'll give the Mission some of your time. I'll meet you there… 😉
---
BONUS!
Other favorite Mission spots….
Restaurants
Al's Place

Mission Chinese

Foreign Cinema
Beretta
Bar Tartine
Flour+Water
Taquerias
Taqueria Cancun
El Farolito
La Taqueria
Pancho Villa
Bars
Trick Dog
Evil Eye
Southern Pacific
El Techo (Rooftop!)
Elbo Room
Coffee
Four Barrel Coffee
Ritual
Sightglass
Bakeries and More
Revolution Cafe
Bi Rite Market (ice cream!)
Samovar Tea (get the chai)
Arizmendi Bakery

Tartine

Salumeria
Dandelion Chocolate
Other
Dogeared Books

876 Valencia (The Pirate Store)

Therapy (clothing and accessories)

Aquarius Records
Note: this was not a paid partnership, just something I believe in!
SaveSave