I journeyed to Nan in Northern Thailand for an assignment and fell in love with a side of the country I hadn't had the chance to see in the typical Thailand tourist route.
—
"It seems that the more places I see and experience, the bigger I realize the world to be. The more I become aware of, the more I realize how relatively little I know of it, how many places I have still to go, how much more there is to learn." – Anthony Bourdain
Similarly, the more I travel within the same country, the more I realize how very little I have seen of it.
That was most definitely the case with Thailand on the eve of my last impending visit. As I approached my third visit to the country, I sat thinking: I've seen the beaches. I've walked the markets. I've visited the temples. In fact, I've checked off most of the tourist boxes, much as I disdain the concept.
It is also true that the more I travel, the more I want to take things slowly. I'm not immune to the syndrome of "I want to see all the things!" I still take my picture in front of the Eiffel Tower (or in this case, the Grand Palace in Bangkok.) I still want to feel the exhilaration of standing atop a hotel rooftop, sipping on cocktail on the edge of a famous bar with the city lights out ahead of me.
Yet there is merit in slowly letting a journey unfold, perhaps in a corner of a country that isn't vying for visitor attention. The beauty of continuing to return to a place is reaching a level of comfort to push yourself deeper, into pockets of the country and experiences you might once have overlooked.
Bangkok yells. Chiang Mai hums. The islands awe you and then sway you asleep into a hammock. What noise did Nan, a small, ancient city in a remote valley bordering Laos, sound like?
I had no idea what I would hear, but I was ready, ear pressed against a closed door, to listen and find out.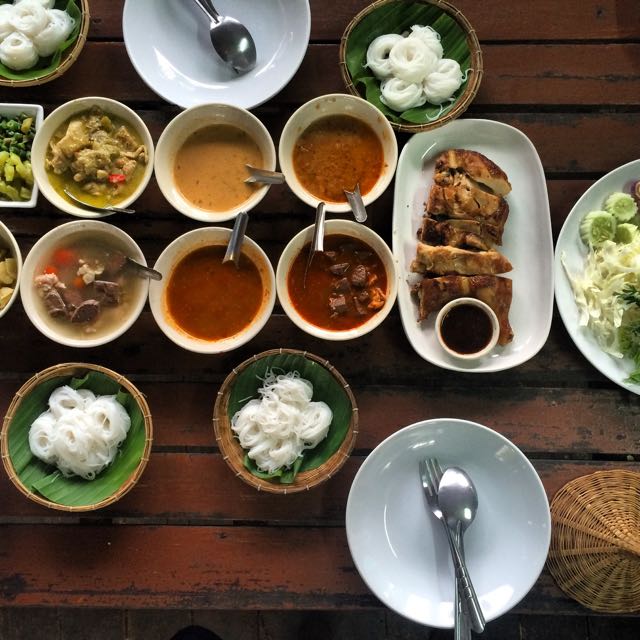 Nan was once an autonomous kingdom, separate from the rest of Thailand.
It is also rich in Lan Na (or Lanna) history and culture, which dates back to the age of kingdoms such as Siam and Angkor (now Cambodia.)  The Kingdom of Lan Na was rooted firmly in northern Thailand, also reaching into present day Laos and Burma. As a result there is a distinct heritage and style found here that is different from the rest of Thailand.

You can get to Nan via thrice daily flight from Bangkok
This flight is via Nok Air, or you can opt for the slow route and move overland from Chiang Mai. Not surprisingly, this option opened up various experiences and exchanges — from small villages, to local crafts, to hidden restaurants, and even more quiet corners. I enjoyed hearing Lampang and Phrae along the way.
The Nan province has a quiet, calming confidence to it.
Perhaps it is its imperial roots, or wild, natural landscape. It seems to say: I'm here, I'm open to your visit. I'm not trying to sell you anything. I am sitting here in peace. I won't be vying for your attention, but if you come with open ears I have secrets to tell.
There is only one 'tour' of Nan that runs to a few main sights in town: the Nan Noble House, Wat Phumin. What a refreshing change to see the sole tour being offered only…in Thai. (Read: the rest of the world hasn't discovered this place yet.)
This quiet beauty isn't for everyone. But it changed my perception of Thailand as a country. Just as the United States, in its diversity and vastness, has distinctly different personalities depending on where you go and what you're seeking…so does a smaller country inundated with tourism, where it pays to look beyond the obvious.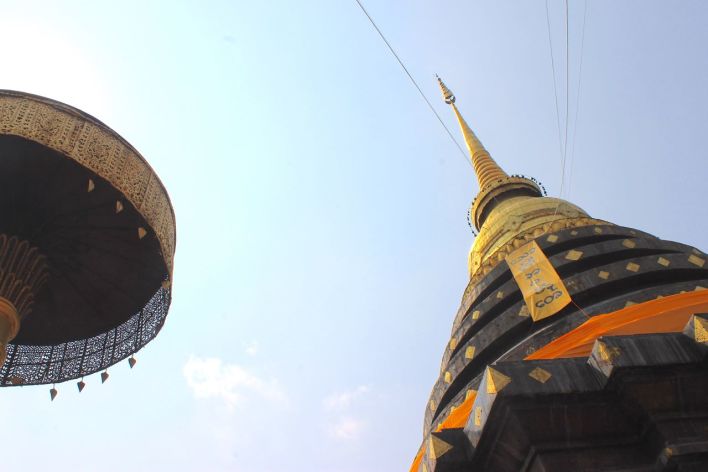 Much of the world is screaming to be seen, and wanting to be heard. Yet it is often in the tiny whispers of a place — when we move slowly, look carefully, and listen wholeheartedly, that we experience the soul of somewhere.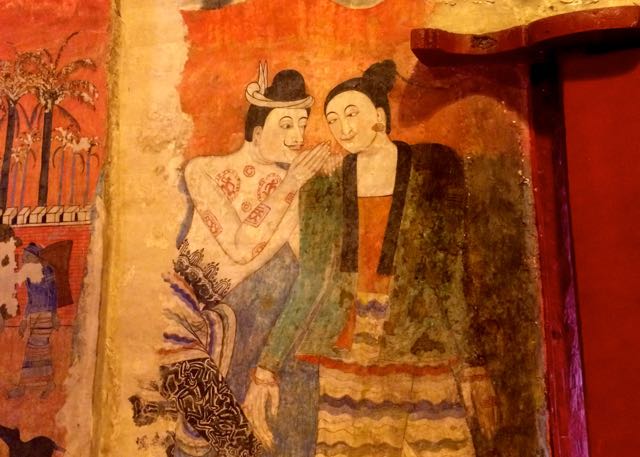 So, what does Nan sound like after all? It is subtle. You'll have to sit a bit still and listen carefully.
Nan whispers.
__
I was a guest of the Tourism Authority of Thailand for this visit to Nan, Thailand. All words, opinions, photographs, and thoughts are strictly original and my own.
Heading to Bangkok first?
<< Three Days in Bangkok Itinerary >>