A Mendocino Travel Guide
Seeking a calm weekend getaway from San Francisco? Look no further than Mendocino.
Growing up in Northern California, I thought I had weekend destinations here well established. Somehow it still took years of living in San Francisco for me to finally get to Mendocino. When I finally did, for the first time last spring, it quickly became a new favorite spot to get a change of pace from the city. Mendocino refreshes you in a way that is hard to describe.
Just a few hours drive up the Pacific Coast Highway from San Francisco, being here always feels like a breath of fresh air (maybe because it literally is?) Whether clear or misty, a wild, jagged coast awaits you, and no matter how many times you visit it feels like you've discovered some nature-filled secret. The redwood-lined drive in alone puts me instantly at ease.
I first ended up in Mendocino when looking for a weekend trip from SF where we could bring our dog along. It's not only dog-friendly, it's close for most of the Bay Area but is just tucked away enough to feel worlds away (in a good way!)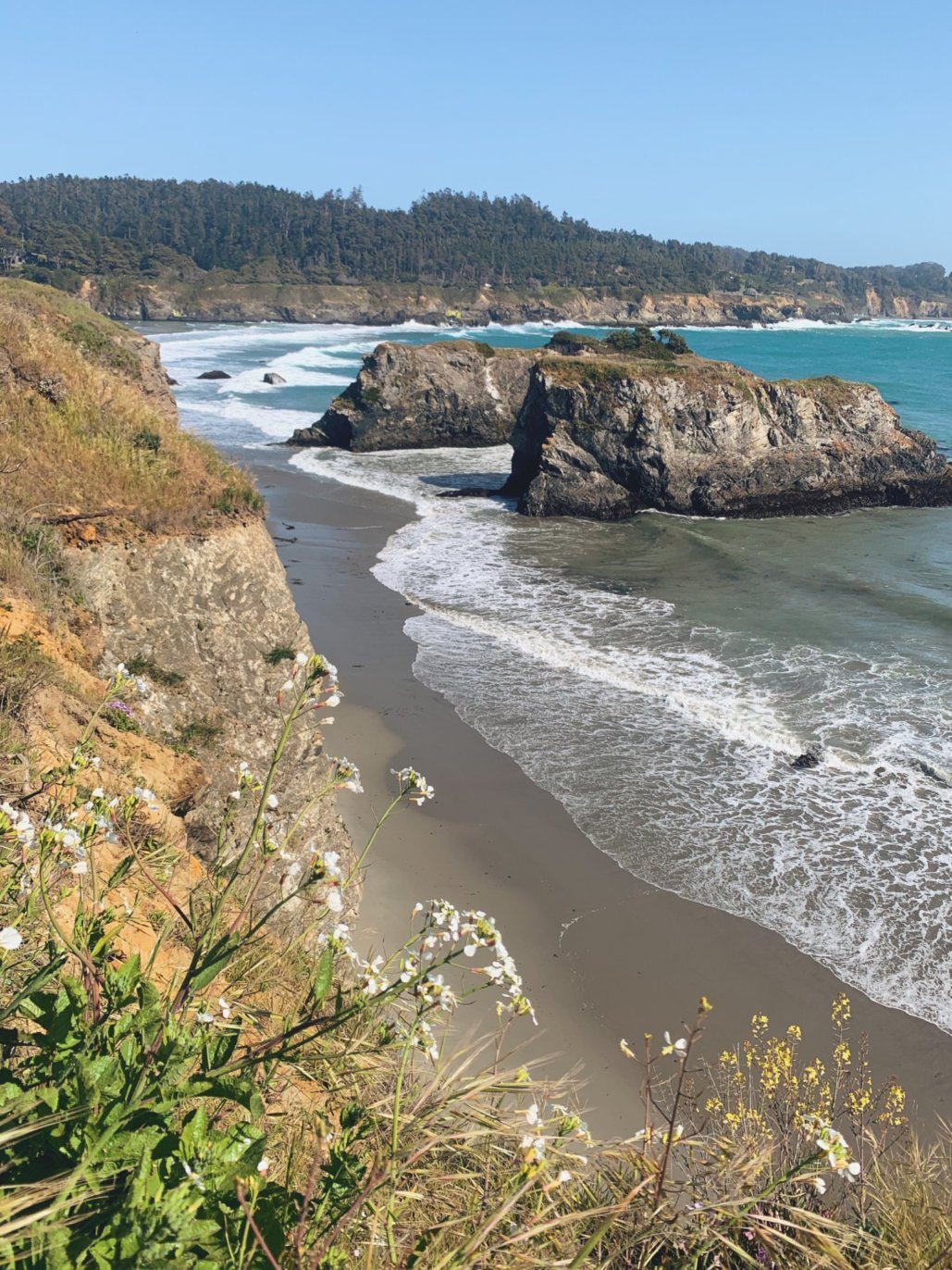 We first spent five days exploring the area and enjoying its beaches, trails, parks, gardens, and cafes. More recently I had the chance to return for my first trip with a newborn in tow.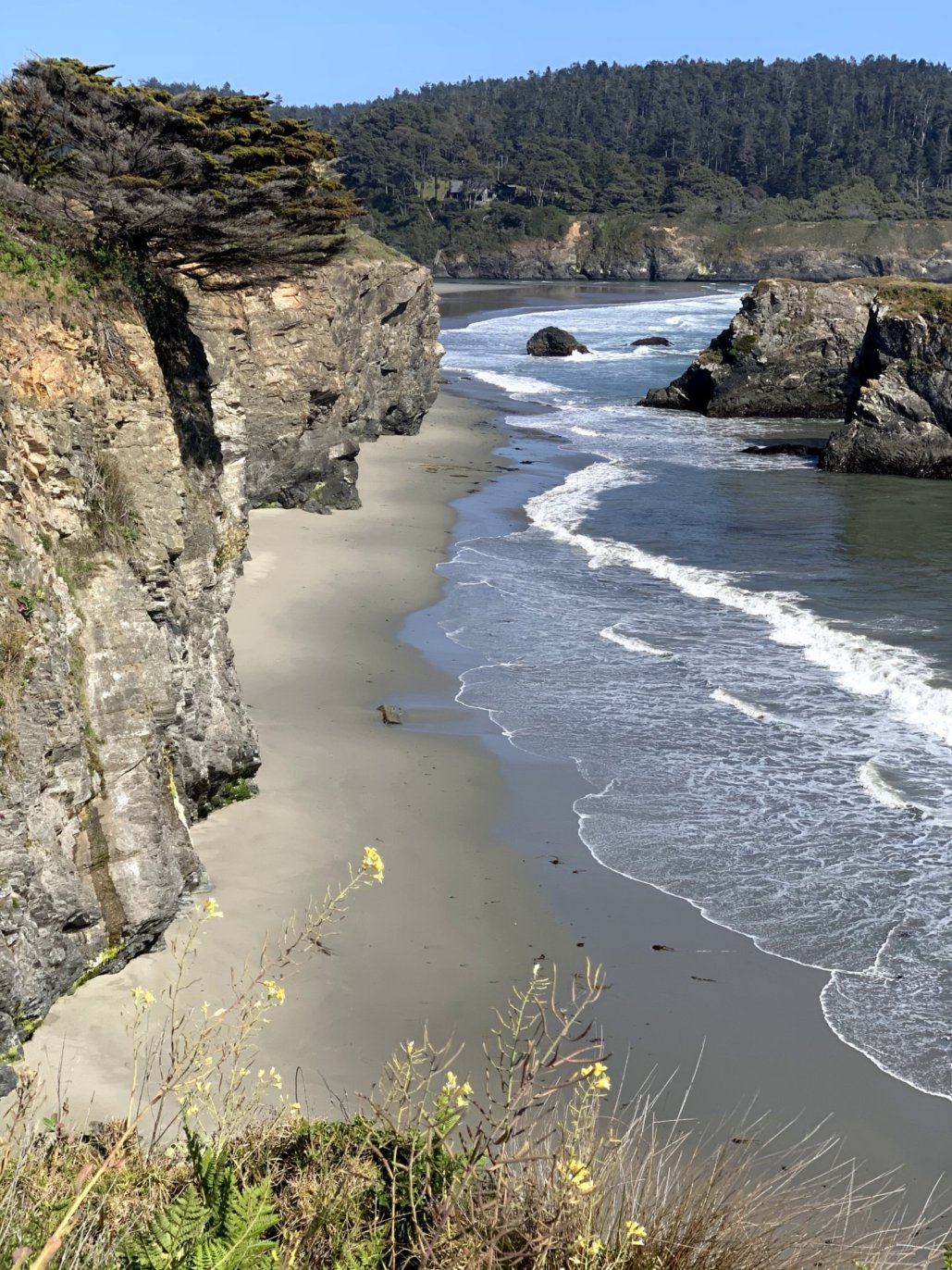 If you're looking for a coastal trip that's beautiful, calm, and friendly to all, it is definitely worth treating yourself to a Mendocino weekend. Here's what you need to know to plan a visit of your own.
Getting from San Francisco to Mendocino
From San Francisco, it's a short 3-hour drive through Marin and Sonoma, up the coast, and through the redwood forest. Plan 4 hours for a more leisurely drive with stops. You can also take two buses to get there if a car isn't in your plans, but it'll take you about double the time. I recommend driving if you can.
My favorite place to stop along the way is Boonville. It's always where we grab a bite (shoutout to the Disco Ranch, the loveliest wine bar and specialty food market) but you can also pause at any of the Andersen Valley wineries that call to you along the way. A few I recommend include Toulouse Vineyards, Husch Winery, Navarro Vineyards, and The Madrones, which has four tasting rooms in one beautiful location. Healdsburg is another favorite wine country spot that's easy to stop at along the way — although I typically reserve this for its own visit as it's much closer to the city.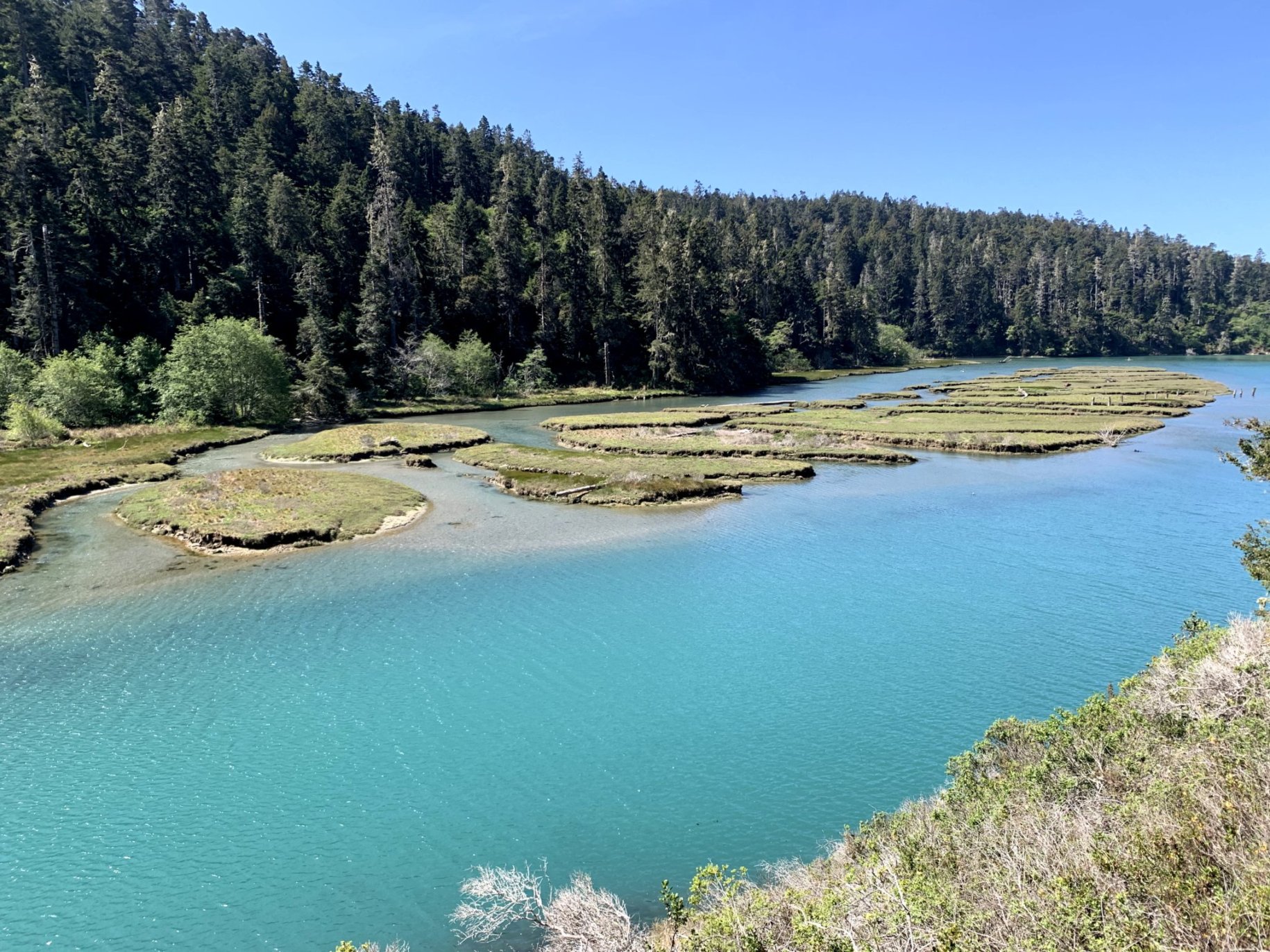 Where to Stay in Mendocino
I stayed at the same spot for both visits to the area: the wonderful Stanford Inn. There are many lovely inns along the coast, but for me, Stanford Inn checks all the boxes for a weekend getaway — peaceful, pet-friendly, family-friendly, and in general, friendly (i.e. wonderful people run the place!)
It's set in a meadow with organic gardens and farmland, with ocean views from many of the rooms. It's quiet but still close to town and has its own truly fantastic vegan restaurant on site (plus, breakfast is included each morning with your stay.) A bonus of the location is its proximity to Big River, with Catch-a-Canoe rentals and launch area steps from the inn's front door.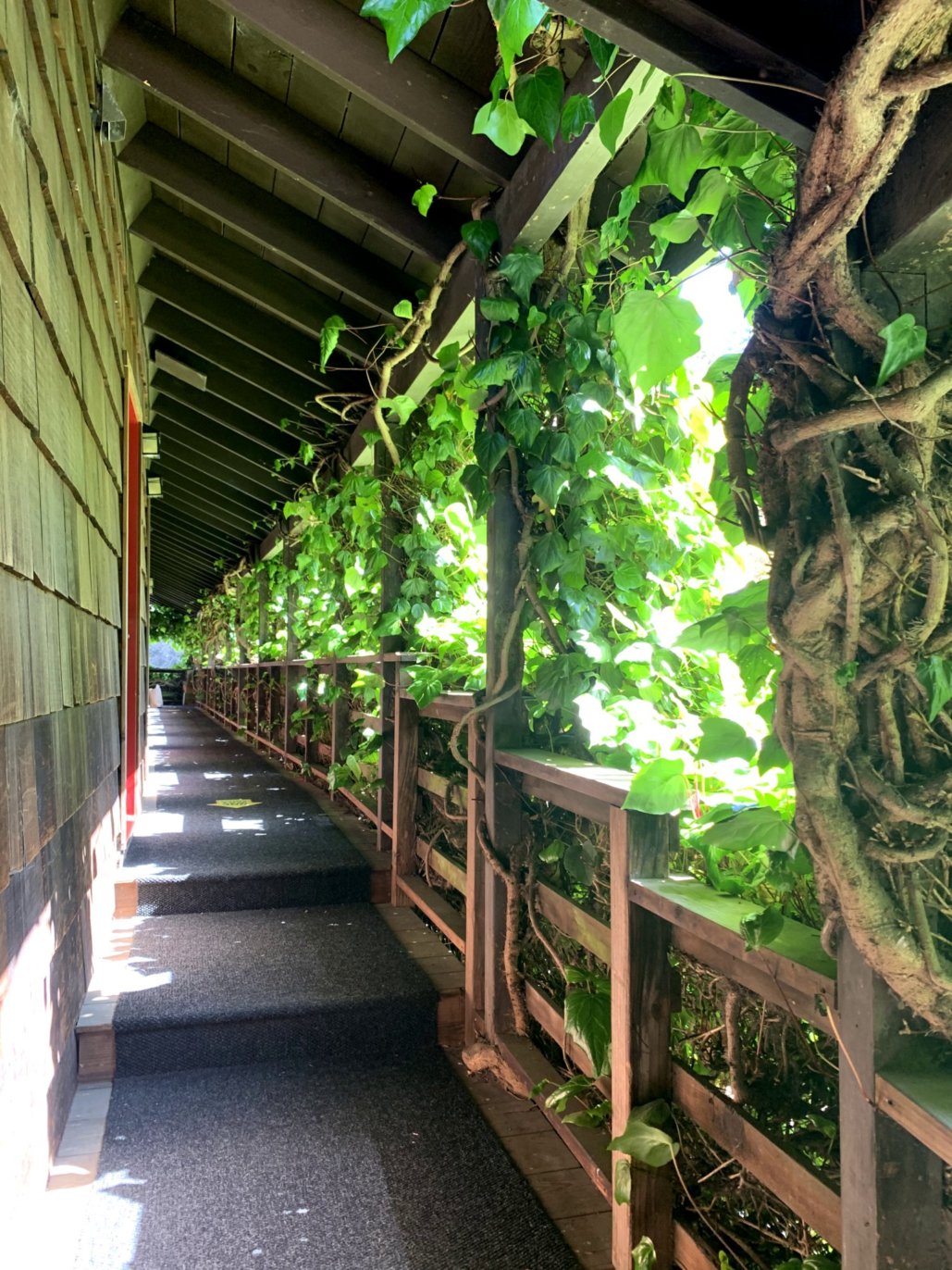 To me, the highlight of the Stanford Inn is its focus on wellness. I recommend relaxing on the property for at least one day to enjoy their gardens, sauna, and pool. They offer yoga classes, massage (in the forest!), gardening classes, plant-based cooking classes, and art therapy regularly. You can also arrange to experience acupuncture, Ayurveda, meditation, breathwork, or Chinese herbology with their knowledgeable staff. They even have free mountain bikes available to guests. Or, you can opt for my favorite activity as of late — lounging in front of the fireplace. There's one in every room.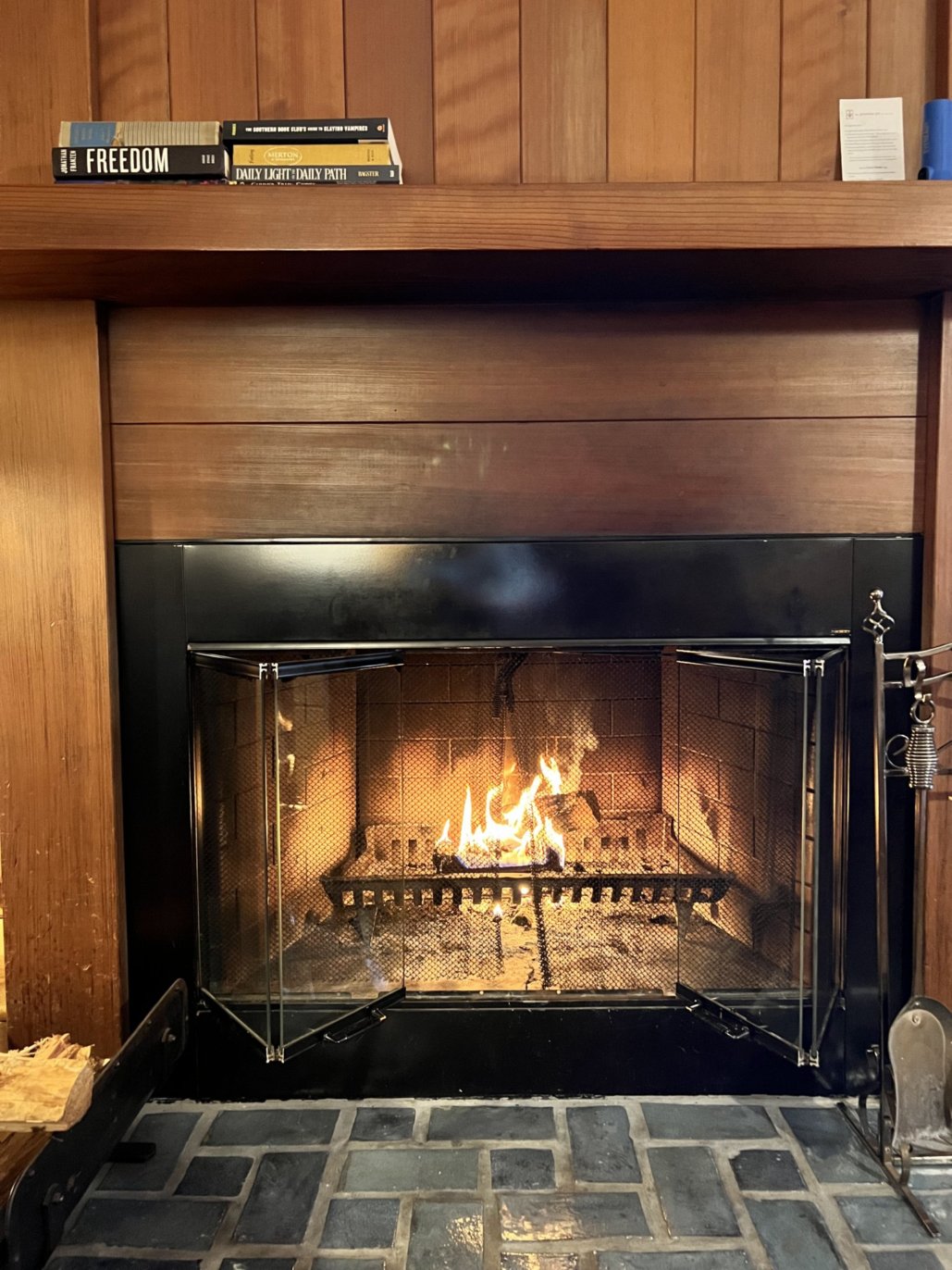 They welcome all pets, but for us, the small touches like freshly made dog treats and blankets so that our dog could sit comfortably on the couch with us, make all the difference. We opted for the two-room suite for our family of four (furry friend included) and it was great to have the extra space. Having stayed in multiple different room types there, you're in for a treat no matter which space suits your travel style.
Things to Do in Mendocino
Whether you're in town for the weekend or an extended stay, there's plenty to see and do (in a leisurely manner, of course.) I like to mix and match something active with something relaxing, like a hike with a restaurant or a beach trip with a bike ride. Here are a few things to bookmark as you explore:
Take a Hike
There is a wealth of places to enjoy a stroll in nature and get your forest bath on. A few noteworthy trails include the Russian Gulch Waterfall Loop, the Fern Canyon Trail, the Big River Trail, a Mendocino Headlands cliff walk, and the newly opened Noyo Headlands Coastal Trail a bit further up north.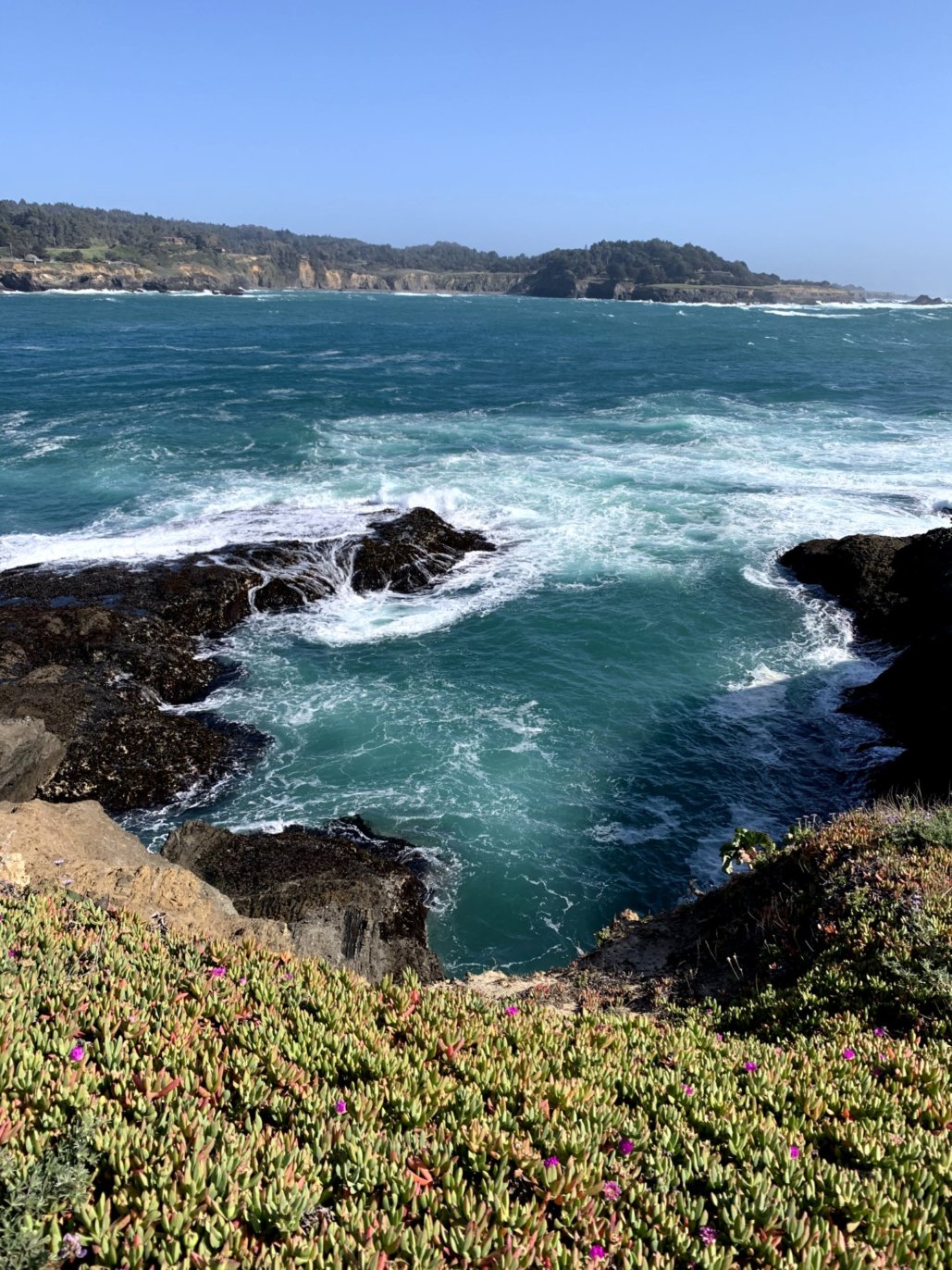 Rent a Bike
You can bike all throughout Mendocino and its surroundings. Biking leisurely around the downtown area is always fun, stopping for a snack or a drink along the way. Mountain bikers are also welcome on many of the hiking trails listed above. You can bike on old logging roads in Jackson Demonstration Forest. Heading inland a bit, Manly Gulch Trail is a great forest path for biking. If you're looking to bike next to the ocean, check out the Ten Mile Beach Trail just north of Mendocino in Fort Bragg.
Visit a State Park
Many of the area's best trails are located in state parks. Bookmark Van Damme State Park, Mendocino Headlands, MacKarricher State Park, Russian Gulch State Park, Caspar Headlands State Park, and Jug Handle State Reserve, and visit whichever works best for you on any given day (they're all beautiful.)
Be on the lookout for grey whales passing through if you're visiting during the winter. Year-round, we love exploring the tidepools at MacKarricher State Park. For those of you with pups in tow, the Headlands trail and MacKarricher boardwalks are both dog-friendly.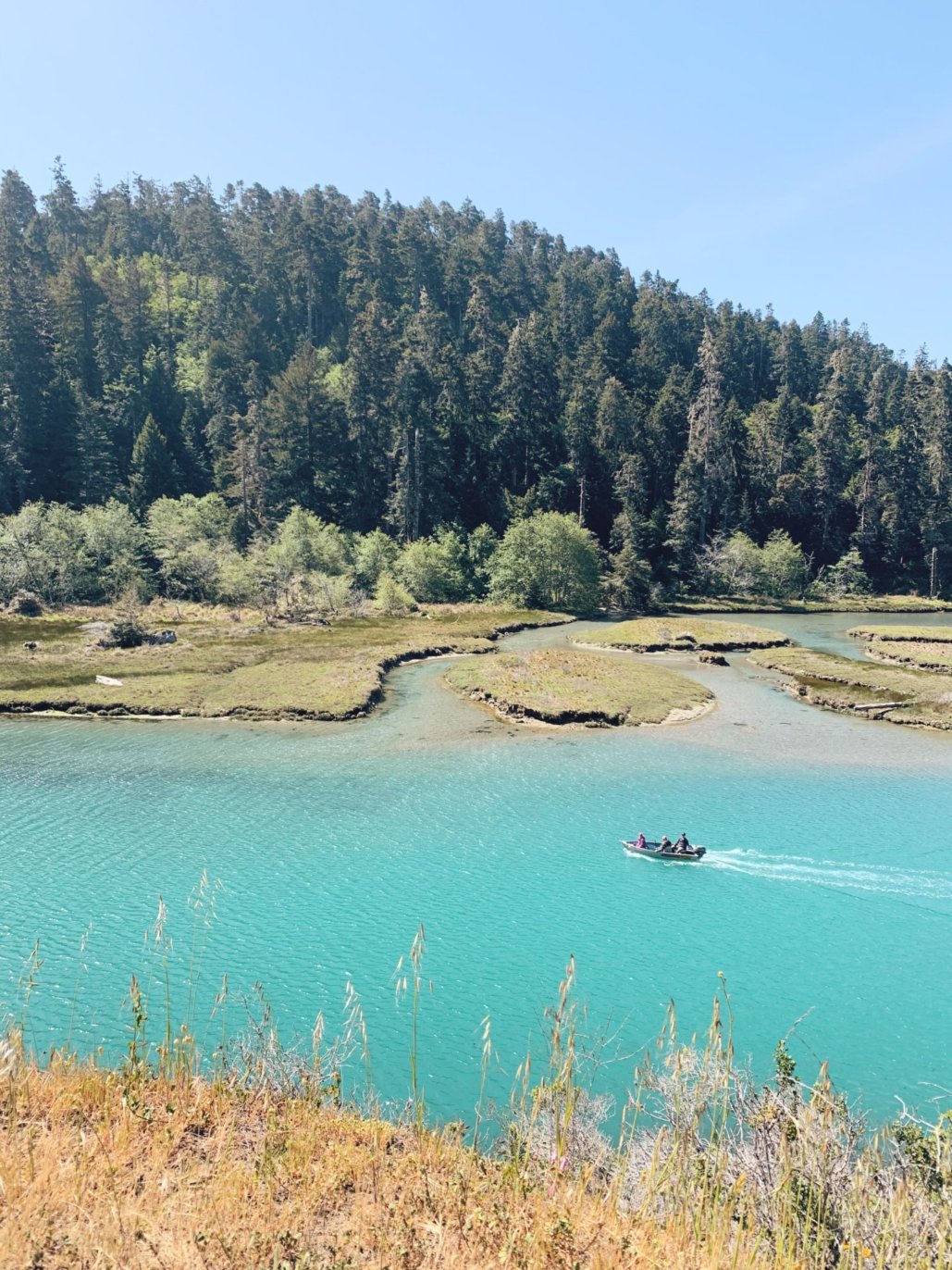 Catch a Canoe
One of my very favorite activities in this area is a calming paddle up Big River. If your preference is to stay on land, there is also a great hiking and biking trail that follows the river, or you can enjoy the views at Big River Beach where the river meets the ocean. Canoeing or kayaking all but guarantees a slower pace, with a sense of connection to the nature around you. We always see tons of wildlife, including birds, otters, and harbor seals.
Soak It All In
If after hitting the trails and beaches, you may be inclined to slow down a bit further. Up the highway, you'll find the Mendocino Botanical Gardens, a sublime garden spread out over 47 acres. You'll need to purchase your ticket in advance ($15,) and check their website for their opening hours which vary by season.
If you've had enough forest bathing and want to switch gears to actual bathing, look no further than the Sweetwater Spa. The eco spa in the center of downtown has outdoor soaking tubs to access either privately or communally (note that clothing is optional in the community tub.) There's also a redwood sauna on site. You'll want to reserve the private soaking tub in advance.
Where to Eat in Mendocino
These are my favorite places to grab a bite in and around Mendocino (after several visits:)
Cafe Beaujolais – dinner, but The Brickery inside is fantastic for lunch
Patterson's Pub – lunch and dinner (don't miss the fish and chips!)
Good Life Cafe and Bakery – breakfast and lunch
The Ravens Restaurant (Vegan) – breakfast, lunch, and dinner plus happy hour before 6pm
Noyo Fish Company (Fort Bragg) – lunch and dinner, fresh from the sea at Noyo Harbor
Princess Seafood (Fort Bragg) – lunch, women-owned, also at Noyo Harbor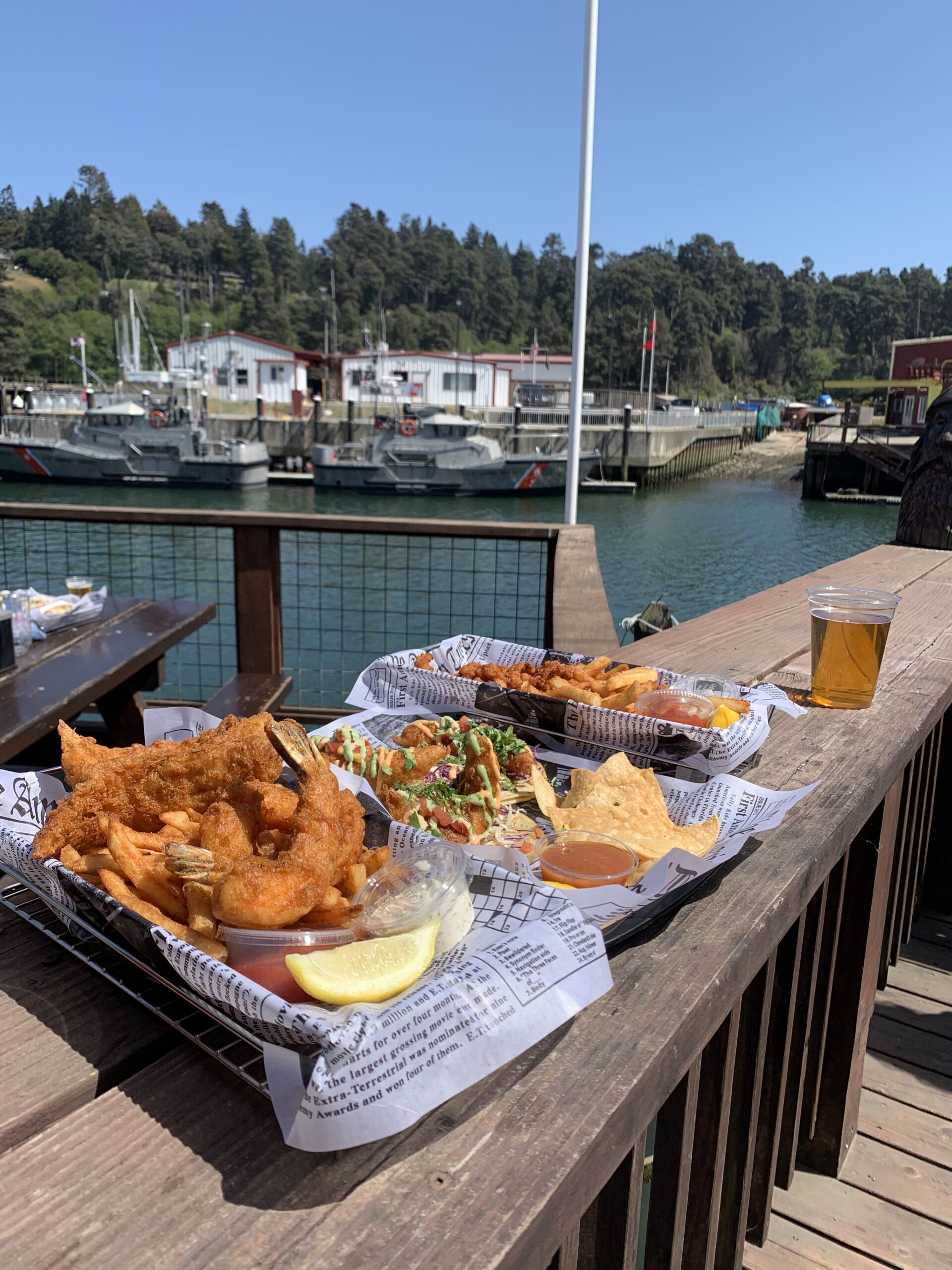 And to drink, check out North Coast Brewing Company in Fort Bragg if you enjoy craft beers! Fort Bragg is the area's largest town, located about 15 minutes drive up the coast from Mendocino's downtown.
I hope you enjoy the area, including the scenic drive from San Francisco to Mendocino, as much as I have! Let me know in the comments if you have other favorite spots you recommend exploring here.
:: save for later ::