Sigh…
I had no idea how hard I would fall for Seattle.  It's like a breath of fresh air (literally.)
I had an idea that it was a city worth visiting, but I had no idea how much I would enjoy the streets, the people, and most of all—the FOOD scene.
Once I knew I'd be visiting Seattle for business–and staying for pleasure–I immediately reached out to my network of Seattle-ites, travelers, and foodie friends for recommendations.  I was blown away by the outpour of responses and enthusiasm for Seattle food establishments (this is the beauty of Twitter, people!)  I left for the city with a long list, some decisions to make, and an empty stomach.
What follows is what I discovered, on what my brother lovingly deemed as my "food-caytion" to Seattle.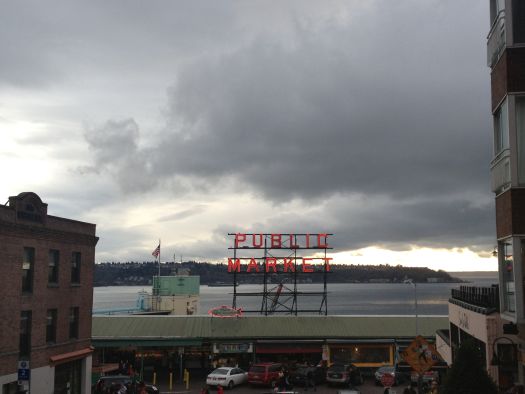 As the recommendations began to pile up, I began to notice that several places were repeatedly mentioned.  This made my job of selecting where to eat only slightly easier.  What made it much easier was finding out that most of the places I wanted to go were located in the downtown area.
With only a few days in town, or without access to a car, you can stick to downtown and have dozens of Seattle's best within walking distance, which is how this list took shape.  Be forewarned, however, that some of the very best places are waiting for those ready to venture outside of this area…
Some establishments below are hands-down recognized as superb.  Others are a bit more divisive—you either love it or hate it (hopefully, it's love.)  This downtown list is intended to be an introduction, certainly not all-inclusive.  I can't wait to go back and explore more neighborhoods.
I went, I saw, I tasted, I conquered.  I highly suggest you do the same.
Downtown Area:
Pike Place Market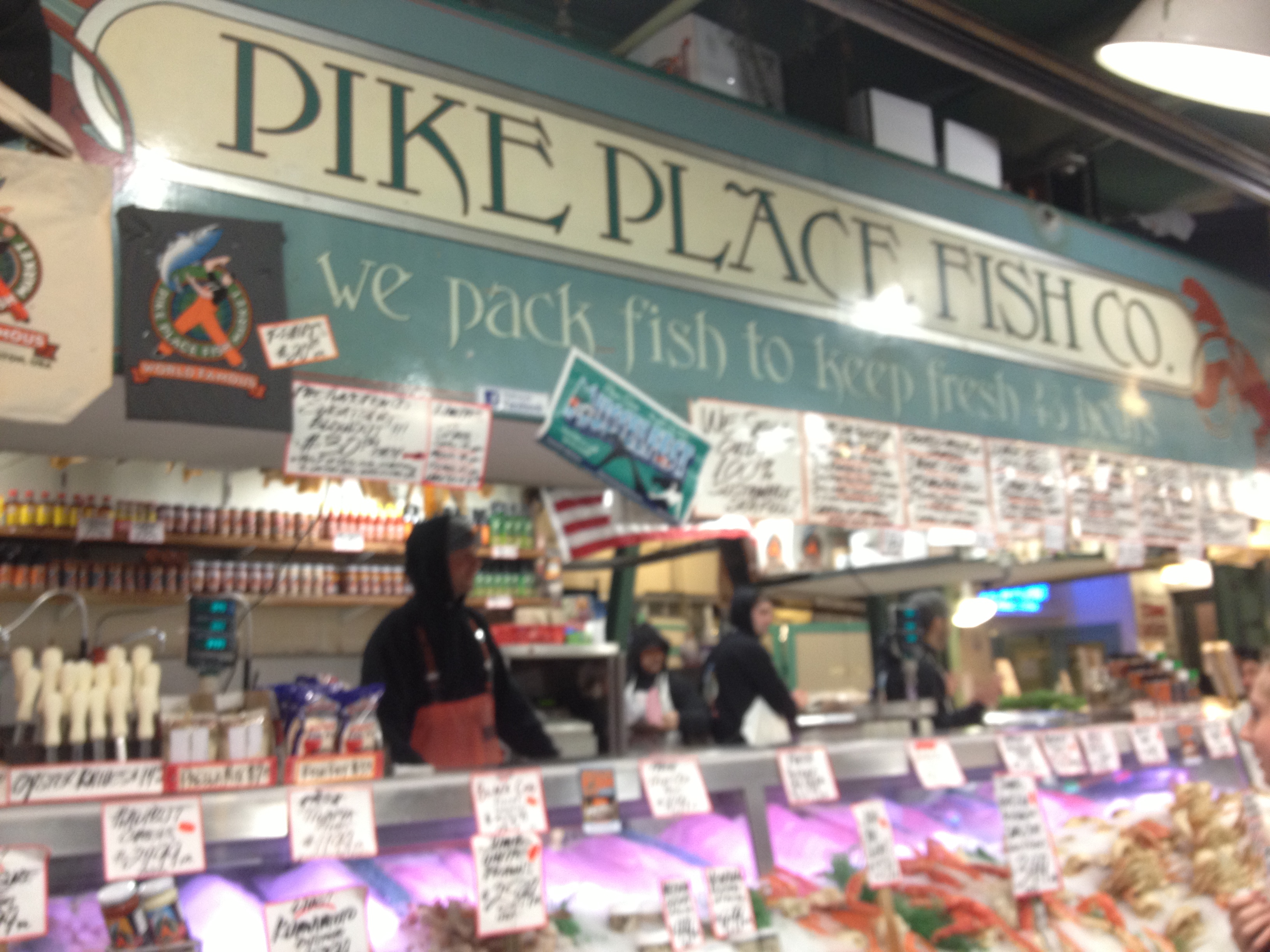 Call it touristy, but it's simply a must-do–especially when it comes to food.  You know you want to meet Rachel the pig (a bronze statue at the front of the market, the unofficial mascot) and see the Pike Place guys throw the fish (hali-BUT, up!)  Lucky for those of us short on time, you can sample a wide range of Seattle's best food offerings within a few blocks.
Famous for their handmade cheese, this place serves up views of the cheese-making process AND what is supposedly "the best mac 'n' cheese in the world."  It's good–fresh, creamy and cheesy.  I would deem it "the best non-homemade mac 'n' cheese in the world."  It's fun to go, especially if you're a sample fiend like I am.  You can taste the cheese curds and sample several of their cheese varieties.  AND they make grilled cheese.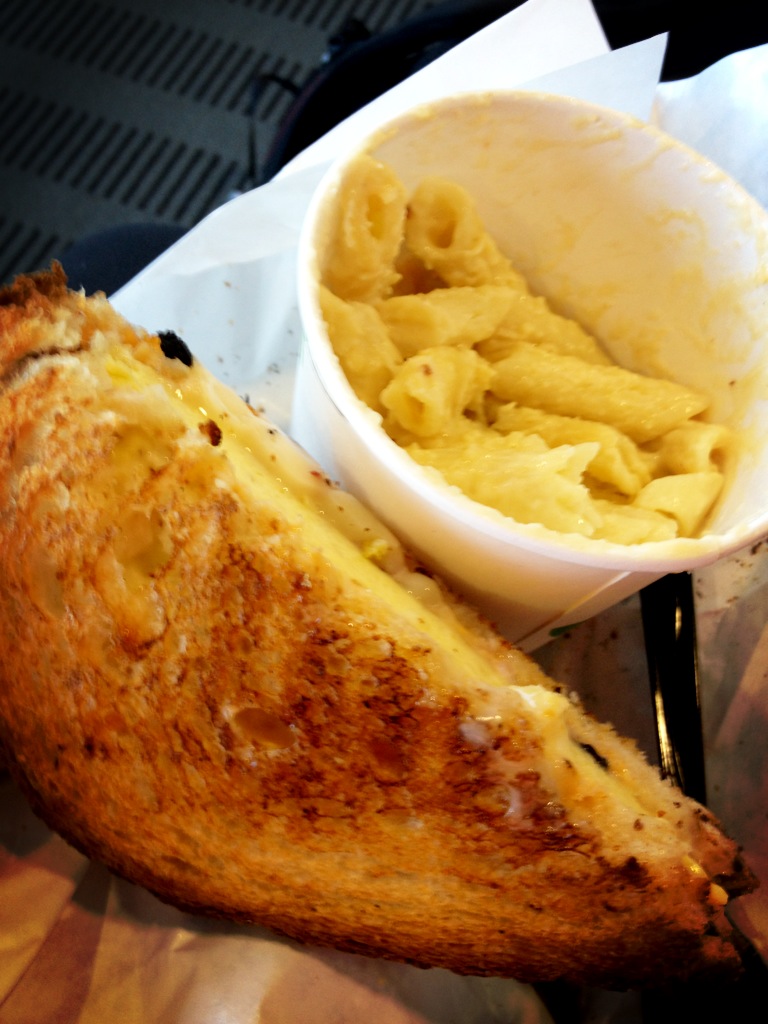 WOW. Wowy, wow, wow…wow.  If you like seafood, if you like hot soups, heck if you have tastebuds!…save room for this place.  It's nestled in an alleyway half a block up from the entrance to the market.  I was skeptical walking up as it appears to be quite touristy at first glance.  The association with touristy=not tasty has some merit.  This place blew me away!  They have several different chowders, and if you really want to annoy the staff you can ask for a taste of each of them.  They also have a chowder sampler you can purchase (with a hefty appetite) of four 5 oz. servings of different chowders. There's the classic, award-winning clam chowder, a smoooookin' smoked salmon chowder, a daily special (which was crab and oyster on the day I was there), even a Vegan option.  I cannot remember anything after that, because I tried their scallop chowder and it changed my life.  Call me dramatic.  Actually, go taste it for yourself and then call me dramatic.
Pike Place Area Bakeries: Three Girls Bakery, Mee Sum Bakery, Le Panier (macarons!)
Just a few steps from the entrance are several bakery options.  A local friend introduced me to Three Girls, and everything I sampled there–from a lavender shortbread to a ginger molasses cookie–was exceptional.  Mee Sum had me drooling over their pork buns and the sesame red bean ball I got there is one of the best I've ever had.  Finally, I can't do without my macarons, and Le Panier didn't let me down.  Check 'em out.
Hooooooly. moly.  (A real reaction, not intended to be a doughnut joke.  I made an accidental pun!)  These bad boys are small, cheap, kind of dirty lookin', and deep-fried, but there is always a line for a reason.  You can only buy by the half or full dozen.  Proceed with caution, friends.
I hesitated to include this, because I can picture half of you rolling your eyes at the screen.  But really, it's a pretty neat thing to visit the "first" Starbucks.  It's got a bit of a different feel from your normal, ubiquitous Starbucks shop.  You get to see the original logo (no comment, mermaid lady!) and…fan of the coffee, fan or the conglomerate, or not, it is worth checking out the place where this gargantuan chain got its start.  I began picturing all the Starbucks I've seen all over the world.  It was worth visiting to me.


Oh my, would you care for some tea and crumpets?  I loved this place.  Unless you're a certified Anglophile like myself, chances are you haven't had a crumpet before (have you?)  Because I'm weird like that, I got certifiably excited when I saw this place, and even more excited when I stepped in and smelled the fresh crumpets.  They have savory and sweet options, and copious amounts of tea.  For a fun (and a little different) experience on a Seattle rainy day, this place doesn't disappoint.
I was dragged to this food stand by the man in my life, and initially I didn't see the appeal.  Who would want seaweed with their polish dog?  It was a fusion I wasn't too keen on trying.  Especially since I had seen Japadog in NYC on my last visit.  I didn't have the chance to try the original Japadog while in Vancouver, and many will claim that this Seattle stand is a ripoff of that place.  However, I was surprised and delighted by the mixture of flavors and cuisines.  We had the Matsuri and the Suriyaki—start there if you don't know where to go with their menu.  Expand your taste buds here…I'm glad I did.
Nearby:
Purple Cafe and Wine Bar (1225 N. 4th Ave)
After several recommendations from friends, we settled on this place for my birthday dinner.  The food was great — order the tapas (my favorite part) and enjoy the huge wine collection.
Elliott's Oyster House (waterfront)
If you are oyster-obsessed like myself, this place is heaven.  They have all the different types of fresh oysters on display, and you can pick and choose to your heart's desire.  I didn't have anything other than oysters here, but the food that I saw go by looked great.
Ray's Boathouse (waterfront)
Sad to say, I didn't make it here (there's only so much time in the day!) but it came highly recommended from several different sources.  Looked like a beautiful place to eat on the water, and their tasting menu online looks phenomenal.
Serious Pie  (316 Virginia St.)
A Tom Douglas establishment (an apparently famous Seattle chef? everyone I met was like…you don't know Tom Douglas?!), I enjoyed one of my business dinners here.  Well-respected and well-loved….don't hate me, but I didn't love it.  The menu and ingredients gave me high expectations.  It wasn't bad…I quite simply have had better, similar food elsewhere.  I was with a large group and tasted a lot—some of the highlights were their kale salad and clam pizza.  It seems to be a favorite, so I listed it here so you could go and try it for yourself.
Le Pichet (1933 1st Ave.)
I only had coffee here (confession: addict) but while I was waiting for my macchiato, I became entranced by the beautiful, fine French food this place has to offer.  I've heard great things—so it made the list if you're looking for a French bistro option.
Salumi (309 3rd Ave South, near Pioneer Square)
DON'T EVEN GET ME STARTED.  This place isn't open on Saturday NOR Sunday, and my foodie dreams were officially crushed when I didn't have the chance to taste what looks like a true gem of Seattle.  It offers meaty temptations such as lamb prosciutto and mole salami (the sauce, not the animal.)  As Anthony Bourdain said, "if you're going to wait in line anywhere for an hour and a half, do it here."  (Hence, my disappointment.)  Please go on my behalf and let me know how amazing it was.  (Next time!)
Outside downtown: (but worth the trip)
Let's talk about some of the hype surrounding this place.  It's practically the number one restaurant in every single review.  It is frequently cited, not just in Seattle, but worldwide as a "best sandwich in the world."  Aaaaand it's a little Caribbean sandwich stand.  There is so much to love about this place.  Stop reading. Just go.
The Walrus and the Carpenter (Ballard)
Another place I didn't make it to on this trip, but that was almost always mentioned as a must-eat in the Seattle food scene.  The menu changes daily and ranges from oysters to medjool dates to duck liver parfait.  Can I have the scallop tartare…now, please. Add it to the list of places I need to go…next time.
Whether you're a Seattle resident, or a traveler who has never been, I hope I have given justice to my first foray into Seattle's epic food scene.  I had no idea what to expect.  Perhaps now you foodies will add it to your travel list!