Let's talk New Zealand! I've gotten a few requests from readers (love getting these!) for my New Zealand itinerary. While I'm certainly no expert, I did spend three weeks driving what was essentially the entirety of the country. I did talk with a lot of Kiwis (as will anyone who travels there, they're the nicest people on Earth!) So with a little bit of research and a bit more of experience, may I present….
Two Weeks In New Zealand Itinerary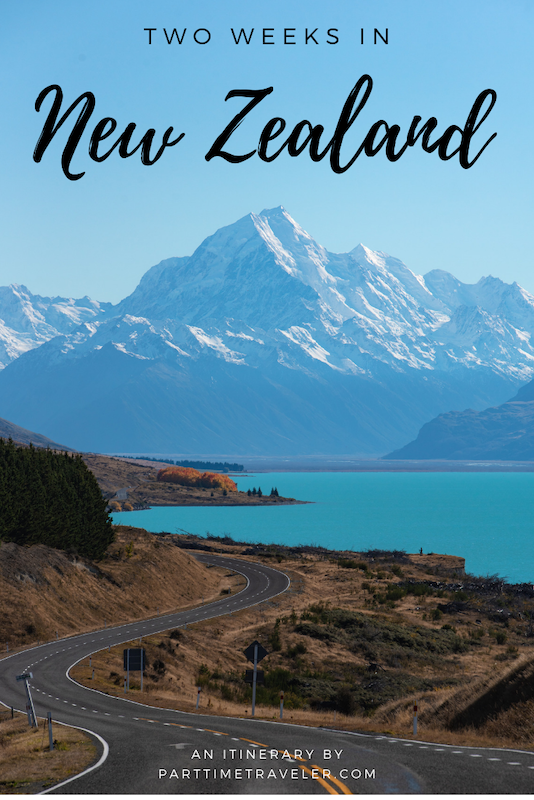 Updated in 2019
I'll start with two weeks, because if you are indeed a part-time traveler as I am, that may be the most that you can gather to be there in one trip. I will also include a more comfortable three-week itinerary–which is close to the one I followed–as well as a longer 4 week one to accommodate a few other schedules. Please note: two weeks is the absolute minimum I would plan in New Zealand. Though fast-paced, it can be done, and you can see a lot of the highlights. It depends on your preferred speed of travel; I know some people would prefer to just see the North Island and come back a separate time to see the South.
Others have shared they may never return to New Zealand, so they want to see what they can in the time they are there. I can't recommend enough that you extend your time to 3-4 weeks here if possible.
I will give you an overview of places and sights, but it's important to remember that as with any itinerary, things can and will arise out of the ordinary…and that's half the fun! Keep in mind that much of this dual-island trip is spent driving. It's probably the only country in the world where I would truly enjoy that much time on the road. Also note that this two week itinerary does not include travel time to/from the country. It could be as simple as an overnight plane from LAX or as long as a two day journey from Europe. It depends where you are traveling from, of course.
Day One
AUCKLAND
Enjoy an introduction to the country in its largest city. Highlights include visiting the areas of Devonport and the lookout at North Head, the CBD and strolling Queen's street, taking the ferry to dormant volcano Rangitoto Island, or simply sampling a beer or cider at a pub in neighborhoods like Mission Bay and Kingsland (a few of my favorites.)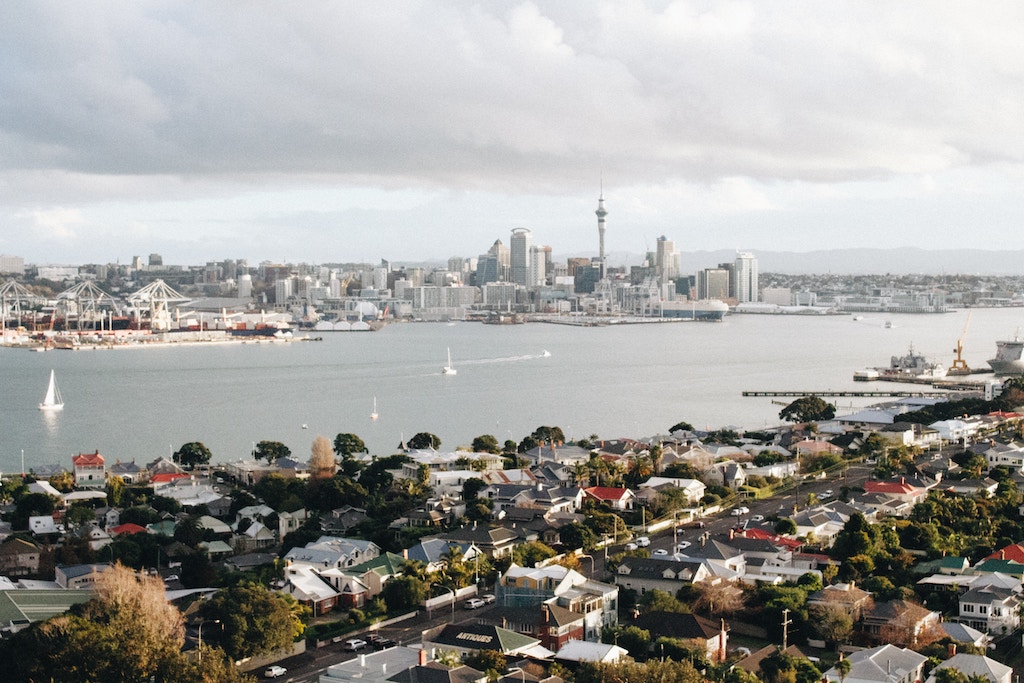 Day Two
QUEENSTOWN
Save money by catching an early morning flight all the way to the South Island, where you can hire a car and see the country for what is generally a much better price than starting in Auckland. Spend today exploring Queenstown, perhaps ride the gondola up the hill for the views of your life.

Day Three
MILFORD SOUND
It's easy to see Milford Sound as a day trip from Queenstown via the four-hour road to Milford. You can either you drive yourself (highly recommended) or take a bus tour out. There are also two ways to get on the water: kayak (also recommended) or fjord cruise (usually included in bus tours.) Either way, get ready for some of the most beautiful scenery you could imagine (and, a long day!)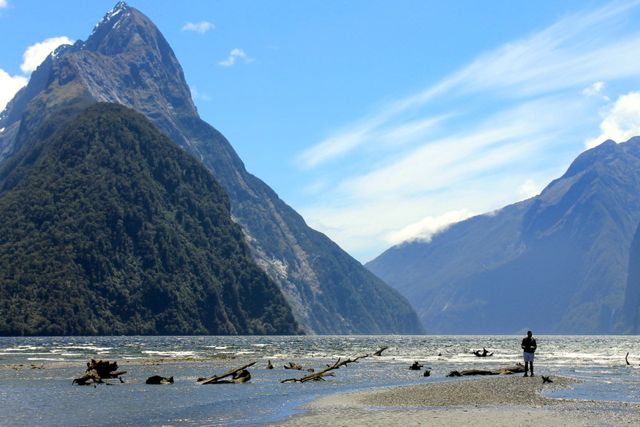 Day Four
QUEENSTOWN
Back in Queenstown, choose your own adventure: canyon swing, skydive, paraglide, luge, jetboat, or of course…bungy. If that isn't your bag (though recommended you push yourself to try at least one!) you can relax on the waterfront or in one of many hot springs (Onsen Hot Pools just outside town has the view below and offers private dips – P.S. they're incredibly romantic if your trip happens to be a couples one!) Be sure to sample Queentown's lively restaurant scene if so inclined (we're looking at you, Fergburger!)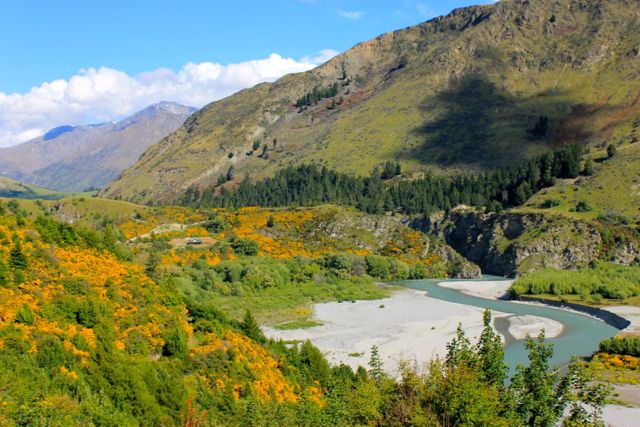 Day Five
FOX GLACIER
With only two weeks to spend in NZ, you'll only have the chance to do a half-day hike on the glacier after the beautiful drive from Queenstown. Unless you are set on a heli-hike, which I have heard is spectacular though costly, you'll be on Fox Glacier as Franz Josef isn't available to hike right up to at the moment. Stay the night in the town of Franz Josef.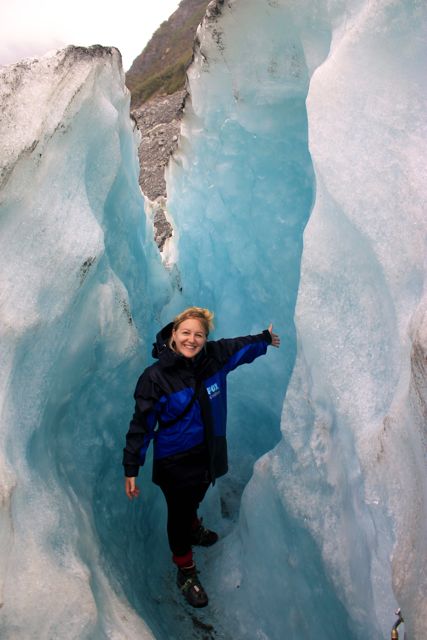 Day Six
WELLINGTON
You'll spend at least half the day traveling across the Cook Straight to New Zealand's "coolest little capital in the world." We were able to take our car on the ferry there, but this was with more time. You'll likely want to take a flight up with the time constraint. Enjoy Wellington's vibrant nightlife on Cuba Street and in Courtenay Place.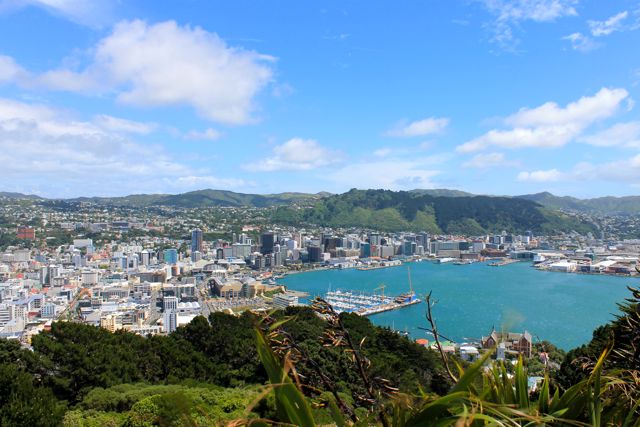 Day Seven
WELLINGTON
Spend today enjoying the city, including Te Papa, New Zealand's captivating national museum (don't miss!), a cable car ride, and some good eats. Be sure to take in the views from Mount Victoria lookout (It's Mt. Vic to the locals), be beware the high winds. They don't call it Windy Welly for nothing!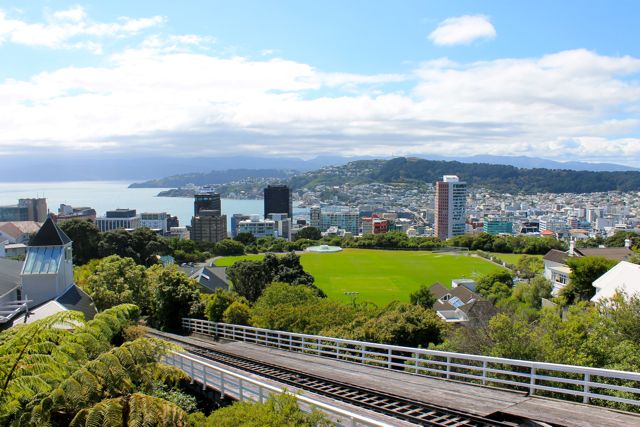 Day Eight
TAUPO
You'll spend at least half of today (or half of yesterday, if you so chose) journeying to Lake Taupo from Wellington. The lake itself is reputedly bigger than Singapore, and the area offers stunning vistas (of course) and lots of fun activity options, including sailing, jetboating, and of course—skydiving (it's the capital of the skydiving world.)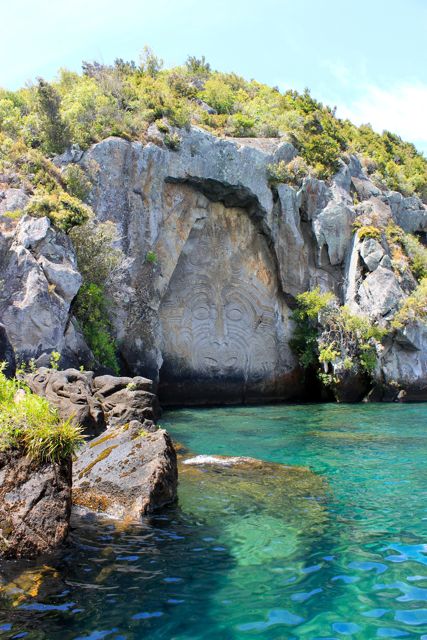 Day Nine
TAUPO/TONGARIRO
…With an optional day hike in Tongariro Crossing! Crowned New Zealand's "Best One Day Hike," you won't likely want to miss Tongariro National Park — though it is south of Taupo by about an hour and takes 7-8 hours in total to hike. Weather and volcanic conditions change rapidly, so be aware that even if you plan to hike the crossing, you may not be able to. If you're spending the day in Taupo, make sure you see Huka Falls, which you can drive or hike to.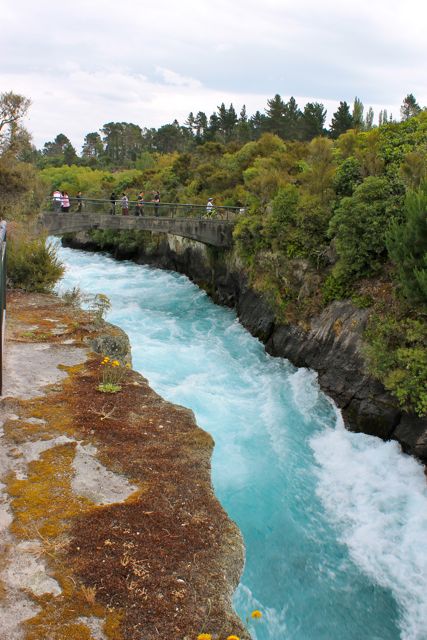 Day Ten
ROTORUA
Hold on to your noses, as this volcanic hotspot smells. A huge draw for many to New Zealand, I felt that Rotorua underwhelmed me. A must-see are some of the volcanic landscapes, a favorite being the "Wai-O-Tapu thermal wonderland." Other activities here include zorbing, Lake Rotorua, natural hot springs and mud baths, and a gondola/luge similar to Queenstown. If those activities appeal to you, be sure to allot extra time here.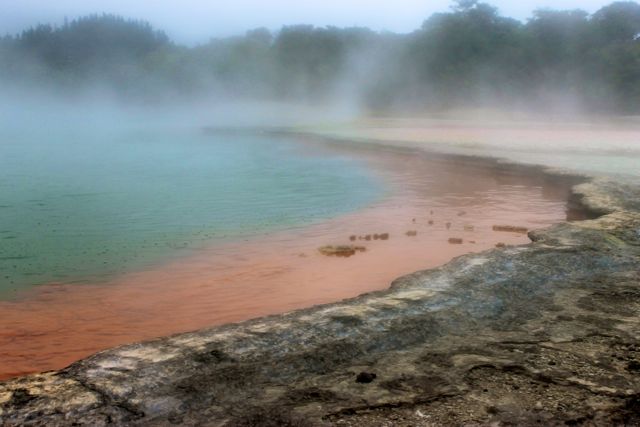 Day Eleven
WAITOMO
Spend the morning driving to Waitomo, an otherwise unremarkable (if there is such a thing) sight of North Island countryside…but only above ground. Come for the glowworms and the caving, stay for the glowworms and the caving.
There are three caves available for your viewing pleasure, but a short tour of the main glowworm cave will be enough to wow you.
from www.waitomo.com
Day Twelve
BAY OF ISLANDS
It's a long drive up to Bay of Islands if you're coming from Waitomo. Might I suggest a night's stay in Auckland to break up the drive? Stay in Paihia, the main base to all the Bay of Islands has to offer, but venture to Russell (a much cuter town that's only 10-15 minutes away by ferry.)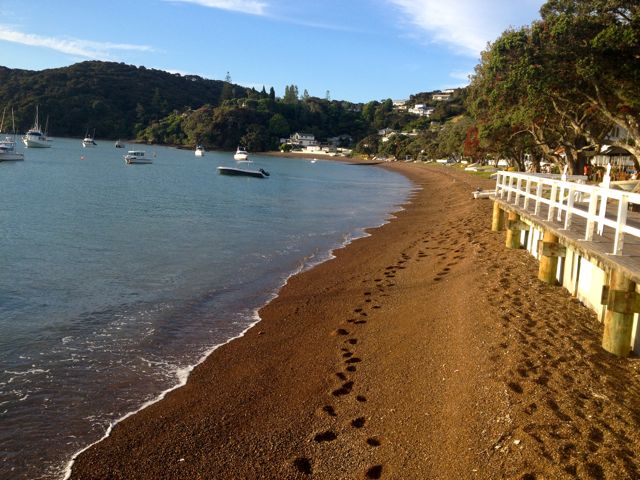 Day Thirteen
BAY OF ISLANDS
You can't come to the Bay of Islands without getting out on the water. There are many cruises and dolphin discoveries to choose from, but there's nothing quite like a night on a "floating hostel." Yep, you heard me. "The Rock" overnight cruise takes people of all ages on an adventure that includes hiking remote islands, fishing, night kayaking, snorkeling, bbq-ing, and even a paint-balling competition. You can't beat it.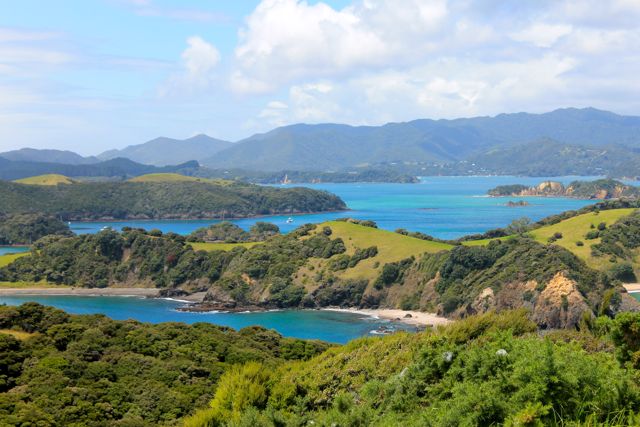 Day Fourteen
AUCKLAND/WAIHEKE ISLAND
So, you've made it back to Auckland. My suggestion is to head to one of the nearby islands by ferry. I can't recommend Waiheke enough: great food, dozens of vineyards, beautiful beaches. Or you could opt to hike nearly Rangitoto island instead if you haven't already. Either way, enjoy your final day in the most beautiful country on Earth!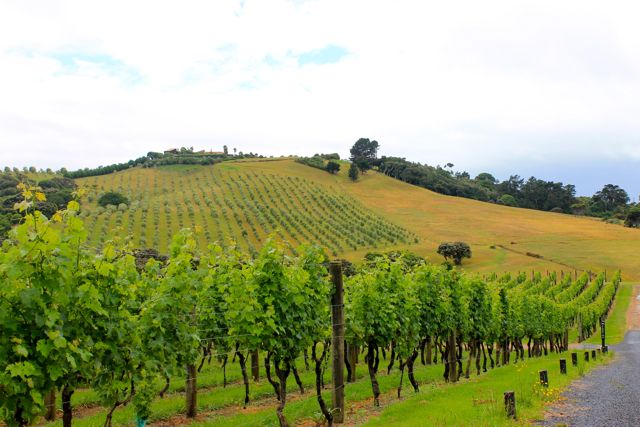 Note: You could opt to visit Abel Tasman instead of the Bay of Islands. Abel Tasman National Park was a highlight of my three week trip. It's located at the top of the South Island, and makes for a good stop in between the glaciers and Wellington. Though quite different, it offers many of the same activities and beauty as Bay of Islands. The choice is yours!
In 3 Weeks…Add:
Coromandel
Don't miss: Cathedral Cove, Hot Water Beach.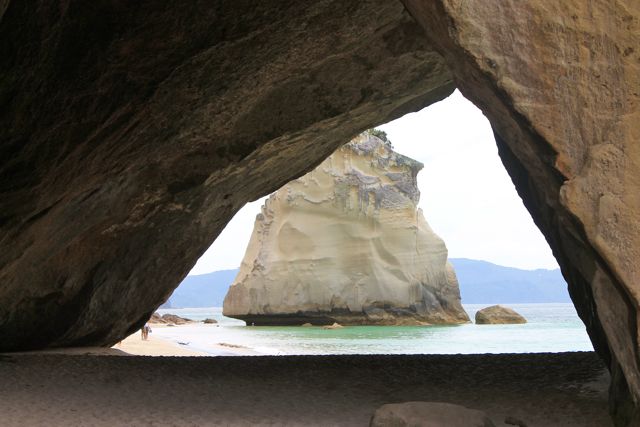 Abel Tasman
Don't miss: kayaking, hiking, a sunset view, a burger at the Fat Tui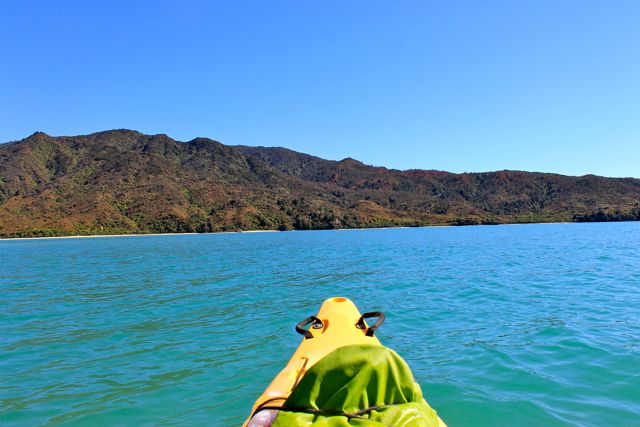 Tongariro
Don't miss: New Zealand's best one day hike, the Tongariro Crossing. If you're a fisherman, the fly fishing near here is world class.


Punakaiki
Don't miss: the Pancake Rocks.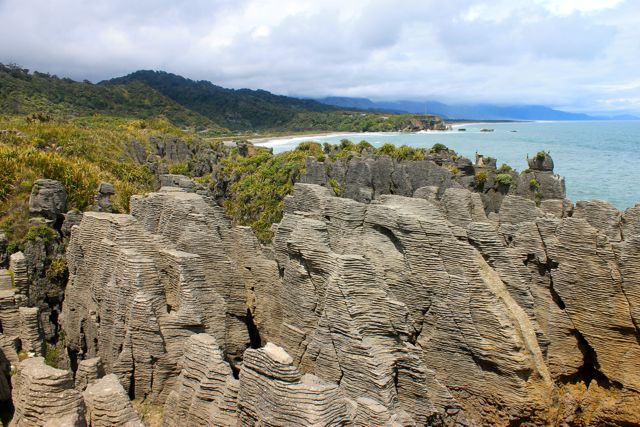 Ferry ride across the Strait
In this extra week, it's worth taking the time to do the ferry crossing across the Cook Strait from South Island to North Island for the views alone!
If 4 Weeks….Add:
Napier
Located on North Island's east coast, the town of Napier offers a magnificent art deco vibe and incredible wine tasting at nearby vineyards.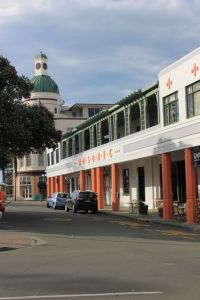 Taranaki/New Plymouth
One of the most beautiful things I saw in all of New Zealand, Mount Taranaki stands tall above the coastal town of New Plymouth (when it's not covered in fog.)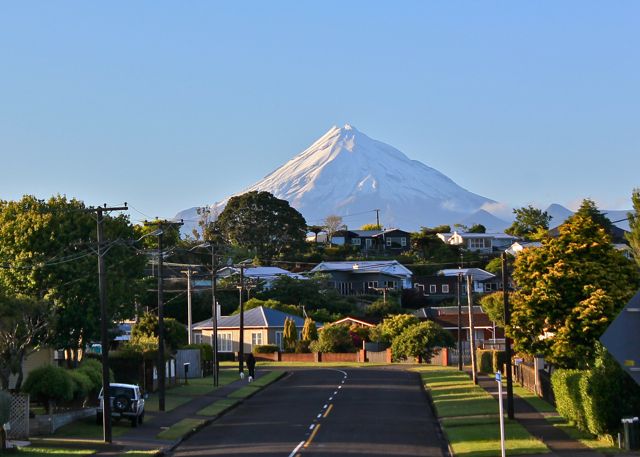 Cape Reinga
It's quite a journey to the very top of the North Island, but views from the place the Pacific Ocean meets the Tasman Sea are hard to beat. The place is sacred to the Maori people. Also up here is the Ninety Mile Beach and sand dunes.
Wanaka
A small town with big-time beauty, Wanaka is just another absolutely stunning vista of mountains and water that is hard to imagine missing.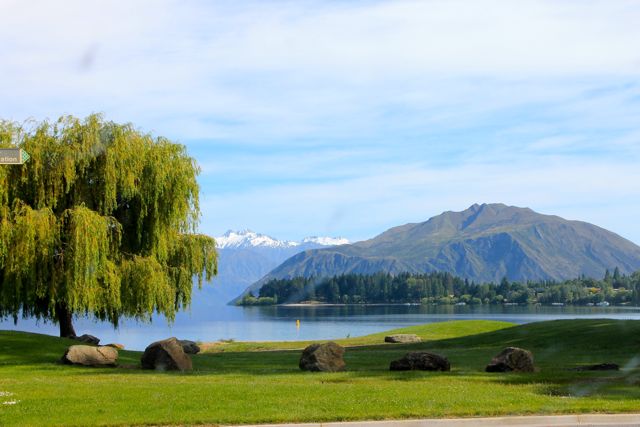 A few things I didn't include (but worth looking into to see if it suits you): South Island East Coast, Christchurch, Kaikoura, Nelson, Stewart Island, Hobbiton (Matamata), Doubtful Sound (8 times the size of Milford but more difficult to access,) Franz Josef Glacier (very similar to Fox but you must helicopter onto it.)
Notes:
A great place to find affordable flights within NZ, particularly last minute: Grab-a-Seat
Car rental: We found it was less than half price to rent in Queenstown rather than Auckland, if your planning permits.
A good pair of hiking boots can go a long way in NZ. And don't forget your "jandals" (flip-flops!)
I hope this gives you a good idea of where to start when thinking about visiting New Zealand. Discovering this country and all of its beautiful quirks has been a highlight of all of my travels.
Expand your planning with a good guidebook! Check out NZ Frenzy – it's my favorite! It's a great supplement to this book.
(You can see more of my favorite photos from NZ here and here!) Also, thinking about bungy jumping? Read my experience here.
Have you been to New Zealand? If yes, where would you say first time visitors should spend the most time? If not, where do you look forward to visiting most?
Interested in seeing more itineraries?
Subscribe to our mailing list and you'll be the first to know once they're here!
*This post was updated in 2019.
SaveSave