Also known as, where to eat in Rome.
—
Testaccio.
Not the word that comes to mind when you think of Rome?
It wasn't for me, either. That is, I believe, one of the reasons it took five visits to the Eternal City for me, as I told friends, to "get" Rome.
On this last visit, I had a mere day and a half to squeeze in visits to some of my existing favorite spots (mostly to eat, or drink espresso.) I didn't have the slightest desire to trek to major sights — heck, I almost didn't plan on seeing the Colosseum (until I realized that it's not a visit to Rome without it making an appearance.) I'd been to Rome on my own, with friends, with family, and with my ex-boyfriend — all of whom had their first visit. So I've done the museums, monuments, and musts (and their lines) more times than I'd care to admit.
I still wanted to experience a new side of the city. I thirsted for a deeper experience. And, I knew I'd be hungry.
After consulting with friends and fellow travelers/expats, I honed in on the illustrious Testaccio neighborhood. A bit rough around the edges, but with the right ratio of Romans-to-tourists and a reputation for some of the city's best food, I was ready to dig in.





The first moment I really knew I loved Rome, it was quite late at night. I could hear nothing but dim street lights whispering as they flickered — drowned out by the numerous fountains, whose waters rushed elegantly throughout the corners of the city.
A misunderstanding with an Italian police officer had led to my train from Genova arriving much later than anticipated (another story for another time!) Fortunately I had a friend from home awaiting my arrival. This particular friend enjoys the calm of late night walks, and we had often walked at night together in San Francisco. It had always been a great way to see a completely different side of my city.
It couldn't have been a better way to see Rome. There were no crowds — only the elegance of ancient Rome, the sight of yellow-lit statues and the flowing sounds of silence, footsteps, and water. We walked through the center of Rome in complete peace until nearly 3 am.
During the day, Rome often doesn't make sense to me. It's chaotic, it's partly in ruins, it's often hot. I couldn't quite get into its rhythm (and I'm pretty sure that was because I did nothing but run from one "must-see" site to another.) Yet I still remember one moment around 2 am this time: I paused and looked up at columns towering over me. Somewhere in the darkness and the silence, Rome spoke to me for the first time.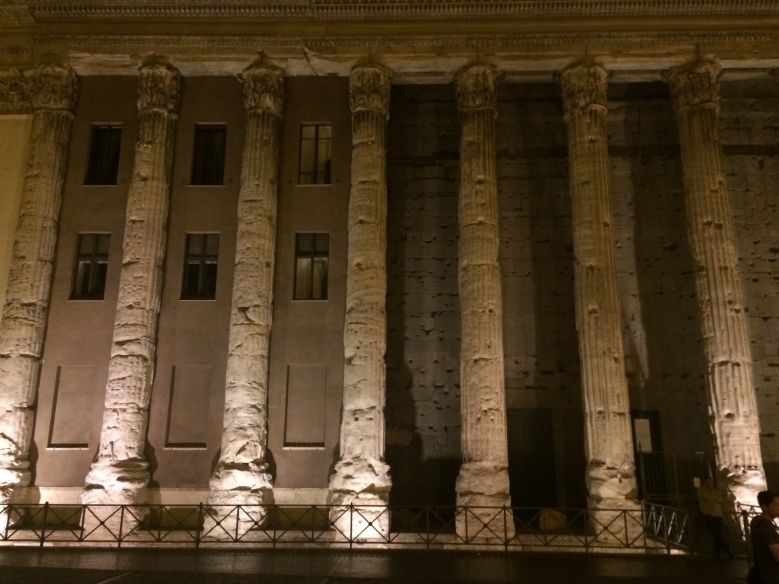 In between all of the chatting Rome and I did that quiet evening, I ignored my judgment to go to sleep at a reasonable hour. I had a full day of exploring ahead of me. Fortunately I knew — the first stop was for…a cappuccino.

Testaccio was the first place I felt surrounded by Romans, instead of tourists.
I tasted flavors so bright, fresh, and local — produce of Lazio, grown no more than 30 miles away. I drank in history that was old, even musty, but still dusting itself off and  kicking vibrantly.
I came upon a hill created over centuries by discarded clay pots, amphorae that once housed olive oil for Romans. I ate a trio of Rome's most classic pastas while staring at pieces of the hill. I sipped foam and espresso, crunched on the corners of pizza al taglio, and sunk my teeth into suppli. I learned what it's like to take a bite of true mozzarella di bufala — one created less than 24 hours prior to it being served to me.
I inhaled what was perhaps the richest scent of my life: a tangled mixture of sweet Balsamic vinegar and wheels of aged Parmesan cheese.
I dodged legs of ham dangling from the ceiling as I chowed on truffled pecorino and salami infused with barolo wine. I learned that you should never, ever eat a cannoli that is pre-filled. And I inhaled some of Rome's finest gelatos, never doubting the panna on top.




Once the tour concluded, I walked the streets of Testaccio — first with an Italian, and then with an American in Rome. I laid eyes on modern street art! I sat in small cafes and bustling food emporiums, and in both I heard only Italian being spoken. I paid my respects to some fine English writers. I discovered that Egypt isn't the only place with pyramids. I didn't expect much. I simply strolled. I asked questions. And for the first time, I listened to the nuanced answers.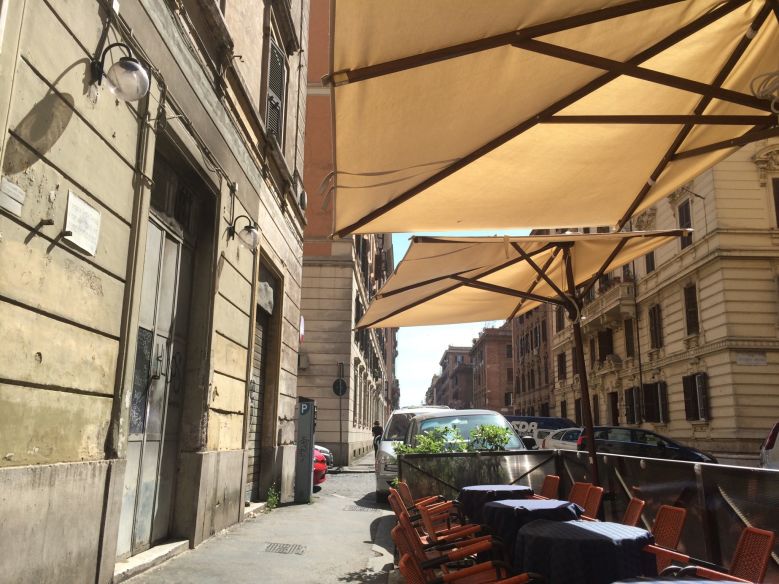 I suppose we finally found a language in common, Rome and I. And when we finally conversed, our relationship deepened. My feelings went from 'like' to 'love,' in a mere couple of days.
And, if anyone can tell me where to find truly fantastic porchetta in Rome, I might just marry the place.
Where to Eat in Rome
(beware falling in love)
—
Old Favorites:
Saint'Eustachio il Caffe
Giolitti
Antico Forno Roscioli
Pizzarium
Roscioli
–
New Favorites:
Volpetti
Flavio al Velavevodetto
Trapizzino
Pizzeria Da Remo
Da Cesare
Testaccio Market
Mordi & Vai (food stand in Testaccio Market)
—
I participated in Eating Italy's Rome food tour free of charge. All this means for you is that while I was paying rent back in San Francisco, someone else financed my existing gelato and cappuccino habits for one morning.