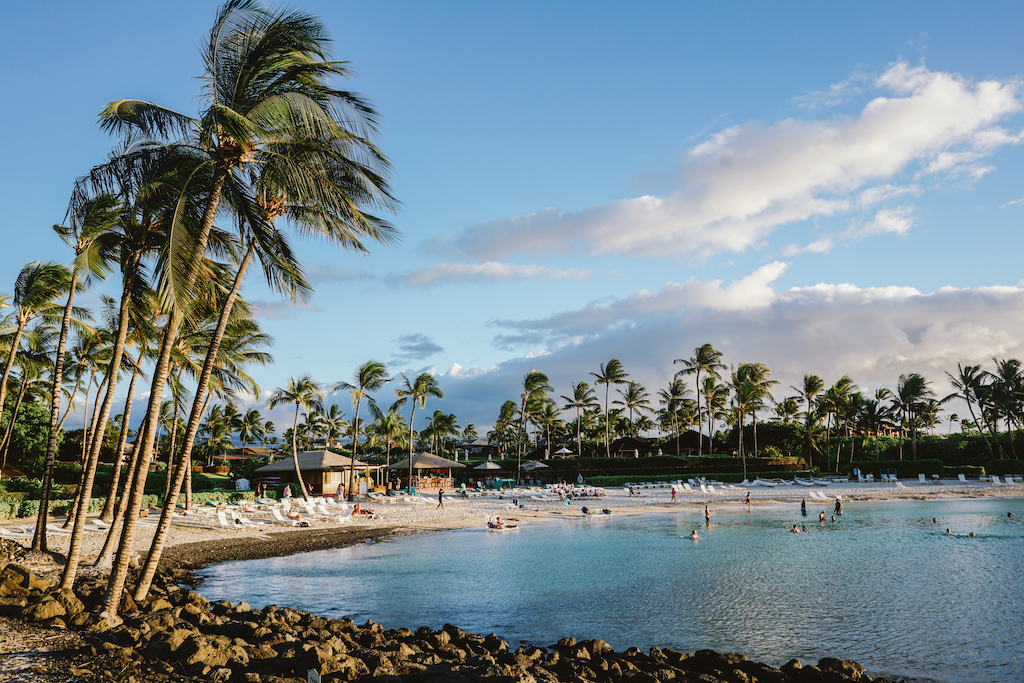 Things to Do in Kona, Hawaii + the Kohala Coast
Read on for the top experiences and my tips for the "Kona side" of the island
Although travel is such a big part of my life now, like many of us, I didn't grow up traveling often. Hawaii was the one place I returned to repeatedly as a child. I was lucky enough to grow up spending my October break from school exploring the Big Island's seas, parks, and beaches.
So I jumped at the recent chance to return with Fairmont Orchid, a resort perched toward the northern tip of the island on the stunning Kohala Coast. I had the chance both to experience the beaches and the stunning coastline just off of the property, as well as revisit a few Kona-side locations — longtime favorite places that I'll share with you here.
If you're planning a trip to Hawaii's Big Island, you'll fly into the Kona International Airport, and, more likely than not, you'll be staying somewhere along the western or Kona coast side, also known as the "dry side" of the island. 
Here are the places to know about in and around Kona, and my top things to do in Kona and the Kohala Coast.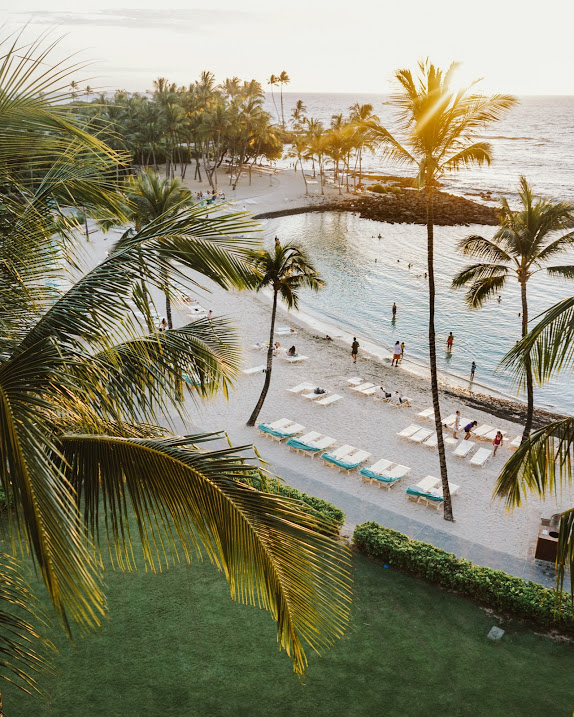 Kailua-Kona
This is the main town on the Big Island, and where you'll find most of the island's historic buildings including King Kamehameha's former home — as well as most of the shopping. It's the center of activity and commerce for the island, including the airport you arrived in.
The weather here is dry and sunny most days of the year, and there are some really charming parts of Kailua-Kona, especially along the coast. I love taking a drive from the center of town along Ali'i Drive, which winds along Kailua Bay. Driving south you'll hit Keauhou, which I'll mention more about below.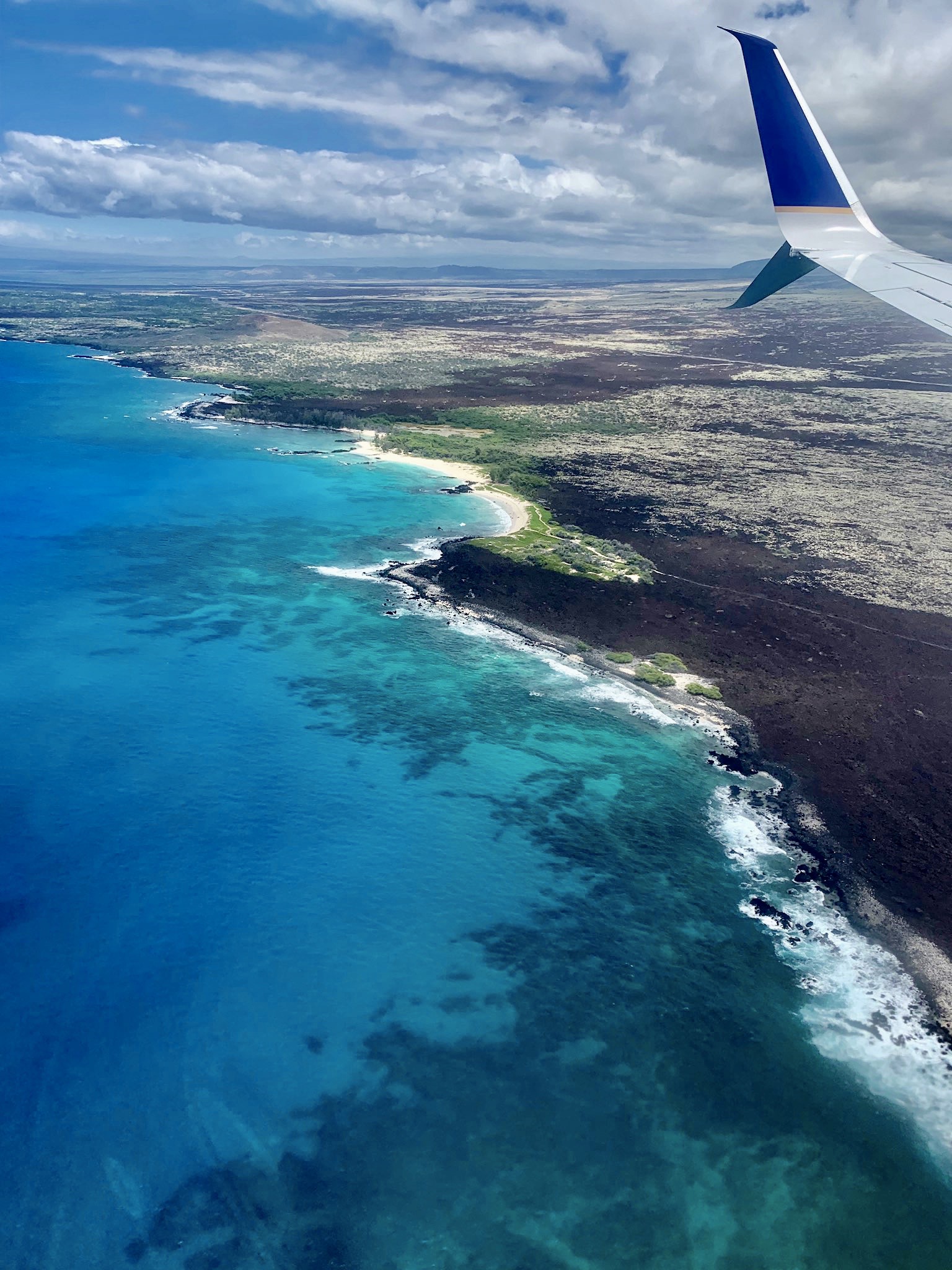 The Kohala Coast
Heading north from Kona you'll hit an open stretch of highway until you start seeing turnoffs to the beaches and resorts. Once you see signs for Anaehoomalu Bay, you've reached the beautiful Kohala Coast. Several resorts, as well as Waikoloa Village, call this area home.
If you're staying here you can also expect mostly sunny days, and you'll have access to some of the best beaches on the island. I recommend having a car regardless, but you'll definitely need one if the Kohala Coast is your base during your stay.
Things to Do in Kona and Kohala
+ on the Kona side of the Big Island
Ocean Adventures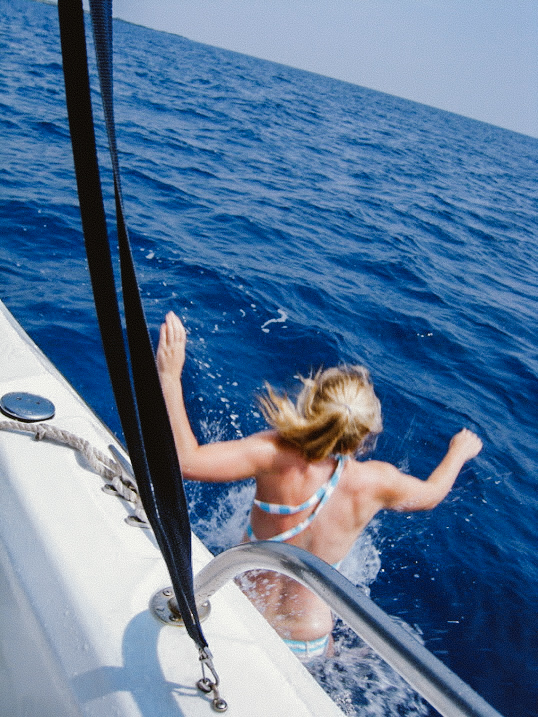 Snorkeling and/or Scuba Diving
A huge portion of the Big Island's beauty lies under the water's surface. No matter your comfort level with the ocean or with wildlife encounters, there is a range of underwater experiences to suit all.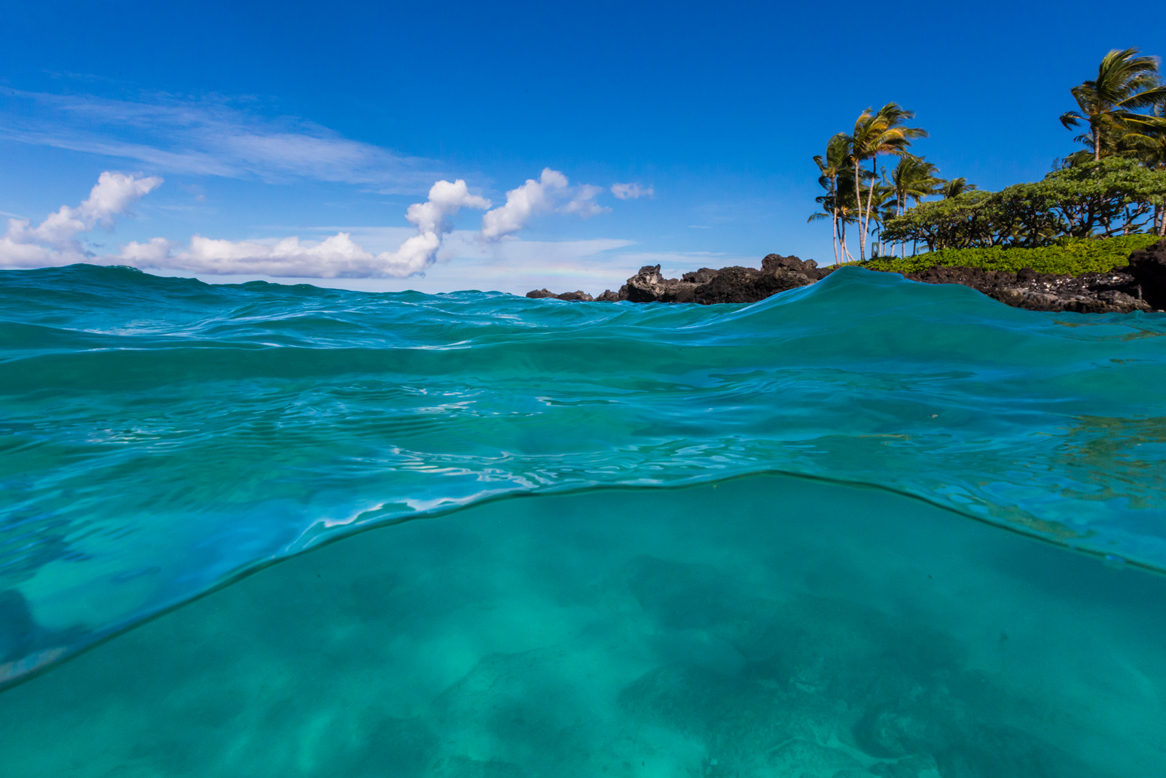 Manta Ray Night Snorkel
Personally, I love scuba diving, but I am totally terrified of any night dive/swim/snorkel. I finally had the chance to snorkel with the mantas in Keahou Bay, and let me just say: 1) they took care of everything so well that I wasn't even scared and 2) it was one of the most rewarding experiences I've had in the ocean (or on land.)
Whether it comforts or annoys you that you'll be surrounded by dozens of other people while you snorkel with them, it doesn't matter much because you're head in the sea, relaxing and drifting above a light that attracts the phytoplankton they eat. I went with SeaQuest and found it to be a fantastic operation all around.
Swimming with Sea Turtles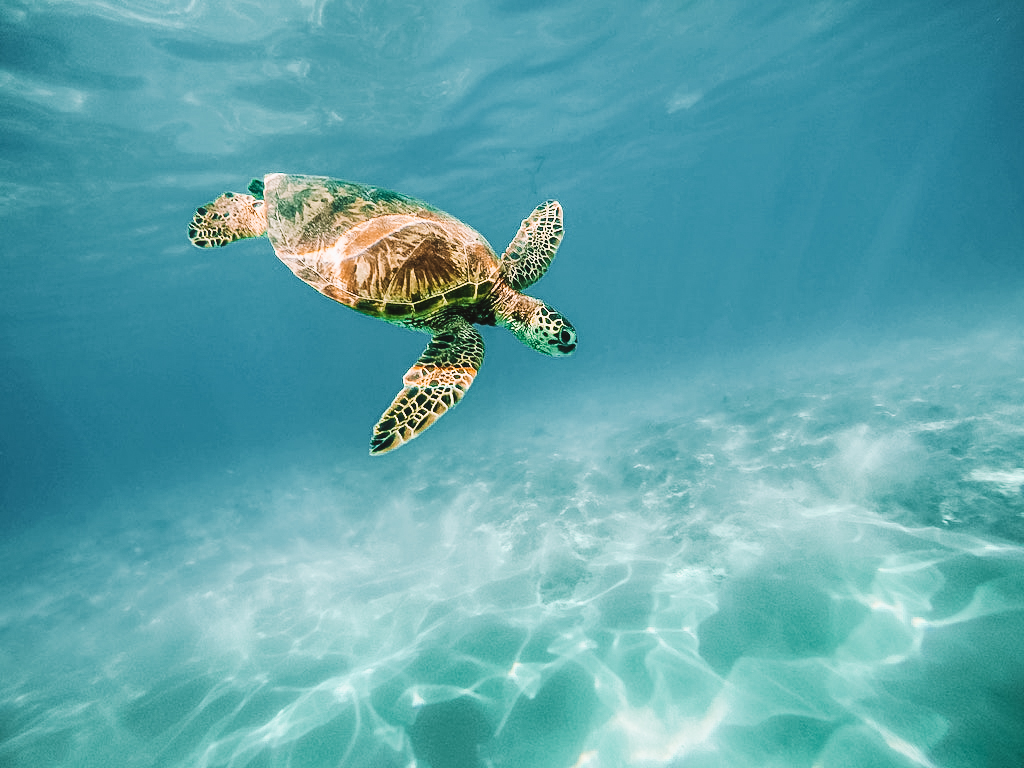 One of the most magical creatures you can see in the Kona waters is the honu, or sea turtle. They are quite present and chances are that you'll see one if you snorkel multiple times during your trip. (Please do not disturb them on land or sea — keep your distance and show some respect.)
That said, you can certainly increase your chances by choosing your snorkeling site accordingly. I went in the ocean every morning (snorkeling is always best in the morning!) while staying at the Fairmont Orchid, and the bay off of the resort is one of the best spots I've ever found…I saw them every single time.
Snorkeling for Beginners and/or Kids
Another good spot to spot sea turtles is also one of the most family-friendly snorkel sites by Kona. Although it can get crowded due to its popularity and central location, Kahalu'u Beach Park is a sheltered cove with easy entry/exit similar to the Fairmont beach option. These calmer waters tend to attract both the turtles and the newer snorkelers (plus tons of fish!)
Kona by Boat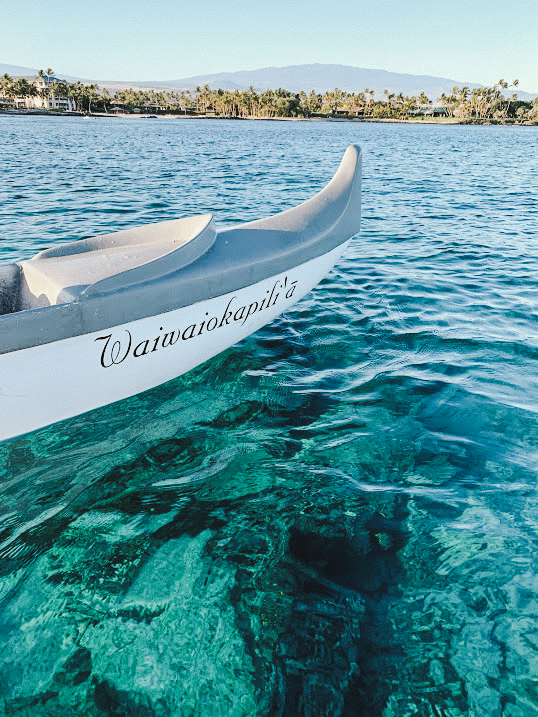 By far my favorite way to experience the Kona area and Kohala Coast is from the water and on a boat. Here are my top recommendations for how to do so:
Take a snorkeling cruise. Not only do you get the benefit of relaxing on the water (often with dolphins joining you!) complete with food and drinks, but you can access parts of the coast that are top-notch for snorkeling but difficult to access on land. I recommend Fair Wind II.
Rent your own boat. For the more adventurous at heart, it's easy (and with a group, cost-efficient as well) to captain your own vessel for the day or even an afternoon. You can fish, swim, snorkel, and even barbeque or just relax and enjoy the beautiful Kona waters. I use Kona Boat Rentals out of Honokohau Harbor (visit Harbor House for a fish sandwich and a schooner while you're there!)
Enjoy a sunrise or sunset canoe. There are many sunset cruise options in and around Kona. I loved the size and speed of the Hawaiian canoe — it feels closer to the water and the culture than some of the larger vessels. It makes for a really special experience. I booked mine through the Fairmont Orchid.
Go whale watching. Humpback whale season is approximately from January-April annually (though it can vary.) It's wonderful to get out on the water to witness these spectacular animals in the wild, and with the guidance of experts. I recommend Captain Dan McSweeney's or Da Whale Boat.
Visit Kealakekua Bay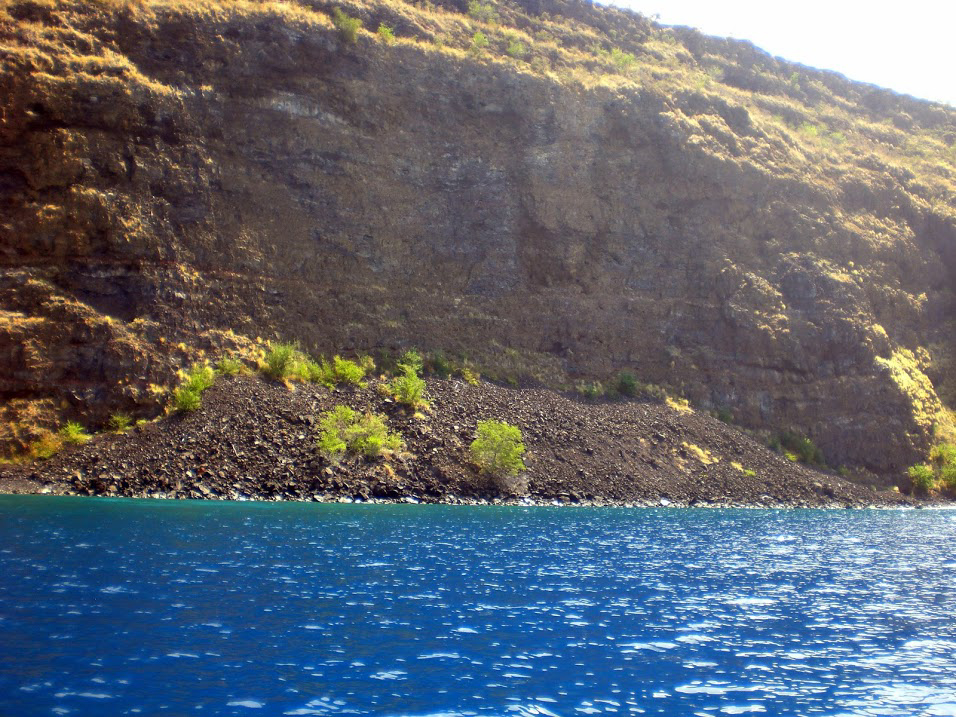 Located south of Kona and just after Keahou, Kealakekua Bay is one of the most beautiful spots on the Kona coast. Known to some as Captain Cook's Bay for the presence of the Captain Cook monument there (it's where he was killed,) it's most notably a marine reserve and one of the best spots to snorkel on the island.
The last time I visited I drove and parked at the southern side of the bay, bringing my own gear (rented from Boss Frog's in downtown Kona) and snorkeling along the water's edge. I don't recommend this route unless you favor ocean exploration and are an experienced swimmer, but it can be done without guidance.
For most of my visits, I opt for renting a kayak or taking a boat trip to the bay. Kealakekua is the focus of the Fairwind II snorkel trip, so you'll see it if you book with them.
Go Surfing and/or Boogie Boarding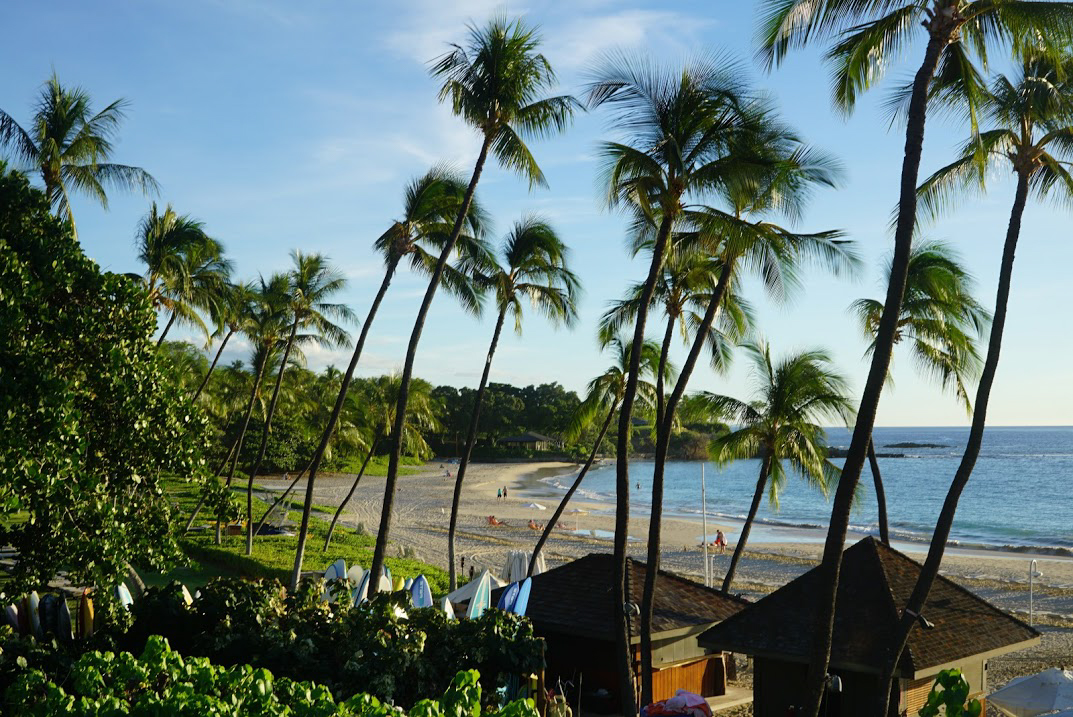 Until I get better at surfing someday, boogie boarding or even body surfing is my wave action of choice. Always be aware of surf conditions before entering the water, and if you're hesitant better to stay onshore than be swept away.
I recommend purchasing an inexpensive boogie board if your accommodation doesn't have any, and you plan on riding waves for more than a few days as it often won't cost much more than a rental would. (But it depends on the length of your stay.)
Adventures on Land
Most of the land-based adventures you'll want to seek will be somewhat of a drive from Kona the west side of the Big Island. Still, there are a few that are closer that I recommend:
Visit a Kona Coffee Farm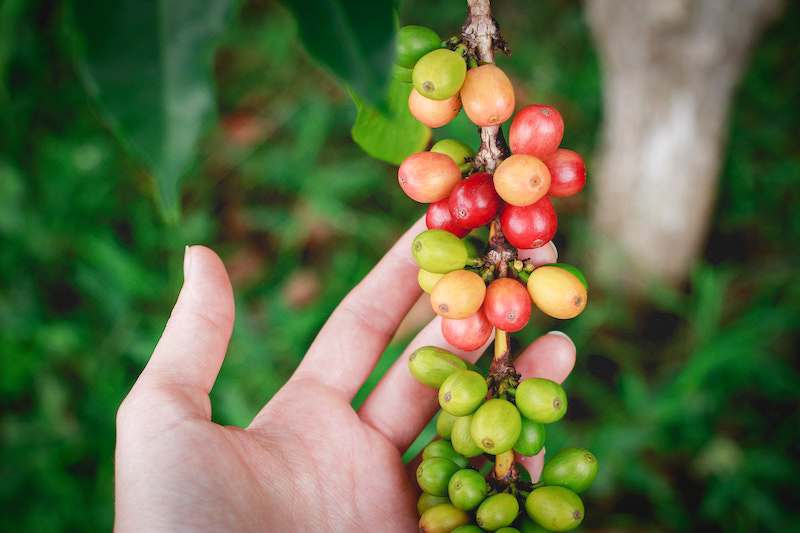 If you're a coffee connoisseur or enthusiast, it's worth seeking out Kona coffee — grown in the rich volcanic soil and known worldwide for its quality. Take it one step further and you can visit a coffee farm to learn about and see the production process.
Find a Farmers Market
Since I personally grew up enjoying the Kona Costco as my main food stop, this is a recent find for me. Tropical fruits, local, handcrafted products, and more await. The main Kona Farmers Market runs Wednesday to Sunday from 7am to 4pm, but here's a list of all the farmers markets on the island.
If you're interested in exploring the island by land rather than sea, you'll want to definitely rent a car and check out the spots below. All are day-trippable from the Kona and Kohala coasts, but some are longer drives than others.
Explore the Towns of Waimea and Hawi
Waimea and Hawi are both a short drive from the Kohala Coast and offer a bit more of a local, small-town feel than Kona or Hilo. In Waimea, be sure to check out Arvo for coffee, Pau for amazing breakfast burritos or pizza, and Hawaiian Style Cafe for their loco moco and haupia pancakes — both of which will give you a taste of local Hawaiian flavor on a huge scale (the pancakes are seriously the largest ones I've ever seen.)
Very Worthwhile Big Island Day Trips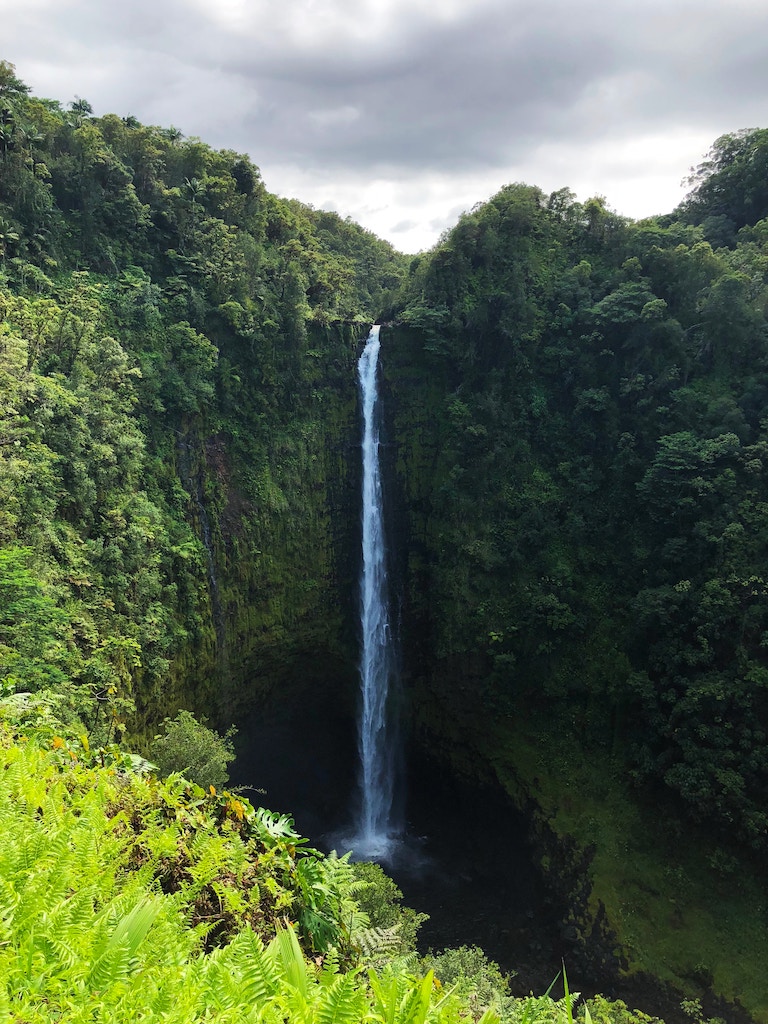 (the top three are musts for me)
Hawaii Volcanoes National Park
Mauna Kea Summit
Waipio Valley
Punalu'u Black Sand Beach + South Point
Akaka Falls
Pololū Valley
Hawaiian Cultural Experiences

Place of Refuge / Puuhonua o Honaunau National Historical Park
This is my favorite place to go on the island to connect with the history and culture of Hawaii. The Place of Refuge provided a place for Hawaiians to seek safety and forgiveness from a priest when fleeing a crime. Located just south of Kealakekua Bay, making it a great combination activity to do both in one day.
Hula Lessons
It's one thing to admire hula at a luau, and another to try dancing it yourself! I had the best time learning about the beautiful Hawaiian form of storytelling and movement as a part of my stay at Fairmont Orchid (reserve in advance.) It seems that most hula lessons for the public are given at hotels and resorts
Waikoloa Petroglyphs
This was another new discovery on my most recent trip, as it was very close to where I stayed. Even though you have to walk through a resort to get to them, it is humbling to connect with the centuries-old pieces of art carved into rock. Get there by short stroll from the Waikoloa Hotel (near Kings' Shops.
Spa/Relaxation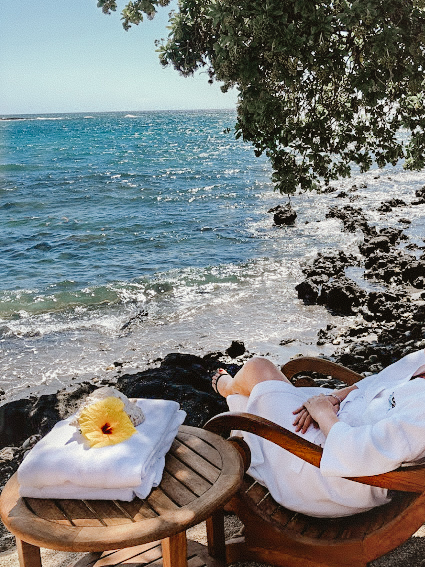 Spa Without Walls
In my ideal world, every spa would share this concept — open-air massage with the sound of waterfalls or the ocean, the feel of a warm breeze or the shade of a tropical tree.
Even if you aren't staying at the hotel, it's worth seeking a relaxing treatment at the Fairmont Orchid spa (treat yourself.) Their pool is also lovely for relaxing.
Standup Paddle Board Yoga on the Ocean
I hadn't been on a SUP in the ocean before, and I certainly hadn't done yoga on one! This was one of my favorite new experiences on the Big Island.
It was a standard vinyasa yoga class in the most non-stand location. You take a board from the shore out to the shallow bay at the Fairmont Orchid just as the sun is rising. And even though I'm a seasoned yogi who practices regularly, I still managed to fall in — but I didn't mind! It was wonderful to practice in such a peaceful place where my balance was still challenged (and I could see fish swimming underneath my feet the whole time!)
Beach Time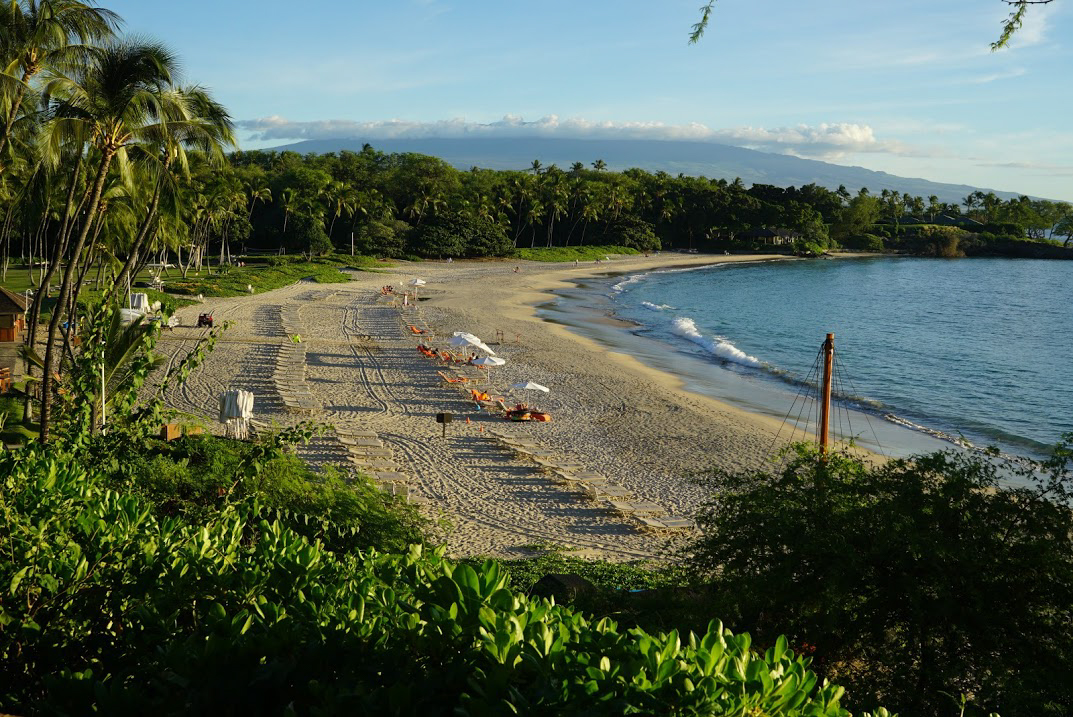 Whether you want a private beach cabana or simply want your toes in the sand, you can't beat beach time on the Big Island. Most of the best beaches on the Kona side — see below for my favorites!
Big Island Beaches >> Kona side
Makalawena Beach

This is my favorite beach in the world. Although I will often take a boat here, you can also access by land. You have to hike for a bit over lava rock (recommend doing this is in early morning — much more pleasant,) but the reward is fewer crowds — and one of the most beautiful beaches in the world (in my humble opinion.)
How to find it: the entrance to it is located between mile markers 90 and 91. If you have trouble finding it by map, look for Kekaha Kai State Park, which it is a part of. Head to nearby Kua Bay if you'd like easier access. Both are just north of Kona International Airport.
Beach 69
Another somewhat hidden local favorite, Beach 69 (named so for its location near the mile marker, of course) aka Waialea Bay is all-around wonderful. I think it's best for snorkeling and shade, naturally provided during most of the day by the many trees on the beach.
Kauna'ona Beach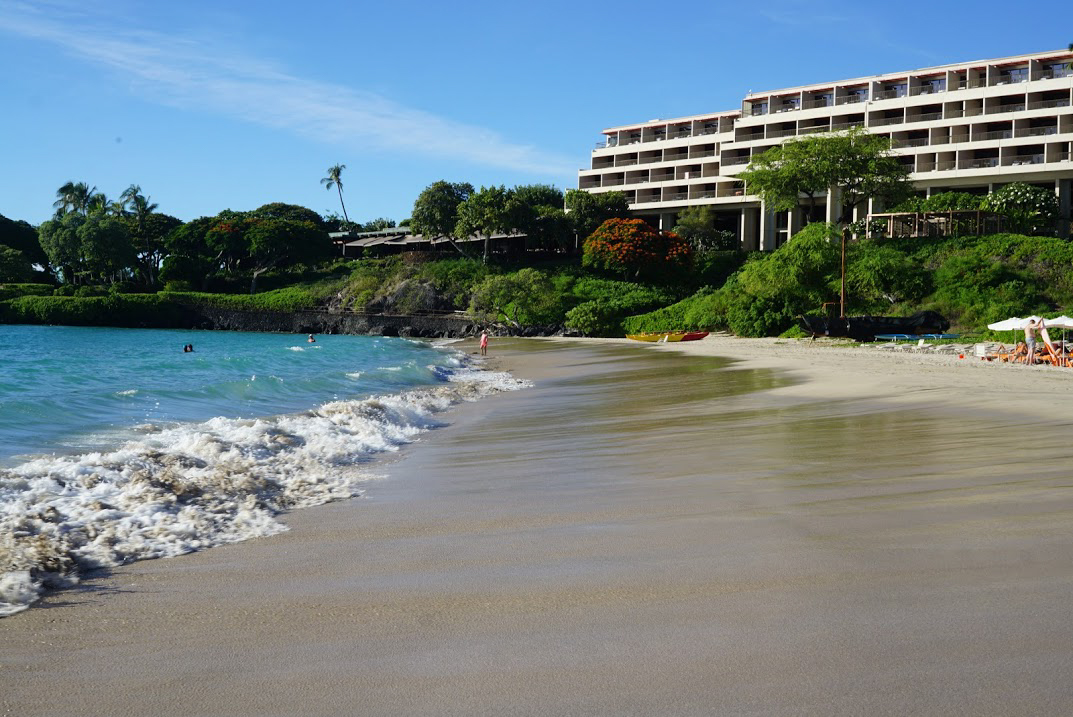 Growing up this was just the Mauna Kea beach to me as it is directly in front of the Mauna Kea Beach Resort (a beautiful hotel.) What most people don't realize is that there is public parking (although limited) at the hotel for access to this beautiful beach. It's a lot like Hapuna but on a smaller scale.
Hapuna Beach
This is the long and wide white sand beach of your Hawaii dreams. Although it is home to resort traffic and can get crowded, its beauty and convenience make it a draw — particularly so for swimmers, boogie boarders, and families.
Anaehoomalu Bay
Known to many as simply 'A Bay,' Anaehoomalu is a favorite for windsurfing and sunsets.
If you're looking for more beach information, or simply any information at all to be frank — I recommend the latest version of this guidebook which I have been using for 20+ years (the best.)
Where to Eat in Kona :: Big Island Restaurants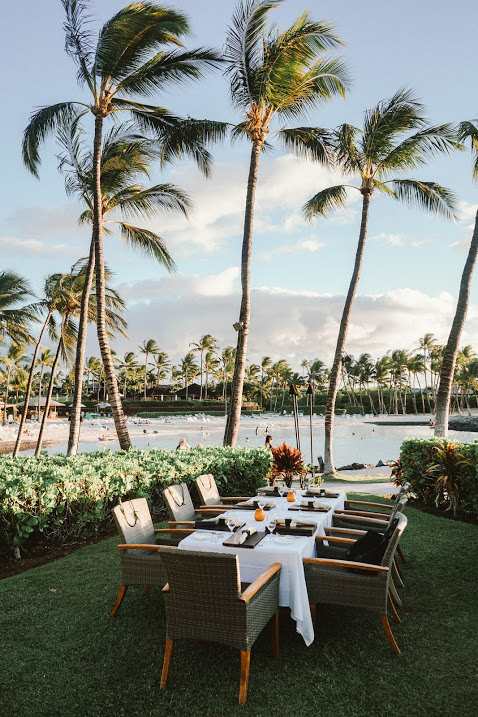 I will likely do a more in-depth post about Kona food in the future but for now, here are a few favorite spots.
Did you really come to Hawaii if you didn't eat poke with fish fresh from the sea? Located on Ali'i Drive, this is my favorite spot near Kona.
I'd be remiss if I never told you that the Wailua Wheat from Kona Brewing Company (brewed with passionfruit or lilikoi,) was the first beer I ever enjoyed.
My beer tastes have since changed, but the Kona Brewing Company remains one of my favorite places to drink, eat, and chill on the island. I go back every time I'm near Kona. Get the pizza!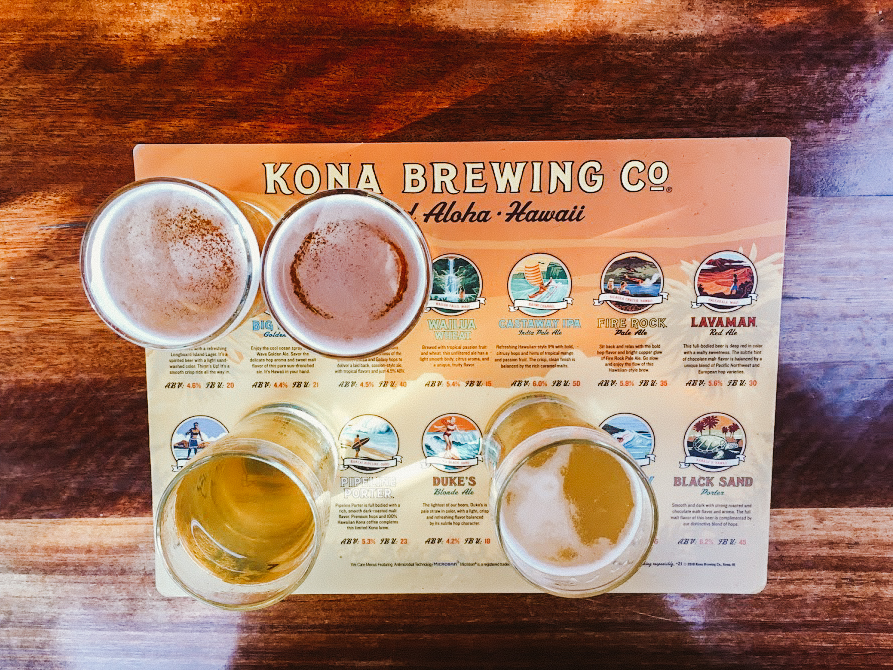 This is the best local fine dining in Hawaii. Established some 25 years ago in the small (beautiful) town of Waimea, the restaurant has since expanded to other islands but the farm-fresh cuisine and hyper-local ingredient use remains special. Make a reservation if possible.
This has become one of my favorite locations to dine on the Big Island. Located on the grounds of the Fairmont Orchid on the Kohala Coast, there isn't much that's better than dinner and drinks on the coast here as the sun is setting.
If you're looking for a casual spot right in Kona but still on the water, you can't beat Huggo's on the Rocks. They've got fresh fish, steaks, and even tiki drinks alongside the most wonderful oceanfront ambiance. They serve breakfast, too.
—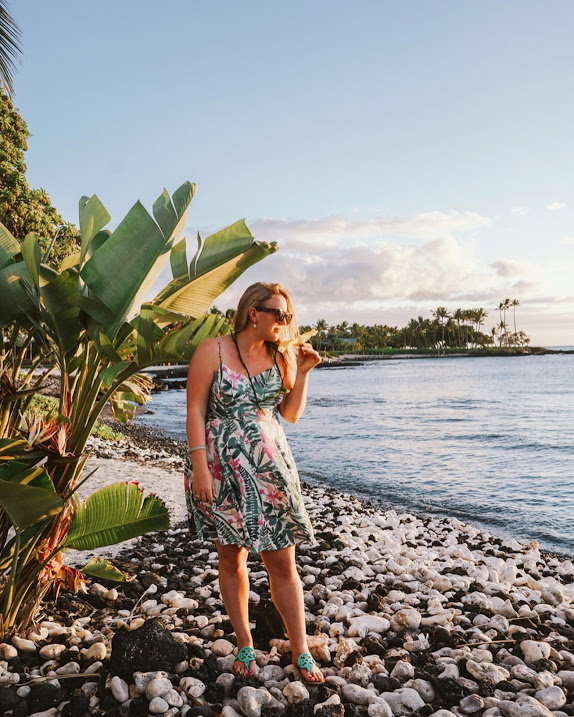 I hope this gives you the guidance you seek for the most excellent trip to Hawaii's Kohala Coast and Kailua-Kona. Let me know which part you love most! Mahalo <3

My trip to the Big Island was in collaboration with the Fairmont Orchid. All opinions come from decades of trips and are distinctly my own.
<< see more Hawaii guides >>
:: save for later ::