Where to Eat on a Budget in SF
This cheap eats post is for the San Francisco restaurant seekers whose stomachs and wallets wish to be full (or at least, less empty.)
Updated July 2023
Whether you're visiting on a backpacker budget or you're simply trying to pay rent here, it is hardly breaking news that San Francisco is an expensive city. (I do believe that the cost has been a bit sensationalized, but hey, that is a discussion for another day.)
Whatever your reason for searching for cheap eats in San Francisco, budget meals are always a refreshing alternative to the restaurants we most often read about — they're new, exciting, and more and more…they're probably pricing out large groups of people.
It's nice (comforting even) to know there are still great meals to be had in SF that don't break the bank. These fantastic foods deliver when you want something that's both full of flavor and spend-conscious. Let's get started.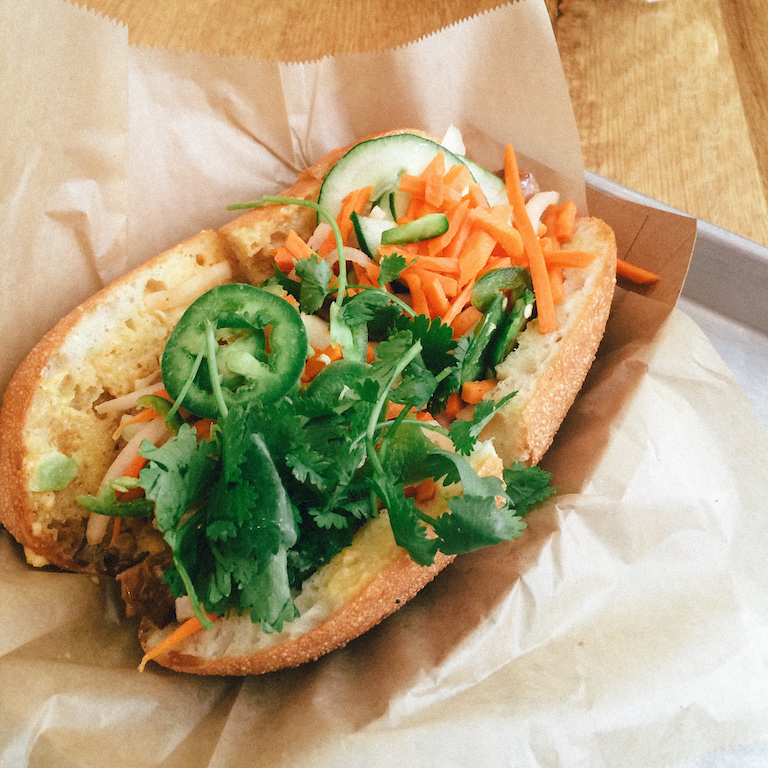 Cheap and Casual Go-Tos
Saigon Sandwich
Vietnamese, Sandwiches // Tenderloin
Very limited seating – best for takeaway
Perhaps the best-known cheap eat in the city (and certainly one of the tastiest,) Saigon Sandwich is a small stand serving delicious bánh mì sandwiches. The whole sandwich still sells for less than $5 and is filling enough to constitute an entire meal.
Yamo
Burmese // Mission District
Counter-seating only
I've waxed poetic about Yamo before and it remains of the best places to get a quick and cheap plate of noodles or tea leaf salad for under $10. Burmese is a cuisine that's hard to find outside of SF (or Burma,) so bonus points for uniqueness as well as tastiness. Pull up a stool and get ready for one of the best casual meals the city has to offer. It's particularly great after walking all day or drinking all night in the Mission. Cash only.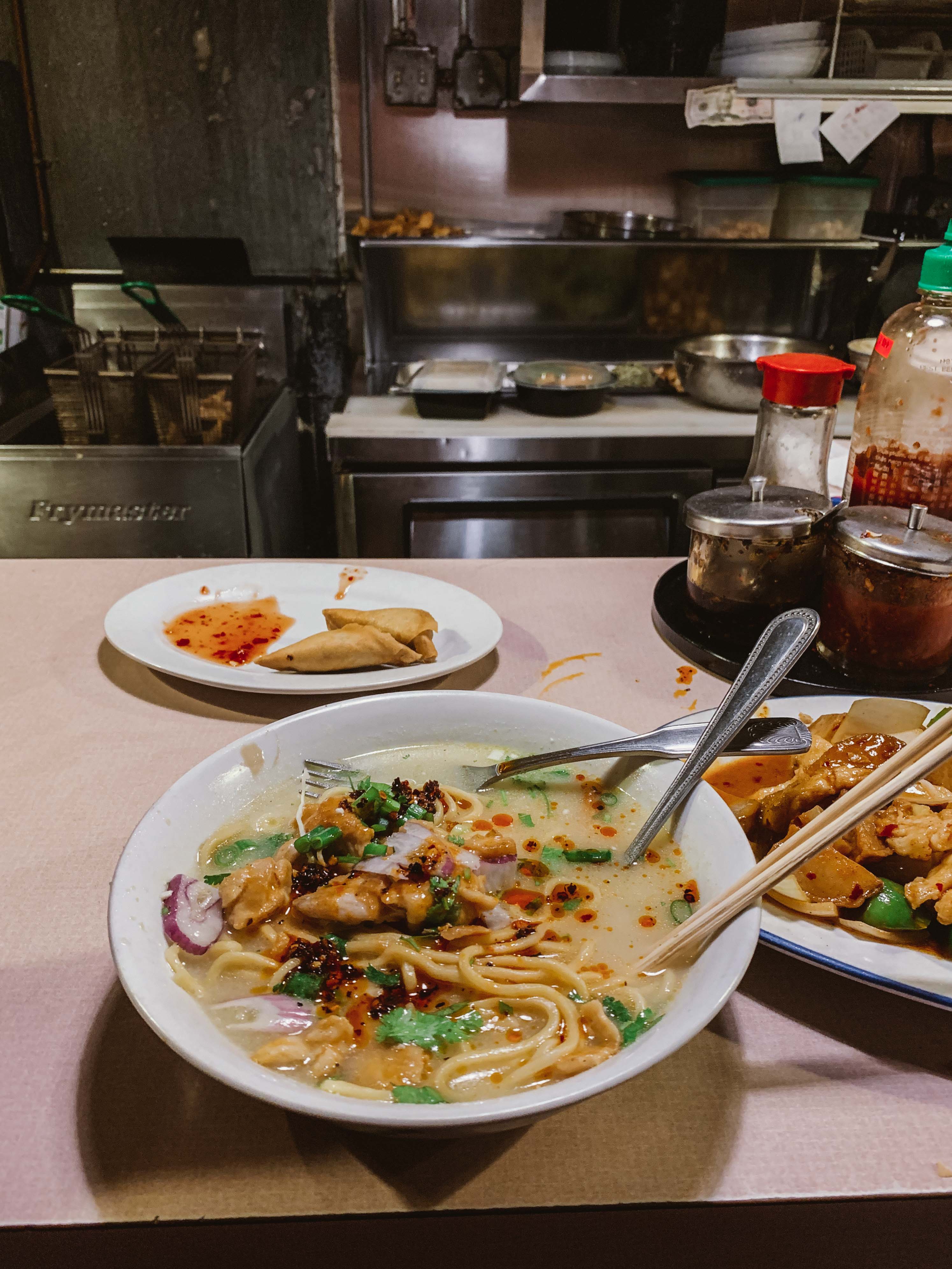 Muracci's Japanese Curry
Japanese // Downtown/FiDi
Limited seating
If you haven't yet had Japanese curry, you're in for a real treat. And if you have, this is one of the better spots to get it. An entire lunch plate with salad, appetizer, rice, and miso soup only sets you back a cool $12.95.
4505 BBQ
Barbecue // Divisadero St.
Picnic table seating
4505 has some of the best barbecue available in the Bay Area and offers plate deals that come in with a choice of meat and two sides for a mere $12.95. I love coming here for dinner after taking advantage of the great happy hour and seafood at Bar Crudo next door. (P.S. They just opened one across the bay in Oakland, too.)
Cordon Bleu
Vietnamese // Polk St.
Counter seating only
This hole-in-the-wall (for lack of a better term) mystified me for months while walking by. Their meat sauce that's on most dishes is a love or hate situation, but there's no denying they have some of the most delicious hot plates of cheap food in this city. Try the #5 combo with rice noodles if you're unsure — it's always a crowd-pleaser. Cash only.
Udupi Palace
South Indian // Valencia St.
Canteen-style South Indian food with massive, authentic portions for $10? Where do I sign? Seriously though, this is one of the better Indian spots in the city and its casual atmosphere comes with a bargain price. But the flavors are rich! Try the thali (a traditional plate with a little bit of everything) or the house curry dosa if you're unsure of what to order.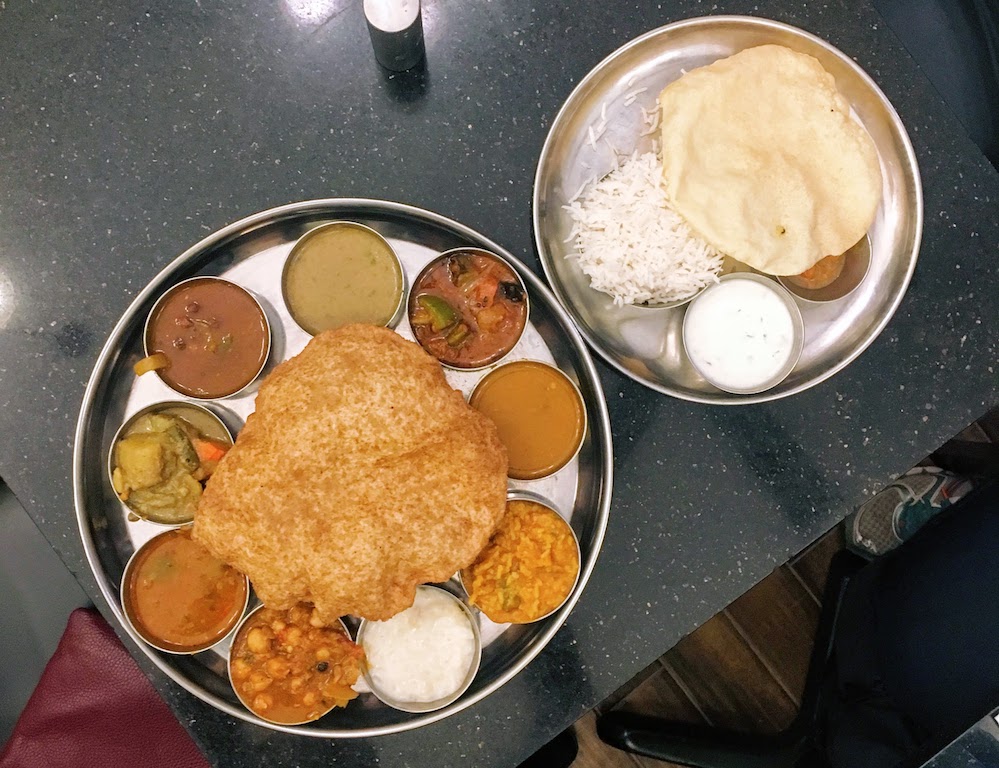 Pakwan
North Indian/Pakistani // Tenderloin + Mission District
BYOB
Pakwan is the gold standard for best-value meals in SF. All the dishes (even Biryani) are less than $10, and most apps/small plates come in ~$3. Try the chicken tikka masala — some call it the best in the city. If you're up for venturing outside the classics, order one of the sumptuous eggplant or lamb dishes. You're in for a treat.
Zen Yai
Thai // Tenderloin
I first came here in search of boat noodles, which are hard to find anywhere outside of Thailand. Theirs are authentic and very good. I came back for more noodles (of course,) and then stayed for the range of other inexpensive and delicious Thai dishes. At around $8 per dish, Zen Yai is easily ~$5 less per portion than most Thai restaurants in San Francisco. It's lots of great street food served in a very casual restaurant setting.
Hot Sauce and Panko
Chicken Wings // Nob Hill
Minimal seating; best for takeaway
They serve only one (well, two) main dishes here: chicken wings and fried chicken. Yep, you guessed it — with hot sauce, sides, and a variety of flavor combinations. Most ring up at $6.89, and even if you want to go full-on chicken and waffles you're still looking at $10 max. This spot is a local's favorite for a reason.
Golden Boy Pizza
Sicilian-style Pizza // North Beach
Limited seating
Pizza al taglio, or by the square, is more commonly seen in Italy but it makes for one of the best late-night (and cheap) eats in San Francisco. Most recommended are the vegetarian (piled high with well-seasoned veg,) or the unique clam and garlic slice. Most pieces are only $3.75. Cash only.
Aicha
Moroccan // Polk St.
BYOB
This delicious, low-key Moroccan spot not only has excellent food but the option to bring your own booze (no corkage fee,) making it one of the most affordable spots for a fantastic meal out and an especially good option for groups.
Tacos and Dumplings
(Because they deserve their own category.)
For reliably delicious bite-sized food that's cheap more often than not.
Tacos on the Cheap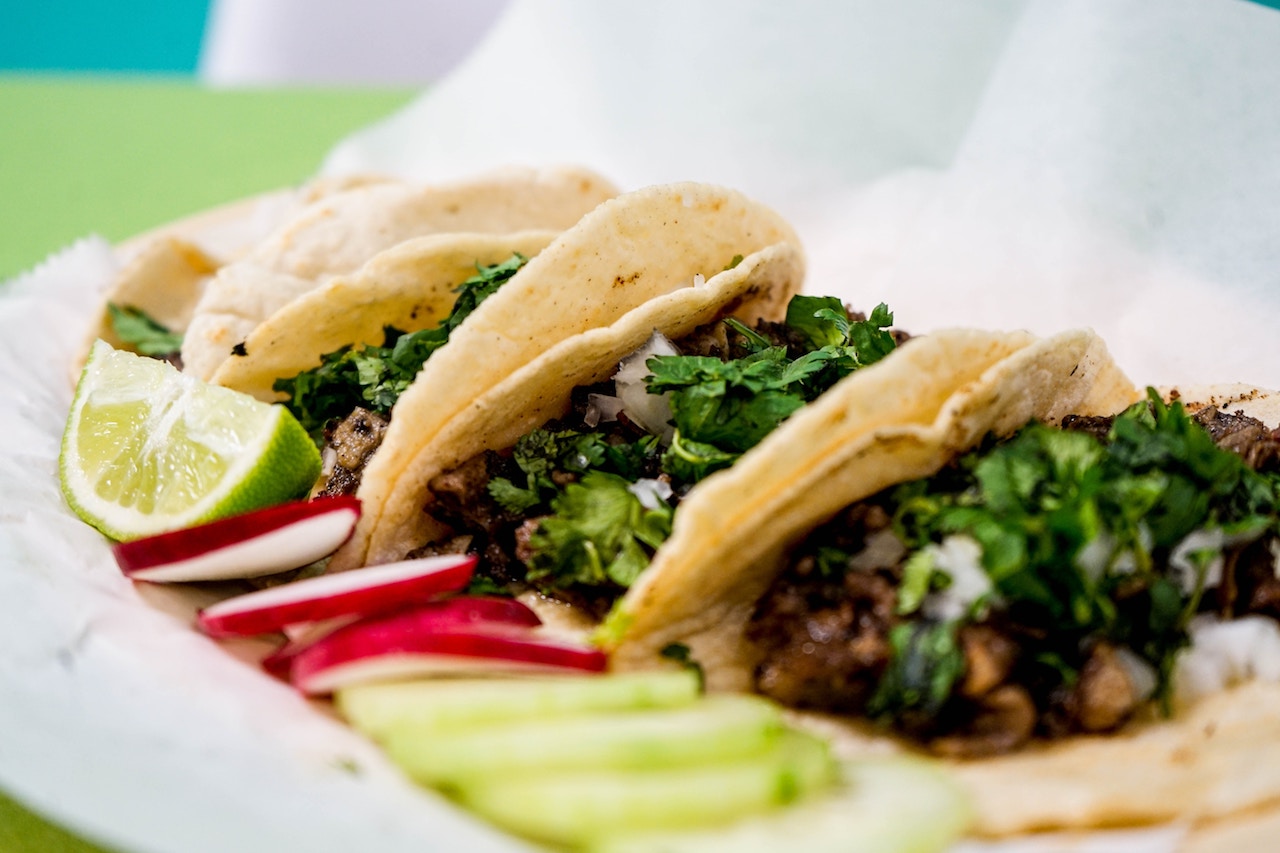 Taqueria Cancun
Cancun is one of the best taquerias in the Mission and is a great place to eat well on the cheap. All of their preparations are good, but I especially love the adobada here. Enjoy the chips and salsa while you wait as well!
La Taqueria
"La Taq" is a cult favorite for Mission burritos and tacos for a reason. It's simply the best. Their carnitas burrito has repeatedly been titled "the best burrito in America," but their tacos are standouts as well. Ask for either to be "dorado," and they'll throw it on the grill until the tortilla is a crispy, delicious golden brown.
Pancho Villa
While Pancho Villa isn't always considered the best taco in town, it is fantastic and also one of the few Mission taquerias to offer specials on Taco Tuesday ($1.50 tacos! from 3-5pm.) They also have what I think is the best salsa bar in town. I like to grab an order of a few tacos to go and go take it to eat in nearby Dolores Park.
Nick's Crispy Tacos
Although not a Mission standard, Nick's tacos are certainly beloved and budget. You can grab Taco Tuesday specials of two for $7 (and they're good-sized too!) It's worth it to add $1 for "Nick's Way," which adds guacamole, cheese, and a crispy taco shell to the outside of their standard taco.
El Burrito Express (aka EBX)
A local's favorite for many, EBX has great tacos and burritos for under $10 and two locations in the city (on Divisadero in Lower Pac Heights and on Taraval in the Outer Sunset.)
Dumplings on the Cheap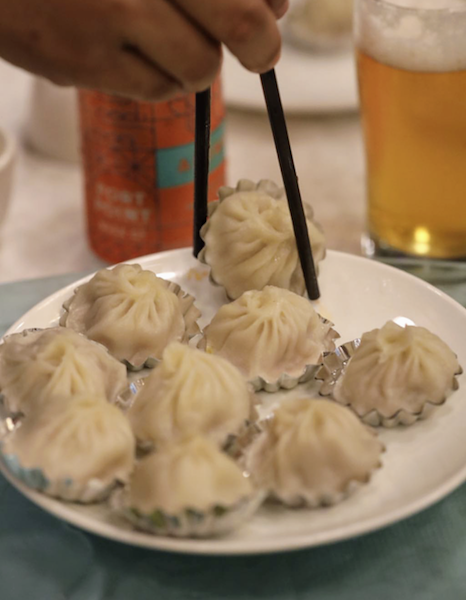 Good Mong Kok Bakery
This is one of the better-known quality dim sum spots in San Francisco's Chinatown. As such, lines can be long during peak meal hours; the difference is the food here is worth the wait.
Xiao Long Bao
Named for the Shanghai soup dumpling, this spot has a ton of other dim sum favorites as well. You can have a complete feast here on the cheap — with each order costing between $1-3.
Good Luck Dim Sum
Another Clement St. dim sum favorite. They're known for having a wide-ranging menu of tasty options. I recommend picking up from a few spots along Clement if you want to create your own dumpling crawl!
Wing Lee
Come here for the best chicken buns in the city (~$1 each.) Their other dumplings are also good.
Dim Sum Club
This hidden Russian Hill spot is located underneath a hotel on Van Ness, so it's a surprising find. Great dim sum and noodles, though!
Kingdom of Dumpling
Located on Taraval Street — a favorite in the outer Sunset for all kinds of food — this spot is affordable and perhaps the best in the city. You can dine in or pick up their many delicious dumplings, many of which freeze extremely well, too. Don't miss the beef pancake and the red bean sesame dessert!
Food Trucks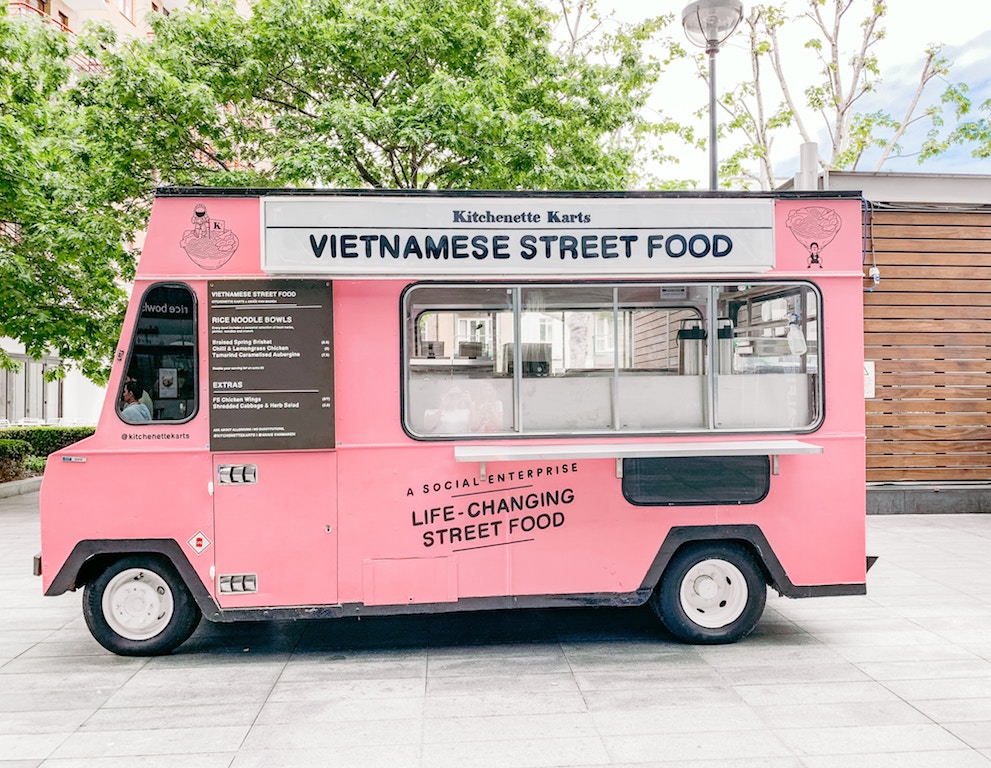 San Francisco's answer to street food (unless you count those Mission street hot dogs for drunk people,) you can find food trucks throughout the city. They're almost always delicious and reasonably priced.
Most congregate downtown during the lunch hour to feed the workplace masses, but you can also search for an Off the Grid event. Those take place throughout the week across the Bay Area, and consistently at both Fort Mason (Friday nights) and The Presidio (Thursday evenings and Sundays) but be sure to check their schedule as they operate seasonally. Another gathering of trucks to note is the SoMa StrEat Food Park and my personal favorite space, Spark Social in Mission Bay (hello, cozy firepits.)
Another spot to note is the latest food truck find, at the new Tunnel Tops park in the Presidio. Favorites include the New Zealand-inspired coffee and matcha truck California Kahve and Kuker, which serves incredible Bulgarian food that's tough to find otherwise.
Perennial food truck favorites include Curry Up Now, Senor Sisig, Chairman Bao, and many others (Also note that many of the most popular and therefore successful food trucks now also have brick-and-mortar restaurants throughout the city.)
If you find yourself in Fisherman's Wharf and you're not going to Scoma's for seafood (worth every penny,) check out The Codmother fish and chips truck, if so inclined. And one of my very favorite meals in the entire city can be found in a truck every Saturday beside the Ferry Building Marketplace…the divinely delicious porchetta sandwich from Roli Roti.
Cheaper Alternatives to Classic SF Restaurants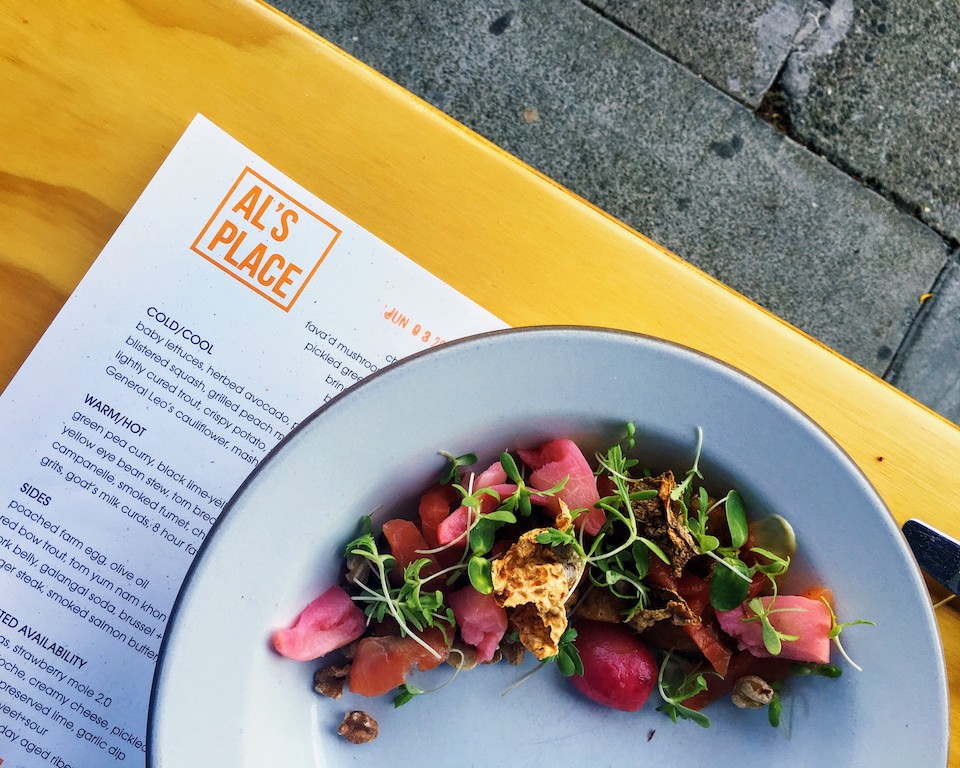 Thinking Rich Table? Try RT Rotisserie
Rich Table (ooh my, those porcini donuts) is one of my favorite spots to dine in the city, but it's not always a cost-conscious choice. You can get similar, quality food at the much more casual RT Rotisserie brought to you by the same restaurant team. (Think rotisserie chicken with excellent sauces and sides!)
Thinking Cala? Try Tacos Cala (Update: it appears to be closed – check their website before going)
Cala is the sister restaurant of Contramar, a well-loved seafood restaurant in Mexico City. Although Cala offers some of the best formal Mexican food in the city, you can still get a taste of the flavors at their back-door Tacos Cala. It's only open for lunch (11am-2pm.) The taqueria entrance is on Hickory Street and is standing-room only.
Thinking Atelier Crenn? Try Petit Crenn
While neither is a particularly budget dining experience, if you were going to splurge on one meal…an offering from chef/goddess Dominique Crenn (the first female 3* Michelin chef in America) would be hard to pass up. Whether it's lack of a reservation or funds keeping you from her flagship restaurant, Petit Crenn offers a chance to experience her food and concepts at more palatable price points. Also note the vintage Parisian-inspired wine bar Bar Crenn in the Cow Hollow neighborhood.
Thinking Slanted Door? Try Out the Door
Located right on the water of the Embarcadero, The Slanted Door is one of SF's most classic offerings. With fresh and finely prepared Vietnamese cuisine, it's a great place to sit and indulge. However, you can also experience the food at Out the Door — a storefront in the Ferry Building, or a more casual restaurant in Lower Pac Heights. You can still get the incredible Dungeness crab glass noodles at either.
I hope this helps illuminate some of the better cheap eats in San Francisco, as well as alternative price points for some of the city's most cherished fine dining options. Do let me know if you have other wallet-friendly favorites!
—
P.S. Soleil Ho, the amazing (former) food critic at the San Francisco Chronicle, wrote about the cost of food in the city and its effects on food culture and criticism. Very worth a read.
:: save for later ::