Where to find the Mrs. Doubtfire house in San Francisco, and how I stumbled upon it randomly (and in a timely fashion!)
But first —
What is the Mrs. Doubtfire House address in San Francisco?
Answer: 2640 Steiner Street
(just like she says in the film!)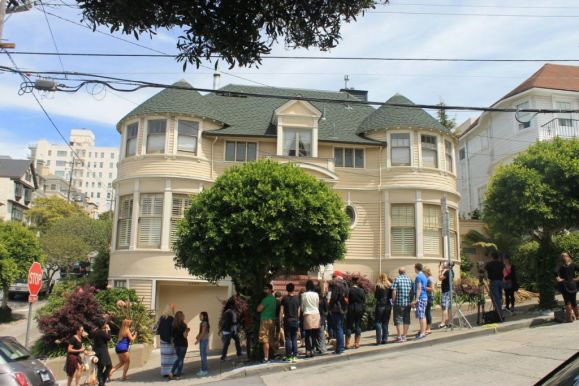 That's the thing about part-time travel: we strive to look at the world with the same eyes we do when we're traveling — and sometimes this means making time to wander your own city.
I've begun setting aside time in my day for nothing but wandering.  Walking outdoors is almost always where my best ideas come from (and bonus: I love walking around appreciating San Francisco and sometimes, even taking pictures as I do so.)
Today was like any other day — I walked the twenty or so minutes to my yoga class midday.  Except that the world lost a beautiful soul this week, and in a particularly tragic way.  People's response was overwhelming.
Now, I have mixed emotions about grieving for a person you've never actually met.  I have my own opinions about our celebrity-obsessed culture. But as I walked home today and heard the rustling of a crowd nearby, I followed my curiosity straight to a group of strangers mourning the loss of an icon — and I'm so glad I did.


The Mrs. Doubtfire house address is 2640 Steiner Street, San Francisco
I visited San Francisco as a kid, but I'm pretty sure my biggest impression of the city I would come to love so much comes from Mrs. Doubtfire  (a movie I still adore and watch, as recently as last year.)
I distinctly remember Sally Field's character telling "Mrs. Doubtfire" the street address of the house for the interview, "2640 Steiner St."  Turns out that's the actual address in the city for the house that was used in the movie!
At first I was skeptical, and mostly glad that the home didn't belong to the family of Robin Williams. Yet approaching the steps where San Franciscans have laid flowers, notes, and photos from his films, the cynic in me was quickly put to rest.
People had written meaningful tributes to the actor, from "O Captain, My Captain" (a nod to Dead Poet's Society) to "Thank you for always standing up for equality and making us laugh," to "You made me feel like it was okay to feel like I was on the wrong planet."
Having spent part of his childhood in the Bay Area, and filming several movies in the city — not to mention his obvious affection for SF — Robin Williams became a sort of San Francisco icon.  That's something I knew even before I moved here.
He once said "I can walk down the streets of San Francisco, and here I'm normal."  
This simple statement gives so much profound meaning to the heart of my own relationship to SF.
So as my Facebook and Twitter feeds blew up with individual mourning, as the media made its own statements about his life and his career… it was special to me to find a community outpouring of support and personal remembrance for Robin Williams — right in my own backyard.

Side note: I was featured on the CBS local news coverage of this memorial.  There's an interesting story of the man who lives in the house now (there is a small connection to the film.)  I have one quick thing to say in my interview.  Watch the clip. (I'm at about 1:05)

Local news anchor Mike Sugerman getting footage of the impromptu memorial.
My run-in with the tribute to Robin Williams left me, like many of us, reflecting on some of his most meaningful work.  Here are a few of the quotes from the characters in his films that I find particularly poignant:
"No matter what people tell you, words and ideas can change this world." –Dead Poets Society

"Carpe diem. Seize the day, boys. Make your lives extraordinary." – Dead Poets Society

"We don't read and write poetry because it's cute. We read and write poetry because we are members of the human race. And the human race is filled with passion. And medicine, law, business, engineering, these are noble pursuits and necessary to sustain life. But poetry, beauty, romance, love, these are what we stay alive for." – Dead Poets Society

"You treat a disease, you win, you lose. You treat a person, I guarantee you, you'll win, no matter what the outcome." – Patch Adams

"Thank you for believing." – Hook

"Real loss is only possible when you love something more than you love yourself. I doubt you've ever dared to love anything that much." – Good Will Hunting

"Boys, you must strive to find your own voice. Because the longer you wait to begin, the less likely you are to find it at all. Thoreau said, "Most men lead lives of quiet desperation." Don't be resigned to that. Break out!" – Dead Poets Society

"You'll have bad times, but it'll always wake you up to the good stuff you weren't paying attention to." – Good Will Hunting

 "If there's love, dear… those are the ties that bind, and you'll have a family in your heart, forever." – Mrs. Doubtfire

"But oh, to be free. Such a thing would be greater than all the magic and all the treasures in all the world." – Aladdin

"That you are here – that life exists, and identity; that the powerful play goes on and you may contribute a verse.  What will your verse be?"-  Dead Poets Society
I've been guilty lately of scheduling my days to a 'T'…calls with clients, classes, coffee meetings, even penciling in my walks around the city. You never know where that may take you.  It's important to leave space in your day for randomness, humor, and wandering. 
Something tells me Robin would approve.