A Flâneuse's Guide to Paris
An itinerary fit for two days…or two months (mon dieu.)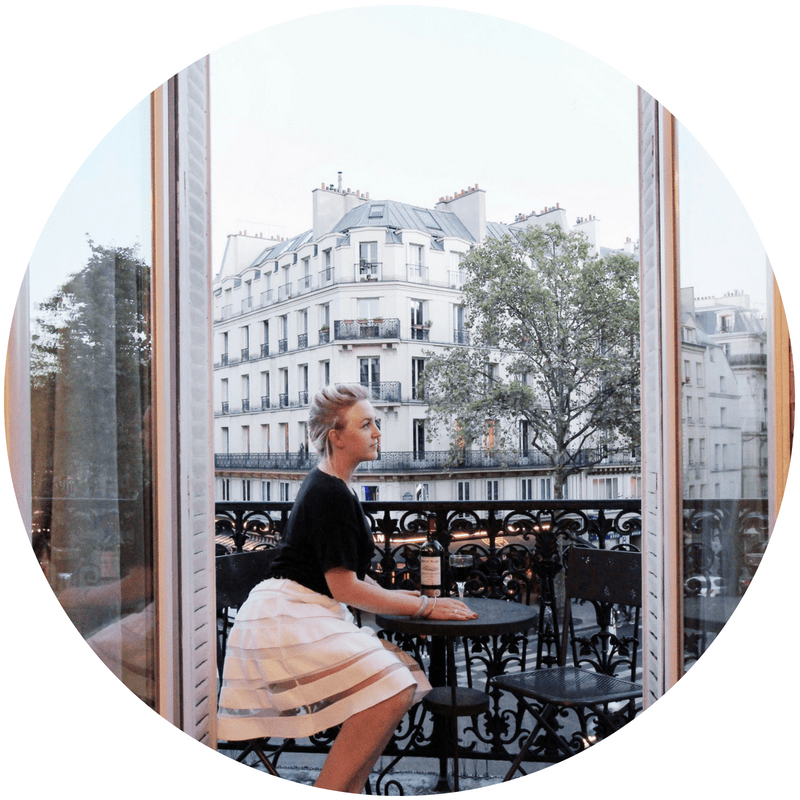 My wish and hope for you is that you have more than a weekend in Paris. Alors, a visitor's mindset is that it's always 'le weekend'…plus, few days in Paris is better than no time in Paris at all!
Most years, I spend most of October in France. And most of that time is spent in Paris.
(By the way, October is the best month to be in Paris – if you ask me.)
There is something magical about any time spent in the French capital, particularly if you're a visitor to the city. Even if you have just a weekend in Paris, you can take a 'flaneur' or 'flaneuse' approach, which just means one who wanders for pleasure and without aim.
Flâ·neur: one who wanders with intention, or who is intentionally aimless.
If your ideal Paris weekend includes a desire to hit the major museums and monuments, or if you haven't visited before, you may wish to spend your time differently and take a meandering approach on a return visit. This relaxed, curious method of exploring the city can be frustrating for someone who has limited time or is visiting for the first time — I get that.
If you had only a weekend to spend in Paris, would you run around checking off boxes, seeing as many sights as possible, and queueing to see a famous piece of art? Or would you stroll along the Seine, linger over a book in a cafe, and picnic in a park?

I will guide you not by 'what to do on Friday, Saturday, and Sunday.' I will instead give you the framework resulting from my many favorite days and weeks in the city. And if you have visited before, I believe this 'Weekend in Paris' way of experiencing the city will open up its beauty to you in a whole new way.
Let the mindset of the purposeful wandering of the flâneur be your guide.

Pick an arrondissement and make it your base for the whole time you're there.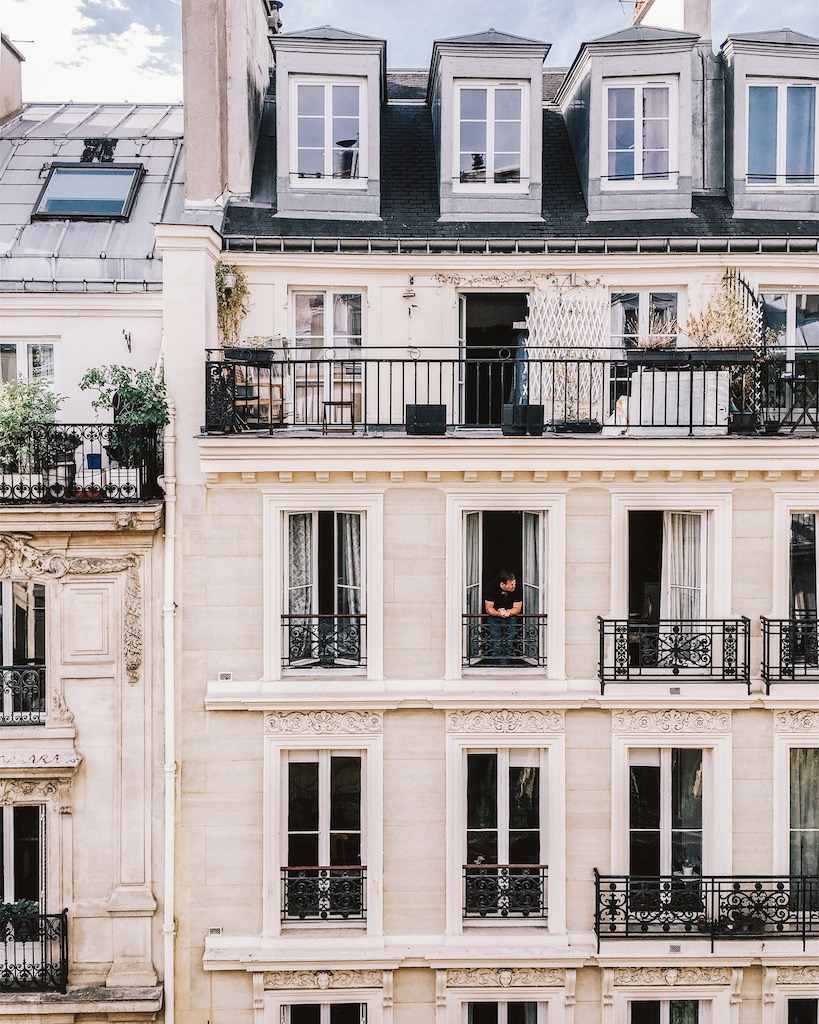 It's most convenient to choose your accommodation in this neighborhood as well, but you don't have to.
A few favorites:
Saint Germain des Pres/6th: classic Paris. A bit quieter, lots of great streets for wandering plus some of the city's best restaurants, parks, and storefronts in and around it. Left Bank.
Le Marais/3rd and 4th: Fun, vibrant, youthful, beautiful. Home to more diverse pasts and presents such as the Jewish Quarter and the LGBTQ center. Great shopping. Right Bank.
Bastille/11th: More local, great food, patisseries, and bars, a bit of an alternative side of Paris that might make a difference if you haven't really loved the city in the past.
Choose a pâtisserie you can go back to each morning of your trip.

Of course the one you choose would ideally be near your accommodation so that you can get to know the people there and greet them every morning or so, almost as if you lived there.
A few suggestions:
Poilane (6th arrondissement)
Du Pain et Des Idées (10th)
Pierre Hermé (6th, +other locations)
I also love visiting Stohrer, the oldest pâtisserie in Paris (located in the Marais))
Get a place with a balcony.

Not a 100% necessary move, but one that is certainly enjoyable. I like drinking my local coffee and/or wine on a balcony that's private to me, as well as enjoying the big windows and absorbing Paris in motion from above. (Recommended apartments listed at end of post!)
Bring your own picnic to a park.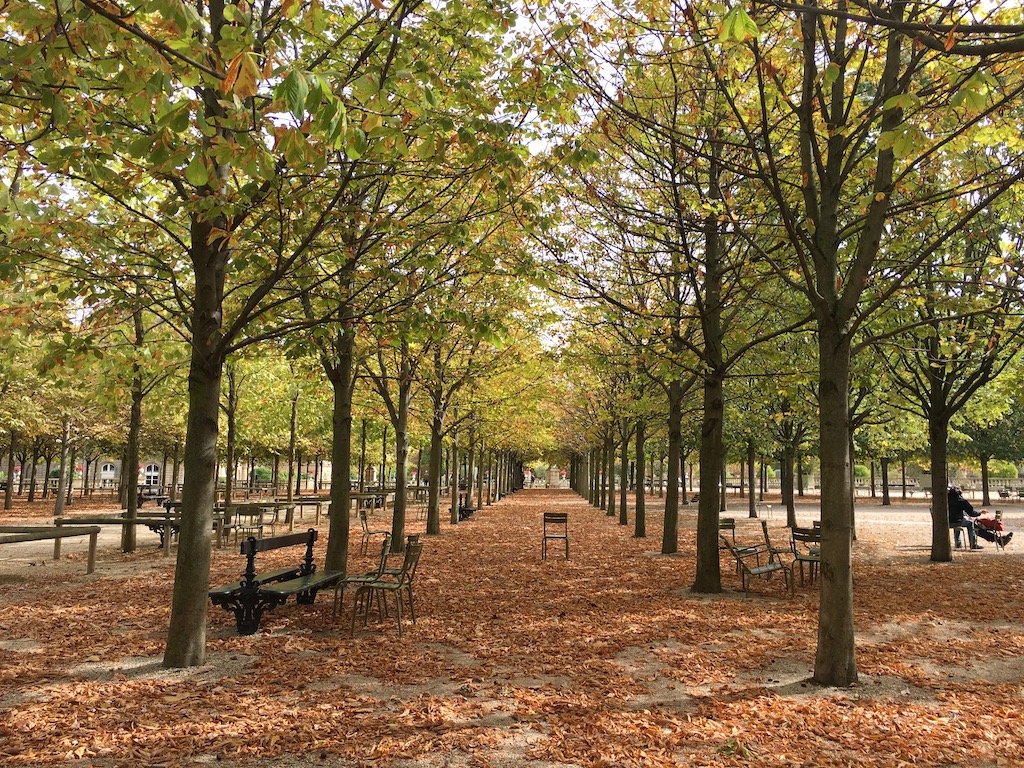 Some recommended parks for picnics:
Suggested picnic goods:
French wine
Baguette
2-4 French cheeses, at least one of which is exceptionally fragrant
Chocolate
Classic salades such as celery remoulade or carrot rapees
Anything else that strikes your fancy at the market or Carrefour.
Rent bikes using the Velib system.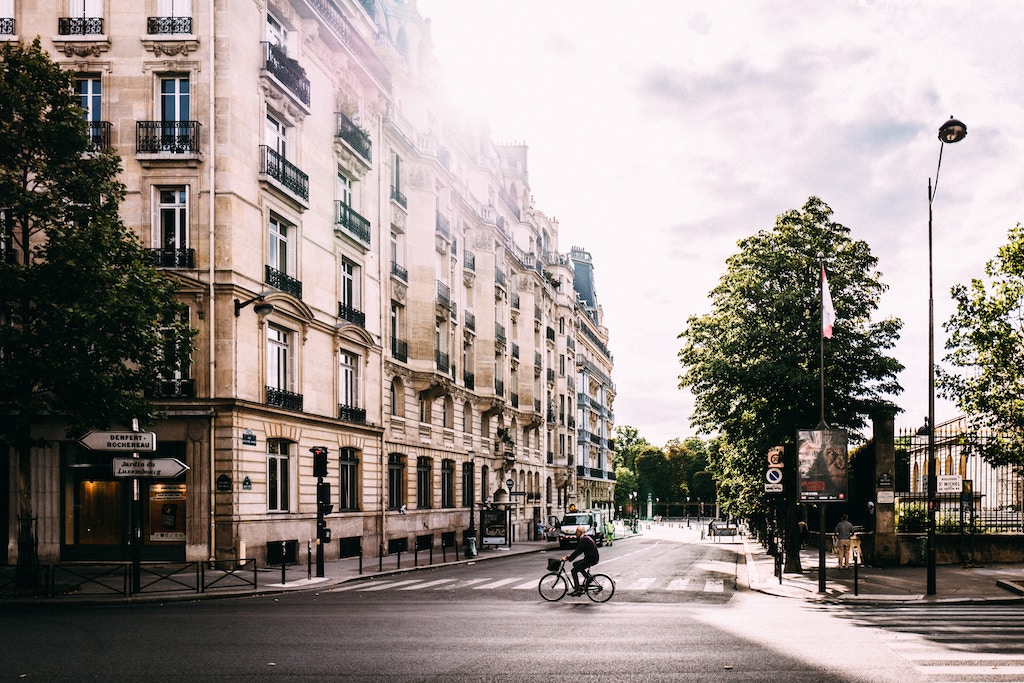 You can use your credit card with chip, or purchase via any credit card on the website (ahead of time) and enter your passcode.
Rides under 30 min are free.
There is a Velib app that shows open bike terminals, but there are so many you can easily ride and look for one when you arrive close to your destination.
Bike rides are often cheaper than public transporation, allow you to see more of the city, and are faster than walking. Be aware of cars, but in general, France seems to be more aware of bikers on the road.
Or, take a stroll on the Seine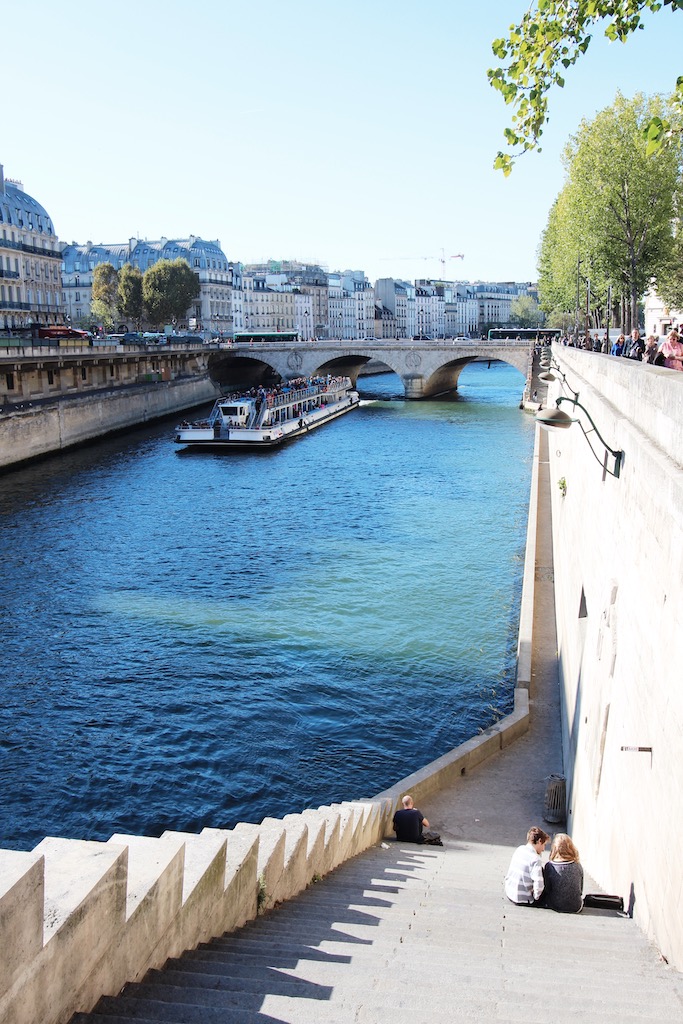 Look for stairs down to paths next to the river (often near bridges.)
Go at sunrise for fewer people and photographs, or sunset for great light and people watching.
Bring a picnic if you haven't already done so at a park!
Check out the makeshift plage (beach) during the summer along the riverbank
If you'd rather sit on the Seine river, check out the terrace of Maison Maison at 16 Quai du Louvre in the 1er. You can also do a river cruise for a unique view of Paris.
Be a flâneur/flâneuse.
One of the greatest pleasures of Paris is simply wandering the streets with no plan. Put on your best walking shoes, soak in the beauty, and give it a try — you never know what you might find.
Not sure where to start? I love strolling from Saint-Germain-des-Prés past the Notre Dame cathedral, some of the most beautiful bridges across the Seine, and the Île Saint Louis, perhaps stopping for ice cream at Berthillon or in to see the impressive stained glass at Saint Chapelle. Nearby you'll find one of my favorite tucked-away squares, Place Dauphine. This is one of my favorite self-led walking tours in all the city and the recipe for the perfect Paris day. Enjoy <3
Discover French wine at a local wine bar.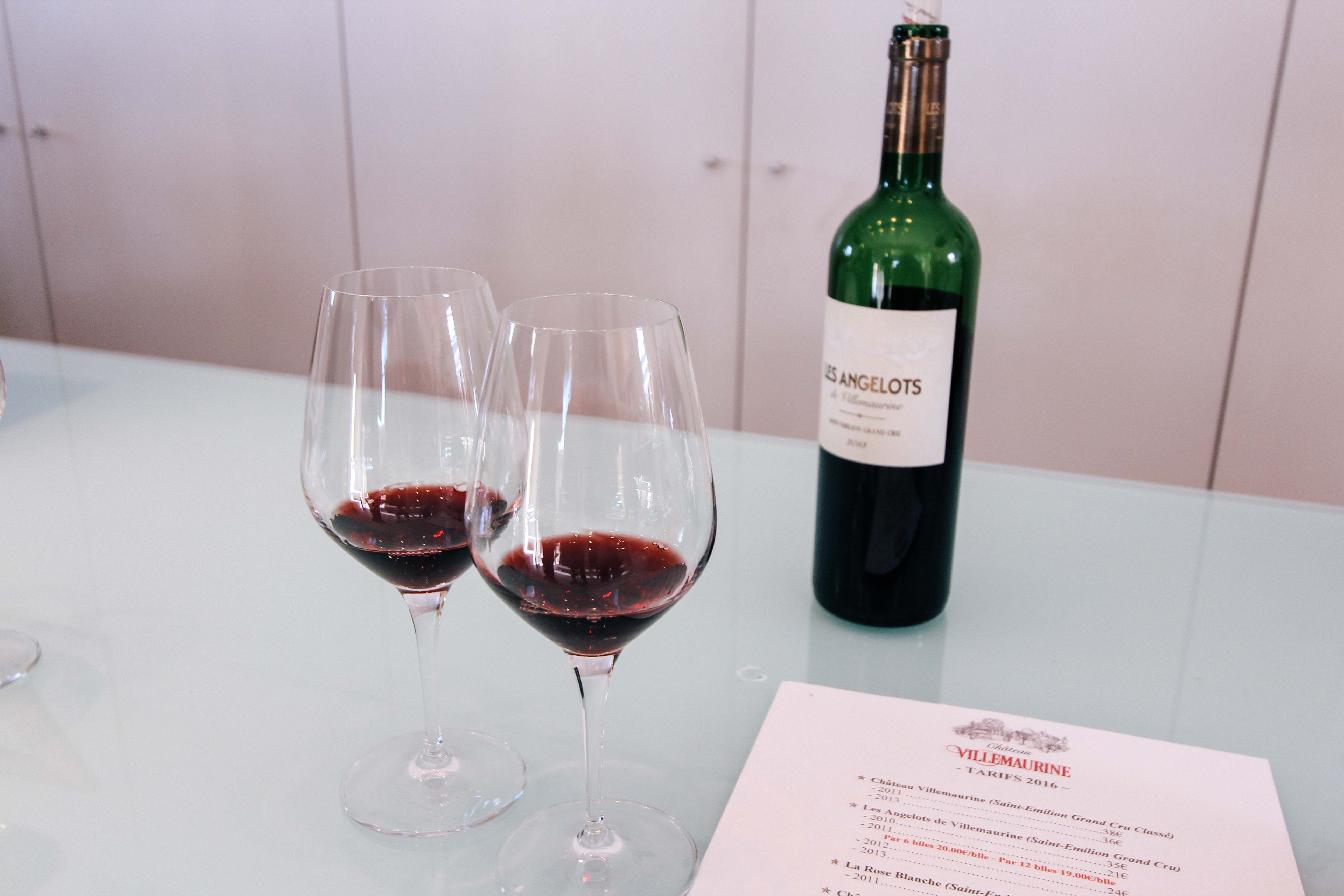 Wander into a wine bar at happy hour or later in the evening. Discover regions of wine (Bordeaux, Burgundy, Loire, etc.) and enjoy the free-flowing inexpensive wines. Particularly good on a Paris weekend. I love:
Le Baron Rouge (11th arrondissement)
L'Avant Comptoir (6th)
La Cave de Septime (11th)
Le Garde Robe (1st)
Au Passage (11th)
Dine at a classic bistro.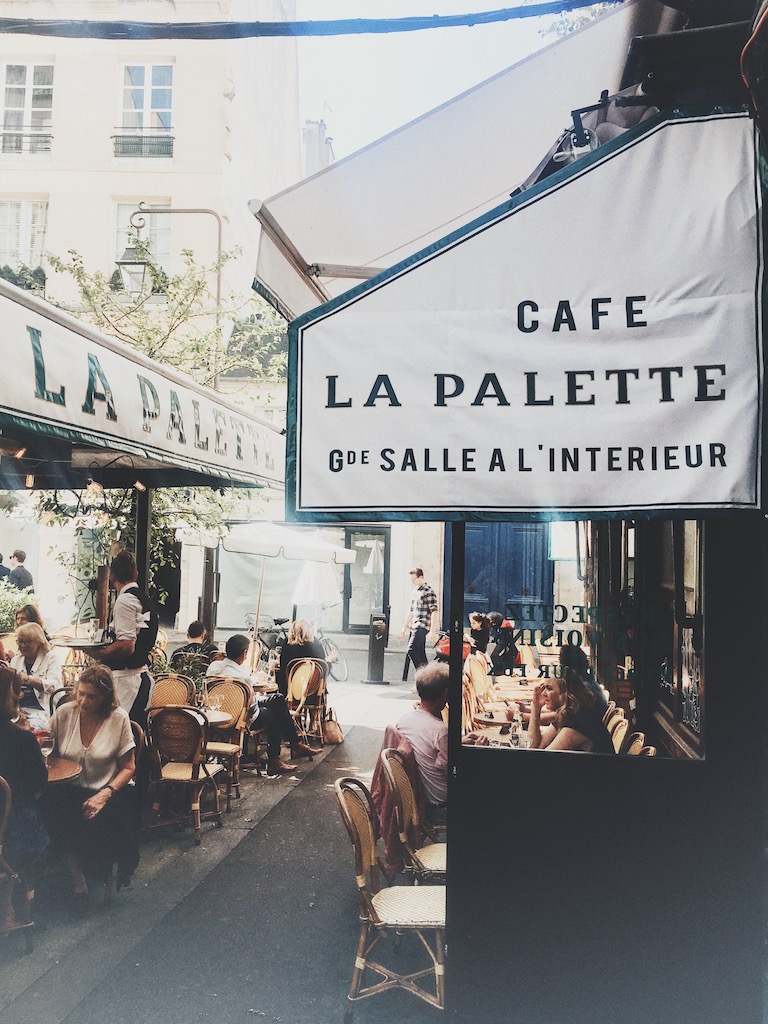 Lingering over classic French food at a long-standing Parisian bistro is always a good idea. A few I recommend:
Bistro Paul Bert (11th arrondissement)
La Palette (6th)
Le Trumilou (4th)
Le Grand Colbert (2nd)
Le Chateaubriand, or its sister restaurant Le Dauphin (11th)

Sit en terrasse for a few hours.
Like the seated version of being a flaneur, one of the very best ways to experience Paris is to watch the world pass by from a cafe. You can't go too far without running into one, but here are some cafe etiquette tips, along with a few favorite cafes:
Le Bonaparte (6th arrondissement)
Cafe de Flor (6th)
Rosa Bonheur (19th) or Rosa Bonheur sur Seine (7th)
Chez Julien (4th)
Try out a newer restaurant.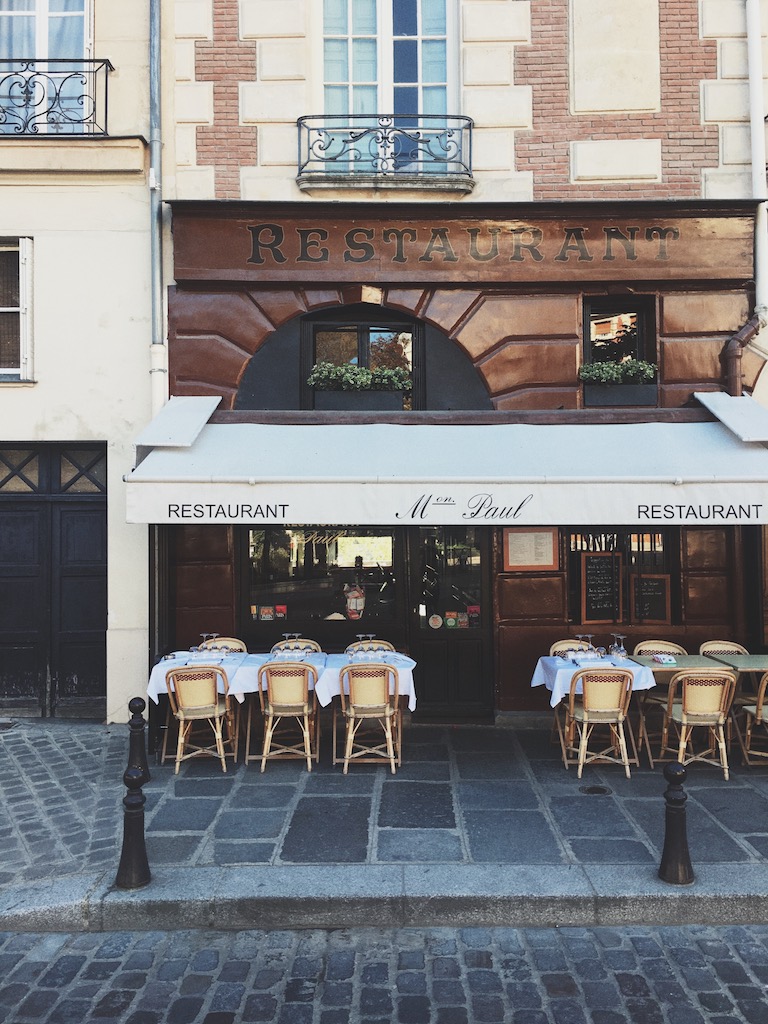 Modern Paris has a variety of cultures and cuisines to sample. Check out Septime, Semilla, Verjus, Papillion, and Frenchie (to name a few) for some fantastic food that's more modern than classic. There are also some incredible restaurants with non-French cuisine if you're looking for more options. Pick up the book The New Paris before your trip for more.
A few more (local) dining resources:
Enjoy some of the excellent lesser-known museums.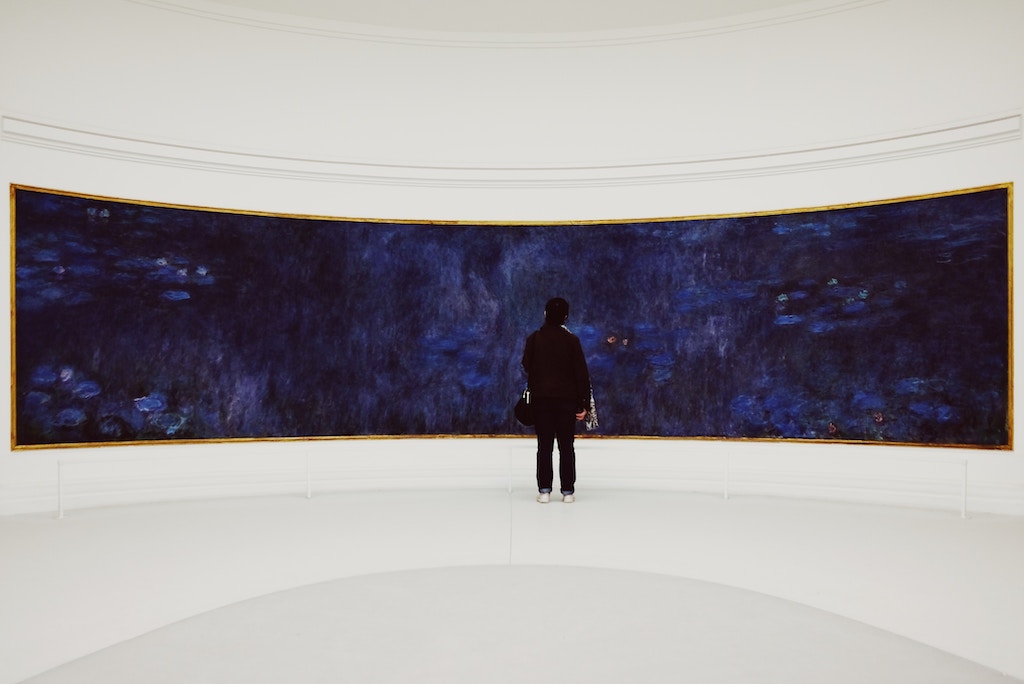 If you've seen them before, I highly recommend skipping the fight with the crowds at The Louvre and D'Orsay. Many of the smaller museums of Paris are sadly overlooked by even frequent visitors. The three I'd head to first are:
Musee Jacquemart Andres (8th arrondissement)
Musee Rodin (7th)
L'Orangerie (1st)
Go in search of France's regional cuisines.
There is a lot to love about Parisian food, and don't think just in terms of French food! However, here are a few to taste from other regions of France while you're in the city.
Taste crepes or galettes from Brittany (Might I suggest Breizh Cafe or Little Breizh)
Cassoulet – a rich, slow-cooked dish from Southern France
Salade Lyonnaise – a simple yet decadent dish from Lyon that never fails to delight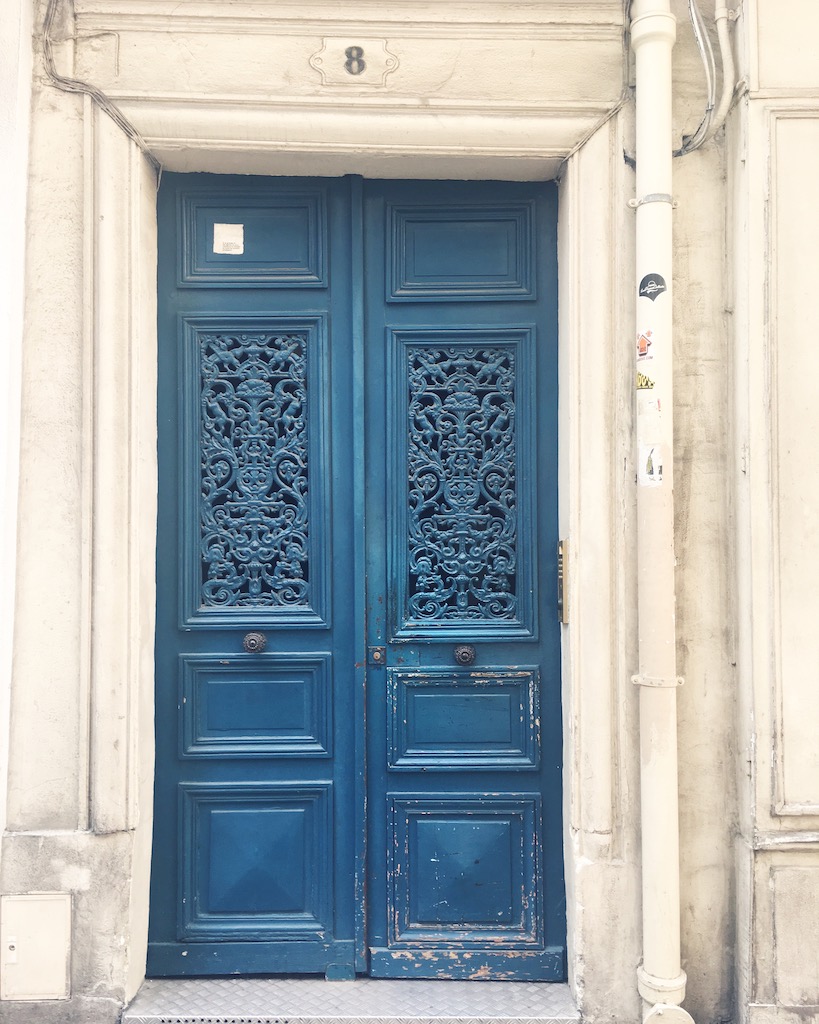 Explore the French pharmacy – especially if you're interested in skincare.
City Pharma in the 6th is the cheapest; prepare for long lines and crowds (it's worth it!) See my recommendations here.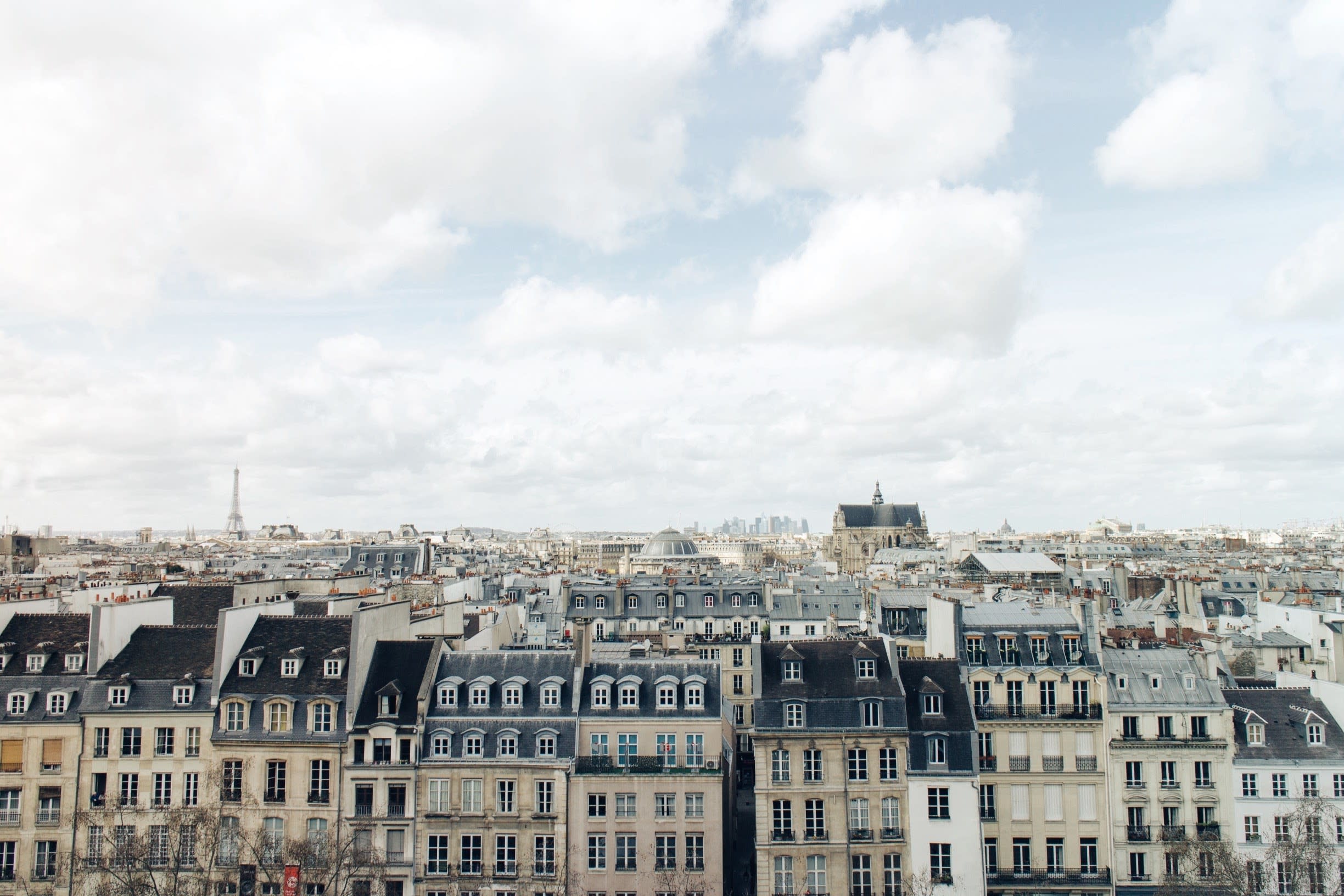 And, Choose Your Own Adventure
Make a pilgrimage to Shakespeare and Company, Paris's most famous English bookstore. It's a friendly and important home to a lot of the city's past and present literary scene.
See the Eiffel Tower up close. If you've already stood under it/beside it, check out a new angle or sit at a cafe that has a view of it. (I once tried to skip the Eiffel Tower on a visit, insisting I didn't need to visit it, but I caved and went to see it and lo and behold, it still charms.) Another good, somewhat hidden spot to view it is the rooftop terrace of the Galeries Lafayettes — simply go to the 7th floor of the department store for a (free) panoramic view of Paris.
Versailles is truly a sight to behold, and it's a quick train ride from Paris. If you're really interested in going, it's very worth it. However, there is so much to do/see in Paris I usually recommend staying in the city if you only have limited time. It remains one of the best day trips from Paris.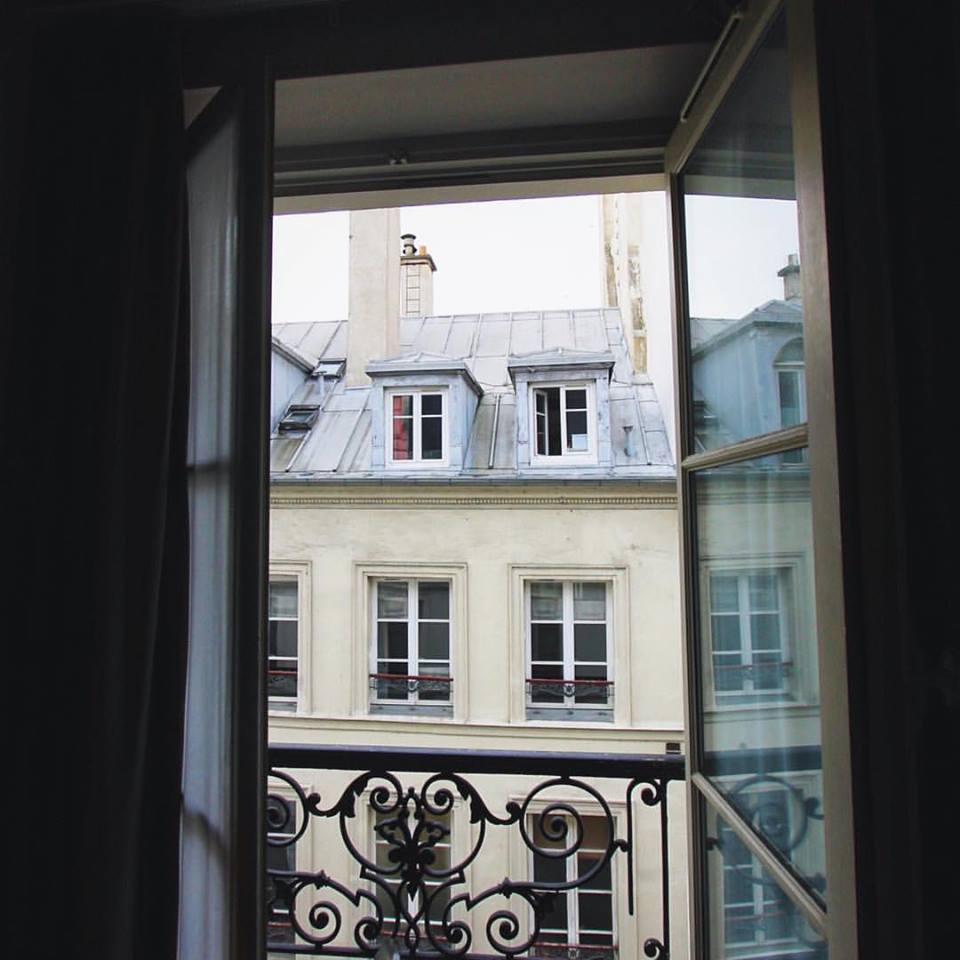 What to pack for a weekend in Paris:
Neutrals – you'll find all kinds of styles in Paris but I tend to blend in best when in black, white, tan, or blush.
Red lipstick – when in Paris!
Comfortable walking shoes – for all the walking you'll be doing!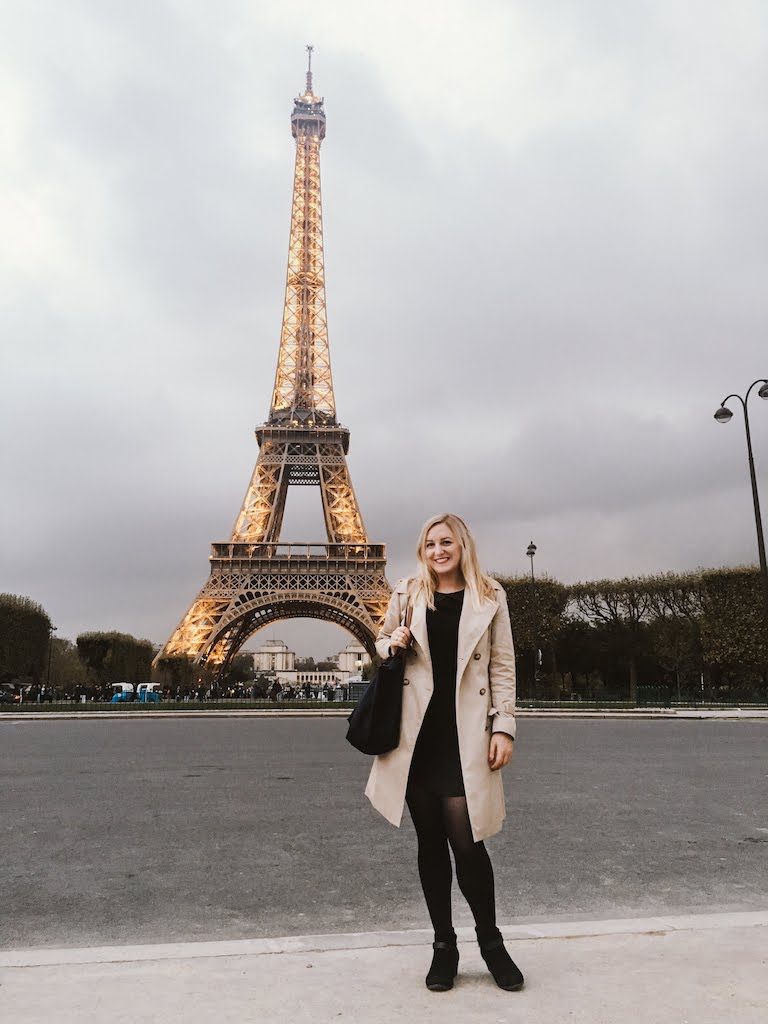 How to Make French Friends (or at the least, have the best chance of starting off on a good foot wherever you go:)
Say 'bonjour' or 'bonsoir' and 'merci, au revoir' as you enter and exit any storefront or restaurant. Even if you don't speak any other French, it's an important part of French culture to say these things upon entry/exit and will you put you miles ahead of others for service and general friendliness when in Paris.
Also, it may sound funny but smiling is generally frowned upon (ha.) You'll find that French people may not be as warm and friendly as you're used to in other places, especially if you're coming from the States. Remember, this does not mean they're not lovely people — and you might find that out with a little bit of spoken French and/or working to fit into French culture while you're there.
Where to Stay in Paris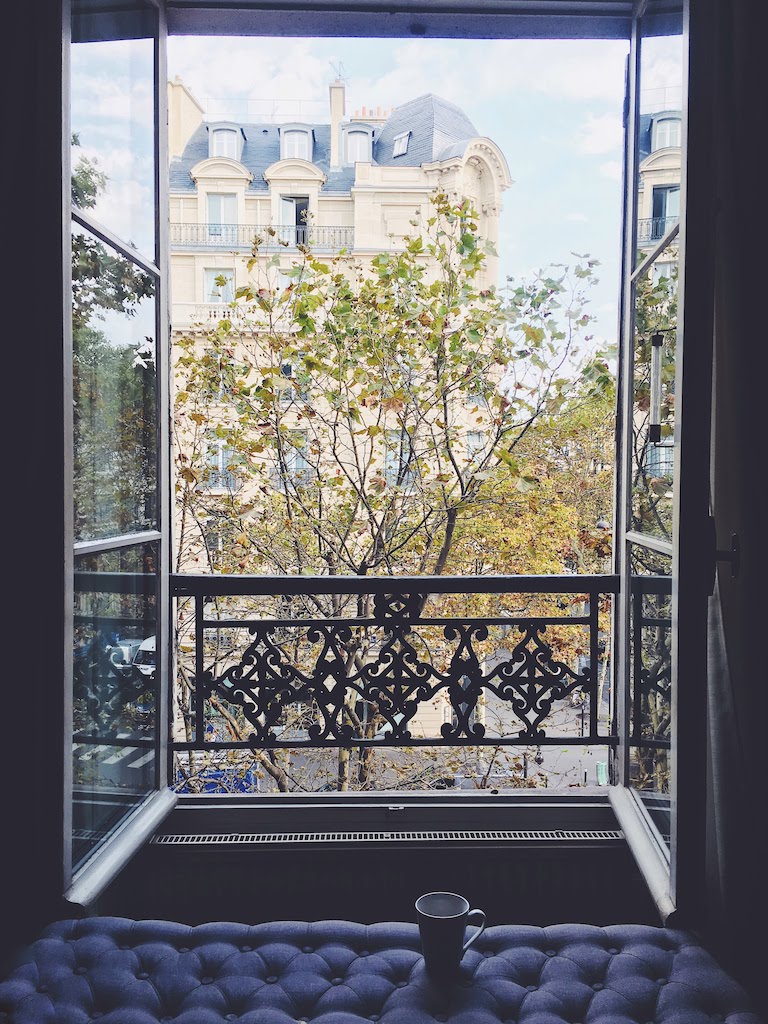 Bon voyage <3
:: share or save these tips for later ::