A Weekend Getaway in Nashville + Where to Eat
Some people go to Nashville for the music. Or so I hear.
This second visit to Music City, however, was for me all about the food. My first time passing through, I had had my first mouth-burning bite of hot chicken, I sampled a meat-and-three, and then cooled said mouth off with a Jeni's ice cream in Hillsboro Village (also, Pancake Pantry…hello!)
So one could say I whet my appetite for Nashville on that quick stop through a few years ago. When I found myself in Memphis this year, not a whole lot could stop me from going back — fork and knife in hand — for more.
From nights out in East Nashville to my first honky-tonk experience (ok, maybe it was also a little about the music,) to a Nashville Eats food tour, to restaurants and some of the best places to eat in Nashville, plus multiple stops at the same barbecue joint…it's incredible how much you can learn about a city's food scene in just a handful of days and 3-5 daily meals!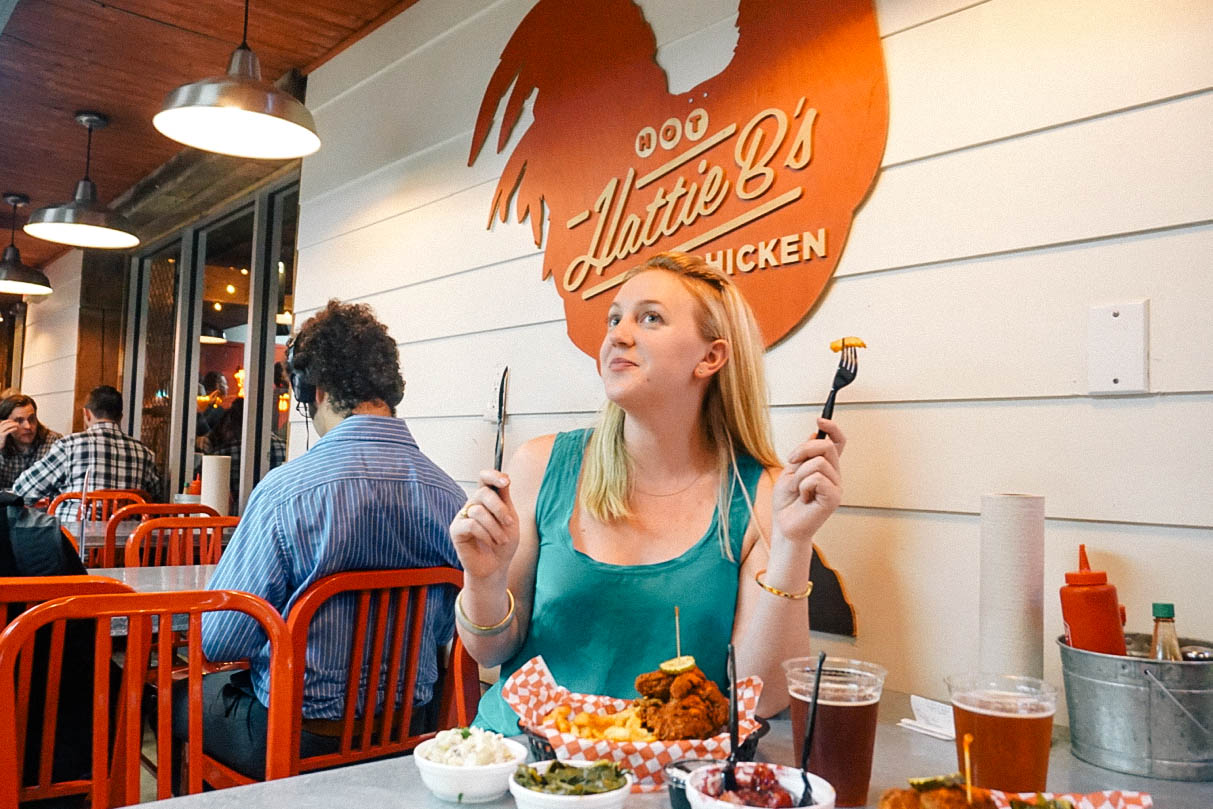 So, what are the classic must-haves for a foodie weekend in Nashville?
Here's the list of the best places to eat in Nashville I wish someone had given me before I arrived.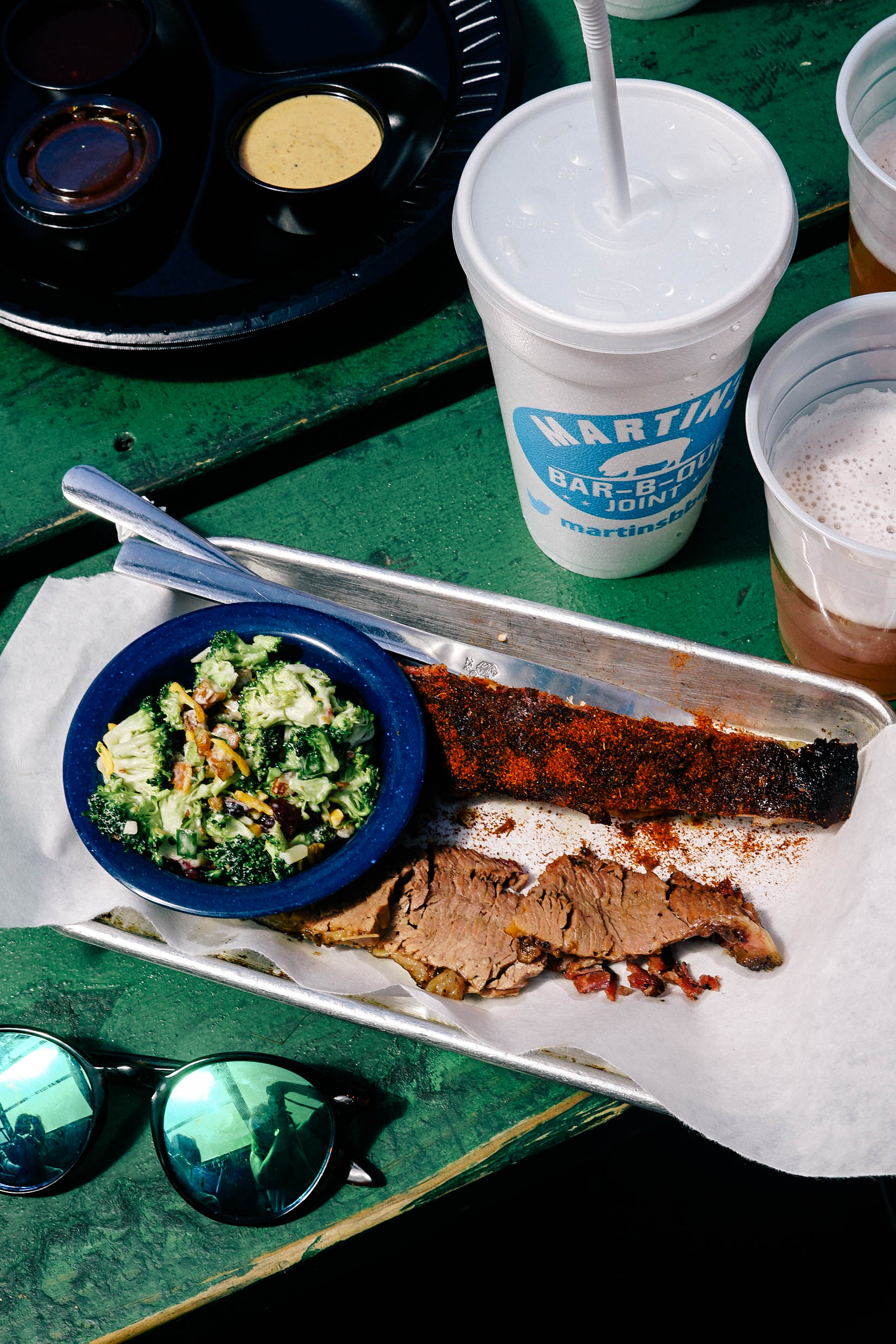 Where to Eat in Nashville
A Nashville Food Guide (Best Suited for a Weekend)
Martin's Bar-B-Que
410 4th Ave S (Peabody)
Why It's Cool: One look at their BBQ pits (you can ask to take a peek,) and you'll understand why this place is a legendary spot for Tennessee barbecue. The best BBQ in Nashville!
What To Get: Ribs, of course! Their wings were also excellent. Or get a sampler platter so you don't have to choose. Ask for a side of all the sauces to taste them all.
The 404 Kitchen
404 12th Ave S
Why It's Cool: A delicious + fresh menu with unique items like scallop toast and rabbit. One of the best restaurants in downtown Nashville.
What To Get: The house-made burrata, chilled lamb salad, cornbread.
Rolf & Daughters
410 4th Ave S (Peabody)
Why It's Cool: Widely acclaimed — this was probably the most recommended/highly rated restaurant recommended to me.
What To Get: Sourdough with seaweed butter, pasta, a cocktail!
Butcher & Bee
902 Main S
Why It's Cool: If you've reached your breaking point for smoked meats and heavy sides and need some veggies, this seasonal spot is a welcome respite from your typical Southern eats.
What To Get: Whipped feta, shakshuka, avocado crispy rice.
Kitchen Notes
250 5th Avenue S
Why It's Cool: Nashville food writer and cookbook author Jennifer Justus calls this one of the best biscuits in the city.
What To Get: Buttermilk biscuits with butter and jam!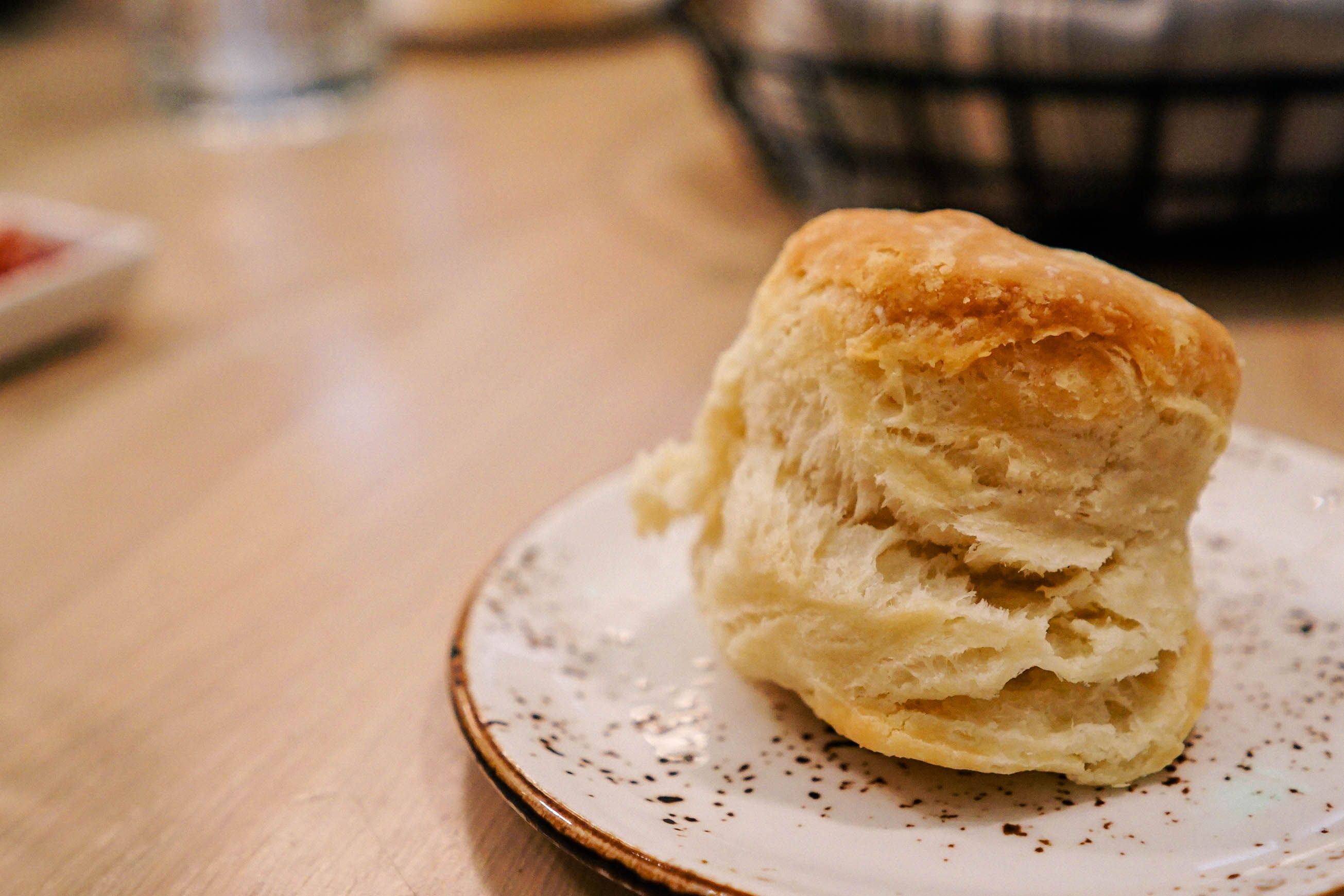 Pancake Pantry
1796 21st Ave S
Why It's Cool: If you love breakfast (and who doesn't,) save room for this epic pancake spot with menu items like cornmeal pancakes cooked with green chilis or sweet potato pancakes.
What To Get: Classic or crazy pancakes as suits your taste/mood that day. Add bacon at your own risk.
Mas Tacos Por Favor
732 McFerrin Ave
Why It's Cool: Never one to search for Mexican food outside of California, Texas, or Mexico, these tacos still rock and should be enjoyed no matter your taco location snobbery.
What To Get: Tacos! (Duh.) Though I also hear rave reviews for their chicken tortilla soup and elote.
Las Paletas
2911 12th Ave S
Why It's Cool: It's literally cool to get one of these flavorful and fresh popsicles, especially on a hot day.
What To Get: The classic and more inventive flavors (I got avocado) seem to all be a hit. Take your popsicle to the park across the street if the mood strikes you!
The Treehouse Restaurant Nashville
1011 Clearview Ave
Why It's Cool: You won't find this at the top of most Nashville food lists, but for me (and my friends) this was a highlight of all the places we ate at in Nashville. The food here is fantastic — and the atmosphere is fun, relaxed, and inviting. They also serve late night (until 1am.)
What To Get: We loved the beef tartare and the ramp noodles most!
Lockeland Table
1520 Woodland St
Why It's Cool: Another East Nashville favorite, it feels like a true neighborhood spot yet the place is chic and food and drink is delicious. Go for the happy hour (4-6pm,) which is actually a community hour supporting a local design center.
What To Get: Their wood-fired pizzas are a highlight. In the summer, the one with peaches on top was divine.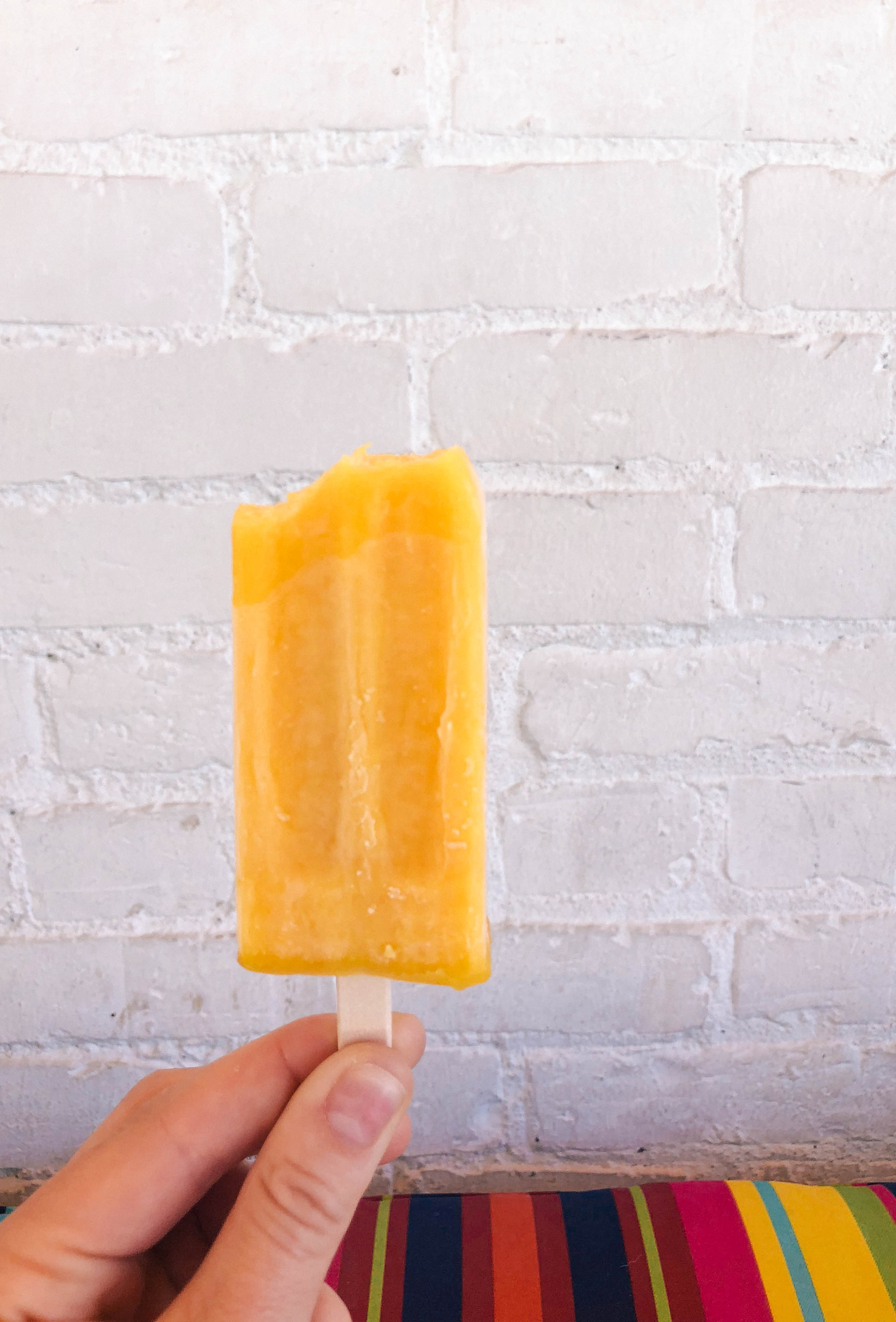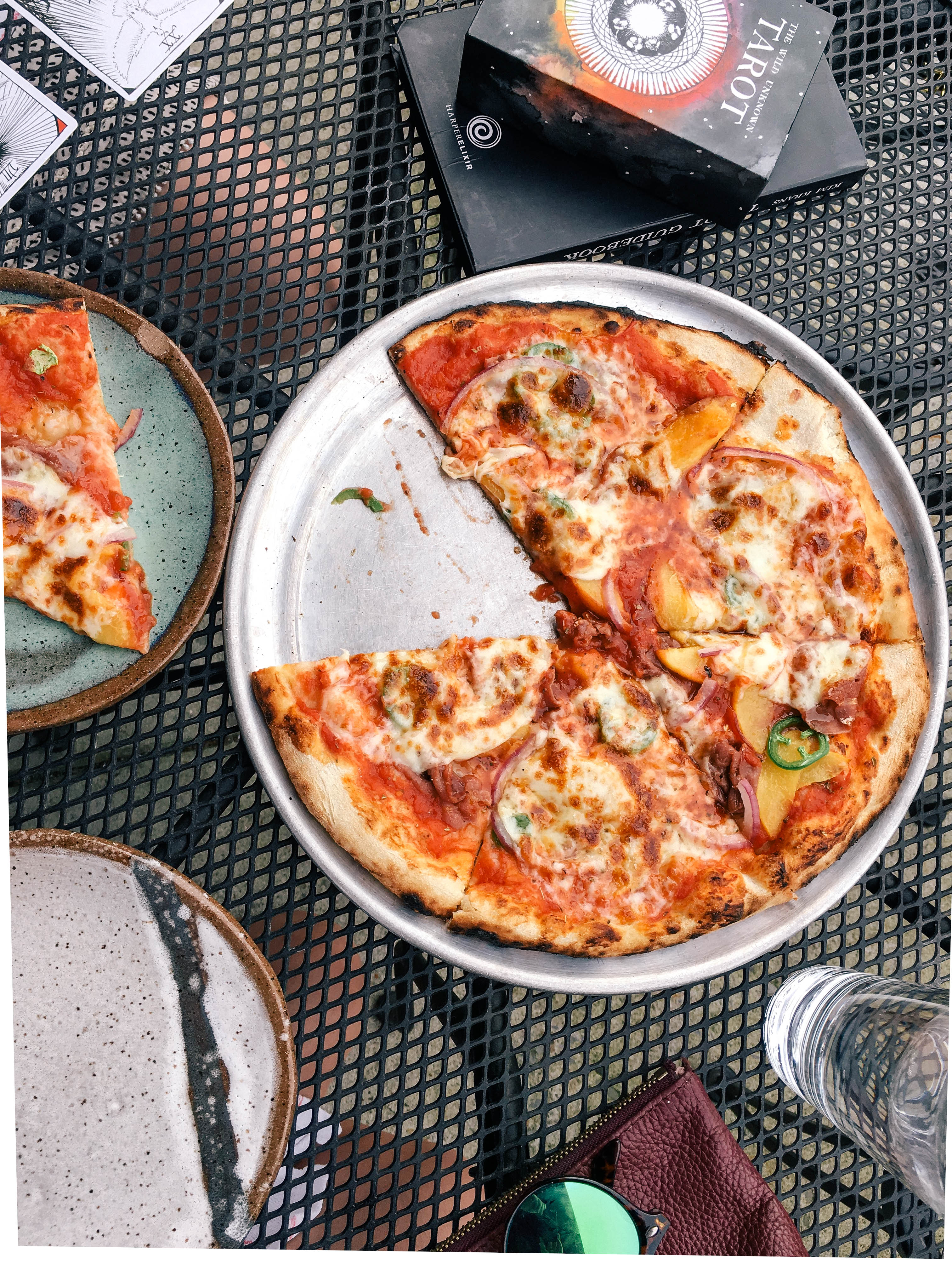 Rosemary
1102 Forrest Ave
Why It's Cool: A fantastic East Nashville cocktail spot with a fun ambiance and likely a chill crowd.
What To Get: One of the house cocktails. Sit on the back patio!
Husk
37 Rutledge St
Why It's Cool: Well, I've only been to the location in Charleston, but it's still one of my favorite dining experiences. Expect inventive dishes with heirloom Southern ingredients.
What To Get: A reservation. Then anything from the menu.
Frothy Monkey Coffeehouse
235 5th Ave N
Why It's Cool: Full of freelancers and cappuccino sippers, it's a local favorite for a reason and they serve brunch until 5pm (enough said.)
What To Get: Choose from a creative coffee menu and delicious breakfast and sandwich options.
Five Daughters Bakery
1110 Caruthers Ave (12th S); 1900 Eastland Ave (East Nashville)
Why It's Cool: Cute design and to-die-for donuts.
What To Get: Maple bacon (mmm.)
CREMA
15 Hermitage Ave
Why It's Cool: The best coffee I had in Nashville.
What To Get:Their coffee soda is unique, espresso is well-made, and the chai is quite good as well (if you're feeling over-caffeinated!)
Woolworth on 5th
221 5th Ave
Why It's Cool: A classic diner serving classic Southern eats with a large portion of history. This is where 1960s counter sit-ins of the civil rights movement took place.
What To Get: I loved their mac 'n' cheese and black-eyed peas. Many of the menu items have a story — so ask as you go!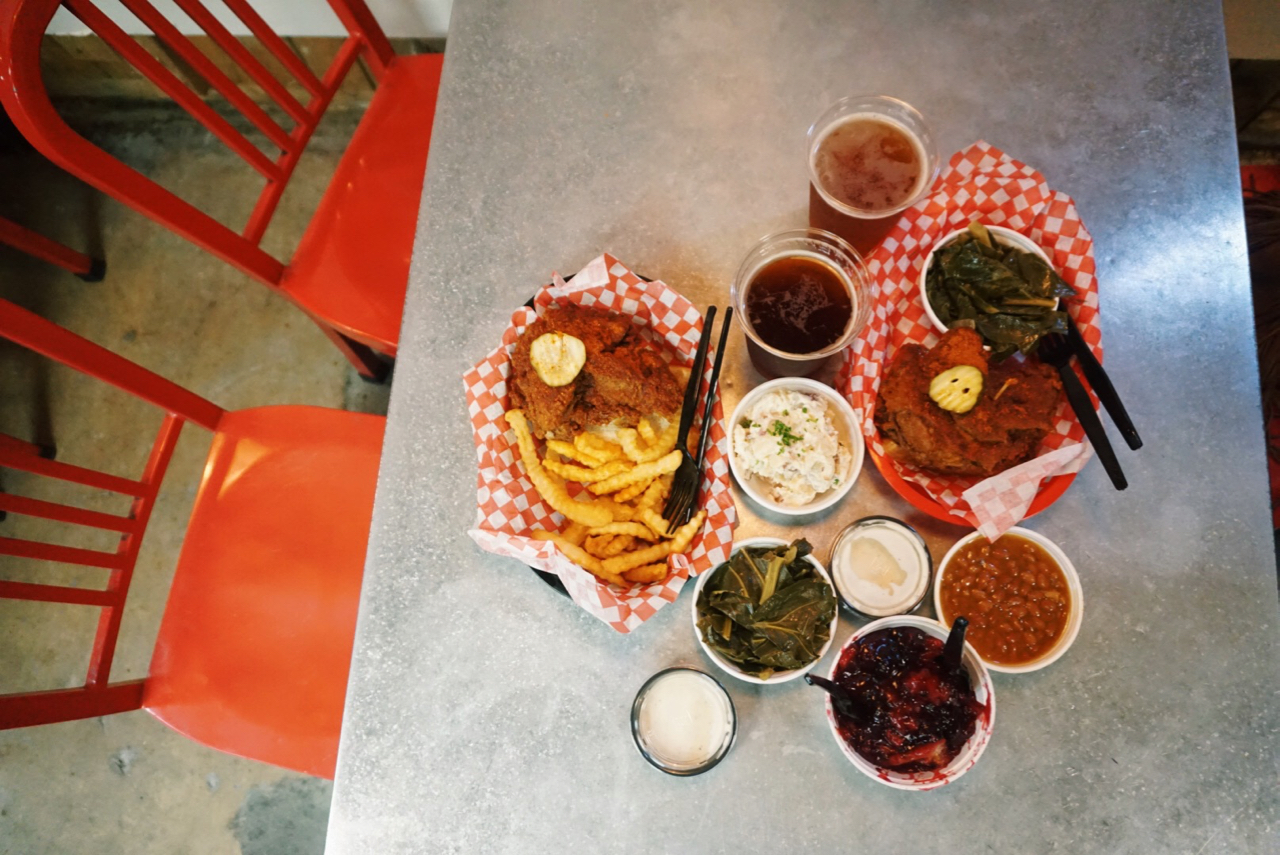 Hattie B's Hot Chicken
2222 8th Ave S
Why It's Cool: It's hot chicken. Take fried chicken, add cayenne pepper. Taste it, have water nearby, and see why the craze exists.
What To Get: Choose your spice level and your sides, buckle up, and get ready for a spicy ride.
Prince's Hot Chicken
5814 Nolensville Pike; 123 Ewing Dr #3
Why It's Cool: The O.G. hot chicken spot. Eat it and compare, because everyone is going to ask you to choose a favorite.
What To Get: Choose from mild, medium, hot, and extra hot (if you dare.)
Robert's Western World
902 Main Street
Why It's Cool: my reluctant adventure into honky tonks began here. I was surprised and delighted, and I'll bet you would be too.
What To Get: they serve a $5 PBR and baloney sandwich with chips if you're hungry…! Sip your drink of choice and soak up the atmosphere.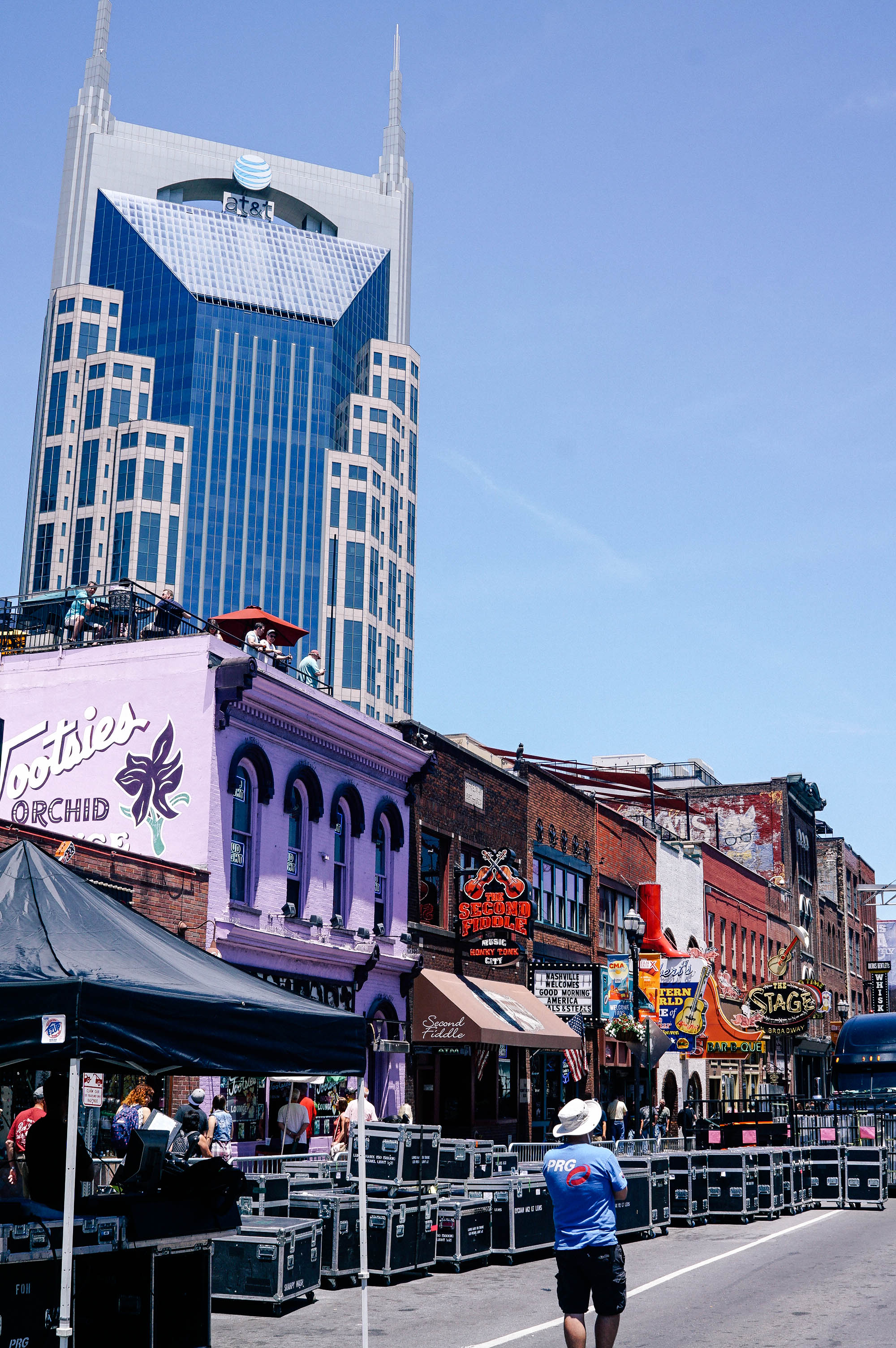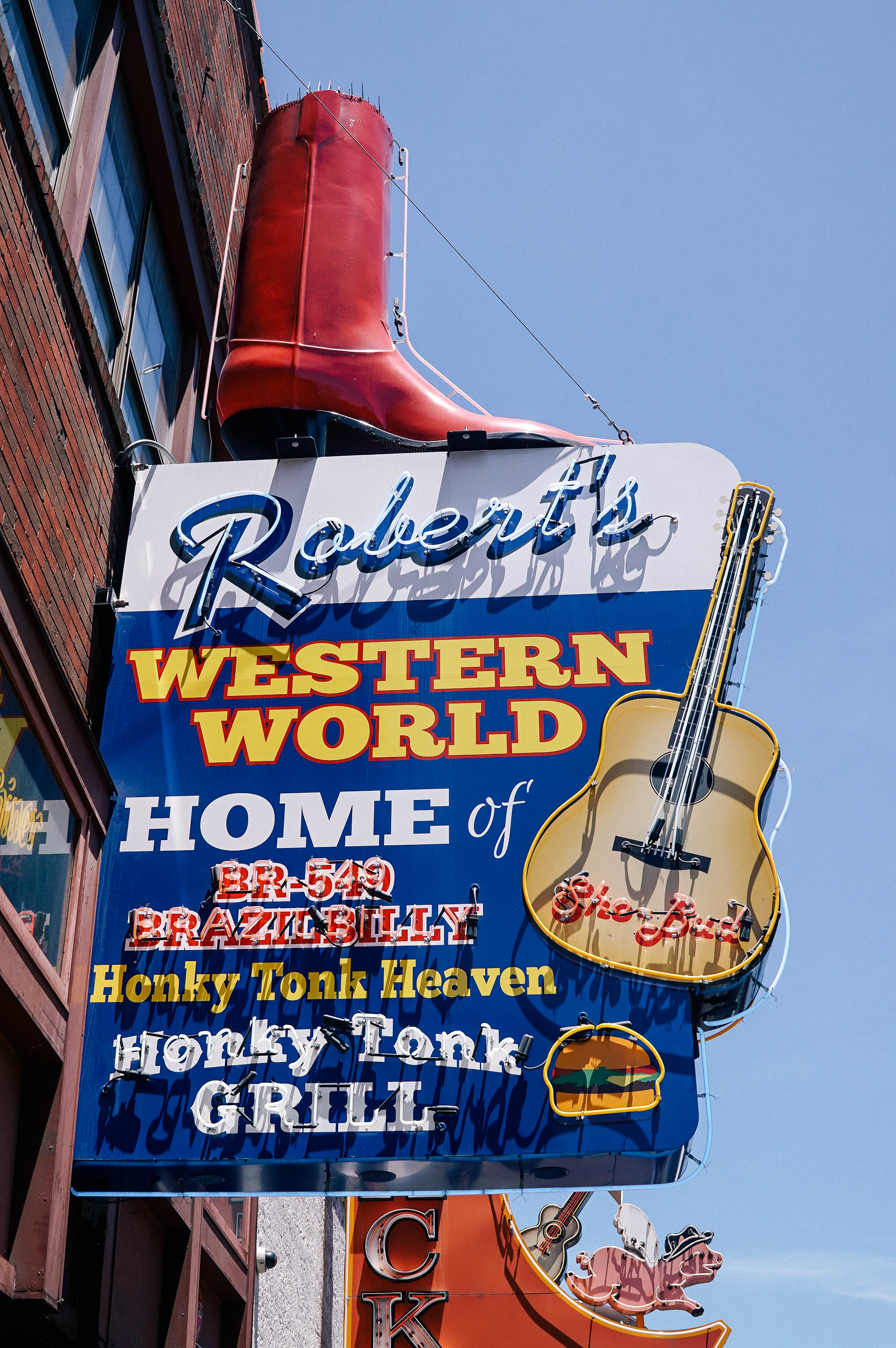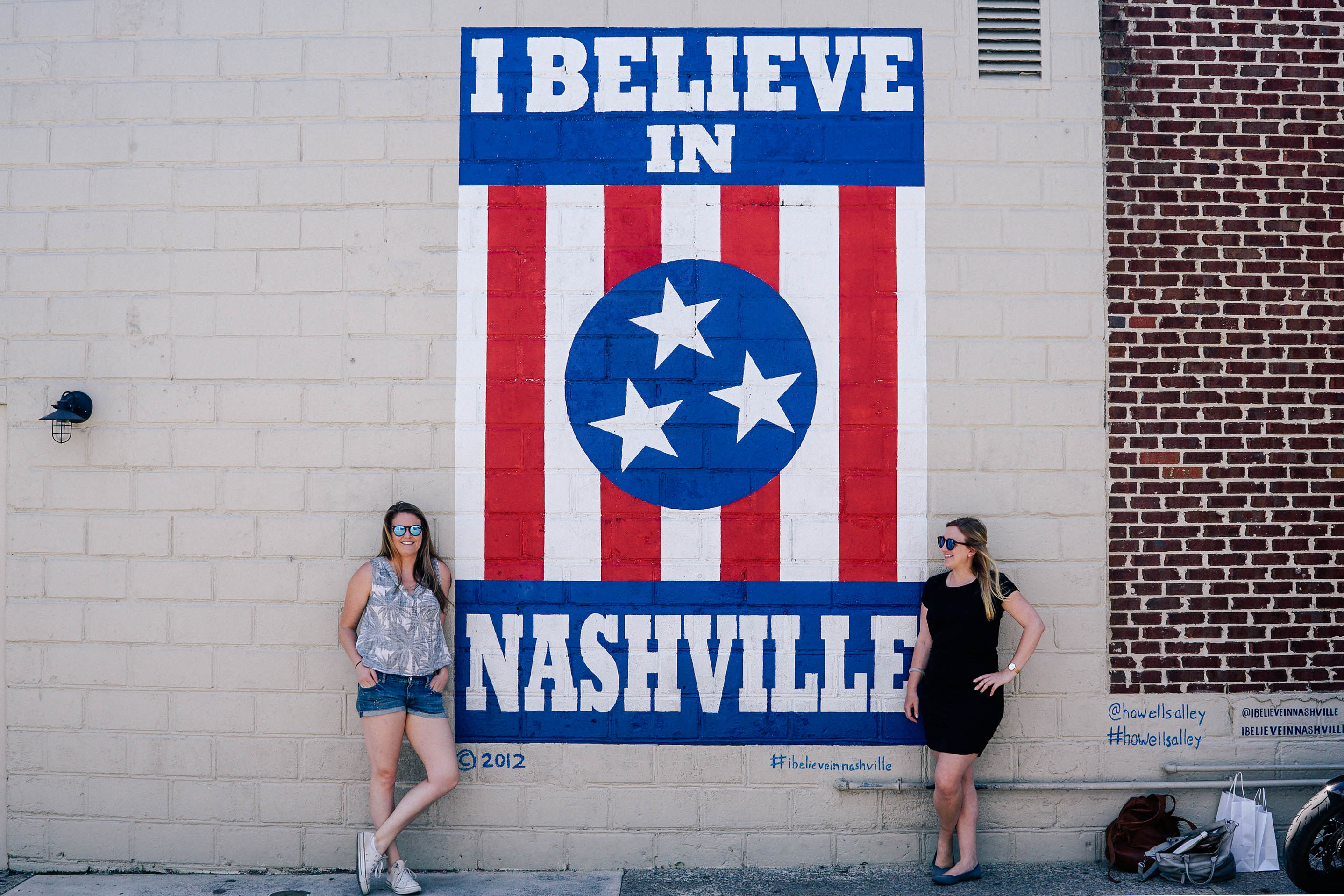 Other Highly Recommended Nashville Restaurants — on my list for next time:
Patterson House
The Catbird Seat
Henrietta Red
Arnold's Country Kitchen
Monell's
Five Points Pizza
Pinewood Social (one of the most fun places to eat in Nashville!)
Other Cool Things To Do in Nashville (Besides eat, if you must:)
Grand Ole Opry
County Music Hall of Fame
Ryman Auditorium
Bluebird Cafe
Radnor Lake
Go mural hunting (clearly, we did.)
aaaaand lastly,
A great overview and sampling of classic Nashville eats led by passionate locals and food writers. I did the classic downtown Nashville tour, but they also have an East Nashville and a Midtown tour.
Where To Stay in Nashville
I loved my stay at SoBro Guesthouse. With a fully equipped kitchen, laundry, and even the option to have groceries delivered, it really felt like I had an apartment in the heart of Nashville. I liked the hands-on check-in (you receive a code) and the fact that you can text a concierge for any help needed, but otherwise, your stay is fairly independent.
The design here, both in the rooms and in the outdoor patio area, is beautiful — clean, colorful, hip, and comfortable. I especially liked the record player and old records — a nice vintage touch!
Most importantly, the SoBro Guesthouse is within walking distance to many of the things you'll want to see/eat (with dangerous proximity to Martin's BBQ.) The rest of Nashville is at your fingertips with a quick Uber or Lyft ride. And if you're driving — there's free parking.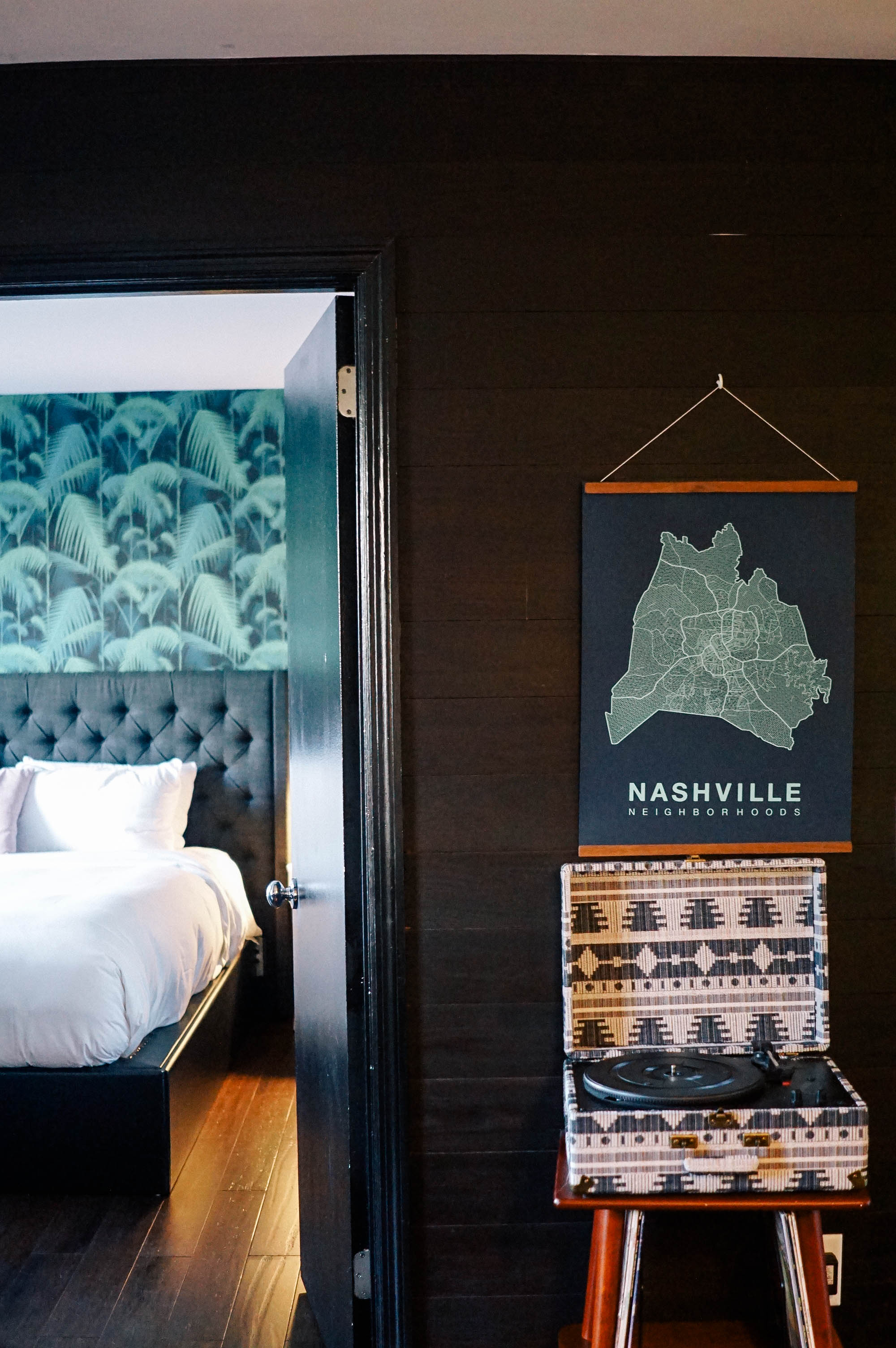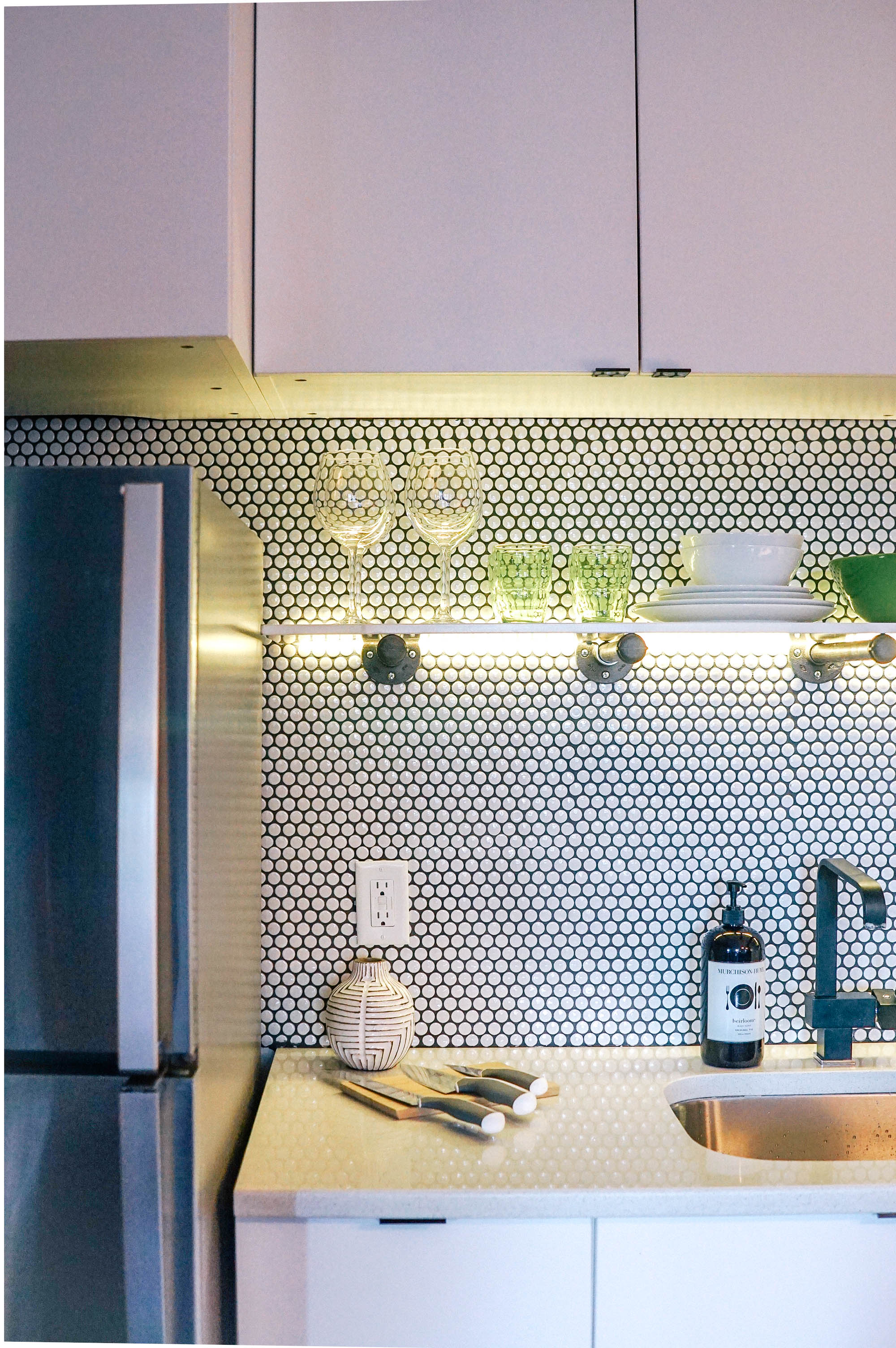 (Note: I stayed as a guest of SoBro Guesthouse during my Nashville weekend.)
Happy traveling and eating!
Save for later: