Planning a trip to the Garden Isle? Here's where to snack, drink, and eat while sampling the best Kauai restaurants.
---
I grew up visiting the Big Island with my family on an annual basis, so my exploration of Kauai is relatively fresh. Although the Big Island will always have my heart, Kauai has quickly become my favorite Hawaiian island to visit. A large part of that is, (you guessed it,) the food!
This being my second trip to Kauai (you may have seen my Kauai itinerary) I had the chance to go a little more in-depth exploring different parts of the island (and its best restaurants.) I also had the chance to stay with locals (shoutout to the Miyashiro family!) who graciously took my friend and I on the best food tour of Kauai imaginable.
So without further ado, I present…the best Kauai restaurants list that my trusty taste buds can bring you.
Aloha and bon appetit!
I'll begin with my overall favorite Kauai food discoveries (including food trucks!) I've then broken down the best restaurants by area, knowing that you will likely be staying in one part of the island and will explore others while driving around.
Where to Eat in Kauai, Hawaii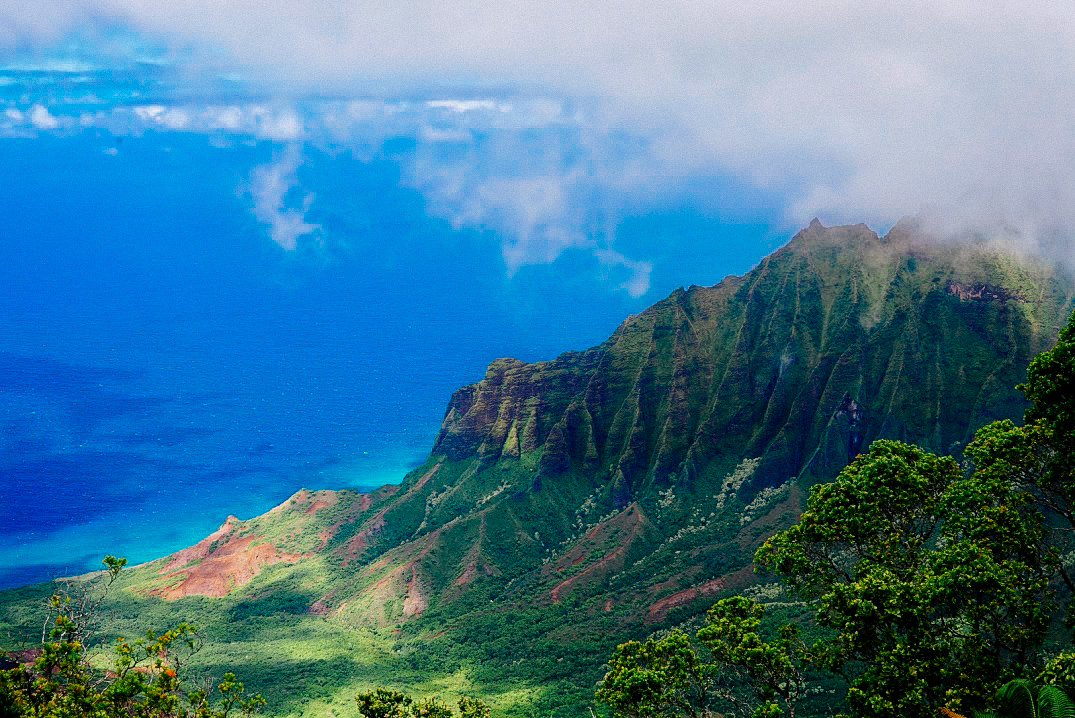 Updated April 2023
Let's begin with some local favorites…
Best Local Food Restaurants in Kauai
One of the struggles for me with dining in anywhere in Hawaii is finding local food that does not cater to tourists. Hawaiian cuisine that locals eat often differs from the needs and tastes of visitors, even when local ingredients are utilized.
Dishes like saimin, loco moco, or even hidden fresh poke stalls may not be at top of every traveler's food list but they're the heart and soul of Hawaii (and so you should try them!)
Incidentally, the following local spots are now my favorite places to eat in Kauai. You'll find them throughout the island, but they're all worth going out of your way for if food is a priority for your visit.
Don't miss this spot on your way to or from the airport! Comfort food at its finest and most local. I recommend the noodle soups (especially the oxtail) but the pancakes and loco moco are also beloved here.

I ate here both for breakfast and dinner and could hardly believe how great their food was. It appears as you would expect a breakfast spot to, so I was blown away by the flavor and quality of the dinner dishes. Everything is made locally and served with love. One of the best places to eat in Kauai, if you ask me. Convenient if you're driving to Waimea Canyon (though save room for Island Taco – listed below!)
Kilauea Fish Market (Kilauea)
Some of the best fresh fish I've had in Hawaii, and a great place to stop before or after a visit to the Kilauea lighthouse (a picturesque stop!)
Taro chips from Taro Ko Farm (Hanapepe)
Thin, crispy, and plenty local, these taro chips from a local farm can be purchased in the best way possible — from a small house just off the road. You never know quite if the guy who sells them is going to be there are not, but that's part of the experience. Read more of the story, or just take my word for it and pick up this delectable snack.
Again, fresh off of a lengthy trip to Japan I wasn't sure if I was going to appreciate this place fully but it was one of the best meals I've had in Hawaii. It's exactly as delightful as it sounds — as if you had a Japanese grandmother cooking for you. The food is all great, and it's especially fun on a Friday night (art night) and because it's BYOB.
Or simply…create your own beach picnic! Might I suggest Salt Pond Beach Park for eating it?
---
Kauai's Best Food Trucks
Kikuchi's
Wow wow wow. Don't overlook Hawaii's food trucks, people. I still dream about this meal.
The truck serves sushi rolls (which are sandwich-sized) and large portions that make it one of the better value meals on the island. As I suspected, the ahi roll was a favorite…surprisingly, the Kauai beef roll was even better!

Hanalei Poke
A lovely little poke spot located in the main shopping center of Hanalei. Though a bit on the pricey side, it's delicious and fresh. Cash only.
Porky's
Porky's continues to receive awards for the best food truck, and that's because it is that good. You'll find hot dogs and sausages topped with the likes of grilled onions, pineapple relish, and most importantly, more pork.
El Rey de Mar
A Mexican food truck whose octopus tacos spoke to me…and did not disappoint! Lots of other great classic taco menu options, too.
The Fresh Shave
The only organic shave ice on Kauai and the cutest little food truck ever, they visit several locations but I happened to find them at Warehouse 3540 – which is a wonderful local collection of boutique shops and art.
---
Kauai Restaurants – Hanalei

Higher-end, tapas-style eats from a chef who moved from San Francisco, it's the go-to for special occasions. Their menu is killer and they serve arguably the best food on the north shore of Kauai. Reserve in advance if you can. Also, check out their newer sister restaurant (also in Hanalei) — it's called Ama.
Village Snack and Bakery
This spot is located in the main Hanalei shopping center and looks like the last place you might choose to eat, but trust me on this. Get the chili pepper chicken and don't let the humble exterior fool you…this place is incredibly delicious. Macnut pancakes and chocolate haupia pie are also favorites. (Breakfast, lunch, and snacks only – closes at 3pm.)
I was tipped off at my last visit by a friend to stop into their fresh fish + seafood market in the back. SO GOOD. Part restaurant, part sushi bar, part fish market, I love to take a container of poke to-go and eat it outside by the river nearby. It's also a great place to pick up quality fish to prepare yourself if you have a kitchen where you're staying.
---
Kauai Restaurants – Lihue

Tip Top Cafe
As listed above, this is a great place to go if you want to dine with locals and enjoy some of the best cheap eats in Kauai. I recommend the noodle soups (especially the oxtail) but the pancakes and loco moco are also beloved here. A great stop before or after you are headed to the airport!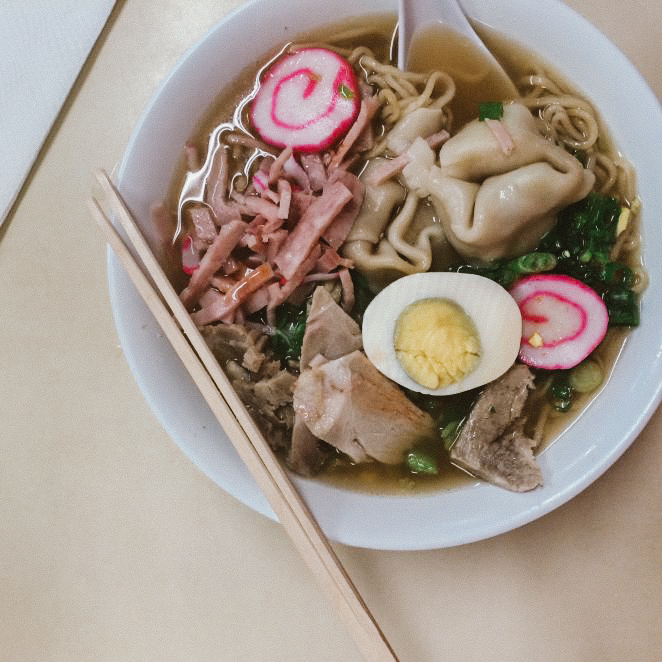 Hamura Saimin
If you haven't heard of saimin (I hadn't,) it's like a Hawaiian twist on ramen. This is considered to be the best local hole-in-the-wall to try it. Although it's not my favorite noodle soup of all time, it makes for a mighty fine meal. Their lilikoi pie is the highlight for me!
A fantastic microbrewery with local vibes, it's a friendly place to sample a variety of beers. They have some food options, too, though many would go across the road to grab something from a food truck and bring it in.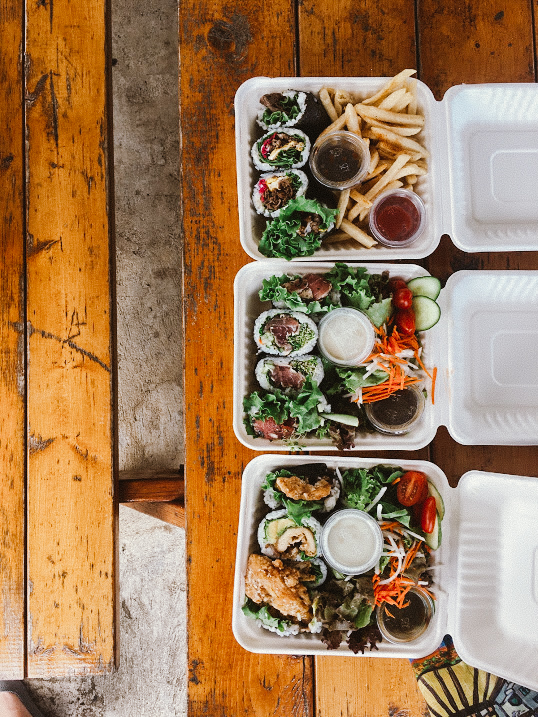 ---
Kauai Restaurants – Poipu

I first dined at Merriman's on the Big Island, and learned the story of chef Peter Merriman and his influence on bringing local ingredients and Hawaiian regional cuisine to the forefront of the food scene. He's since expanded his presence (you can find one of his restaurants on each of the major islands.) It's not inexpensive, but it supports local growers and farmers and will be some of the freshest and best food you can eat.
Beach House is somewhat of a Poipu institution, and that's mostly for the sunset views — which are some of the best on the island. I can't say no to their macadamia nut-crusted fish.
Fantastically fresh and has some of the best poke I've had anywhere in Hawaii. The ahi and ono bowl is a must.
There is also an outpost of Puka Dog located in Poipu, and Da Crack is worth visiting if you are craving great Mexican food (because for me, that is always.)
---
Kauai Restaurants – Waimea

If I could only ever eat at one place in Kauai, this would be it. It's one of those must-eats in Kauai for me. I made the locals who were showing me around stop here, because I couldn't handle passing by without stopping in. It's that good. My top picks are the Kalua pork and the mahi-mahi.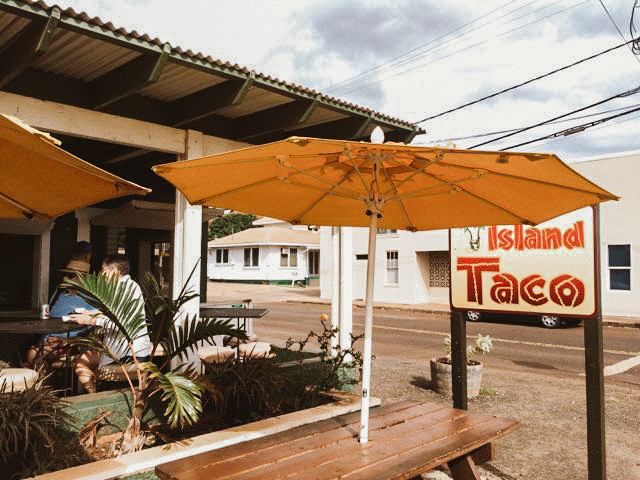 ---
Kauai Restaurants – Kapa'a

Kapa'a Food Trucks
If you're hungry, don't miss Kapa'a Food Trucks — including Wailua Shave Ice plus Porky's and El Rey del Mar as listed above! I always stop here to eat when passing through. It's consistently some of the best food in Kauai.
Pono Market
This is a solid local spot for deli-style meals, including poke bowls and a Hawaiian plate lunch (which you have got to try at least once!) Casual Hawaiian-style street food.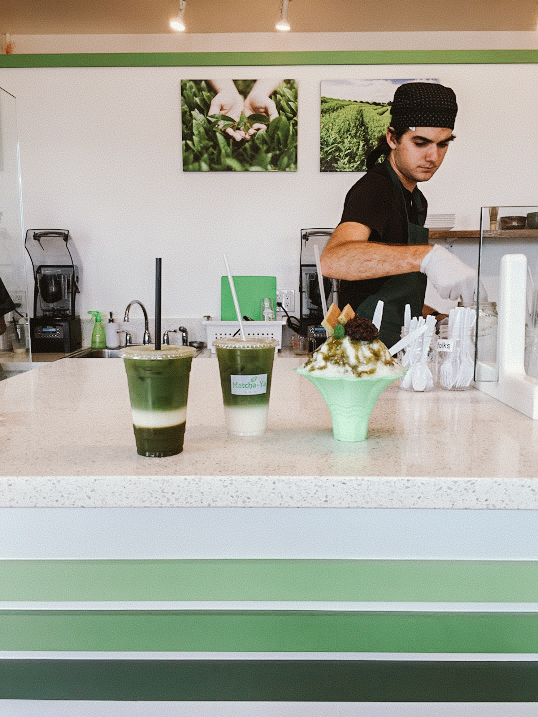 Matcha Ya
Perhaps it was me coming off of three weeks in Japan, but I was totally charmed by this place. It had recently been opened by a woman from Japan and ranges from matcha tea beverages to sweet treats flavored with matcha and red bean. Get your matcha on!
Hukilau Lanai
I haven't been, but I'm always curious (for each of the Hawaiian islands) if there are resort restaurants with food or ambiance that make it worth the price tag. This is the most recommended place to me, with a tasting menu, drinks, and desserts worth splurging on.
If you're looking to enjoy Japanese food while vacationing in Kauai, this is the spot. The concept is Kauai kaiseki, which if you've ever had kaiseki before you know you're in for a treat. It's a traditional multi-course meal using the freshest local ingredients, and as such Aina works with local farms to bring the best-tasting local produce to the menu. Note that it's dinner only and served Thursday to Sunday. Reservations required.
---
That's it for now, friends! If you need more information, check out my Kauai itinerary or get your hands on this guidebook (the best I know of.) I hope to be best soon to continue taste-testing in this paradise. For now, please do leave me a comment with your favorite Kauai restaurant finds.
Mahalo for reading, and enjoy Kauai! <3
---
Need a place to stay in Kauai?
:: save for later ::