Barbecue, Blues, and Blogs in Memphis, Tennessee
—
The American South is a region I keep getting called back to.
It could be the change of pace. It could be the charm, the favorite cities. It could be the fried chicken. This time, however, it was for Bloghouse — my favorite annual blogging conference (at which I mentor up-and-coming bloggers and teach travel writing.)
And when I found out I could fly direct from Oakland to Memphis for $59 (no, not a typo) and be eating Gus's famous spicy fried chicken by lunchtime, I set out to brave the summer humidity and packed my bags faster than you can say "Bless Your Heart."
Although I have and will continue to go on about Nashville, you don't hear as much about Memphis these days. In fact, a Memphis resident I spoke with shared this hot take on the two Tennessee cities — "These days, Nashville is like the popular student in the classroom. Shiny hair and lots of time in the spotlight. Memphis though, Memphis is the quiet kid in the corner that might surprise you with how cool he really is."
So, four days and several pounds later (worth it,) here's what I found in Memphis: soul. If Nashville is country music, then Memphis is rhythm and blues. And when the city sings, you won't want to compare it to any place else.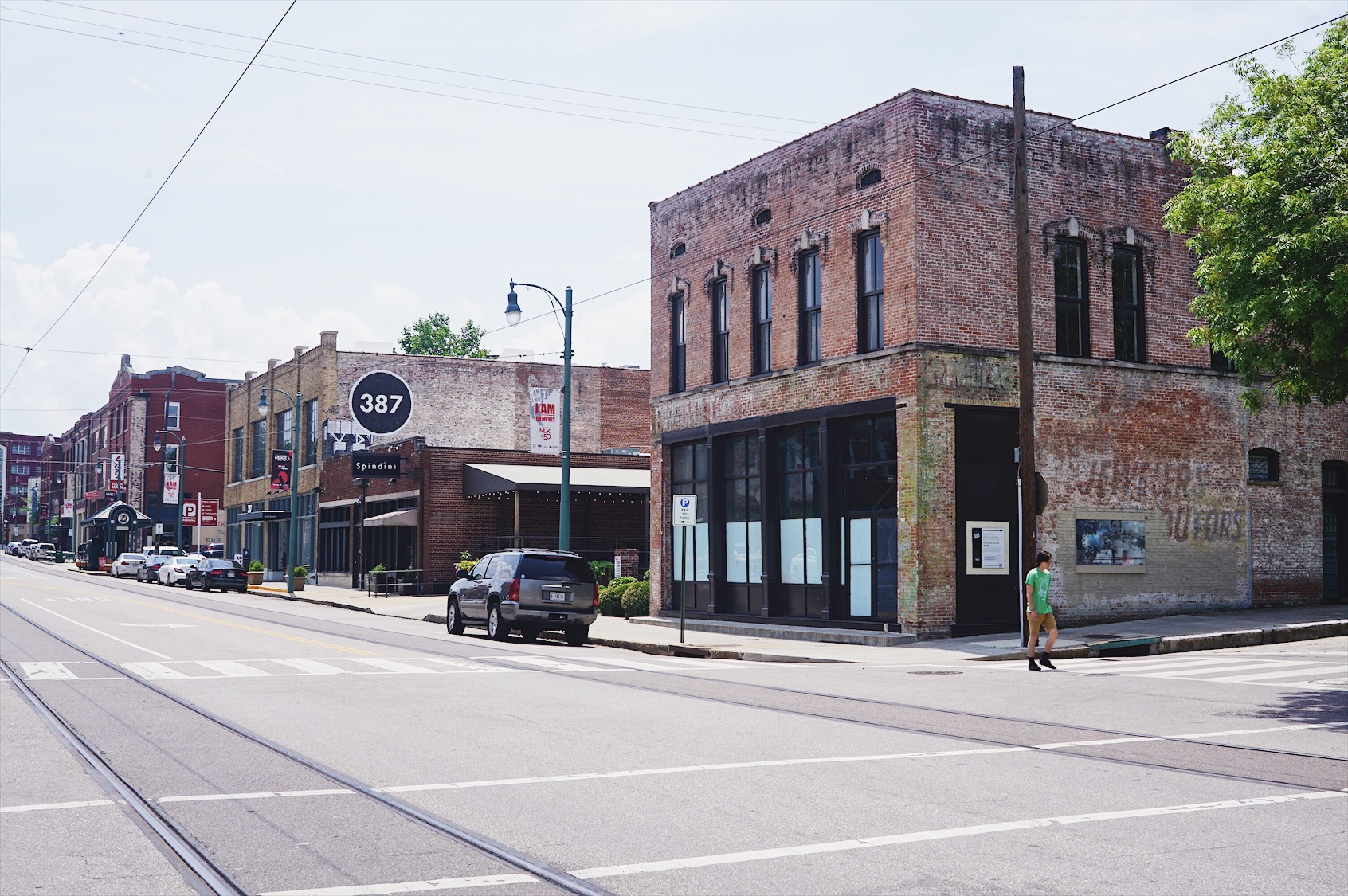 —
Where to Eat in Memphis
Ah, the Southern food trifecta: fried chicken, barbecue, biscuits and gravy. (Washed down with a sweet tea, if that's your thing.) To me these are the must-eats of any trip to the South, because quite frankly they don't taste as good anywhere else. And lucky for you Memphis visitors, the city does them all right.
Gus's Fried Chicken
Many food establishments claim to be 'world's best' or 'world famous,'  but have no doubt that Gus's actually lives up to the claim.
I literally went straight off the plane to eat here and I stand firmly by my decision. I recommend going midday after the lunch rush if you can — lines can be quite long in peak times. Whether you have to wait for a table or not, you can rest assured what you are served will be worth it.
Grab fried chicken of course, and then choose your sides accordingly. I ate at Gus's several times, and my favorite sides include the mac 'n' cheese, fried okra, and coleslaw. Save room for pie if you dare! (Extra points if you also eat the chicken with a Gibson's donut!)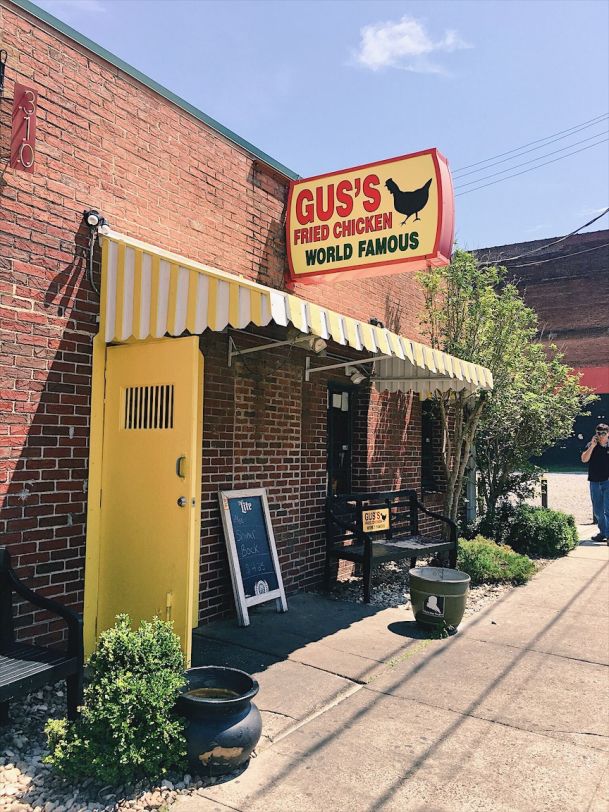 Central BBQ
With each location famous for different aspects of BBQ, I knew going in that Memphis was best-known for its dry rub and its ribs. Begin there at this famous spot, which again lives up to all the hype you've heard beforehand.
For me the way to go is to order ribs and perhaps one other meat of your choice. Order them dry and then you can get all of the different sauces on the side to see what suits your fancy without having to make a sauce commitment (you're welcome.) Try the pulled pork nachos if you want to be blown away.
As for lines, they seem to move pretty quickly — so don't get discouraged if you see one wrapped around the block.
If you're on a tour-de-BBQ, also check out Cozy Corner and Charles Vergo's Rendezvous.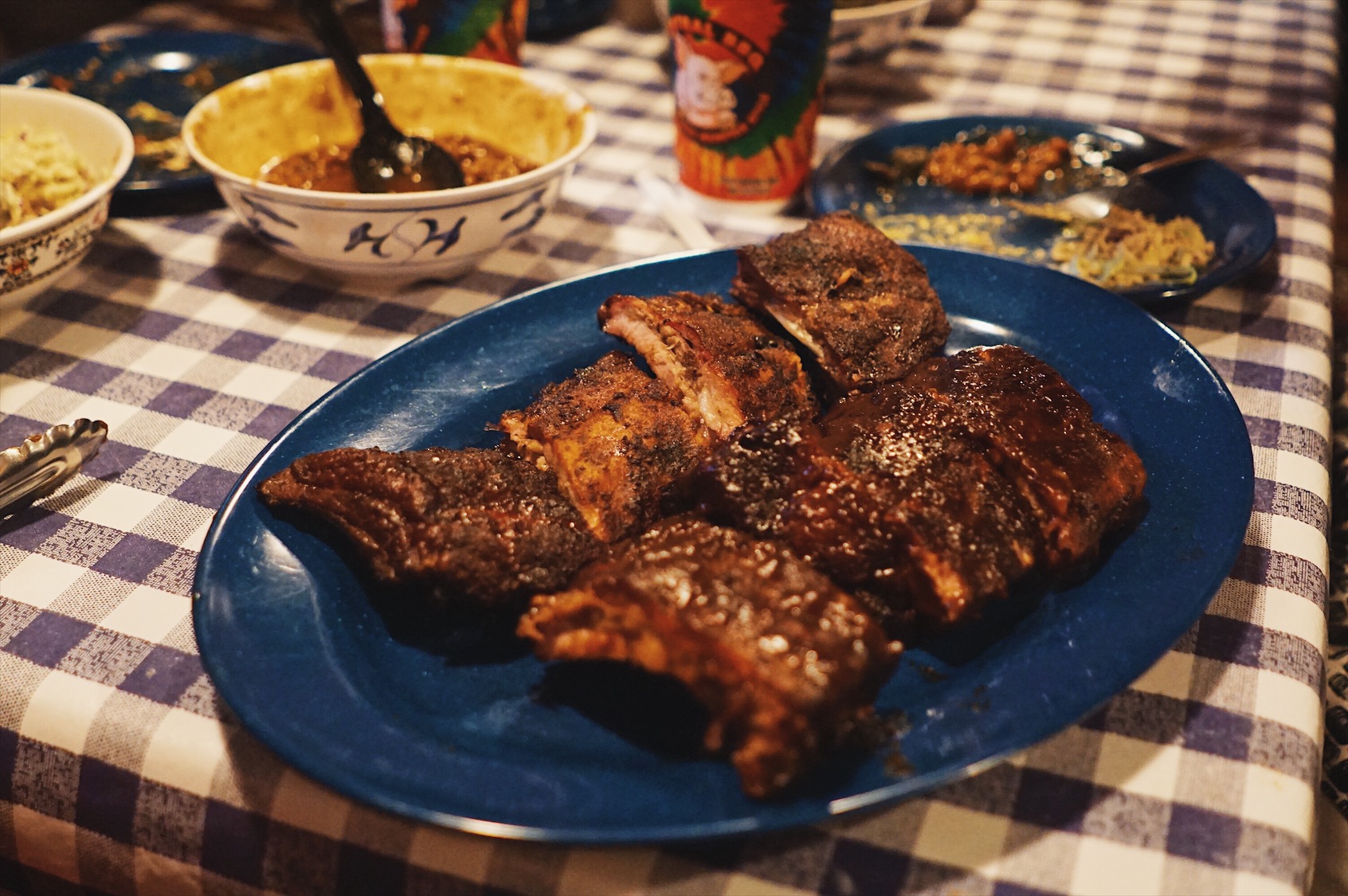 The Flying Fish
If, like me, you equate good Southern food with down home vibes and perhaps, say, fried catfish and hushpuppies, this is your spot.
Immediately you'll feel transported stepping in their doors. And while they've got a huge menu full of seafood-focused options, you better believe they also serve all-you-can-eat catfish every Wednesday for $12.99. SO. GOOD.
Blue Plate Cafe
An awesome spot for breakfast. It's everything I ask for with my first meal of the day — friendly service, free-flowing coffee, excellent pancakes, crisp bacon, and some of the best biscuits and gravy of your life. Enjoy.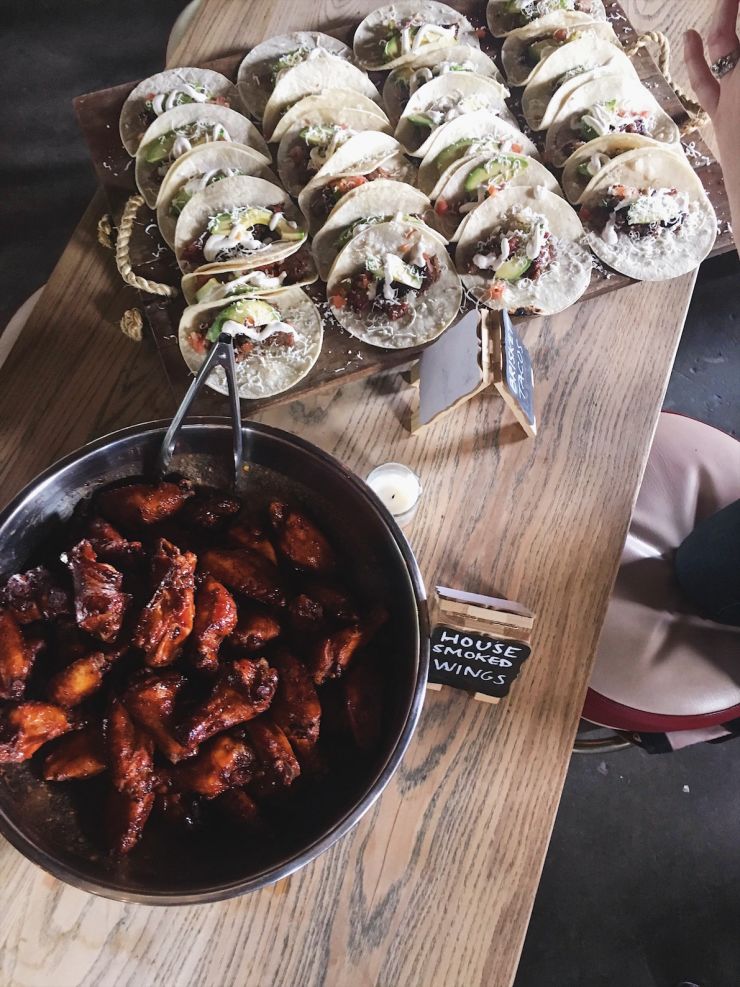 Loflin Yard + Railgarten
Once you're done touring the classics, you'll definitely want to head to these two places. Both have open air spaces that feel a bit like someone's backyard, with plenty of entertainment, food, and drink to go around.
At Loflin Yard, I loved the charred salad (get your veggies on!,) the wings, and the brisket tacos. They do a mean pimento cheese dip as well if that's your thing!
Railgarten offers up local beers, duck fat fries, cheese curds, and will you believe it…one of the best veggie burgers I've tasted. Take some time to relax and enjoy their fun outdoor space!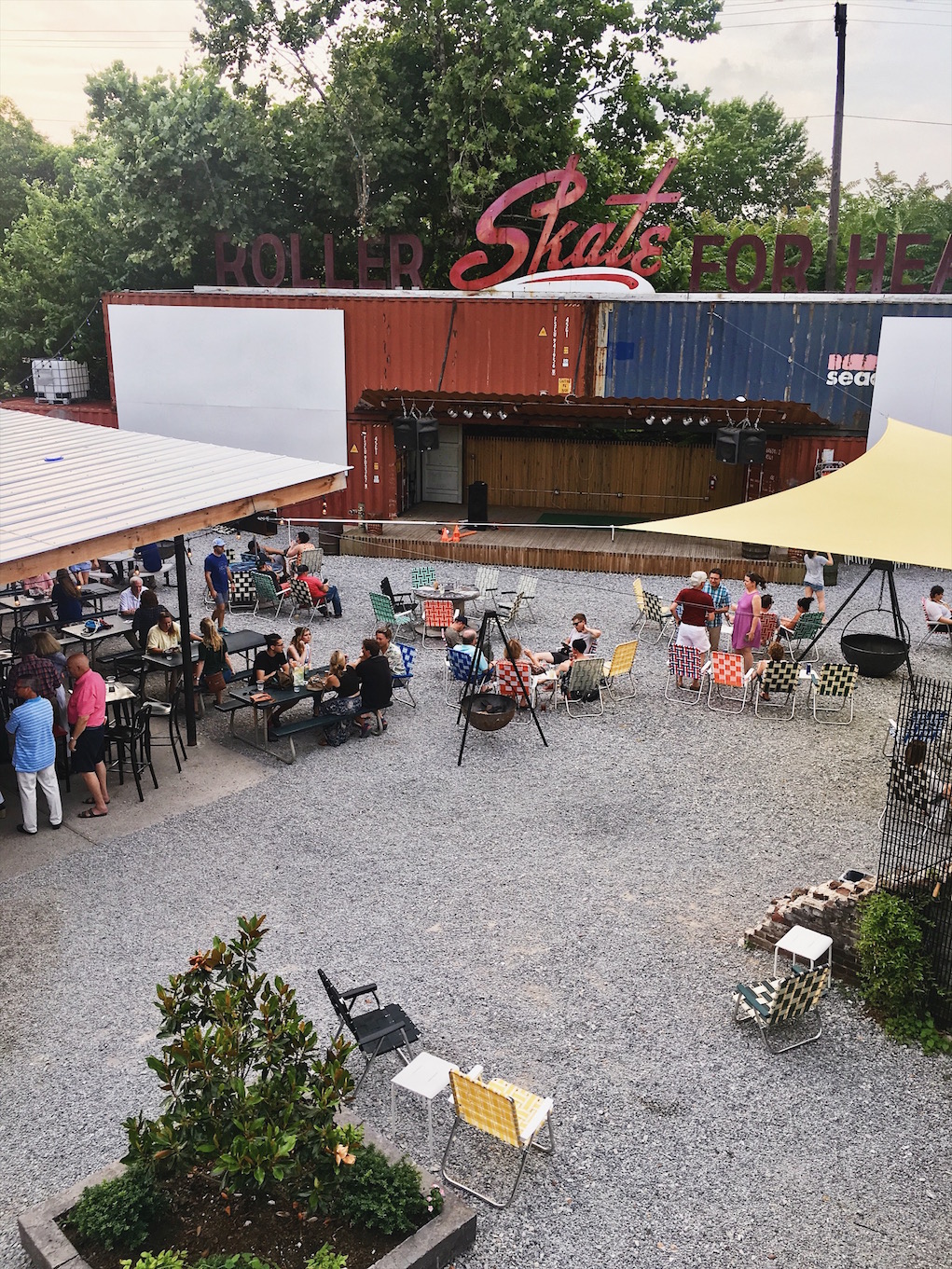 The Gray Canary
I didn't get the chance to eat here, but I heard from several locals about how excited they were to have this new spot from renowned chefs for some Memphis fine dining. I had a look at the space when I was in the nearby Old Dominick's Distillery and from the raw bar to the grill, I was excited about every menu item so you should probably know about it.
Things to Do in Memphis
National Civil Rights Museum
For me this was the single most important stop of my visit to Memphis. Located in what was once the motel Dr. Martin Luther King Jr. was assassinated in, it now showcases the history and culture of the American Civil Rights Movement. Its moving exhibits and displays are very interactive and the stories told within its walls continue to be of utmost importance today. Allow for a few hours at a minimum to take it all in.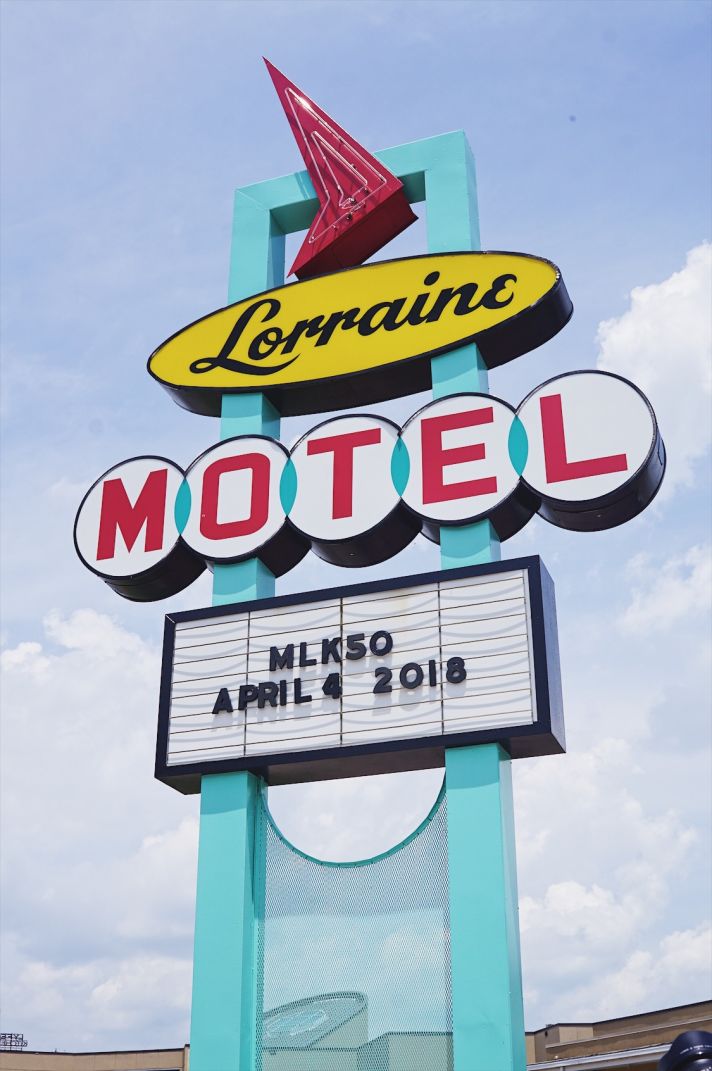 Graceland
Whether or not you're a fan of The King, his mansion and his story set largely in Memphis are a huge part of American popular culture and music around the world. Graceland has a bit of a theme park-esque vibe (be prepared to have your picture taken and to board shuttles,) but there's no arguing that it's a quintessential even fascinating experience to learn about his life and legacy and see his former home (a bit of a time capsule!)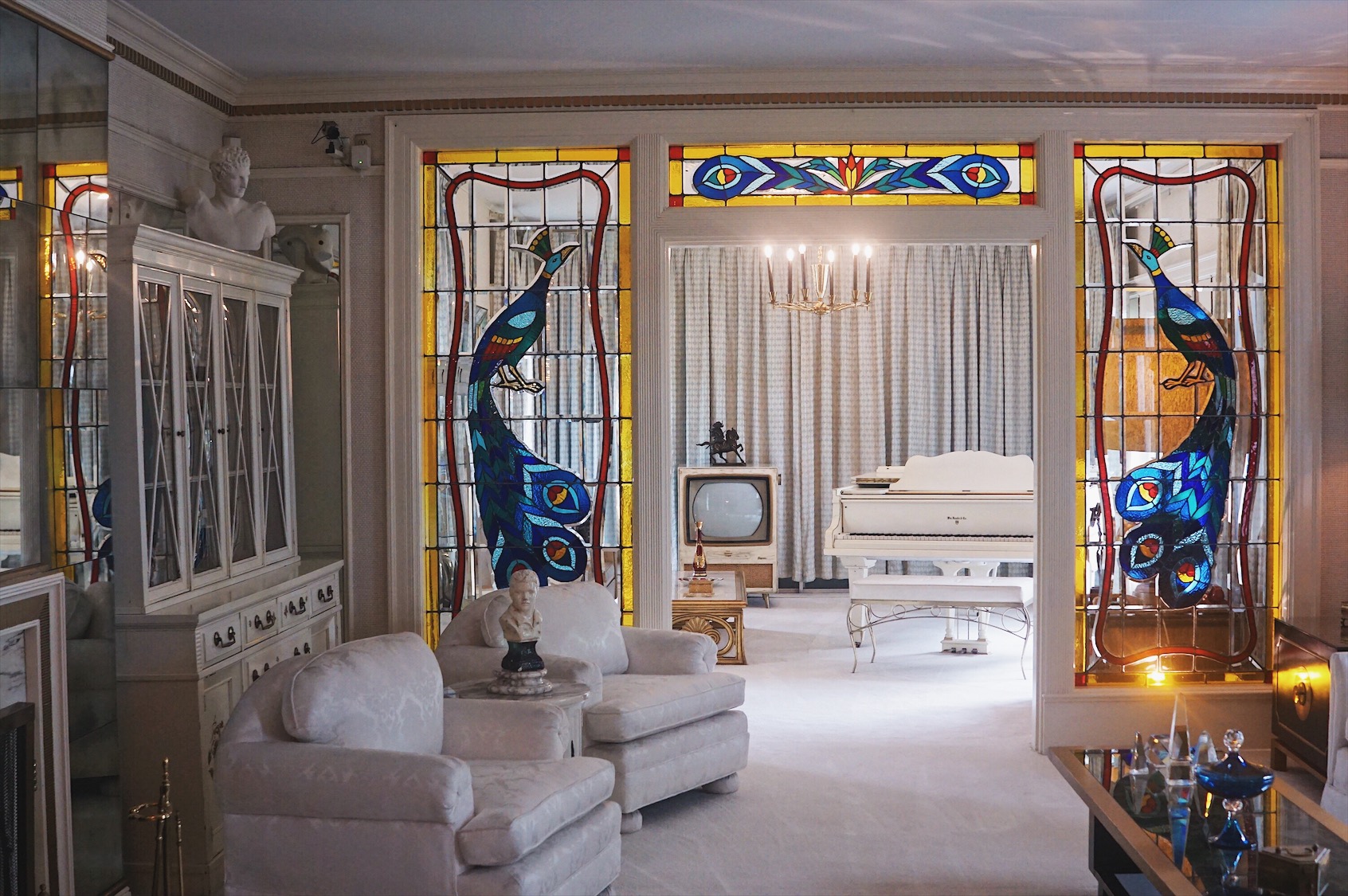 Sun Studio
The site of Elvis Presley's first ever record recorded (at age 18,) the walls of this small music studio have since seen the likes of Johnny Cash, Roy Orbison, Jerry Lee Lewis, and more. They've got a small set of exhibits and a guided tour that immerses visitors in music history.
Beale Street
Day or night this is one of the most happening streets in all of America — with live music, blues bars lights, and likely, some debauchery. Security is tight in the evenings, but it's worth braving the crowds or lines to get a taste of the truly iconic musical street that is at the heart of Memphis's past and present.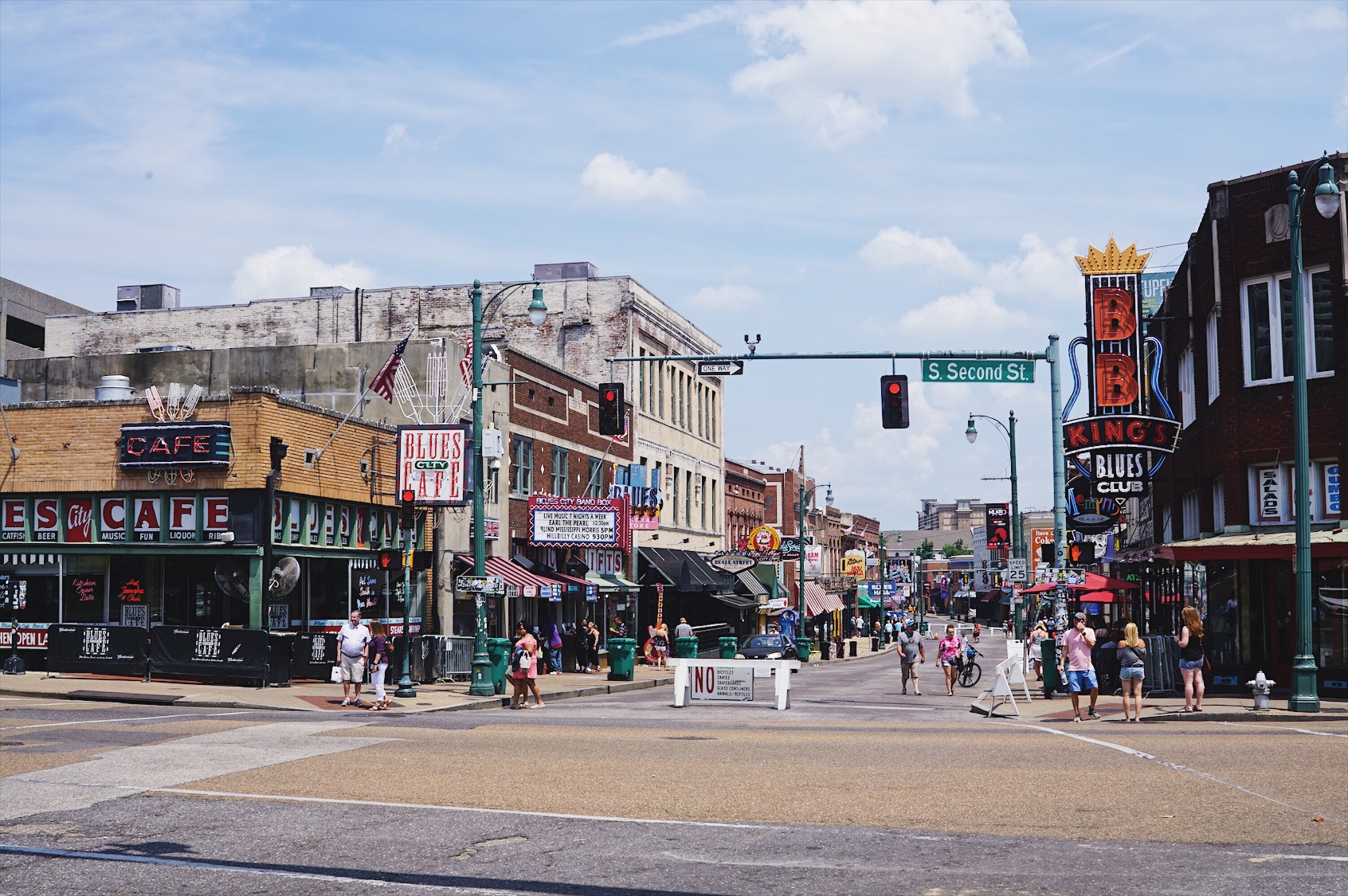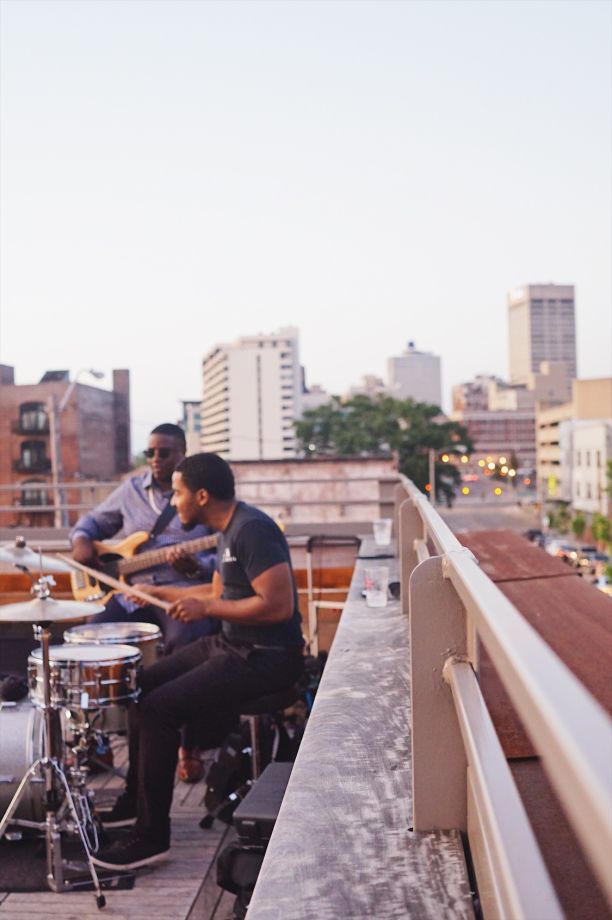 Other:
Get out on the Mississippi River: Try Memphis Riverboats or, take a kayaking tour.
Drink on a rooftop: One of my very favorite experiences in Memphis was touring then new Old Dominick's Distillery. They have a beautiful rooftop, amazing cocktails, and often feature live music. Plus, it's across the street from Gus's!
I also had the chance to try out the seasonal rooftop party at The Peabody. Fun live music as well, plus those city views (at sunset!) The Peabody hosts parties on their rooftop every Thursday night from approximately April to August.
This visit I had my fair share of pimento cheese, fried green tomatoes, and mac 'n' cheese as well — don't you worry!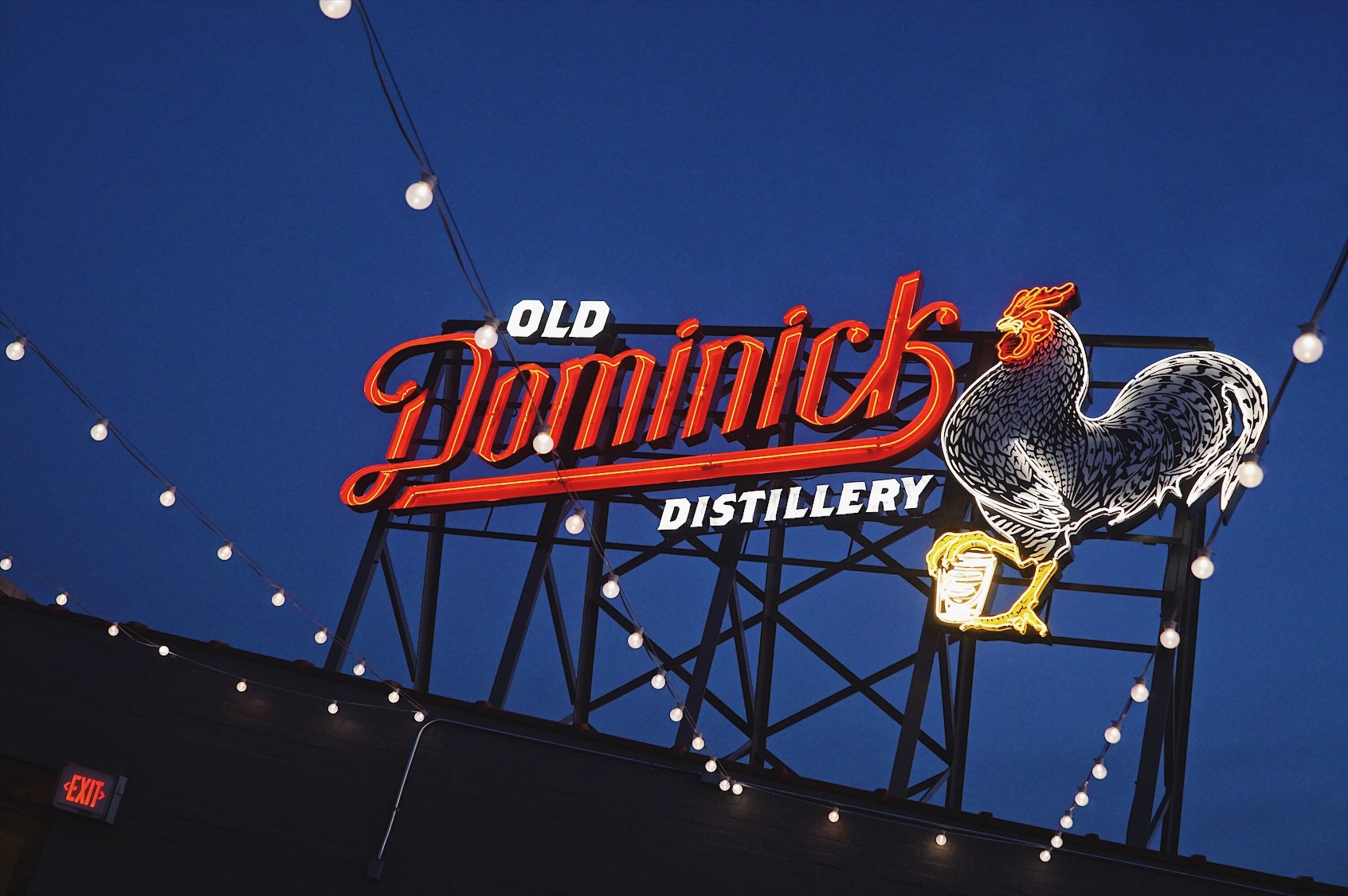 Memphis Hotels
Ever since I first thought of visiting Memphis I had The Peabody on my mind. The iconic hotel is as grand as any in the South, but is perhaps best known for its famous ducks that live on the roof, march to the lobby, and play in the fountains. The ducks are well cared for, and more adorable than I thought they'd be — but it's the charm of the story and the tradition that goes along with them that endeared them to me.
The Peabody is located at the heart of downtown Memphis, meaning you can walk to the majority of the places listed above with relative ease. Check out the lobby or grab a drink. Even if you aren't sleeping here (though I recommend you do!) it's more than worth stopping in to soak in the history and beauty of the hotel.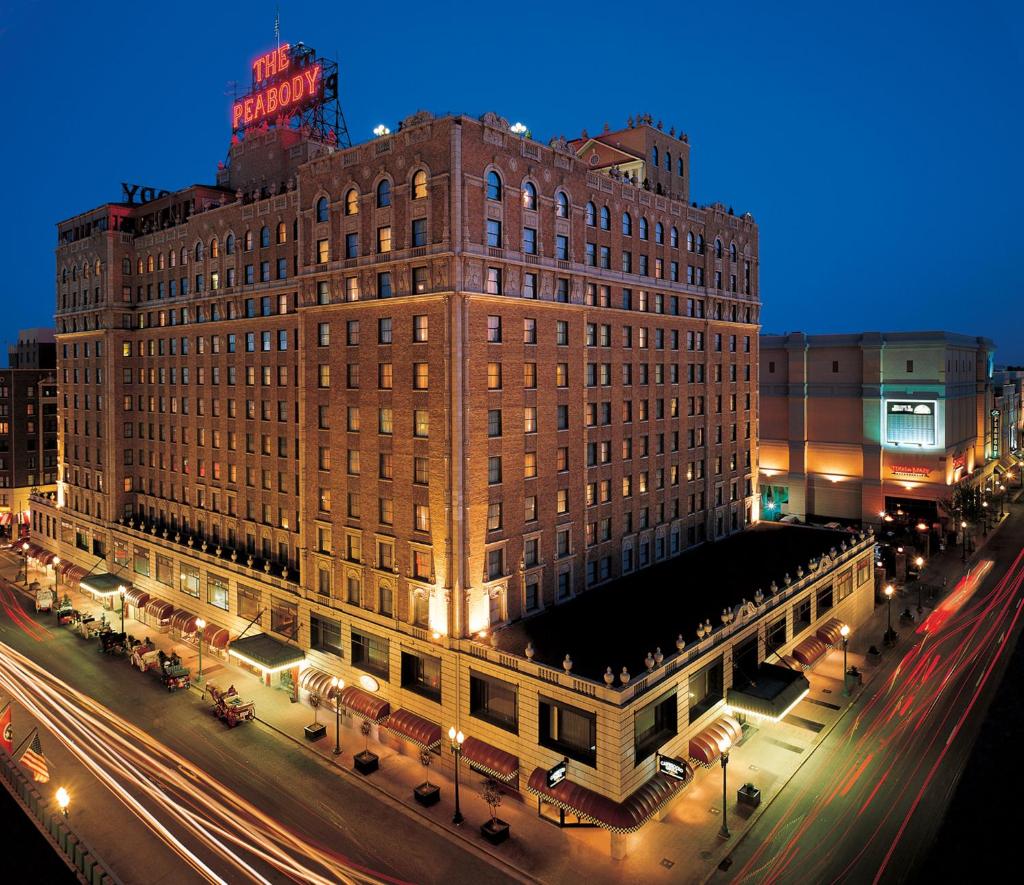 ——
Quick Trip Tips
Getting to downtown Memphis is a quick and easy Uber or Lyft ride. Plan for 15-20 minutes to get there.
Ride the street cars! The Main Street Trolley has just been brought back and at $1 per ride, the fare is exceptionally reasonable.
Even if you aren't a guest at The Peabody, you're welcome to stop in to see the Ducks March! It takes place at 11 am and 5 pm daily.
Check out the I Love Memphis blog for current events, shows, and more goings-on.
If you have the time or are so inclined, check out Cooper-Young neighborhood. It's a hip area with lots going on.
Disclosure: I was teaching at Bloghouse during my time in Memphis. Thank you to Memphis Tourism, The Peabody Memphis, Mediavine, and Tennessee Tourism who hosted part of my stay.
imitation mens
best quality
cartier diamond