You came to Paris to fall in love. You just didn't know it when you did.
For what does the city of love and light have to offer a solo traveler?
Love, and light.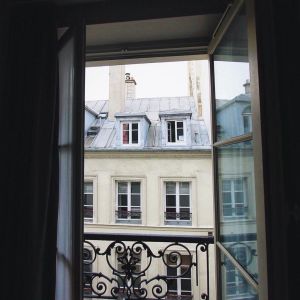 You stroll contemplatively. You have days where your only agenda is to go by a certain ice cream shop or pop in to a particular bookstore. You look up at the rows of structured buildings and admire the stretch of intricate, iron balconies placed delicately upon beige facades.
You pick one arrondissement and decide: this is your home for the next two weeks. You explore the neighborhood, find the cheapest place for wine in the evenings and cafe au lait in the mornings. The pâtissier begins to recognize you as the days pass slowly into evenings. You sit in parks and public squares and watch life and the city go by.
You dine alone for three hours, sit in a cafe with a glass or two or champagne, cherish three courses, and end with a cafe gourmand. No one rushes you. No one hassles you. You write in your journal or lose yourself in thought. And you enjoy every single minute.

[quote]"Oh! But Paris isn't for changing planes, it's for changing your outlook." [/quote]
You fill your tiny fridge with pungent French cheeses and cheap bottles of good wine. You walk to the open-air market and buy sweet, fresh fruit, or stop in the supermarché to have some tangy celery root remoulade on hand. You make yourself a picnic night after night.
You bike leisurely along the river, or over beneath the Eiffel Tower, just for the tiny thrill of going a bit faster after an aimless stroll.
You great everyone with 'bonjour' and leave everyone with 'merci, au revoir.'  You overhear conversations in French, and have no idea what they're saying but you like the way their words echo as they speak.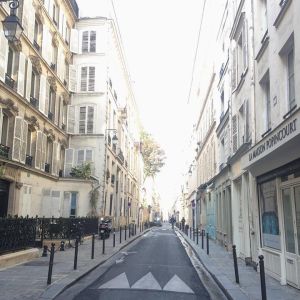 Perhaps you wear bright red lipstick and little black dresses with colorful scarves or tiny ballet flats. Perhaps you feel elegant just by walking outside. Paris has a way of making you stand up straighter, and also relaxing into your true self. You both care deeply and not at all.
You discover impressive sights, yet cherish more the small street corners or pieces of art or tiny cafes you never knew you wanted to see. You stumble upon a new favorite arrondissement, and make a note for your next visit.
Paris isn't just a place for some. It's a ritual. It's a song, a dance, and poem that is lived and breathed. It is simple, subtle. It is both refreshingly old and startlingly new.
We connect with Paris because it connects us to ourselves. We're not just there observing through a looking-glass or a camera lens — we are just living. It is both the simplest and most decadent thing we can imagine.
We remember who we were before our hearts were ever broken. We love Paris not for who or what it is, but for how it brings out the best in us. We adapt — even just for a few days or weeks. We are independent, strong, slow, present.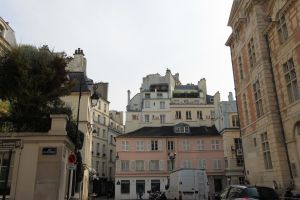 —
As a little girl, you always thought Paris was the place you'd go to with the love of your life — there would be hand holding, champagne toasting, and kissing under the Eiffel Tower. It's a good thing you didn't wait for that to happen…that's the danger of letting the world or society or expectations define a person or a place for you. When we simply arrive, let go, and let time or a place or a journey flow, life often surprises us with something even better than we had initially imagined.
When in Paris, go it alone. It is not strange to take yourself on dates. It's even encouraged that you buy yourself chocolates and pastries, fresh flowers, and fine meals. It's romance, for one.
Are we romanticizing Paris, even when dreaming of being there alone? Of course. But isn't it exciting to know that you can live slowly, breathe deeply, and accept things as they are — not as we presume they will be?
Something about the way Paris moves teaches us to reflect it, if we are open to it. We find beauty and peace in simplicity and slow presence, deep thought. We find the beauty in a single moment. And as we see the world, we begin to see ourselves. We find ourselves seeking — and seeing — the beauty in our surroundings, in ourselves.

[quote]Respirer Paris, cela conserve l'ame. | Breathe Paris in, it nourishes the soul. – Victor Hugo [/quote]