A Journey Through Croatia's Highlights Revealed a Peculiar Theme…
2015 has been a year of travel highs and lows, much like life. As I reflect on some of the best moments and destinations of the year, Croatia stands out to me. The country is very much on the rise, and the people are some of the kindest, proudest, and most generous I've encountered. The story below offers a glimpse of that. Road tripping Croatia is ideal. Not to mention how beautiful it is…
For these reasons, a road-trip in Croatia is my top recommendation for spring travel in 2016.
This story is brought to you in partnership with Expedia.com. All words, images, and opinions are expressly my own.
—-
"Welcome to Croatia!" he exclaimed at me, handing me of glass of unidentified liquid, moments after arriving at the Dubrovnik airport.
Rakija, or rakia, was my official introduction to Croatia, to the Balkans. Clear and served in what appeared to be a shot glass, I had no idea what it was — but it was presented with such warm enthusiasm that I thought to myself, I've got to have some of that.
The plan was to see Croatia by train with our Eurail passes. When I found out that we couldn't get more than one train to the places we wanted to visit, the plan changed (as it usually does.)
So we picked up our car and drove just south. Headed for the small town of Ljuta, it was more than easy to fall in love with what I saw next.
"More rakija?" The woman in traditional dress approaches me with a tray. Sure, I've had the clear one, but what about the golden on, or ooooh that deep purple one looks lovely!
Since we're driving, I have to learn to politely decline — but that doesn't stop the rakija from being offered. And the deliciousness did not stop there.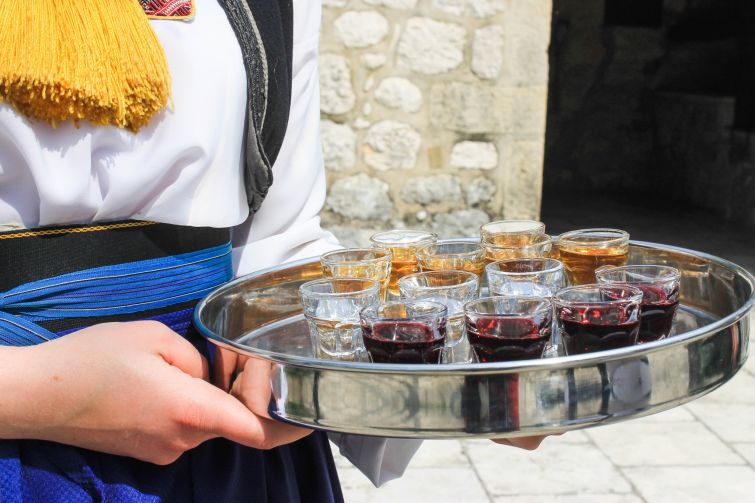 In Dubrovnik we sit under umbrellas, beside stone walls. We sip coffee, then wine, then more coffee. We walk the city walls. We learn about a small village called Mali Ston, with the best oysters, nay, the best food Croatia has to offer. This may be the only reason I ever left Dubrovnik at all.
We arrive in Mali Ston to meet Petar, brother to the man we met in Dubrovnik, who insists we go oyster farming with family.
"My family is very conflicted," he tells me, with a seriousness that grabs me. "You see, my father comes from the land and he makes Dalmatian ham, whereas my mother comes from the sea and harvests Croatian oysters. Very big conflict."
This is the best kind of family drama I've ever heard of.
So Petar takes us on the family boat, out onto the bay. He pulls a line of three-year old oysters straight from the sea, and within minutes I have the freshest food I think I've ever eaten in my hands. To wash it down? Some wine, of course, but not before…yes, more rakija.
Rakija comes in many forms, depending on the region but also the family that makes it. Most are infused with herbs and called travarika, and may have as many as 150 different herbs flavoring it. Each concoction is special to the family recipe, and often made at home.
I traveled next to the coast, where I spent time in Split before heading to the island of Hvar.
It turns out April is the perfect time to be in Hvar — not too chilly, but not yet filled with hordes on summer holiday. We pulled into the main port of the old town, and I settled into this room with a view, one of the most memorable of all my travels. As I basked in the sunshine with my head out of the window, I nodded and gave a quick '"cheers." What with? What else! Rakija strikes again. (It was also served at the luscious breakfast buffet each morning.)


As I made my way next to Plitvice National Park I found myself in one of the most beautiful parts of the country, barely hanging on after the onset of a terrible flu. I sought some sort of medicine so that I could continue on, not miss out on any of the things I had come to see. Or I dragged on, and when I asked about my lackluster energy I told the truth. I was quite sick. Croatian hospitality struck again.
"You know, the answer is simple," the man said to me.
"Great! What is it?"
"Rakija!"
I thought it was some kind ofa= cruel joke. I later learned that in Croatia rakija is viewed as a bit of a cure-all, thought to ease muscle pain and cure sour stomachs. From then on, it was a bit of rakija every time I felt ill. (And I thought the welcome drinks were generous!)
I felt better just in time to make it up to our final stop, the capital city of Zagreb. I sat in cafes, strolled the wide streets, took secret walks. Still, perhaps my favorite moment in this trip to Croatia was as I was getting ready to catch my train. I was at the bar of the historic Hotel Esplanade, a glamorous yet comfortable place that was originally built for passengers of the Orient Express.
"Where else are you going in Croatia?" the bartender asked me, after I told him just how much I'd love discovering his country.
"I'm afraid this is it. I'm on my way to Slovenia. My train leaves in an hour."
"Oh. Well, if you must go, there is only one way to say goodbye," he smiled. He reached under the bar. I smiled even bigger as I saw him pull up a bottle of…rakija."My grandmother's recipe." He poured with pride, and I drank with appreciation. It may have been my first visit to Croatia, but what started with rakija had ended with rakija. I knew it was just the beginning.