How does a part-time traveler who only has experience packing for weeks at a time pack for months on the road?
I realize that this post has been written over and over again, and quite well, by practically every traveler online.  I'm still going to write it.

Why?  Well, I still get questions about it.  More than that, when I went to pack I drew collectively from several different lists and ideas to create a 'pack that worked for me.
So — take what works for you, and leave the rest.  Or, follow my list to a tee.  I'm proud to say it worked out quite well for me.
Plus, there's a pretty sweet packing list download at the bottom of the post — if you're like me and you need something visual/printed on paper to refer to.Note: this RTW packing list can be modified for minimalist shorter term travel, if you remove items qualified only for durability and/or variety and perhaps add destination-specific pieces.
You've heard it before, but I'm going to tell you again.  PACK LIGHT.  The short version:

 The detailed version:
I'll break down by category what I took and how I stayed organized during planning.  But first…

Commandments of the 'Pack (For Long Term Travel):
  Thou shalt not pack any clothes that don't fit these parameters: cost = free or under $5 and/or age = five or more years of use.
Why?  This made it so that I wasn't attached to any items.  Between not having access to a washer/dryer and the potential for theft, forgetting it somewhere, and stains — this reduced my stress about clothing.
The best part of this guideline for me was that I felt free to exchange or leave behind clothes that no longer served me.  There was no tinge of guilt to carry something just because it was worth something.
Thou shalt not pack electronics with data is the same compartment as backup data.
Why? For obvious reasons.  If you lose one, you've got the other.
Functionality and comfort > style.
Why?  Well, aside from accepting I would be wildly uncomfortable in many situations (I'm looking at you, overnight buses) and I just don't need to add to that — I love using travel as an excuse not to stress over my appearance.  I prefer to focus on my interior.  Bonus: the
sad (but true) fact that as traveling as a woman means the less effort I put into my appearance, the less unwanted attention I am going to get.
Thou shalt remember that plastic bags and packing cubes are your friend.
Why? They make things smaller, keep them dry, keep them organized, and possibly more hygienic.
Thou shalt not pack the full-size anything and shall seek out mini-sized everything.
Why? One, mini-sized things exist for most every essential item.  Plus, they're cuter. Plus, they take up less space.
 
First things first — the "long-haul" flight outfit.
For me, this must consist of the most comfortable clothing possible.  Breathable cotton, preferably stretchy, is the key.
I also brought along a jacket that had been given to me for free by my employer (after I took a sharpie to the company logo!)  Again, I'm all about the disposable clothes — which is good because though it kept me warm on a cold airplane,  it didn't ever get cold again after my first country. I was able to pass it on and lighten my pack right away.
Also — a scarf is a traveler's best friend.  Wear it on the plane.  You will never regret it.  I opted for a light, cotton one that I could wash (who wants to be on the road with a scarf they can't wash?) I like this one.

Carry-on essentials: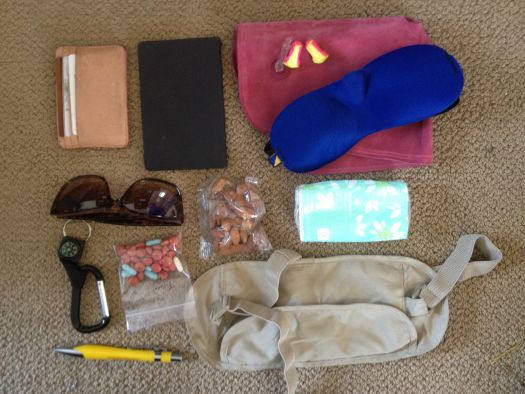 I keep a small wallet and a money belt on hand, filled with local currency, US currency, credit cards, ATM cards, and forms of identification.  (Don't forget your passport!)
I cannot do without my self-created travel comfort pack: inflatable neck pillow, ear plugs, eye mask.  I've been known to keep a pair of socks in my bag if I'm not already wearing some.
I like having an old-fashioned small Moleskine notebook and pen with me for note taking and journaling.
Might I suggest a small snack in case the in-flight food is unavailable or unbearable?  (I like almonds.)
Other freshen-up items: for me, it's having tissues and hand sanitizer (not pictured.)
Don't forget any medications you can't live without, and I always keep some ibuprofen and a sleep aid like melatonin accessible.
Sunglasses.  Enough said.
My traveling medicine cabinet and personal care items:
Stomach:

 Antibiotics: zithromycin aka ZPack, Cipro, antacid, Pepcid tablets, Imodium, oral rehydration salts (if you've ever gotten food poisoning, you know these are all essentials.)

First aid

:  aspirin/pain reliever, bandaids/Neosporin, small scissors, a few alcohol pads, Benedryl, moleskin (optional.)

Other

: Malaria: doxycycline, any other prescribed medications, sleep aid, bug spray, hand sanitizer.
Toiletries and self-care: 
Shampoo/conditioner, face wash, chapstick, sunscreen, basic makeup (coverup, mascara, blush), tweezers, vaseline, 

deodorant, h

airbrush, toothbrush, toothpaste, mini toilet paper roll (I use one of these and refill it as I go,) razor, floss, headbands/hair ties, bar of soap.
(Tip: bring a large sized deodorant for long term travel in Asia, as it can be difficult to find it there without whitener.)
Other: You will see hair dye pictured (I went dark to travel India and the Middle East), immunizations card
Get mini-sized everything!  I love packing my own liquids in these.
Utilities (and generally useful necessities:)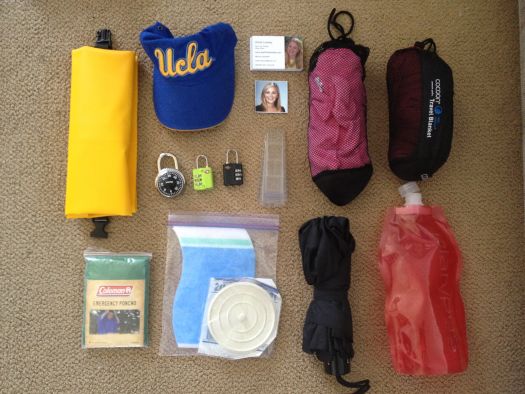 I used my dry bag 1,000x more than I thought I would.  Stay tuned for some of the ways it has served me during my travels.
Luggage locks as well as a combination lock for any hostel lockers.
A mini umbrella may be useful. I used mine as a parasol in the Indian summer sun more than as rain gear.  I also pack a small emergency poncho.
LOTS of extra Ziplock bags (not pictured.)
Laundry detergent sheets and a sink plug.  Many other travelers often bring a clothesline as well (I didn't.)
The doorstop pictured here is lightweight and but great for extra security.  Just set it behind the door when you're sleeping, to prevent or delay intruders.  This gave me lots of peace of mind.
This small, reusable water bottle more resembles a plastic bag with a cap than your typical water bottle.  It can be rolled or folded to take up literally no space.  Bonus: it's quite the conversation starter.
Electronics deserve their own category: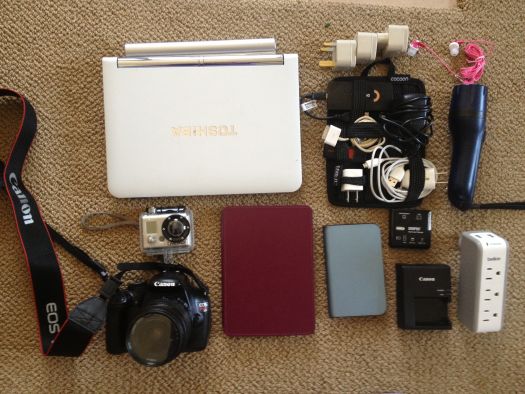 Shoes: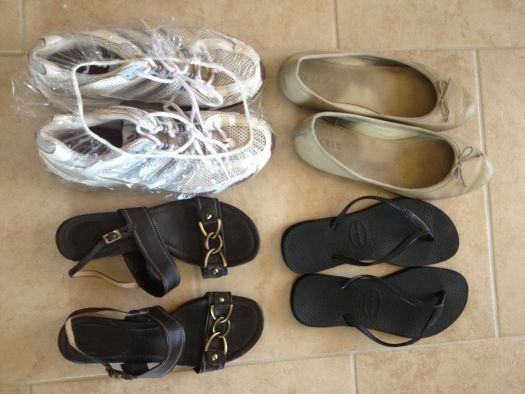 I brought: old, used tennis shoes, ballet flats (recommend nude color for versatility,) Haviana flip-flops (basically the only shoes I wore, recommend this brand for durability), and a pair of leather sandals.
IF I were to do it all over again, I'd exchange the leather sandals in favor of water-friendly sandals like these.

The final product, fully packed.
Ah yes!  How could I forget the all-important backpack recommendations?
After months (yes, months) of research, I settled upon this backpack/daypack combination from REI.  (Tip: got last year's model at the REI outlet for significantly cheaper.) If you're going to get both, I can't recommend this complementary pair enough.  I loved using each separately and together.
I borrowed the small black bag from my mother after vowing for years that I would never use it.  Not the most stylish handbag in the world, but it was comfortable, functional and saved me from being robbed at least twice.  Bonus: it held my camera on days I didn't feel like carrying the daypack.  Here is the latest version of the bag.
WOW! Look at you, you got all the way down here!  Congrats.
(click to download PDF)
Preview: 

Well, phew.  I feel like I spent at least a week of time writing this, but I know how much I relied on others' lists when I was doing my planning/packing.  If it has helped you out, please share it with the other travelers in your life!
As always, if you have specific questions or need additional advice…I'm happy to help.  Feel free to let me know.

Please note: some of the links above are affiliate links, so if you decide to purchase one of the items I've recommended a very, very small amount will be contributed to my travel fund at no cost to you. Thank you for supporting the site.