A good friend of my father's grew up on the Big Island of Hawaii. That fact, combined with the random weeklong October break from school, meant that I was fortunate enough to spend weeks of my childhood every year in what is still one of my favorite places in the world.
As time went on and the family vacations slowly ceased, I took a break from visiting Hawaii. Eager to see the world and experience growth from unfamiliar cultures and bits of life lived outside of my comfort zone, I stopped wanting to go.
Eventually, and especially since moving to San Francisco, I began to hear a small whisper intuitively calling me back to Hawaii. I had yet to visit one major island, and as my interest in hiking and spending time in raw nature had grown since childhood…I knew it was finally time to get to Kauai.

Kauai via Napali Coast Boat Tour
There's a lot to love about Kauai. There's much that's unique and different from the other islands collectively. Chickens roam wild (yet local eggs still cost $9 a dozen, someone explain that one,) scenery appears older, more weathered, increasingly dramatic. Small Hawaiian towns get even more relaxed, and there is more emphasis on having the right hiking shoes than the right bikini.  (In short, why did it take me so long to get there?)
But perhaps the most defining characteristic of Kauai, the significant reason to visit above the other islands, is the truly green, rugged, jagged cliffs of the Na Pali Coast.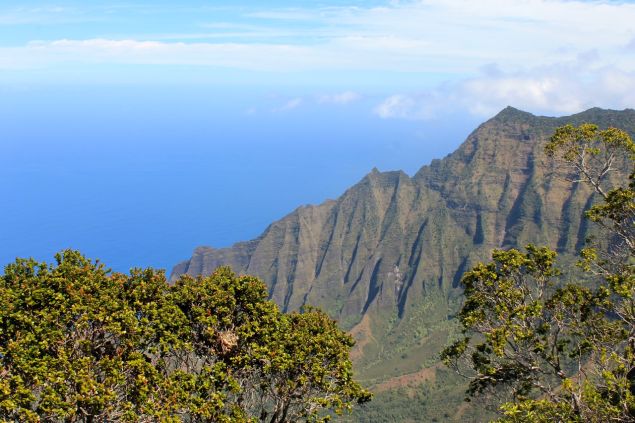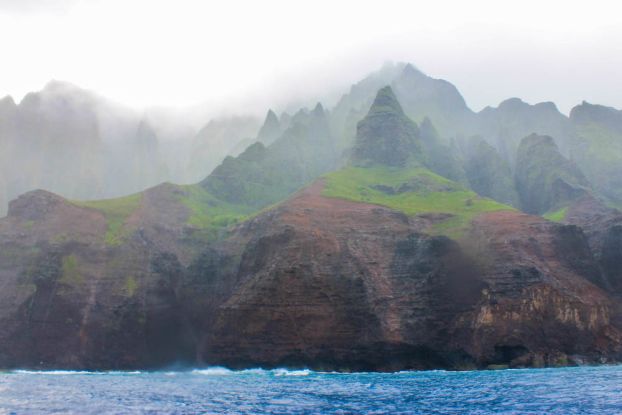 I've seen a lot of beautiful things in my life…I'm not exaggerating when I say the Napali Coast blew most of them away. I can hardly remember feeling so small, being surrounded by so many natural power and beauty, and reveling in just how glorious our planet can be.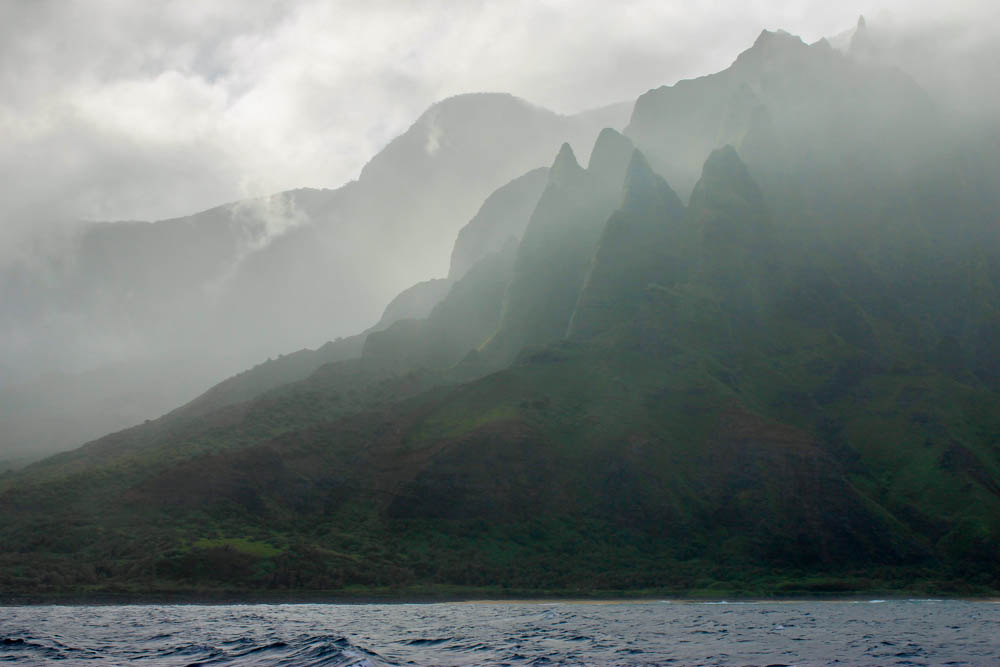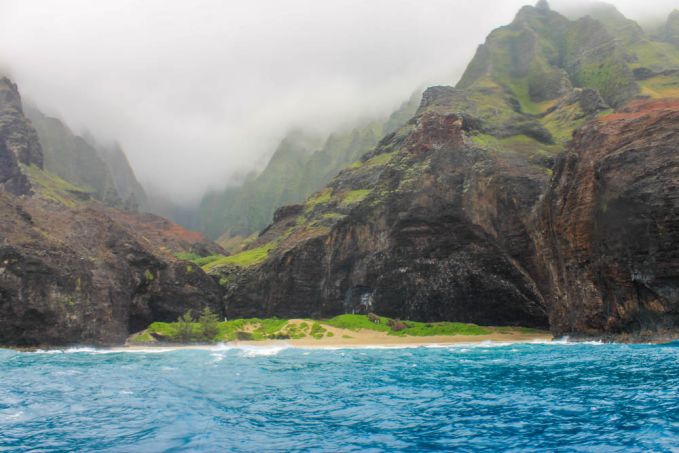 Seeing this coastline makes you feel both humbled and proud at the same time. I felt connected to something larger than myself while in its presence.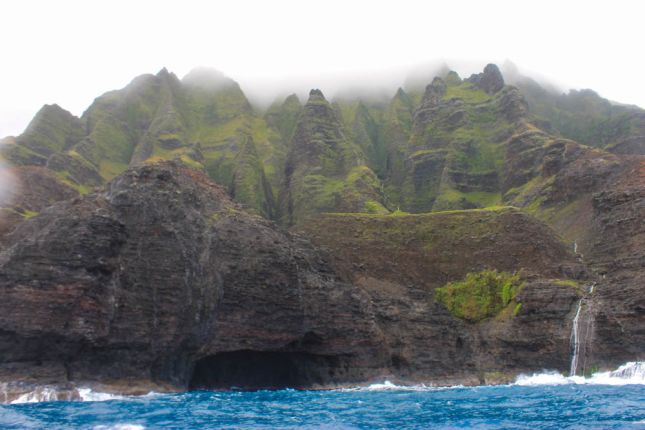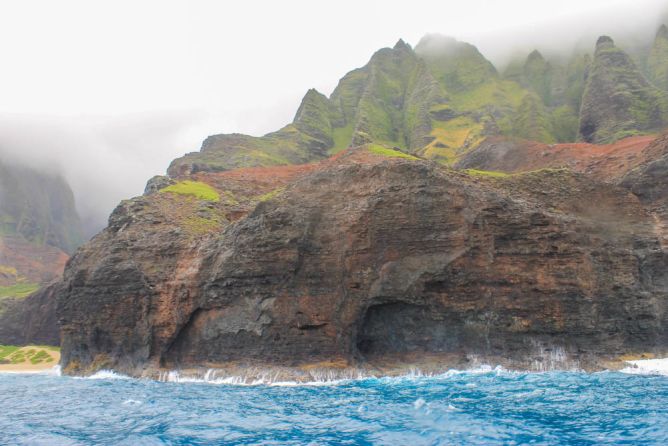 It is an experience that can hardly be put into words nor a photo frame.
Want to go?
There are a couple of ways to access the coast: you can drive to a point (though the road dead ends) and see some views from scenic lookouts on the western coast. (Check out the beautiful Pihea Trail for some great hiking from the Pu'u o Kila Lookout.) You can hike the first four miles of the Kalalau Trail (highly recommended.) You can take a boat trip. You can even take a helicopter!
While I have yet to take an open door helicopter over the natural wonder (weather related,) I can say that to me, seeing the Napali Coast from the water was a completely different and worthwhile experience.
Choosing a Napali Coast Boat Tour
All I can recommend is what I know. I booked my trip with Holo Holo Charters, one of a few Napali Coast boat tours.  They're the only company who goes out to Ni'ihau (a restricted island off the coast) but unfortunately my group was unable to go (again, weather related!)  And I recommend being prepared for seasickness – though I fortunately wasn't affected, it is more common than not to be very sick due to the swells of the journey. They're upfront that the boat ride is far from smooth most days, but believe me when I say it is completely worth it.
---
TIP: Their 7 hour boat tour combines both Ni'ihau and the best of the Napali Coast, and includes breakfast, lunch, and snorkel gear.
You will want to ask about weather conditions the day before your tour, as this may affect where you're able to go on the water and you can reschedule as needed.
Tours run year-round, though I recommend Jan-Mar when your boat tour may very well include whale watching (mine did!) You depart from Port Allen Harbor at 6am.
They also have a sunset boat tour, snorkel tour, sailing tours, and an adventure tour. Be sure to book in advance!
---
Na Pali Coast Hike Option
Hiking is a great way to see Na Pali, but unless you're prepared to take the overnight journey on the Kalalau Trail (11 miles, permit required, named one of the most dangerous hikes in the world – though recently reopened) a morning trip to the Napali Coast via boat will give you the best access to views that will make your eyes widen in awe of a place so beautiful it seems unreal…
You can also always drive up to the Kalalau and Pu'u O Kila lookouts on the northeast side of the island, but you will only see a fraction of what you can see from the water and will often face crowds. It's for this reason that I most recommend taking one of the Napali coast boat tours.
---
Please go and see it for yourself.
(And maybe check the weather first.)
—
Also, need a Kauai Itinerary?
Or perhaps you're looking for where to eat in Kauai?