Heading to Kauai soon? Here is an itinerary full of all the places I wish I had known about before I went.
---
I've written a fair amount of itineraries for this site, mostly because it's the travel information both you as readers and I myself need help with most often. I have personally spent hundreds of hours researching destinations, and even more time benefitting from the planning of others and my own experience.  And as much as I love writing personal pieces or thoughtful narratives, I find quality itinerary and genuine recommendations surprisingly difficult to find — online or otherwise.
I also want to continue to demonstrate how much can be seen, even at a reasonable pace — for the part-time travelers who feel limited by a few weeks of vacation time. I hope to show that it's as simple as aligning your priorities, doing the research (which I hope I am contributing to,) booking the ticket, and going.
The good news is one week in Kauai is a fantastic for the part-time traveler who has limited time.
When I sat down to share my tips from my recent time in Kauai, however, I found dividing the island into regions and subcategories to be more effective for explanation.  I'll share those along with a brief breakdown of what to do, where to eat, and where to stay in Kauai, as well as how to plan for each day in a week.
Without further ado, my one week in Kauai itinerary: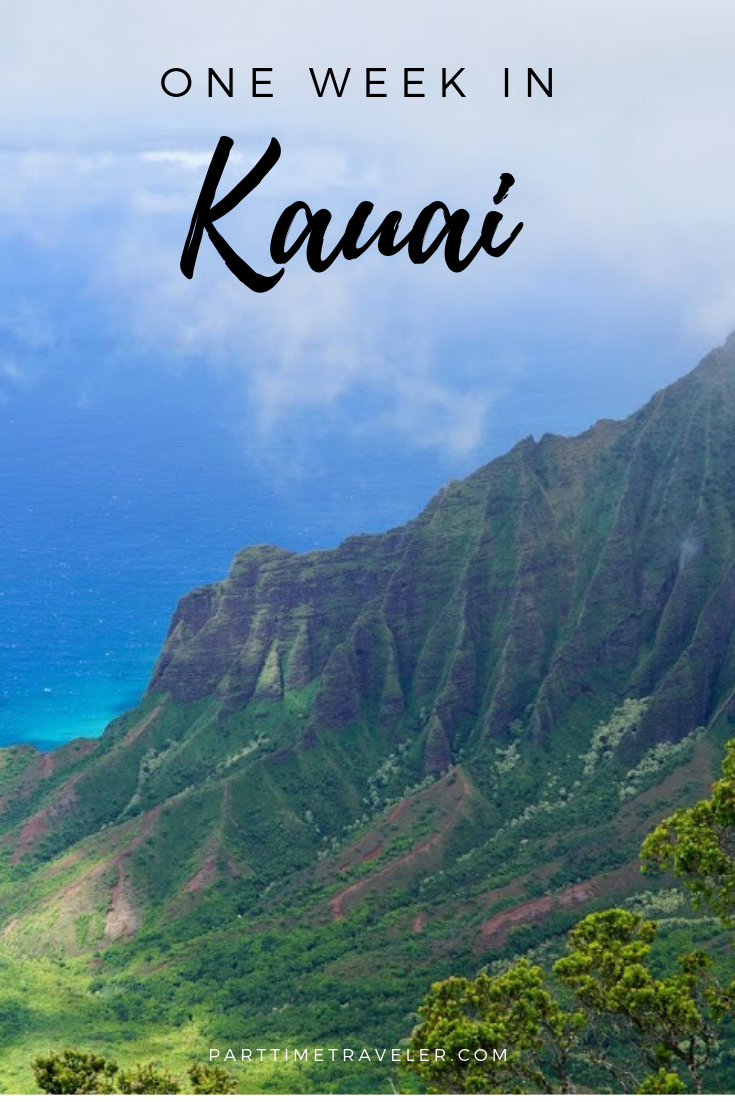 ---
For those of you who have yet to visit, Kauai goes a little something like this: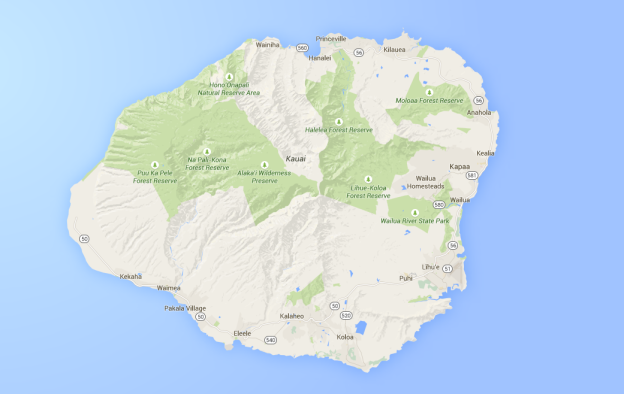 North (Hanalei)
South (Poipu, Koloa)
West (Waimea)
East (Lihue, Kapa'a)
As far as an itinerary goes, Kauai is a small island — not a whole country — so it's a bit of a choose-your-own-adventure. The beauty is…you can't go too wrong here.
First: choose a part of the island to stay in. I recommend the North (my favorite) and the East, as it is most central for driving to the other areas.
From there, build your days around being in different parts of the island.
I chose 3 days in the north, 2 in the east, 1 in the west, and 1 in the south. Take a look at activities that suit your tastes and build your itinerary from there.
I'll share all my Kauai recommendations: where to stay in Kauai, what to eat in Kauai, what to see in Kauai, what to do in Kauai, where to hike, and plenty of local secrets entrusted to me by friends that live there.
And if you're looking for a more in-depth guide to where to eat, check out my latest post on Kauai's Best Restaurants.
Aloha!
One Week in Kauai Itinerary
North (Hanalei)
See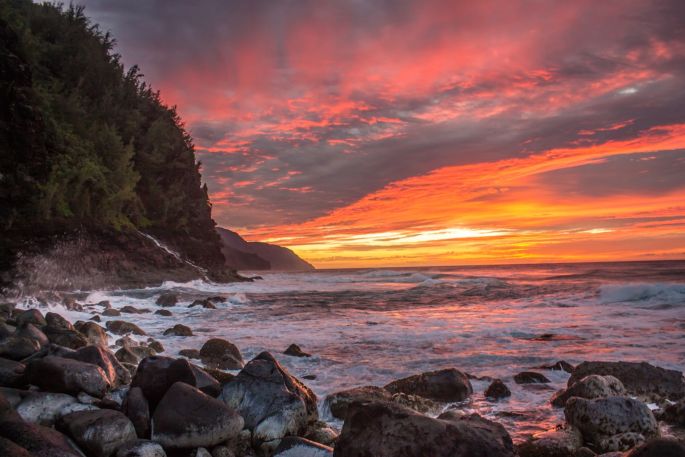 Ke'e Beach: This is the beach located at the end of the road where the Kalalau Trail begins. I witnessed one of the most beautiful sunsets of my life here. The glimpse of the Na Pali coast and the golden glow of the light here is something quite special.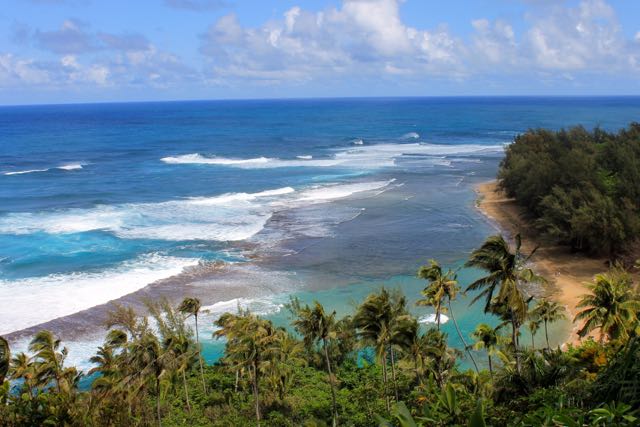 Kalalau Trail: With incredible views of the Na Pali coast, this hike alone is the reason many come to Kauai. Be forewarned that it is a challenging hike — you should always be aware of conditions and bring proper equipment. 11 miles in total, if you complete the whole thing you'll be one of few in the stunning Kalalau Valley and Kalalau Beach. It is the only land access to this part of the coast. Keep in mind that anything beyond Hanakāpīʻai Valley (2 miles in) requires a permit, even if you do not plan to stay overnight. The 4-mile hike is still very much worth it!  For your reference, here's the official site for the trail.
*Good news! Access to both Ke'e Beach and Kalalau Trail has been reopened after being closed for some time due to flooding damage.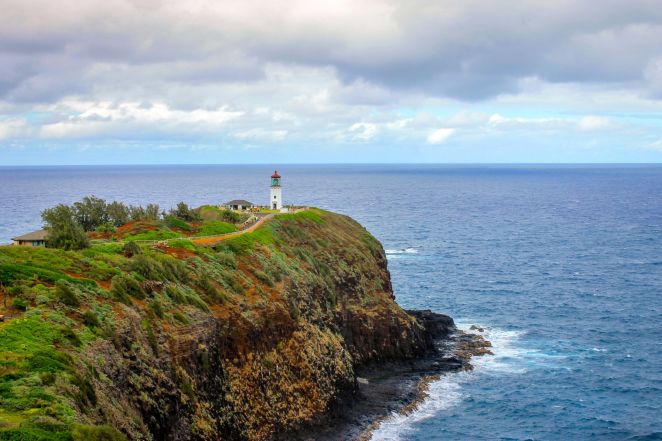 Kilauea Lighthouse: A gorgeous stop along the northern coastline. There is also a bird sanctuary nearby.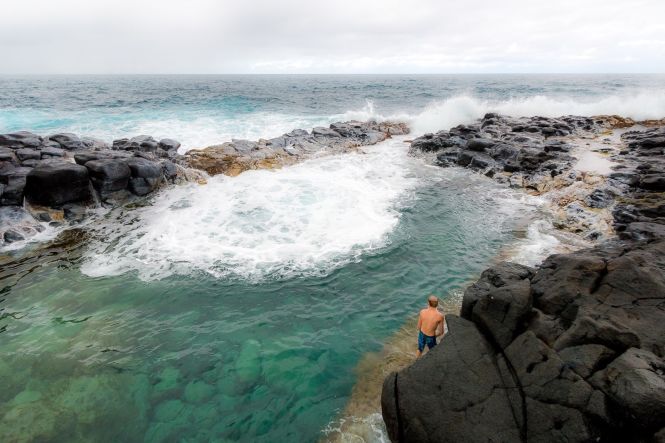 Queen's Bath: When calm, Queen's Bath looks like a sheltered natural pool. However, conditions can and do change quickly and more than a few lives have been claimed at this site. It's again important to be aware of conditions, which are typically better in the summer months. Feel free to hike down and take a look, just beware of whether or not it's a good idea to go for a swim.

Secret Beach – also known as Kauapea Beach. Not so secret as much as difficult to access, but a short walk keeps most of the crowds away. As you can see, I had the place to myself! (Still felt like a secret to me.)
How to get there: Stay on Kuhio Highway past Kilauea and turn right on Kalihiwai Road. You'll reach a dirt clearing where there may or may not be other cars parked but it looks like a dead end otherwise. There is a small trail opening on the left side that you'll take for about a ten-minute walk to the sand.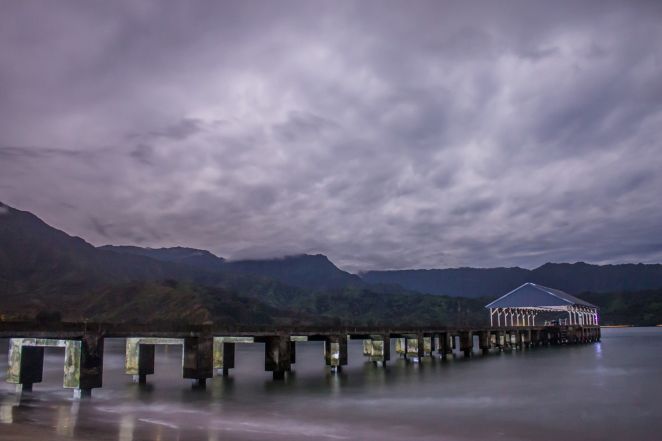 Hanalei Pier: especially beautiful at night
Tunnels Beach (for snorkeling!)
Eat
Bar Acuda: higher end tapas-style eats from a former SF chef, it's the go-to for special occasions and has some of the best food on the island.

Dolphin Sushi Market: You'll see Dolphin Restaurant from the road, but for me the real eats were the takeaway poke and sushi at the back door fish market. *Update: as of late 2018, this spot is still closed due to flood damage. Call before stopping in.
Postcards Cafe: fresh, local organic foods – a great lunch option.
Stay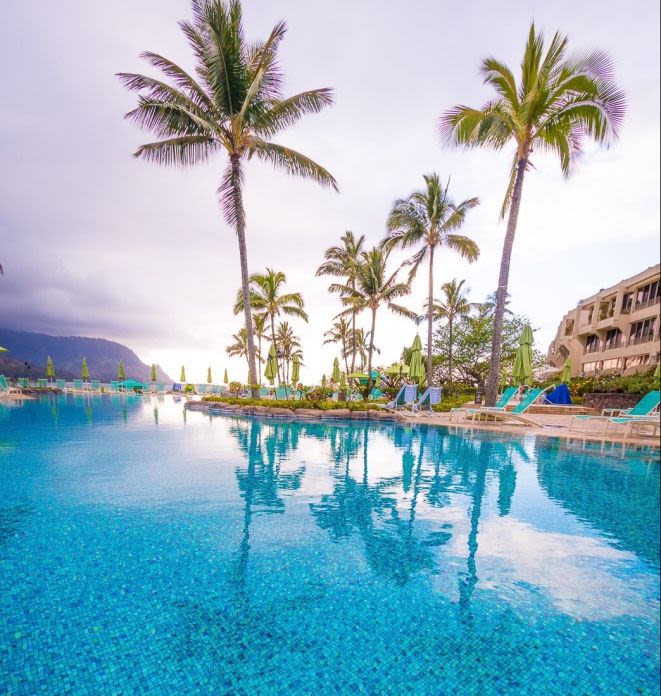 St. Regis Princeville: It has been called one of the most beautiful resorts in the whole world. I can't say I disagree with that given the location and the excellent service. A splurge stay — if nothing else come and enjoy the views via 

a drink at the bar.
South (Poipu)
See


Poipu Beach: This gorgeous stretch of sand reminds me more of the other Hawaiian islands (not a bad thing) and the sunsets are incredible (of course.)
Spouting Horn: This natural lava tube has water forced into it during high tide or large swells, creating a spout of water up into the air and often a noise that sounds like a low whistle. It is worth checking out if you're nearby, but I wouldn't drive to this part of the island just to see it.
Kauai Tree Tunnels: Wow – this was a spectacular surprise driving across Kauai. It is a canopy of Eucalyptus trees that are quite scenic to drive under. It is located on Maluhia Road just outside of Koloa town.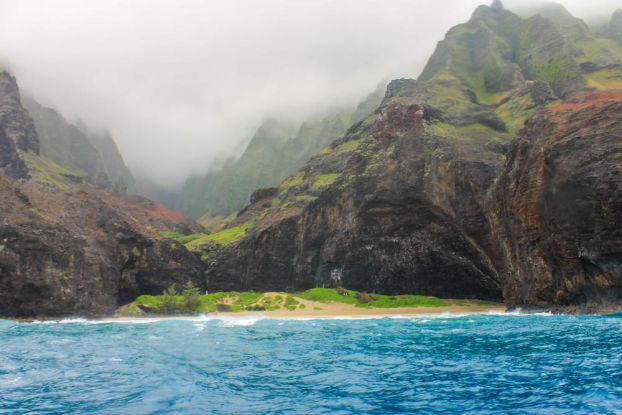 Napali Coast Boat Tour: I can't recommend enough seeing the Na Pali coast from the water. While there are some boat ride options that leave from the north, I recommend the one I experienced which leaves from Port Allen in the South.
Eat
I can only recommend the casual local eats I experienced here (which are also available in other parts of Kauai) as I often cooked (fresh fish!) while staying in the South.
Bubba's Burgers: awesome local burger joint (3 on the island) featuring Kauai grass-fed beef.
Puka Dog: This Hawaiian hot dog spot is a fun fast eat! They come with your choice of a tropical fruit relish and a spice level (I found the spiciest option to be mild, for your reference!)
Da Crack: If you're craving a decent breakfast burrito while on the island (I get these cravings far too often myself,) look no further. It's a small local Mexican takeout window. Delicious.
Stay
West (Waimea)
See
Waimea Canyon: Nicknamed the Grand Canyon of the Pacific. Worth the drive, and there are several hikes spotted throughout as well. My advice? Go early. The canyon tends to fog in. Start your day here if possible.

Kokee State Park, including the Kalalau and Pu'u O Kila Lookouts: Pu'u O Kila is the better of the two lookouts (it's after Kalalau, at the very end of the road.) Fog can roll in and out pretty quickly, and while it doesn't tend to stay one way or the other for too long…again I recommend going early in the morning to maximize your chances of seeing the coast in clear conditions.

Pihea Trail (for hikers): I absolutely loved this hike! It begins at the lookout named above, and is a fairly easy trail. It can also be used to connect to the Alaka'i Swamp trail (another interesting hike) and the views are fantastic.
Eat
Island Taco: If there was only one place I could recommend you eat on the island, it's this place. Really? Yes. It's that good. I mean, I love tacos (a lot.) I recommend the Kalua pork and the mahi mahi!


Shrimp Station: Right across from Island Taco in Waimea, it's a great place to get your shrimp on if you're not feeling like tacos. (Though I hope you are.)
Stay
*I did not stay here, but it was recommended repeatedly to me for those seeking a quieter stay.
East (Lihue, Kapa'a)
See
Wailua Falls

Opakeea Falls


I'd be remiss if I left these off of the list, though I did not prioritize them during my Kauai visit (fell too in love with Na Pali.) I won't be missing these next time around.
Eat
Porky's Cart: a food truck that moves all over the island, though it's most often on the East side. Hot dogs and sausages topped with the likes of grilled onions, pineapple relish, and most importantly, more pork.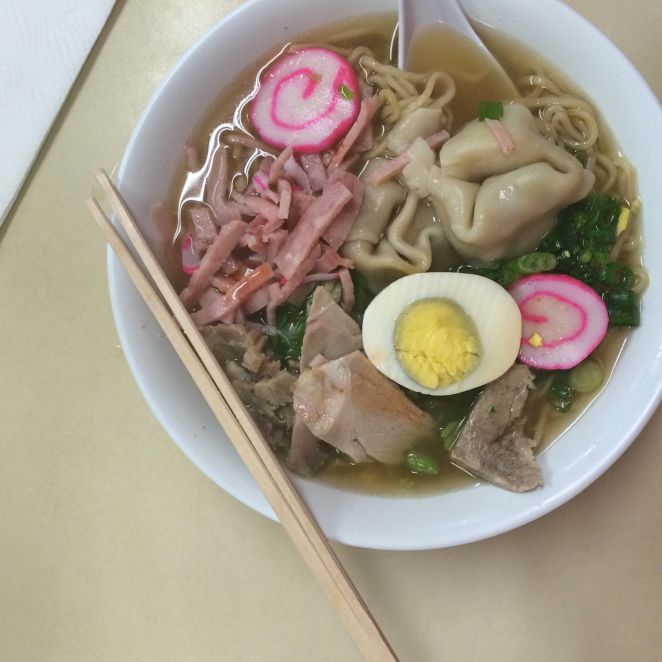 Hamura Saimin: Over and over this was recommended to me as the one local place I had to eat. I adore the hole-in-the-wall ambiance and the fact that no other tourists sat by me while I ate. As for the bowl of noodles, I have enjoyed other meals more (flavor wise) but there's no denying that this was an authentic Hawaiian culinary experience! Definitely a must for a one week in Kauai stay.
Lilikoi Pie: The Hawaiian name for passionfruit, it's another local specialty that I can't recommend enough. I had mine at the noodle shop listed just above, but it is available at local restaurants all over the island.
Stay
Aqua Kauai Resort
*Please note my two-night stay at Aqua Kauai was provided to me free of charge.
Marriott's Kauai Lagoons – Kalanipu'u
*I did not stay here but have heard nothing but amazing things, from those who know the island well!
Always a good way to go if you're seeking a smaller, more personalized accommodation. There are some beautiful properties on Kauai!
Other tips:
Rain: it rains a lot. This can easily foil your plans. Don't let it. As they say on Kauai: "no rain, no rainbows." The weather changes frequently enough that a little break will likely have you in the sunshine again.
Swimming: be careful. I grew up swimming all over the beaches of the Big Island, but was warned continuously about the surf in Kauai. Make sure you read up and ask around about whether or not it's safe to get in the water somewhere before you do.
Na Pali Coast, by sea or air: Just don't miss it. I have yet to have the helicopter experience, but I can't wait to go back for that.
Make use of early mornings. As shared above, weather changes frequently – but your best bet is early in the morning (plus, less people!)
Photography Workshop: I'll be sharing in more detail, but if you're interested in photography in the slightest I can't recommend Kauai Adventure Photo Workshops enough.
Whale watching: Always a plus! While a sighting is possible from November to May, February and March are your best bets timing wise.
Kayaking: When conditions allow, I hear great things about kayaking the Na Pali coast — and if not there's always the Wailua River! (Next time!)
Hiking the full Kalalau Trail: Do your research, plan ahead, make sure you have the permits. I'll be back to do this someday! (Again please note the Kalalau Trail is currently closed due to flood damage.)
The only guidebook series for Kauai you'll ever need: I grew up reading the Big Island version like it was my job, so of course I turned to the Kauai edition for my trip. They're never let me down. Local advice and all the information you could possibly want.
Chickens everywhere. I had no idea. They really are everywhere.
---
Well, there you have it, friends! A one week in Kauai itinerary – or at least the moving parts you need to piece together your own adventure.
---
I hope this helps you with planning for your time in Kauai (or has you looking at flights to get there!) Have a spectacular trip and let me know about your experience.
Other itineraries for the part-time traveler:
2, 3, and 4 Weeks in New Zealand
2, 3, and 4 Weeks in BurmaSaveSave