Where to Eat in Indianapolis.
(Because the way to the heart is the stomach, clearly.)
What it's like to return to a place you once disdained, and discover that you quite like it after all.
—
Or, How I Finally Fell in Love with Indianapolis (and a guide for where to eat in Indy so you will, too.)
Two years ago, heck, even two months ago…if you had told me I'd be landing on the tarmac for a work trip to Indianapolis, I'd have laughed in your face and told you you were insane.
It's nothing against Indiana. Some of the loveliest people I've had the pleasure of meeting have their roots in the Midwestern state. It's just that the job I used to have, the one before all this blogging business, took me there on a semi-regular basis. And when I left said corporate career, just over four years ago, I had zero desire to ever return to the place I most associated with that part of my life. Just like so much of turning away from that path, I was certain I was leaving it in the past.
So as I stared down at the plane ticket bound for IND, I could hardly believe life had taken me back there. Travel writing might just be the most opposite pursuit from pharmaceutical sales. How did pursuing a completely different career take me to the same exact place?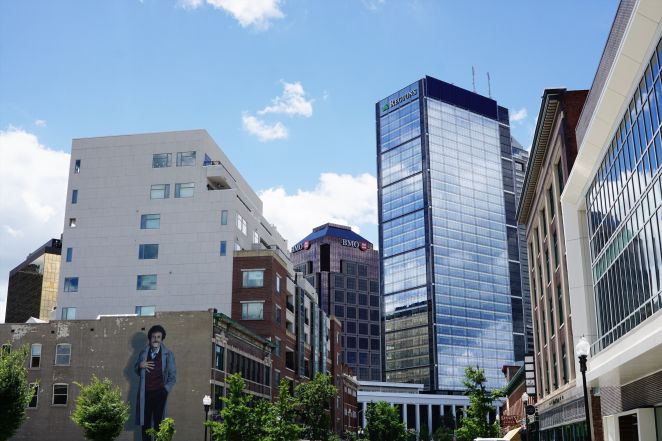 I called my mother. I told her anxiously, "I'm going to teach at Bloghouse again this year."
"Why don't you sound excited? That's always a highlight of your year."
"I know, but this year it's in Indianapolis. You know how I feel about the time I spent there. I am uneasy about going back," I explained.
"It won't be the same," she continued. "It may be the same place, but you've changed a lot in the five years since you were there. And I'll bet the city has too." I shrugged. I wasn't convinced.
"It's a challenge," she claimed. "Time to make new memories there."
I knew she was right.
So I began to think of how I'd approach my visit to Indy had I been excited to explore a new, fun city, not a place that used to weigh me down with stress, exams, and presentations. How could I see the city through the traveler's eyes I'd worked so hard to maintain? I sat in contemplation before I asked — what was the way to my heart, despite any other mental blocks?
And then it hit me: food.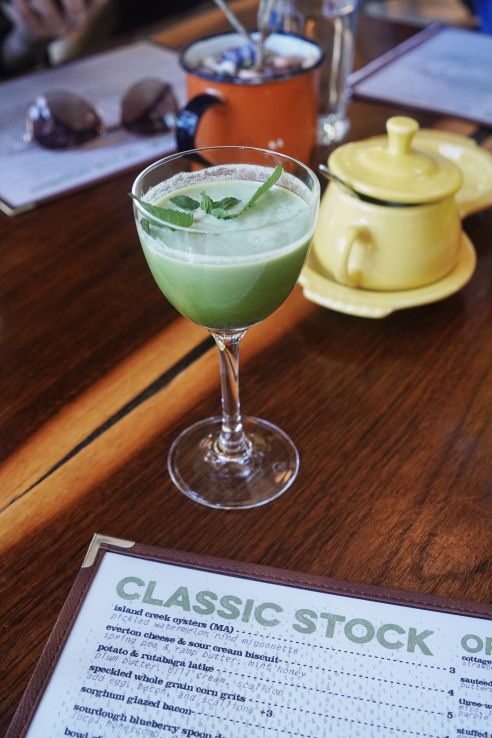 Turns out Indianapolis has gone through a bit of a culinary revolution. One of the best restaurants in America? Right there in Indy. Top food city in America? Apparently that is Indy now, too. Conde Nast Traveler went as far as naming it the "most underrated food city in America."
At the heart of both Indy (well, actually the entire Midwest for me) and of Bloghouse has always been good people. And those can feel hard to find. But as for what would make me fly across the country to spend 48 hours there?
Ladies and gentlemen, the food.
(Disclaimer and note: None of these places were even open the last time I was in Indy! GO INDY.)
Without further adieu, may I present, falling in love with Indy in six simple steps. Here's where to eat in Indianapolis, now:
Open Society
Why you'll fall for it: Coffee shop by day, trendy restaurant by night. The only thing more beautiful than its design is its food.
What to order: Any of their salads, duck sliders! Portuguese wine, if your forte.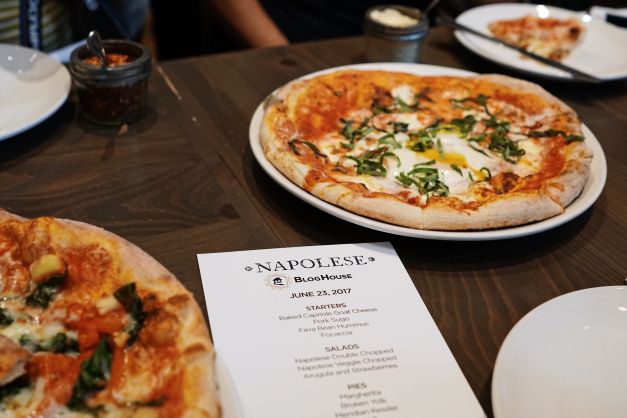 Napolese
Why you'll fall for it: In all honesty, the dishes, ingredients, and preparation at Napolese is on a level I didn't know existed in Indiana. They're doing great things here.
What to order: Each salad I had was better than the last (which is to say, they're all good,) and it's hard to go wrong with wood-fired pizza but my highlights were Elliot's Pie (pancetta, roasted new potatoes, gorgonzola) and the BLT (Smoking Goose jowl bacon, leeks, Taleggio.)
Cafe Patachou
Why you'll fall for it: A locally loved spot with a comfortable yet upscale feel. On top of their brunch game.
What to order: Any of their "broken yolk" dishes. Don't miss the cinnamon toast (trust me.)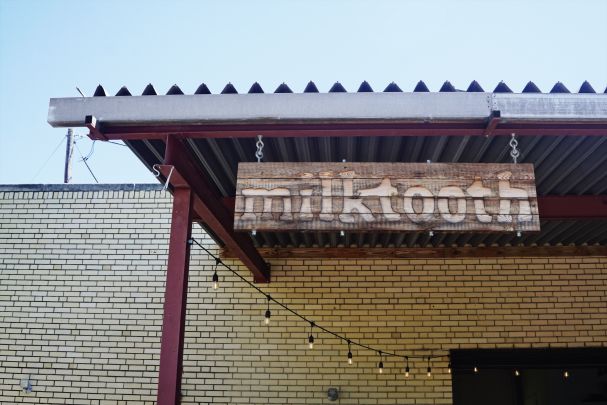 Milktooth
Why you'll fall for it: Hyped for a reason, and still lives up to high expectations. You can feel the passion from the chef oozing from the walls of this place. It's incredible the artistry that is coming out of this cool space and its food.
What to order: Skip the bacon at your own peril. Their coffee drinks are spectacular, but I really fell in love with their matcha beverage. Dutch babies (savory and sweet) are famous – one bite and you'll see why.
Hotel Tango
Why you'll fall for it: Gorgeous space, a place with heart, Indy's artisanal distillery. Not to be missed if you're a cocktail person. Across the street from Bluebeard so a great spot to stop in before dinner there. Also, they have the best bar cat ever (and I'm not even a cat person.)
What to order: They make their own spirits, so choose your favorite and decide if you want to stay with a house classic or roll the dice with one of their seasonal specials.
Bluebeard
Why you'll fall for it: Honestly, one of the best meals I've had in recent months. For me, even topped the illustrious Milktooth.
What to order: Their bread (homemade) and spreads are TO DIE FOR. Truth be told, everything from the menu was divine, and it changes daily, but I still can't get the grilled octopus or foie gras plates out of my mind. And if there is any sort of peach soup on the menu when you go, don't miss it.
—
My visit to Indianapolis for Bloghouse was made possible with the support of Visit Indy, JW Marriott, and Visit Indiana though this post is in no way sponsored by these partners.
Shoutout to two classics and blasts from my past…
St. Elmo
(A historic steakhouse and true classic. Get the shrimp cocktail at the very, very least.)
Slippery Noodle Inn
(A fun, local jazz + blues bar with live music every night and that lovable dive bar feel.)
And you'll also want to explore the very happening Mass Ave, as seen below: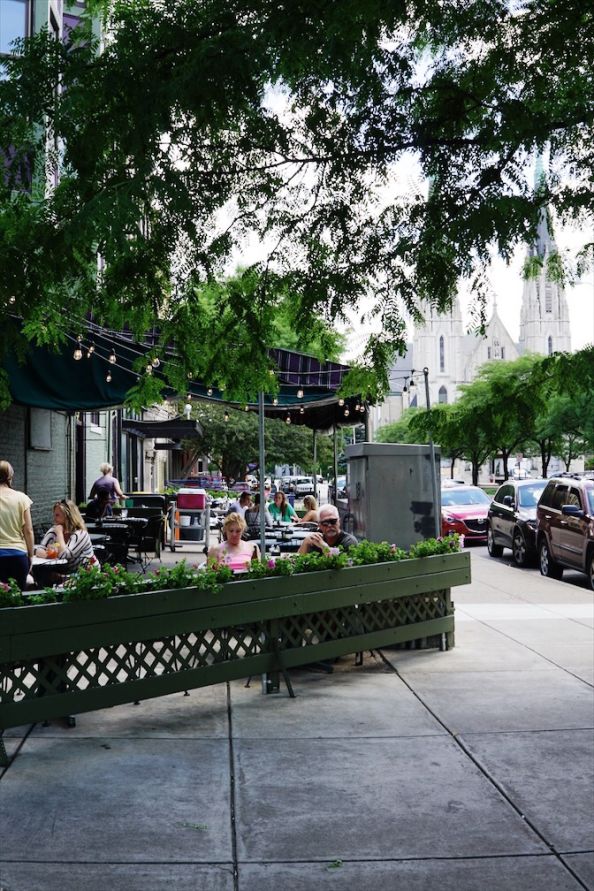 Perhaps you won't arrive with have the same preconceived notions about Indianapolis as I did. Perhaps you have different ones, or none at all. Suffice it to say that every trip, every place, every journey…has something to offer, lessons to be learned. I didn't expect to love Indy this time around. But then the best things in life often happen outside of our expectations.
Indianapolis has and is undergoing some major changes, in as little as the past five years. Before I could stop and rebuff that, or interject with doubts, I realized…the same had been true for me.
You may not be able to change a person. But you can change a place. You can fall in love with a place with every bite, against the odds and with any bitter taste left from your last visit. And, the best news of all…you can grow past your past. You can change yourself.
❤
Where to Stay
I loved my stay at the JW Marriott. Rooms are reasonable and the beds were incredibly comfortable.
For something more budget, check out some recommended cheap hotels in Indianapolis.
SaveSave
SaveSave
SaveSave