Nikkei Food, Burmese Street Noodles, and More
Hello and welcome! I'm a San Francisco food and travel writer who loves exploring and sharing the dynamic SF culinary scene. Each month I'll highlight five spots — a list of where to eat in San Francisco that I'm truly loving in this moment.
They'll be a combination of what's new and exciting in the SF restaurant scene (because let's face it, I probably went there to try it and I probably have some opinions,) as well as some classic places that I either went back to for the hundredth time or finally got around to.
My hope is that this series will be a regular answer to the question "Where should I eat in San Francisco?" whether you're a local or a visitor to my fine city!
Where to Eat in San Francisco
Top SF Restaurants, beloved by this local
Volume 5
Written March 2019 | Updated July 2021
Nikkei (Japanese + Peruvian Food) // Cow Hollow
1838 Union Street
I'll start off by saying that I was extra excited when Kaiyo announced their plans to open — because not only do I love both Japanese and Peruvian food, I had never tasted them fused together.
On top of that, Kaiyo opened a mere few blocks from my apartment. When I finally got around to trying it, I realized that it was just what the neighborhood needs.
You can expect everything from sashimi and ceviche to miso glazed halibut and uni toast. Though honestly, I'd come here just for the inventive drinks in their beautiful bar space.
Menu Highlights: For me the cocktails and heartier dishes were the standouts here — including the stone pot lobster rice (like a crazy indulgent paella, with the crispy rice you get in bibimbap – WIN) and the pollo a la brasa (Peruvian chicken.) I'm looking forward to trying more of their tiraditos and ceviches as well.
---
Yamo
Burmese Food // Mission
406 18th Street
The best thing about this place might not even be the food. There, I said it.
The noodles, curries, and salads — mostly Burmese and made fresh in front of your face while seated — are all tasty. Is it the best food I've ever sat down to eat? Probably not. Is it damn good for $6? The best.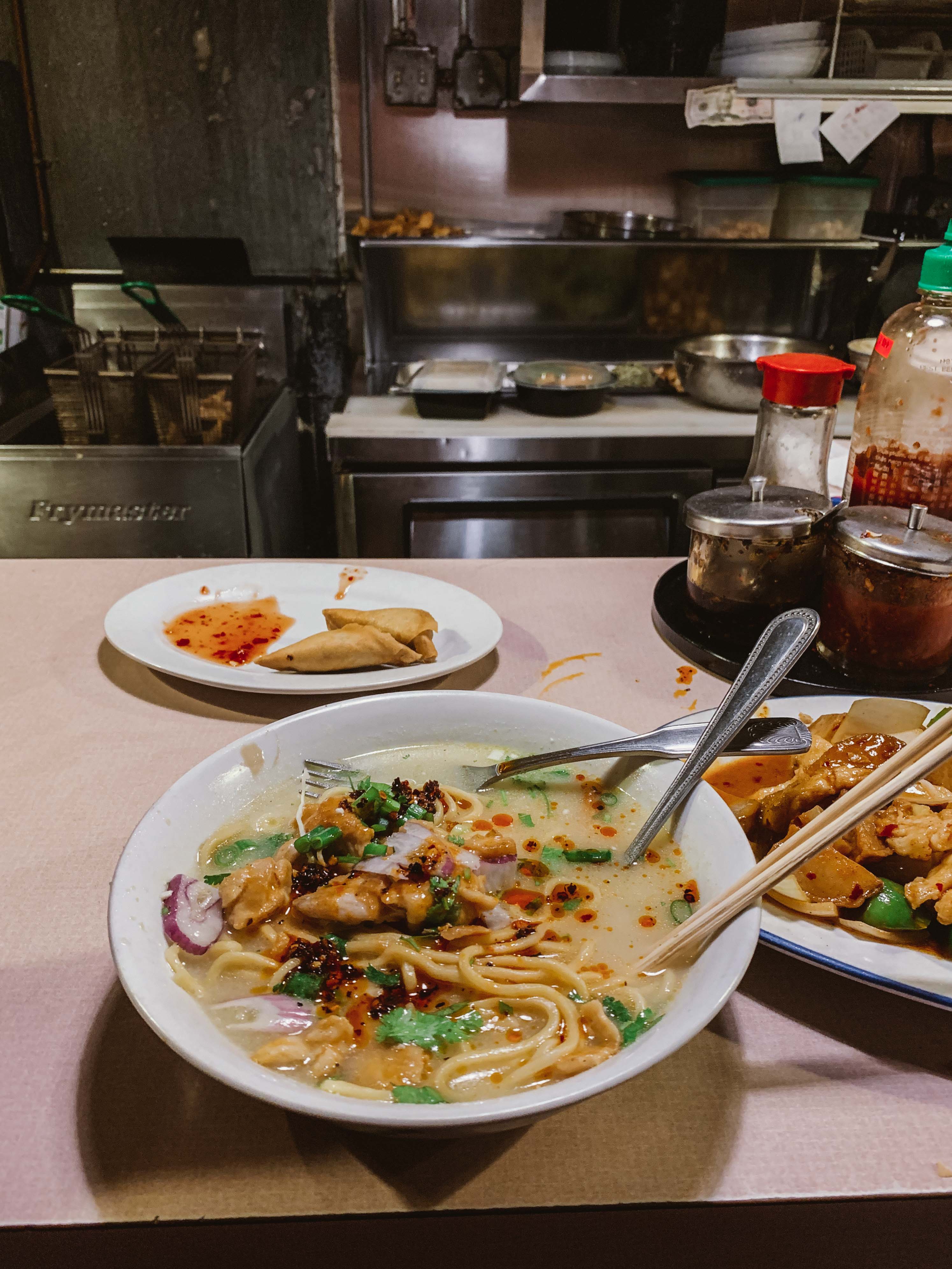 Being here, even with my eyes closed, feels for a split second like I may have accidentally teleported to Asia — in all the best ways. Such fresh, cheap, delightful eats, made fresh to order over a steaming wok with just a few bar stools sat at a counter…that's harder and harder to find in SF these days.
Don't come here expecting the best meal of your life in the city. Do come here to feel like you've left the city, and all its pretense and price tags, behind.
Menu Highlights: Chicken noodle soup (add chili sauce,) and the house noodles. Note that this place is cash only and that you may have to wait a few minutes to score one of the very few seats at the counter.
---
Detroit-Style Pizza // Pop-Up

Ok fess up, who else here had no idea Detroit pizza was a thing?
As a pizza lover, I feel like I should have known this by now (plus my boyfriend is from Detroit, oops.) The Square Pie Guys, a new source of pizza goodness that can be found popping up all over SF, aren't from Detroit either…but they get it.

What makes Detroit style pizza so good is the crunch you get from the pans (yep, they're square) including the crispy cheesy edge that may be my favorite crust of all time.
I love this pizza so much that we even spent Valentine's Day with a couple of their pies! (+champagne, but who's tracking.) You can dine in — they're often at Vinyl Wine Bar on Divis — or take them to-go, but either way you'll want to order in advance as they sell out nightly!
Menu Highlights: So far I've most enjoyed their pepperoni (all about those crispy edges) and any of their specials have always been delicious (if there is anything with mushrooms and you like mushrooms, have at it!)
---
Han Il Kwan
Korean Food // Outer Richmond
1802 Balboa Street
Maybe it's because I haven't yet been to Korea, but for some reason Korean food is the last Asian cuisine I think of when I crave a feast from the continent.
I always love a good cook-your-own-meat-over-fire operation, so Korean BBQ has been of particular interest as of late. Han Il Kwan is certainly one of the best options for it in the city — but it's all their 'extras' that come, even if you don't order any grilled meat — that make this particular spot special.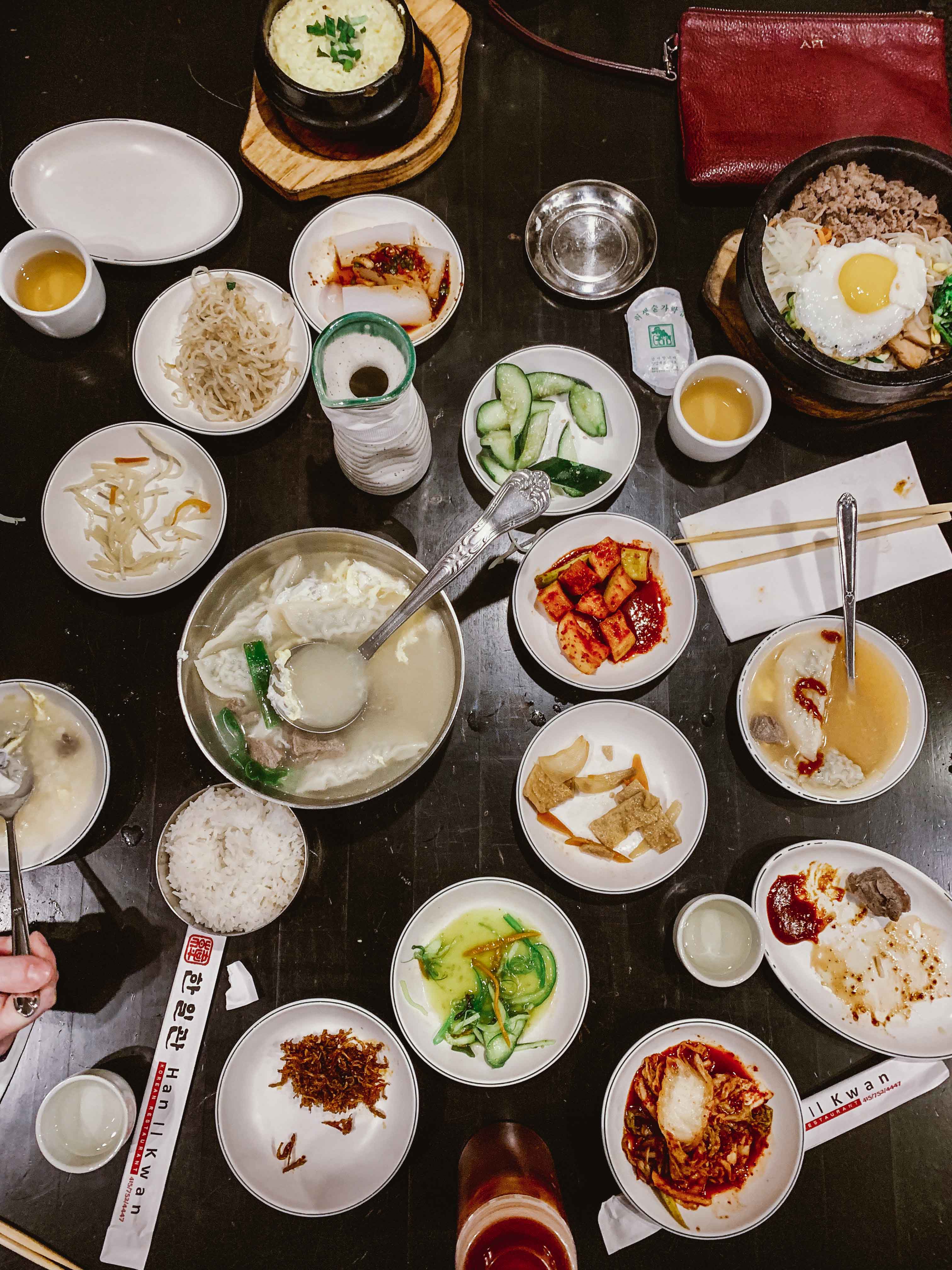 Housemade 'banchan,' or a variety of small plates served alongside cooked rice, is what turns it up here. Everything from kimchi and cucumber salads to items I can neither identify nor pronounce (but heck yes, I am eating them,) are fresh here and provide a range of flavors you can be hard pressed to find elsewhere. A general rule of thumb for me is, if it has gochujang (chili pepper paste) on it…I'm eating it.
Add in some marinated meats and some crispy rice or pancakes (choose your own adventure,) and you have yourself a culinary adventure to remember and revisit time and time again.
Menu Highlights: The banchan, along with tea and a dessert drink at the end of your meal, will come regardless of what you order. If you're with a group of 4+, choosing a meat and sitting at a BBQ table is the way to go. Otherwise, I recommend choosing a bibimbap or even a soup and then feasting your way through all the included extras.
Note: This is often the stop of choice in SF for Korean tour buses, so don't be alarmed if you see a huge bus load of people outside — they have long tables for them inside and you can often still get a seat. Though, do be prepared to wait — especially if you want a BBQ table — on a Friday or Saturday night.
---
California Cuisine // NoPa
560 Divisadero Street
Ah, so we've come to the point where we need to talk about Nopa.
I get this question a lot: "So, what's your favorite restaurant in San Francisco?" The answer is always, "Ahhh so many! Don't make me choose!"
But the truth is, I think if I had to choose…I'd choose Nopa.
Why? Well, this place consistently serves what I consider to be some of the best food in the city. The bartenders, servers, and cooks always kill it, night after night. And it's just a classic…it's right in between trendy and old school SF, meaning it serves fresh, local foods in a friendly, neighborhood manner — not a pretentious one.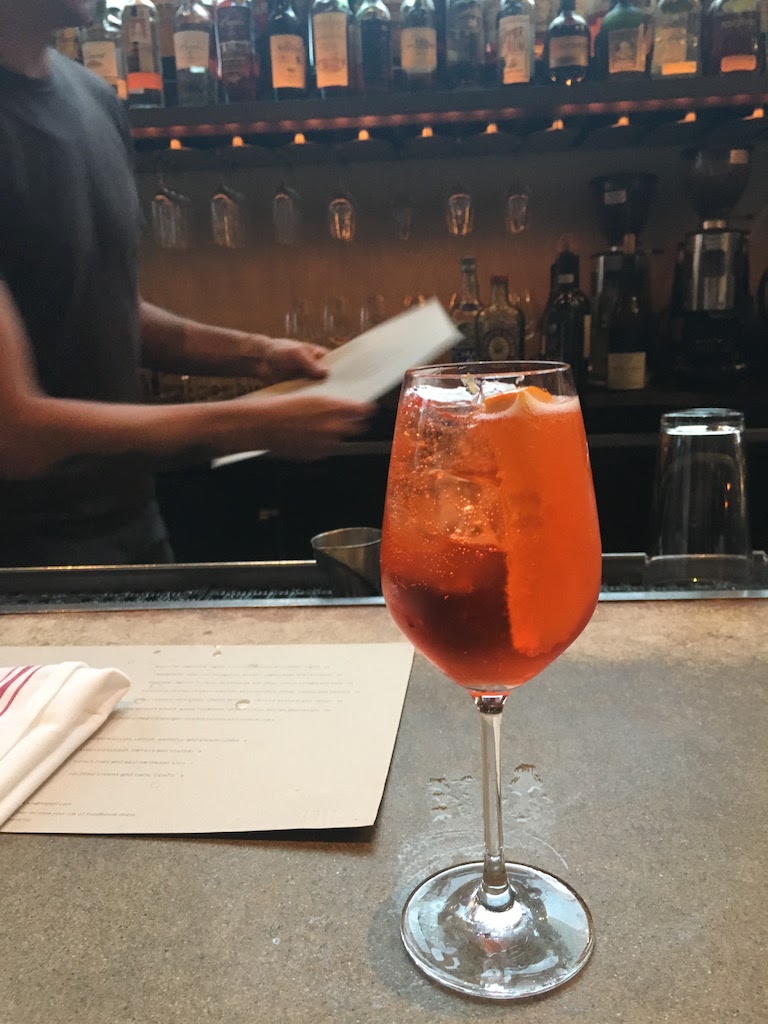 Nopa is all I could ask for in a San Francisco restaurant. It feels warm and familiar every time I walk in, it reflects the city, it is consistently great, and not full of itself. I love this place so much that I celebrate my birthday (which was last week!) year after year. And even though I now go there mostly in a group of two or more, it's still my favorite place to dine solo (shoutout to the seats at the Nopa bar.)
Menu Highlights: The pork chop, grilled broccoli, and chicory salad are all classics from their dinner menu that I find myself drawn to time and time again. Often their seasonal soups are to die for, and although their pastas change regularly I haven't been disappointed by one yet.
---
A few more SF food notes!
I've begun my taste test of pho around San Francisco. I'll be using a rating system for each place, and will share the top places as rated both myself and my trusty dining companion. Any places we should add to the list to try? Post forthcoming!
In full transparency, I've also recently had a few less-than-stellar experiences at top SF restaurants, both old and new. As these posts are focused on getting you to the best places to eat, I won't be sharing negative reviews here — but if you're curious about where I found overrated or just plain poor value lately, feel free to email me.
Happy SF eating!