A Korean American Diner, Hyper-Local Sushi & Sake, and more
Hello and welcome! I'm a San Francisco food and travel writer who loves exploring and sharing the dynamic SF culinary scene. Each month I'll highlight five spots — a list of where to eat in San Francisco that I'm truly loving in this moment.
They'll be a combination of what's new and exciting in the SF restaurant scene (because let's face it, I probably went there to try it and I probably have some opinions,) as well as some classic places that I either went back to for the hundredth time or finally got around to.
My hope is that this series will be a regular answer to the question "Where should I eat in San Francisco?" whether you're a local or a visitor to my fine city!
Where to Eat in San Francisco
The Best San Francisco Restaurants, beloved by this local
Volume 7
Written May 2019 | Updated July 2021
Art's Cafe
Korean American Diner // Inner Sunset
747 Irving Street
Ah in a city of ever-changing winds, I am more thankful than ever for places like Art's Cafe. As the no-nonsense service, the limited counter seating, the old-school diner crowded with locals, Art's is the American diner with a Korean twist you never knew you needed in your life.
Whether you want a classic diner breakfast of three eggs and bacon plus toast and coffee, or you want to venture into the land of amazingness that is Korean fusion breakfast…Art's will taste and feel like the neighborhood joint you wish you lived next door to. A classic, not-to-be-missed…a breath of fresh air.
Menu Highlights: Don't miss anything with the bulgogi in it (they call it teriyaki beef on the menu) — whether an omelet (the Samurai,) sandwich, or rice bowl. The true menu winner here though is the hash brown sandwich — like a sandwich but with hash browns where the bread would be. It's so brilliant I don't know. I waited so long to eat one, yet at the same time so obvious I can't believe I hadn't thought of it sooner myself.
Please note this fine establishment is cash only. *Update 2021: Art's is under new management although thankfully still in operation!
Japanese Omakase // Bayview
50 Apparel Way
Many of the most memorable meals I've been having in San Francisco haven't been in restaurants at all. As you may recall, I've reviewed a few pop-ups that have been truly outstanding (see here) which is surprising given just how many great restaurants in San Francisco there are.
So when asked to guess for a special occasion where I might be dining — clues were Japanese food in Bayview and need to wear socks — I couldn't have guessed that Ichido, run by the chef behind Pläj, who forages and fishes for most of what he serves would be my new favorite food experience.
Set up at Sequoia Sake Company, which itself alone is worth a visit, you arrive to what is a truly unique experience combining what's fresh and local from the bay (you will likely feast your eyes on the very fish you dine on,) with the art and mastery of Japanese omakase. Pair that with some local SF sake also made in Japanese tradition, and you've got something quite special.
Menu Highlights: The whole experience is an omakase (set menu,) so you don't have to worry about what to order. Since the chef's menu changes so regularly based on what is seasonal and freshly caught, your best bet is to go with the flow and enjoy whatever he serves you (you won't be disappointed!)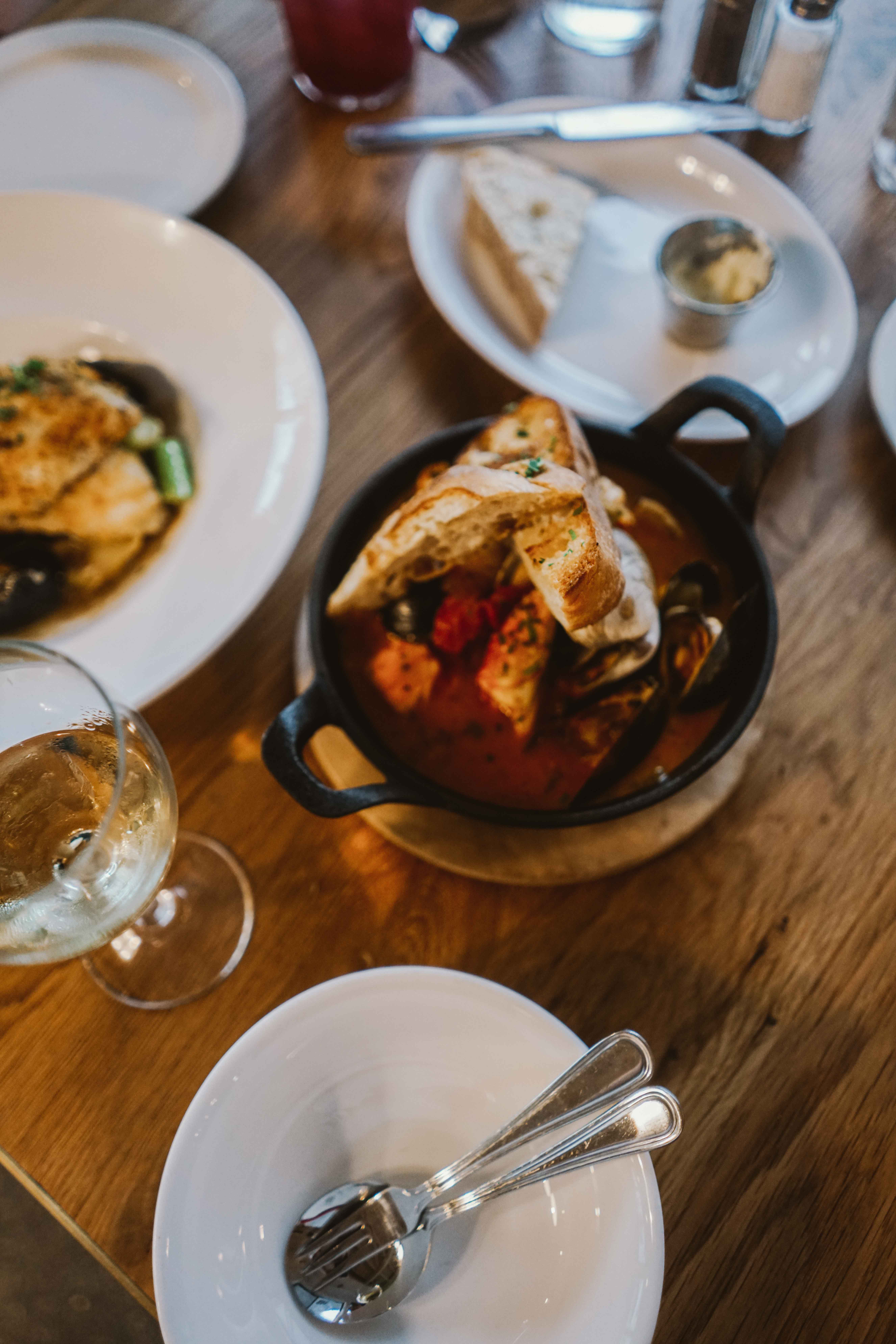 Sam's Anchor Cafe
Seafood Restaurant // Tiburon (Marin)
27 Main Street, Tiburon
I have some of my fondest memories of any restaurant in the Bay Area on Sam's patio on a sunny day.
So of course, the true test of their staying power for me was a trip to dine inside (their newly renovated space!) on a particularly rainy day. Located just across the bridge (yes, that one) in the tiny town of Tiburon, Sam's Cafe has long been a local favorite for fresh seafood, classic cocktails, and incredible bay views.
I'm happy to report that the food and drink was as fantastic as I recalled, and that the new atmosphere they've spruced up — while it retains its classic feel — is an additional draw to enjoy the restaurant even if the glorious patio is not an option.
Menu Highlights: Loved the cioppino and the sand dabs — those would be my top picks. Ah and the Old Bay fries with Dungeness crab are a must! They also have some awesome drink specials on Monday, Tuesday, and Wednesday if you're able to get over there early on in the week.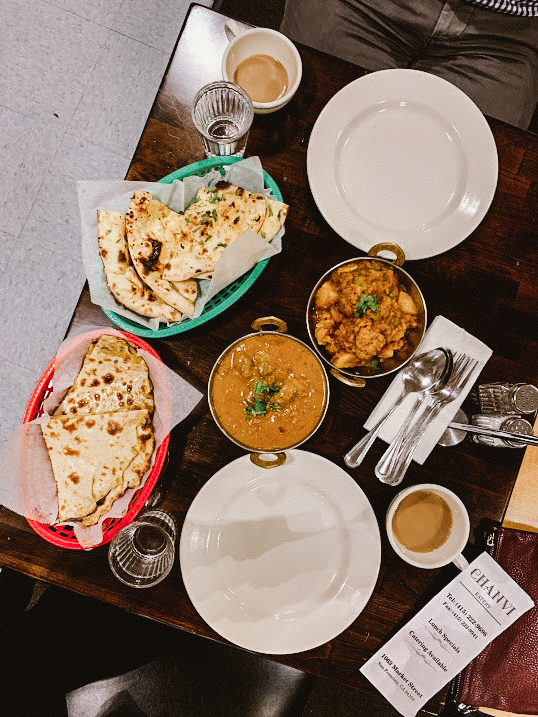 Indian Food // Mid Market
1063 Market Street
From time to time, I walk into a restaurant I've never been in before and I feel as if I have stumbled upon something magical.
This humble Indian restaurant that's almost hidden despite being directly on Market Street would be easy to miss or even write off from the looks of it. Yet once you step inside and are greeted by the friendliest staff, sit down with a plate or two of their fantastic curries and naan fresh from the oven, and glance up at the Bollywood films playing on screens, you may start to see why I love this place so much.
Even if you don't get as excited as I do about a decent curry and some loud Hindi music, this place has that elusive combination of great flavor, service, and price point that makes many a frequent customer.
Menu Highlights: All of their curries I've tried have been delicious, and I love that you still get free chai here with your meal. If you happen to find yourself on Market at lunchtime, their lunch plate is one of the best deals (and meals) in the city. ($9.95 for three entrees, plus rice, naan, salad, and chai.)
Cocktail Bar // Mission
753 Alabama Street
With its Mid-century modern decor, trendy clientele, and Instagram worthy bars, True Laurel almost appears too good, well, to be true. Yet each concoction served up at the bar seemed to impress more than the last, making this one of my new favorite San Francisco staples.
Everything from drinks to food is artfully presented and makes use of local and seasonal ingredients — perhaps even more so than is the norm in this city. It's a fun place to be out on the town and has a bit of a neighborhood vibe despite at first seeming somewhat "scene-y."
They also serve brunch on the weekends and late-night eats until 11pm (limited food menu.)
Menu Highlights: Their cocktail menu changes regularly, but out of the several I've sampled I'd say choose your desired spirit and you're in good hands. Especially interesting was 'The Fungus Among Us,' a truffle vodka-based cocktail.
As for food, we had heard that the Patty Melt was excellent — and it was. The other small bite choice was something seasonal, and for springtime the sugar snap pea tostada couldn't have been better.
---
That's it for this month! Who has tips for where I should check out next? Thoughts? Feelings? Opinions? Let's hear 'em!
<< Read More SF Food Posts >>