Matcha Ice Cream, Neighborhood Italian, and more
Hello and welcome! I'm a San Francisco food and travel writer who loves exploring and sharing the dynamic SF culinary scene. Each month I'll highlight five spots — a list of where to eat in San Francisco that I'm truly loving in this moment.
They'll be a combination of what's new and exciting in the SF restaurant scene (because let's face it, I probably went there to try it and I probably have some opinions,) as well as some classic places that I either went back to for the hundredth time or finally got around to.
My hope is that this series will be a regular answer to the question "Where should I eat in San Francisco?" whether you're a local or a visitor to my fine city!
Best Places to Eat in San Francisco
The Best San Francisco Restaurants, beloved by this local
Volume 8
Written: June/July 2019 | Updated: July 2021
Tosca Cafe
Italian Food // North Beach
242 Columbus Avenue
This place has been on my list for so long, I can hardly believe I finally checked it off. Some girlfriends and I went before catching Beach Blanket Babylon (a fabulous local live show — the longest running musical revue in the country, and due to close at the end of the year.)
I went in not sure what to expect given some mixed reviews. I had heard about the house cappuccino (hint: it's alcoholic and made with Dandelion chocolate,) and have friends that both love and really didn't love the food here.
My take? I enjoyed it immensely. I wouldn't say it's the very best food you can get in the city, but it makes for a great night out and it's a meal I'd love to repeat.
Go and see for yourself and let me know if you love it or hate?
Menu Highlights:
The highlights here for me were the market salad, the local halibut crudo, lumacomi pasta, and the pork loin. Get the famous House Cappuccino for dessert.
---
Revelry Bistro
French Cuisine // Lower Haight
297 Page Street
I'd been to Revelry, which is right on the border of Hayes Valley, a few times for happy hour before I made it there for brunch recently. With French wines and a Parisian cafe feel…it's not too hard to please me in that setting (if I'm being honest.)
Revelry made the list because I finally sampled some of their really unique dishes, which walk the fine line of being both classic and creative at the same time. An example is their brussel sprouts Caesar salad, which includes smoked trout on a bed of shredded fresh brussel sprouts with sourdough croutons. Fantastique!
I love coming here for a late brunch or a leisurely afternoon lunch. Soak in the sunshine and the Francophile vibes, and treat yourself to a glass of champagne (the real deal) while you relax.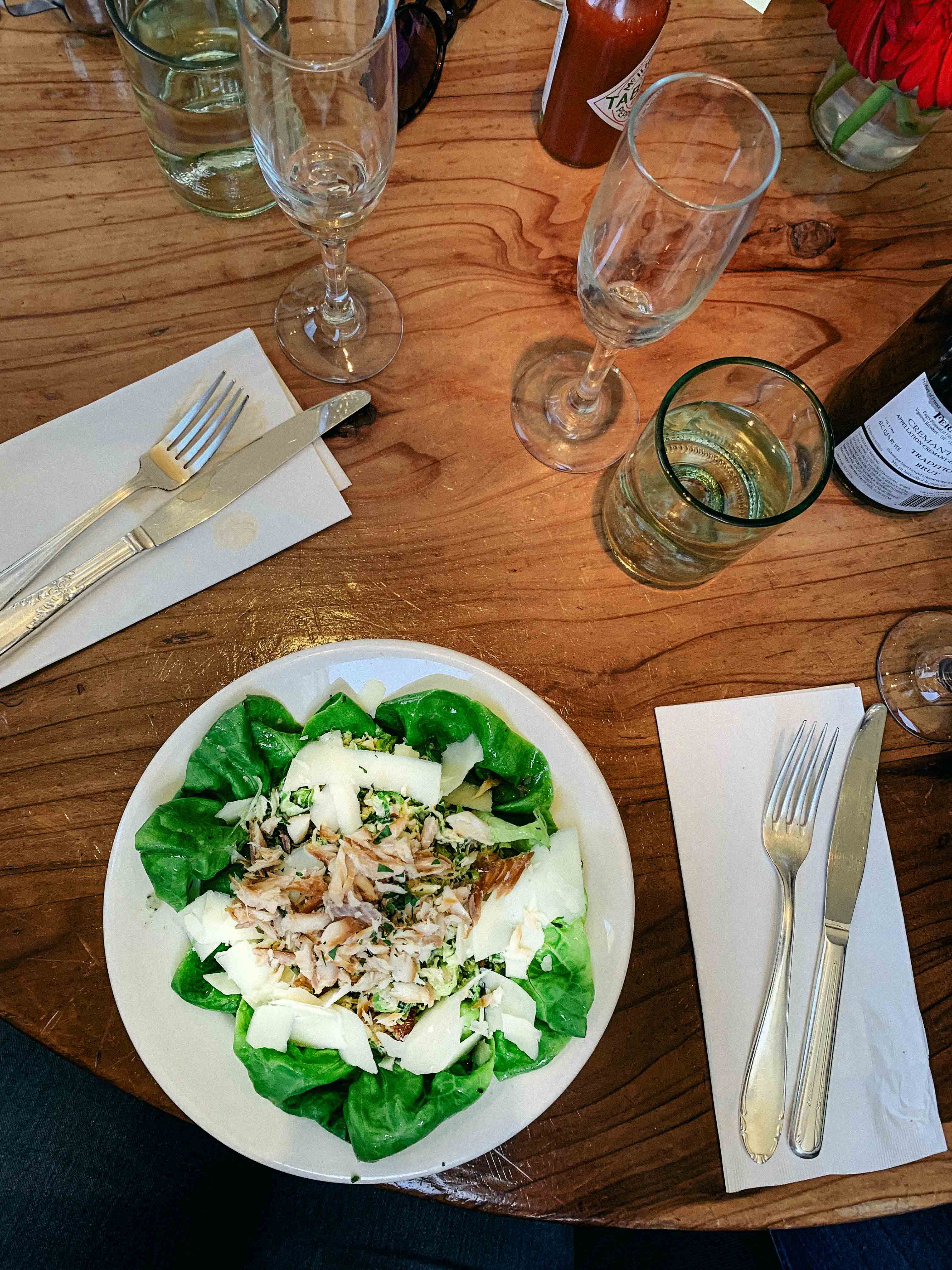 Menu Highlights: Loved the brussel sprouts Caesar as well as the duck confit salad. They do great cheese and charcuterie plates, and the roasted bone marrow is a great appetizer as well.
Update: As of now, Revelry Bistro is temporarily closed. Keep checking their website for updates.
---
Lou's Cafe
Sandwich Shop // Inner Richmond
5017 Geary Boulevard
Last month I brought you Art's, and this month I bring you Lou's.
Lou's Cafe is nothing special from the outside. It couldn't look more generic. By now we know that does not mean the food is.
Serving up some of the city's most delicious sandwiches (breakfast included!) you'll have your choice of combo. With house specialties such as the "Ami-cado" and the RB Mushroom (roast beef with bacon and mushrooms,) the only real rule is…make sure you get both the Lou's Special Sauce and Jalapeno sauce — they're what makes an ordinary fresh sandwich exceptional. And never, ever get any other bread than Dutch Crunch or you're doing it wrong.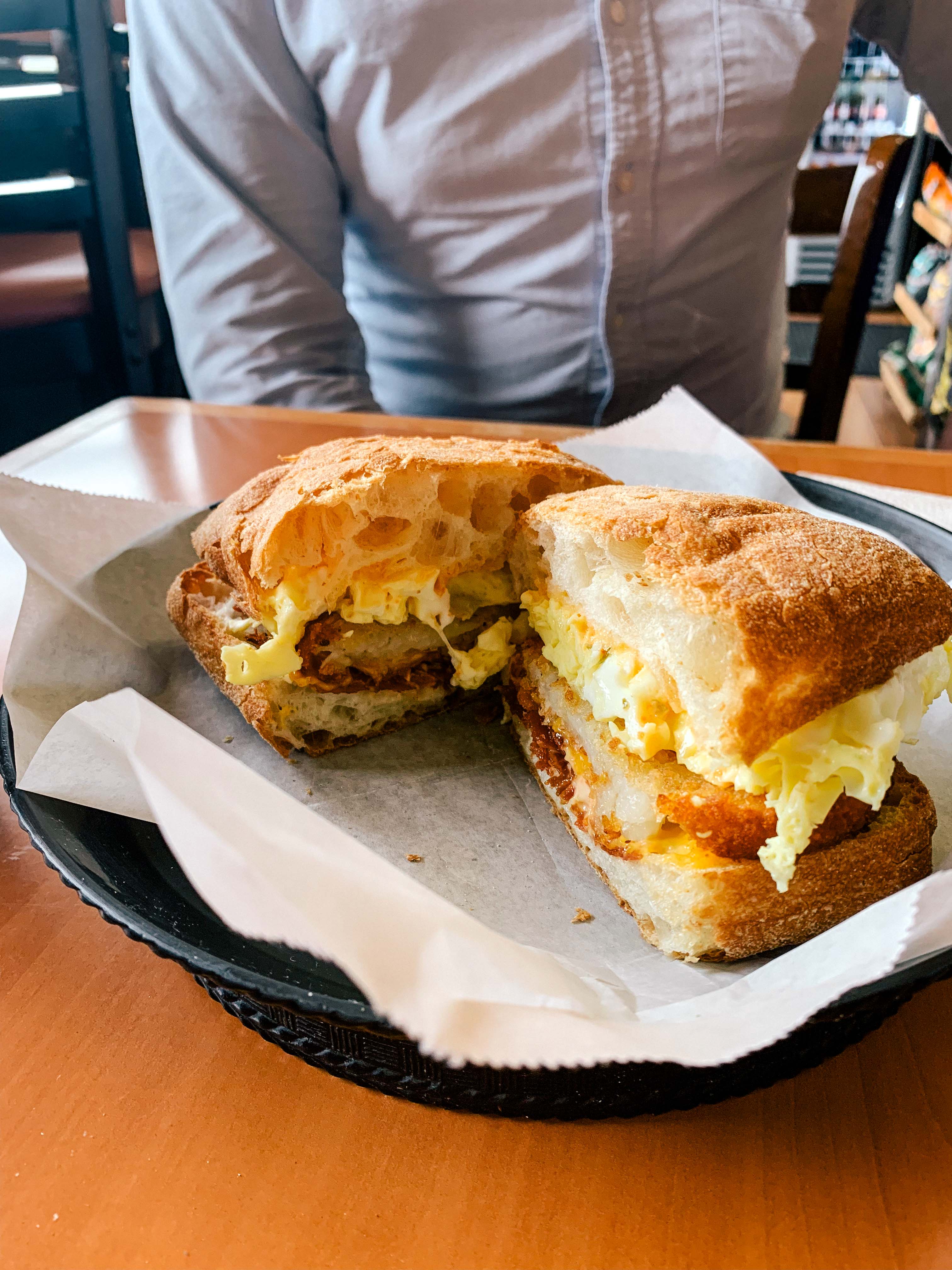 Menu Highlights: Anything on Dutch Crunch. The breakfast sandwich (with hashbrowns and special sauce) was especially delicious.
Note: I have only tried the Inner Richmond location, but there is also a Financial District spot on Pine and a Sunset one on Taraval.
---
Uji Time
Japanese Dessert // Japantown
22 Peace Plaza Ste 440 (inside Japan Center)
It's not often I'll highlight a dessert place, as I'm not really a dessert person (give me a savory bowl of French fries or a cheese plate any day.) Japanese desserts, however, are a whole different story.
If you're with me there, and terms like "matcha" and "red bean" get your sweet tooth going…don't miss this Japantown gem that took me right back to my trip to Japan.
You choose a soft serve flavor ranging from sesame to tofu (it's really good!) and choose your serving style (I prefer the taiyaki, which is a pancake-type dough in the shape of a fish.) Then toppings like Pocky sticks (my favorite) are added last! You can also get mochi and a few other Japanese treats here as well, but the ice cream is the highlight.
Note: There is now also one open in the Metreon in SoMa!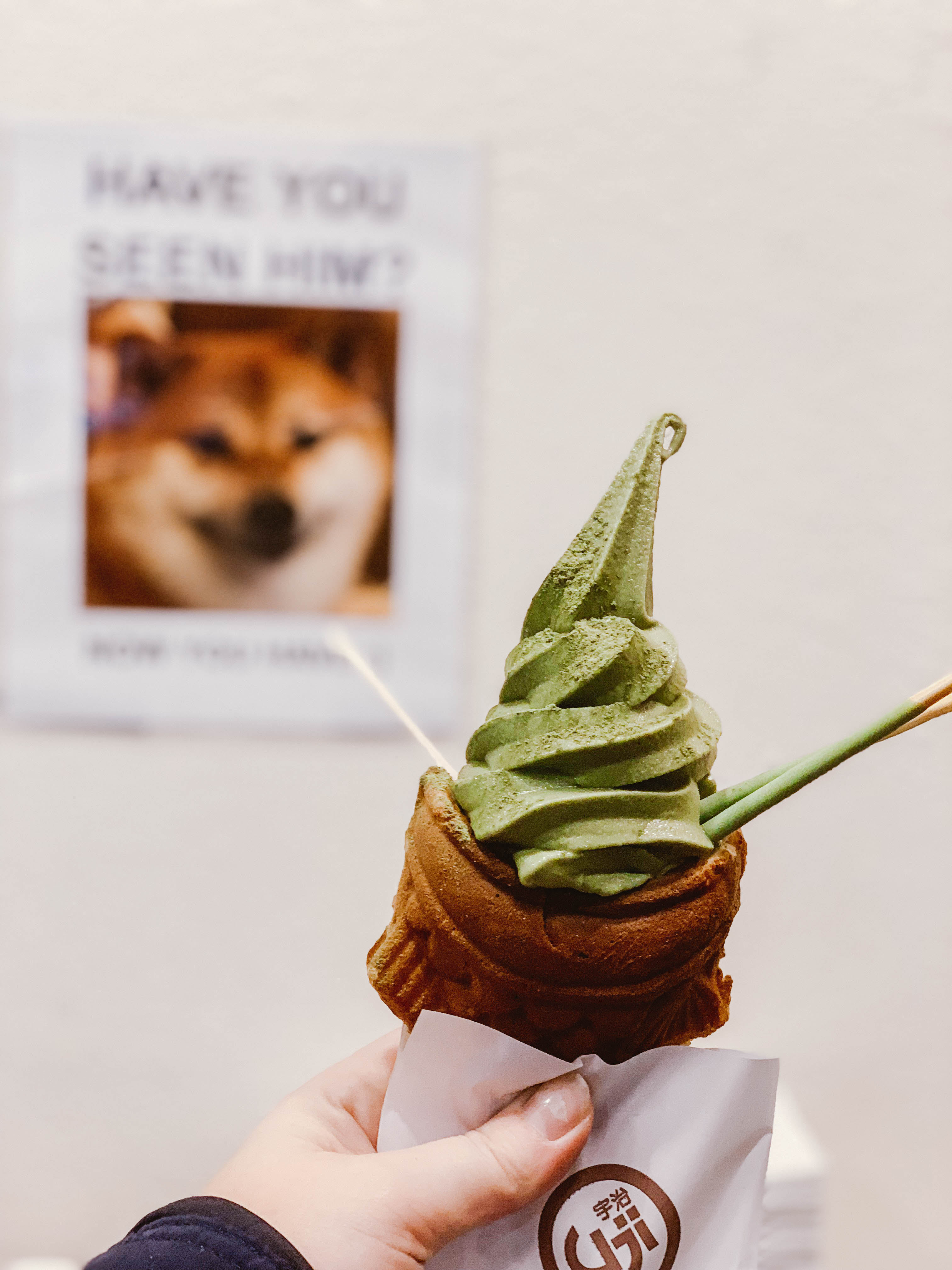 Menu Highlights:
Everything is good, but I like the matcha soft serve taiyaki with Pocky and matcha on top best! Try their seasonal flavors as well.
Capannina
Italian Cuisine // Cow Hollow
1809 Union Street
This place has been on my list to try since before I even met my boyfriend — who pointed it out as his favorite little spot in my neighborhood when we first met.
Well, we finally got around to going in the final week before I moved (update: I'm now in Nob Hill 🙂 )
With a family-run feel and tons of local regulars, this spot seems plucked right out of Italy — from the menu down to the servers (with their thick Italian accents — delightful.) It's easy to miss on Union Street, but you should absolutely look for it if you're searching for a great European-esque spot to eat while in Cow Hollow.
Menu Highlights:
Normally I'd go straight for the pasta, and the pappardelle with wild boar ragu was really good (a little sweet for my particular taste, though everyone loves it.) What's unique about Capannina for me is that the secondi, or seconds which are typically meat dishes, are the highlight. I normally skip those altogether in Italian spots, but the brick-pressed chicken and the branzino were both some of the best dishes I've had anywhere.
Note: the early bird special from 5-6pm is SUCH a steal at $25. You get your choice from three courses, including the Caesar salad (fantastic) and the aforementioned chicken — plus dessert! (Try the profiteroles!)
---
Bonus:
Wrecking Ball Coffee Roasters
I'd been taking meetings here nearly every day (it seemed) as this coffee spot was so close to my (old) apartment. Perhaps it's because it's one of my favorite places to grab a coffee in the city, and perhaps it's because I knew I was about to move (and will no longer be close by,) but I became somewhat of a regular here. I almost always get their cortado or matcha latte. Both are some of the best in SF (and the decor here is, too!)
You can read more of my picks for best places for SF coffee. (Please note Wrecking Ball is not a good place to bring a laptop and work – no wifi!)
---
It's hard to believe I'm approaching one year of writing this series! I'm going to switch it up a bit starting next month — you'll still get a monthly post from me, but I'm going to begin doing themed posts such as 'Best Cheap Eats in SF' and 'Best Pho.' Send your theme requests my way.
<< Read More SF Food Posts >>
:: save for later ::