A Europe-Inspired Wine Bar, Pinsas plus Patio, and More
Hello and welcome! I'm a San Francisco food and travel writer who loves exploring and sharing the dynamic SF culinary scene. Each month I'll highlight five spots — a list of where to eat in San Francisco that I'm truly loving in this moment.
They'll be a combination of what's new and exciting in the SF restaurant scene (because let's face it, I probably went there to try it and I probably have some opinions,) as well as some classic places that I either went back to for the hundredth time or finally got around to.
My hope is that this series will be a regular answer to the question "Where should I eat in San Francisco?" whether you're a local or a visitor to my fine city!
Where to Eat in San Francisco
The Best San Francisco Restaurants, beloved by this local
Volume 7
Written April 2019 | Updated July 2021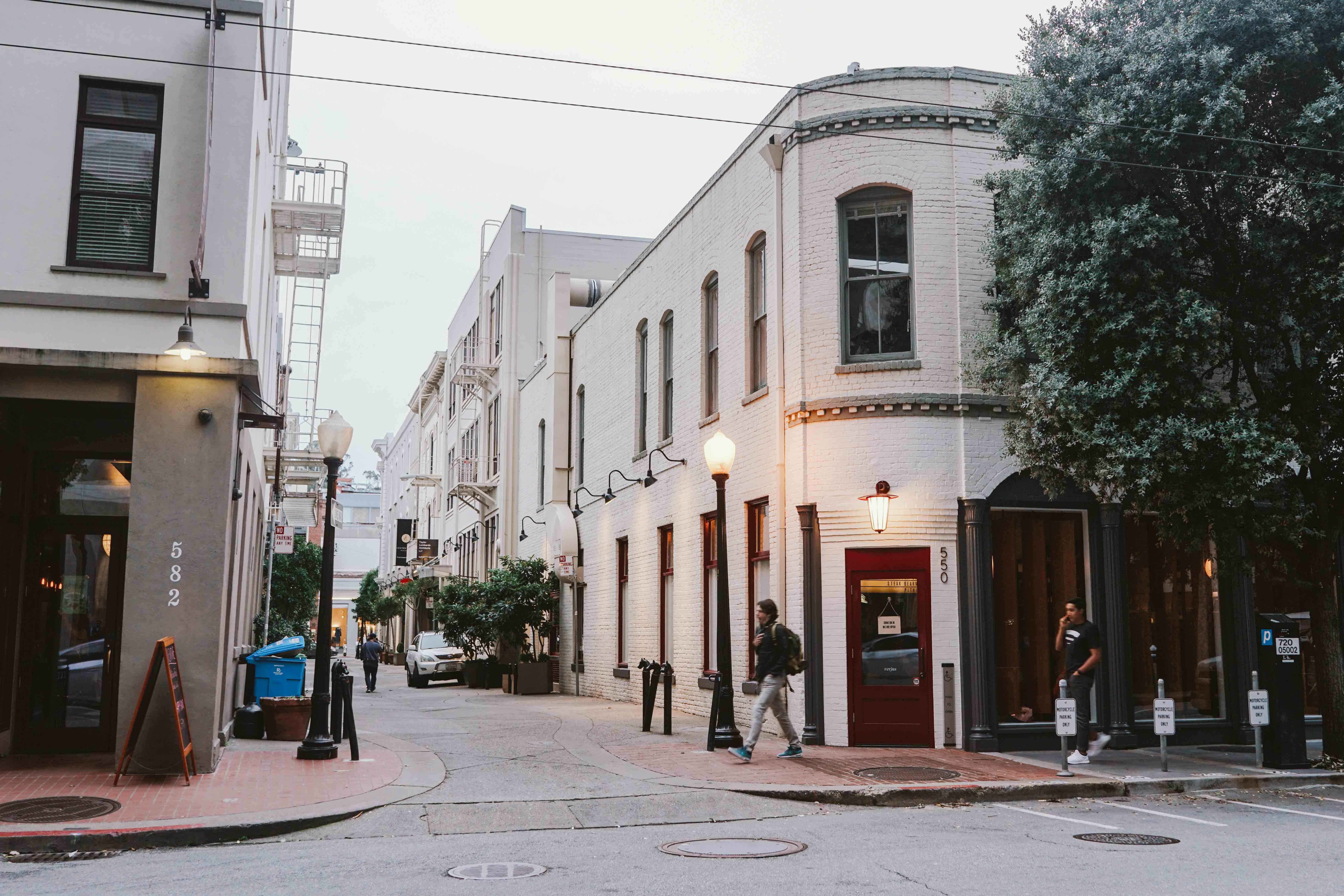 French Wine Bar (Bar a vin) // North Beach
528 Washington Street
I love me a good wine bar, but I was extra excited when I saw Verjus was opening.
Drawing inspiration from the wine bars of France and the tapas bars of Spain, what's not to love? Well, personally I think they missed the mark on their wine list (the cheapest glass is $15 and most are $20+…seriously?) Even if the wine is all great, it's not very European of them to not be inclusive of all budgets and offer at least one good glass for ~$10. (Not asking a lot here.) Even though we were celebrating my birthday, we felt restricted to ordering one glass when the cost was around the same as a decent bottle…
The good, however — their food — was really good. I like how you can order several small plates to share. To me the stars are all the housemade appetizers (which is most of the menu.) I came here as a treat to celebrate my birthday, and with a little less pretense I'd be back all the time — but I'm going to chalk this one up to special occasions and 'when work is paying' spot as opposed to an everyday recommendation.
Menu Highlights: Their small plates are not actually all that small, but order a few to share and then opt for an entree or two if it suits. I enjoyed the foie and toast, sausages like the boudin noir (made in house,) their cheese platter, and croquettes. I hear the duck confit is good (will have to go back.) Arrive early in the evening if you can — as this place is fairly new and trendy, it fills up quickly. The menu changes daily.
Italian Food // SoMa
510 Stevenson Street
The first time I came to Montesacro, I first noticed the string of large, pretty lights overhead in the alley off of 6th Street where it's located. I then noticed some of the, shall we say, less than desirable characteristics of the neighborhood that keep people away.
And that is a damn shame, because this place is incredible. The Roman style eatery doesn't serve pizza — it serves pinsas, which date back to the time of ancient Rome and are made with a dough that is 80% water (as opposed to 50-60%.) The result is a lighter crust that is more easily digested, and really allows the ingredients on top to shine.
Montesacro is the first Pinseria Romana to open in the U.S. They import the dough flour from Rome (among other ingredients,) and they do everything extremely well here. Don't let the scary surrounding streets scare you off — this place is worth visiting over and over!
Menu Highlights: I love their simple arugula salad, though the zucchini crudo and the cavolo nero give it a real run for its own money as a starter. They serve excellent imported Italian meats and cheeses, so you can't go too wrong there — although personally I tend to order things I can't easily assemble myself (like a platter of meat and cheese.) As far as pinsas go, honestly, they all look good. I can vouch for the Casal Bertone (with guanciale and honey mmm,) the Maranella with broccolini and spicy pork sausage, and the good old fashioned margherita (by which I judge all pizza places,) with its fior di latte mozzarella.
P.S. The lunch set menu is a steal, if you happen to be available to go then.
Sandwich Shop // SoMa
1058 Folsom Street
Deli Board has some of the biggest, baddest, and best deli sandwiches I've ever seen. (Their motto is 'you can't beat our meat.')
Pretty much every sandwich I've had here has perfectly thin-sliced meat piled on, layered and balanced with a variety of fresh and complementary ingredients. With specials that change daily (check 'the board' on their website or in store,) and a host of fantastic regular options, the most difficult part about Deli Board is deciding which sandwich to order.
If you're in a sandwich mood, I don't think you can do better than Deli Board in the city. And please, get Dutch Crunch as your bread or please lie to me and tell me you did.
Menu Highlights: Breakfast sandwich (um hello, bacon AND sausage?!,) the 'Armando' with turkey, bacon, avocado, +more, the Leroy Brown with pastrami, salami, AND turkey, plus any of their daily specials. Be aware of the sticker shock (most sandwiches are $18,) but you definitely get a ton of food that makes it worth it!
Please note: it's only open during lunch hours and closed Sundays. Breakfast sandwich is only available on Saturdays.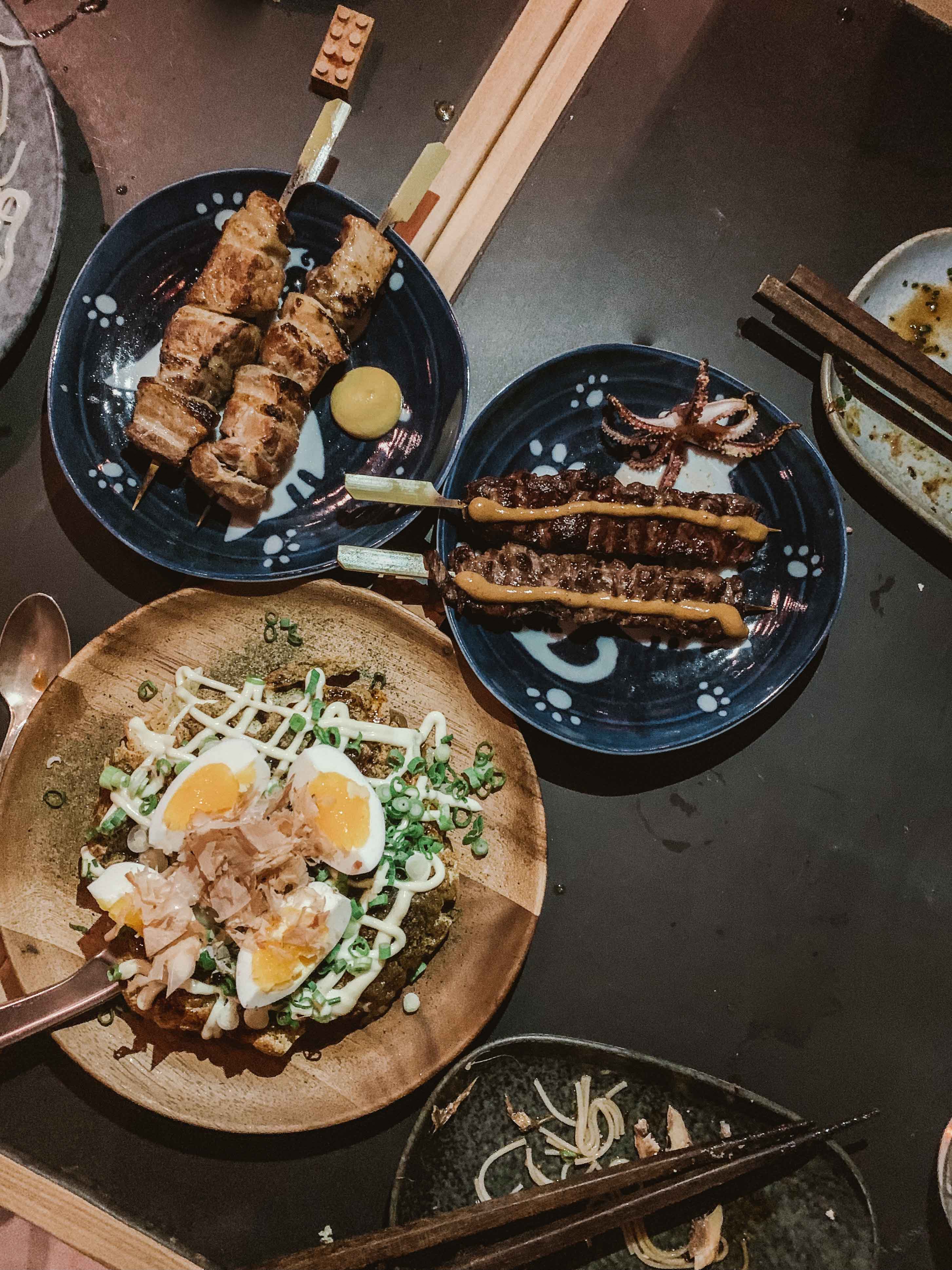 Japanese Food // Tenderloin
466 Eddy Street
I actually found this restaurant while searching for an actual onsen, or Japanese public bath, in the city. I didn't end up bathing here — though you can — (that went to Pearl, a Korean spa in Japantown that I highly recommend, but I digress.) But I am SO glad I ate here.
'Wow' is the first thought that comes to mind when I look back at the meal. The chef is doing a really great job of bringing out the best of both Japanese tradition and California cuisine. Aside from the skewers, there is a real focus on fresh vegetables that just works. Not only is this a beautiful space, it seemed each bite of each dish was better than the last.
Menu Highlights: While we were steered in the right direction by our server and by our recent adventures dining in Japan, it seems you can't go too wrong at Onsen. Highly recommend the yakitori or skewers, the chilled somen noodles, and mushroom dumplings.
Please note they are only open for dinner and are closed Monday and Tuesday.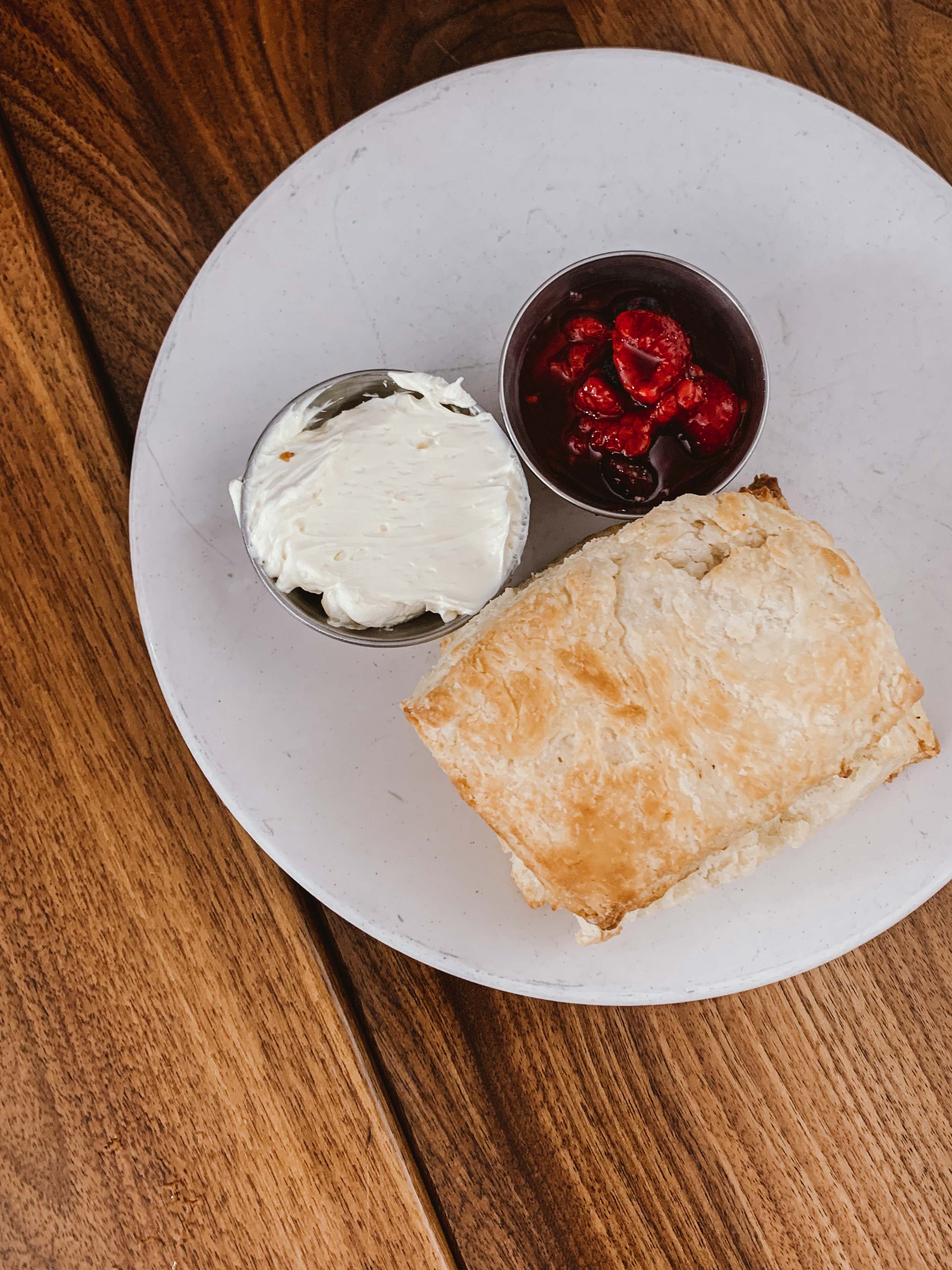 California Cuisine // Mission
2990 24th Street
What I like most about Son's Addition is that although it has only been open for a few years, it has a real neighborhood feel. San Francisco needs more places like this.
My friends and I rolled up after quite a night out (which frankly, I don't handle as well as I used to…) and I was still delighted to see regulars at the counter, families at the tables, and just a general community feeling upon sitting down. I went for brunch, so that's the only menu I can speak to, but their burger for me was the highlight and that's available always.
Son's Addition is full of good feels and embodies that rare combination of both casual/welcoming and thoughtfully presented. Be sure to check out the nearby Balmy Alley before or after for some beautiful and expressive street art.
Menu Highlights: For brunch, check out both the burger and the fried chicken sandwich to soothe what ails you. Also highly recommend starting with their buttermilk biscuit, which is served with a side of satsuma butter, as well getting their roasted mushrooms as a side (too good.)
---
That's it for this month! Who has tips for where I should check out next? (Always open, although I already have a long list for May!)
<< Read More SF Food Posts >>