Chef's Counter Pop-Up, Brunch by the Beach, and More
I'm so excited to announce a new series for Part-Time Traveler (per your requests!) Each month I'll highlight five spots — the best restaurants in San Francisco that I'm truly loving in this moment.
They'll be a combination of what's new and exciting in the SF restaurant scene (because let's face it, I probably went there to try it and I probably have some opinions,) as well as some classics that I either went back to for the hundredth time or finally got around to.
My hope is that they will be a regular answer to the question "Where should I eat in San Francisco now?"
Best Places to Eat in San Francisco
Top SF Restaurants, beloved by this local
Volume 3
Written January 2019 | Updated July 2021
—
Japanese Restaurant + Sushi Bar // Noe Valley
3856 24th Street
It took the consistent urging of two friends (whose recommendations I trust fully) that this was the best sushi place in the city to finally get me here for dinner. With the first piece of nigiri I put in my mouth, I could see instantly why this little spot is revered and loved by those who know about it.
Saru is small but word has gotten out — so you'll want to arrive before 5 (they open most nights at 5:30pm) and wait in (or start) the line that often gathers for the limited seating. The ambiance is cozy and artful, and the prices are reasonable. Beyond that, the fish is some of the best I've had outside of Japan (and they fly in much of the menu from there, so makes sense!)
Menu Highlights: Tasting spoons! Try the scallop if you're not sure where to start, but they're all delectable. If you're there early in the night, ask for the salmon skin salad (limited in availability.) You won't regret it. Personally, I go for an assortment of nigiri from there but you can't go too wrong. The sake selection is also a highlight; if you drink sake, don't miss it!
—
French Restaurant // Marina
3340 Steiner Street
I still can hardly believe there is a delicious and cozy French/Provencal restaurant in my very own neighborhood that I had yet to try, but that's exactly what Bistro Aix is. From the outside, Bistro Aix appears like any other small French restaurant. The menu offers up French classics like duck confit and sole meunière, but it's the warm welcome and quality of the dishes that makes this place stand out.
Bistro Aix has stayed true to being a simple and comfortable (yet delicious and night-out worthy,) affordable neighborhood spot. From my glass of Sancerre to the creme brulee dessert, both the food and service impressed me in an intimate, non-stuffy kind of way that left a lasting impression. Highly recommended.
Menu Highlights: French wine list (let's just start there,) sea scallops, chanterelle mushroom risotto, tinging Nettle Tagliatelle (with duck au vin and shiitake mushrooms,) house-cured salmon (perhaps my favorite dish,) any of the salads, and the duck leg confit.
Update 2021: Unfortunately Bistro Aix is no longer open. I recommend Gamine which is just a few blocks away on Union Street.

—
Modern Californian Restaurant // Pop-Up
See website for locations
A true surprise to me in every sense, Anomaly is a chef-focused, full on dining experience that pops up at different kitchens throughout the city. Like much of SF food, its focus is on fresh, seasonal ingredients, though I found lots to love from the Southern and Japanese influences (places important to the chef.) The dinner is presented as a set menu — sit at the chef's counter if you can — and it's an interactive and immersive evening that allows you to more fully engage both with the cuisine and the people who create it. The passion from chef Mike Lanham and the team is palpable. It's a unique, personable, and less pretentious fine dining experience that is a fantastic and special addition to the San Francisco culinary scene.
Menu Highlights: Because it's a set menu, just sit back and enjoy and hope for some impromptu surprises from the chef. I also highly recommend the wine pairing — their wine guy is making really great choices.
Reservations: Openings can vary, but seem to book out 1-4 weeks in advance.
Yummy Yummy
—
Vietnamese Restaurant // Inner Sunset
1015 Irving Street
This week was getting a little fancy for my fancy, so I brought in a no-frills classic to balance the scales. Yummy Yummy is one of the best places to get Vietnamese food in the city (in my humble opinion.) Their pho is great, and you'll often see wait times to go along with a seat to grab some. Do what the smart kids do and grab an appetizer of San Tung wings to-go to eat outside while you wait. Or, save room and go right for the curry chicken noodle soup. It's my favorite thing on the menu by far. (PPQ down the street also makes an excellent bowl, if you wait to taste test and compare!)
Menu Highlights: pho, curry chicken noodle soup, salt and pepper Dungeness crab.

—
American Restaurant // Outer Sunsest
4001 Judah Street
What first struck me about Outerlands was actually not the wait out the door (I went on a weekday) but the beautiful interior and seaside, relaxed ambiance. What struck me next was the bread; served with house butter and preserves, it's worth going 'out there' just for that!
Outerlands is well known as one of the top breakfast spots in the city. It isn't central, but that's what's special about it. A trip to their brunch (which is a different menu for weekdays vs. weekends, FYI) followed by a Trouble coffee (next door) and a stroll to Ocean Beach to walk it all off makes for what feels like a weekend escape no matter when you go.
Menu Highlights: Dutch pancake (if it's the weekend,) any of their soups + bread, 'eggs in jail,' huevos rancheros (add the pulled pork!)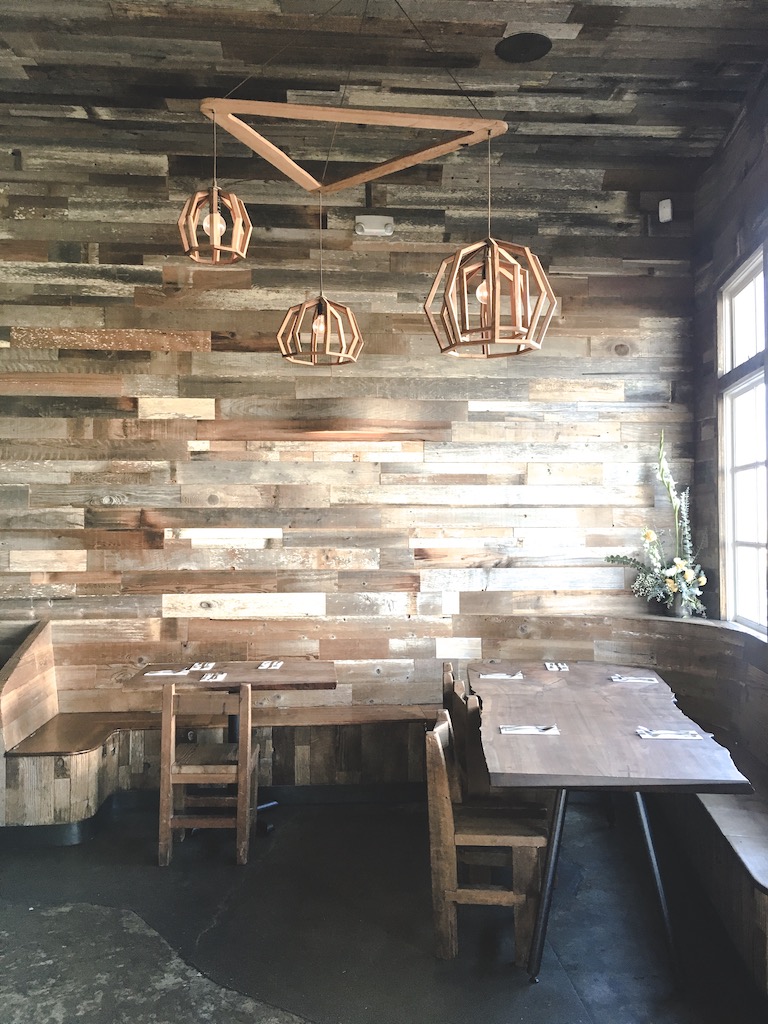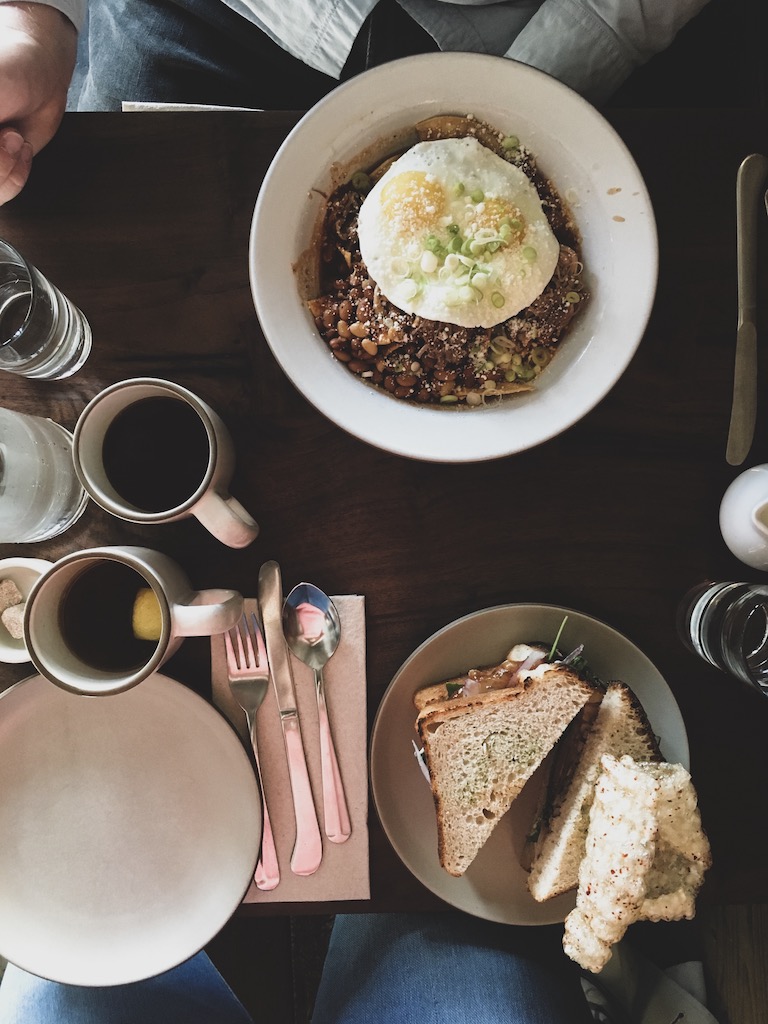 What are your top or best places to eat in San Francisco? What SF dining questions do you have for me? Bring them on!
:: save for later:

Best Restaurants in San Francisco: Series One
Best Restaurants in San Francisco: Series Two