New Orleans is unlike any city in America. Its cultural diversity is woven into the food, the music, the architecture – even the local superstitions. It's a sensory experience on all levels and there's a story lurking around every corner.
Hey, you!  Listen.
What's that sound?
Is it:
a) a light jazz band playing soulfully in the streets
b) you, weeping because NOLA food is so amazing and you're not there right now or
c) my stomach growling
____
It's safe to assume that no matter where I go — a big reason why I'm there is to eat.
Tasting your way through a destination is not only one of the most enjoyable aspects of travel, it's also a great window into the culture, the history, and the spirit of a place.  New Orleans is no exception to this.  In fact, it may be the best way to experience the city.
I recently read a news article proclaiming NOLA (New Orleans, Louisiana) the number one destination for "foodie vacations."  The truth is that New Orleans has been top of my travel wish list in the entire world, and certainly my number one in the U.S…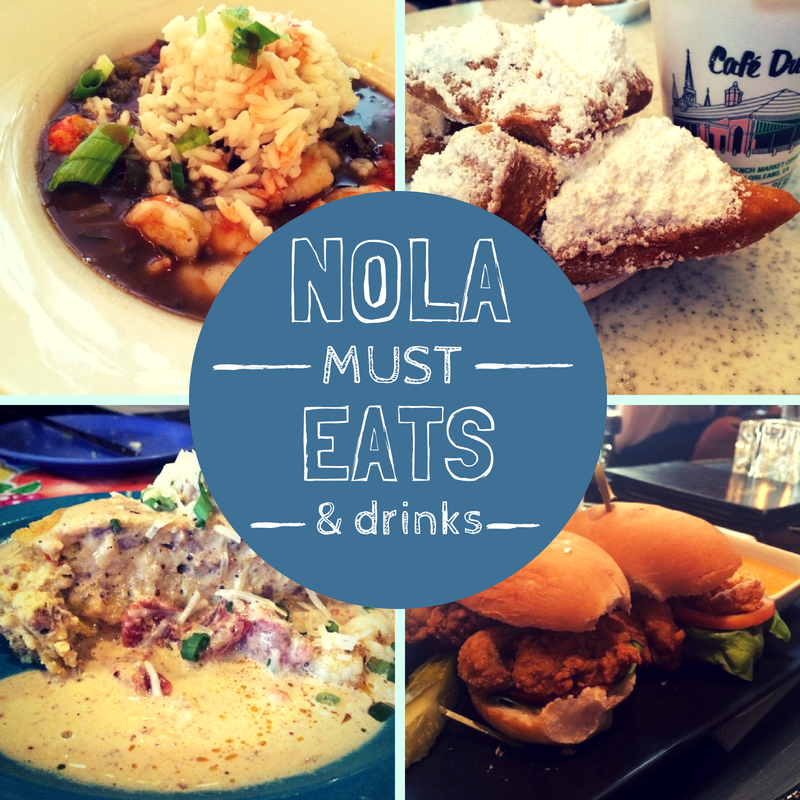 So, what are the classic must-eats on your foodie vacation there?
Here's the list of New Orleans eateries I wish someone had given me before I arrived.
Where to Eat in New Orleans
Caf
é

Du Monde

Why It's Cool: Open air seating in the heart of the city, some of the best treats for your mouth in the world.

What To Get: Beignets and a cafe au lait. Extra points if you wear black (get ready to get powdered sugar everywhere.)
French Market
Why It's Cool: open air market (with ceiling fans overheard) equally home to NOLA eats and NOLA treasures (souvenirs.)  Don't miss the wall of hot sauce (it looks to have every hot sauce ever created by man.)
What To Get: Louisiana hot sauce (extra points if you carry it around in your pocket or purse to restaurants,) Gator Dog if you are so inclined, pralines!
The Court of Two Sisters
Why It's Cool: The wisteria covered courtyard is one of the most beautiful outdoor spaces I've ever seen. Delicious Creole/Cajun food for days, soothing jazzy tunes, and even made-to-order benedicts.
What To Get: Jazz Brunch! Crawfish and shrimp for days!  Specialty salads, duck a l'orange.
Jacques-Imo's
Why It's Cool: Tucked away from the French Quarter, a great Creole spot that's one of the most unique places to dine I've ever been.
What To Get: Alligator cheesecake (just trust me,) Redfish, Carpetbagger steak, BBQ shrimp.
Antoine's
Why It's Cool: This might be the most awesome restaurant ever, in the history of American restaurants.  It is also the oldest operating restaurant in the country. There are literally rooms upon rooms of New Orleans history, stately beauty, and secret passageways that will have you yearning for the NOLA of yesteryear.  In short, don't miss it. Ask your waiter for the tour.
What To Get: Oysters Rockefeller (another thing invented here, the house recipe is a secret!), any entree, Baked Alaska for dessert.
Arnaud's
Why It's Cool: Classic, historic New Orleans. There's even a Mardi Gras museum.
What To Get: The French 75, the signature cocktail of their bar. Eat? Of course, the Creole food and classics: turtle soup, crawfish etoufee, bananas foster.
Galatoire's
Why It's Cool: Another classic New Orleans spot. Why not try them all! Jackets required!
What To Get: Shrimp remoulade, anything with crab in the title, Cafe Brulot for dessert.
Drago's
Why It's Cool: Chargrilled and fried oysters
What To Get: Chargrilled oysters
Acme Oyster Bar
Why It's Cool: Go for the great seafood and the great setting, if you didn't already get your fill at Drago's.
What To Get: Oysters on the half shell, more chargrilled oysters
Cochon
Why It's Cool: "pig-heavy, dressed up Cajun fare." Enough said.
What To Get: The whole menu is great, but people swear by the grilled alligator. Also the Boudin. And make sure to get something with pork.
Coop's Place
Why It's Cool: Low-key French Quarter place, serves a "Taste Plate" which is a great introduction to NOLA specialities.
What To Get: They're known for their jambalaya!  Get it.
Commander's Palace
Why It's Cool: It's where the President dines in NOLA, Emeril used to be head chef here before he was cool, the food is bomb.
What To Get: turtle soup, 25 cent martinis (lunch only), bread pudding, really anything



Pictures (from top to bottom): Antoine's, The French Market, The Court of Two Sisters
Drinks (Because what is NOLA without a cocktail in hand?)
The Carousel Bar at Hotel Monteleone
Why It's Cool: Have you ever sat at a beautiful bar and had it rotate you around the room while sipping a beautiful cocktail? The ultimate.
What to Get: The Ramos Gin Fizz (it's rumored it was created here), a Vieux Carre.
The Sazerac Bar at The Roosevelt Hotel
Why It's Cool: It's beautiful, awesome 1930s murals, you feel like you've stepped back in time, it's where the Sazerac was invented.
What to Get: The Sazerac. Also, their Ramos Gin Fizz might be the best in town.
Bar Tonique
Why It's Cool: Cozy spot with excellent mixologists
What to Get: Whatever is on special, or something made with their excellent bourbon whiskey collection.
The Spotted Cat
Why It's Cool: Cited by nearly everyone as the must-stop jazz spot in town
What to Get: Doesn't matter, just enjoy the jazz!
Pat O'Briens
Why It's Cool: The courtyard, the lit up fountains, great people-watching, home of the Hurricane!
What to Get: The Hurricane (duh!)
Cure
Why It's Cool: Classic NOLA mixology, a local's favorite
What to Get: Gunshop Fizz
Frenchmen Street
Get: off the beaten nightlife path, check out the local Frenchman Art Market while you're there.
Bourbon Street
Get: caught up in a flash mob or street dance party
Try not to get: hungover (I dare you.)

Best New Orleans Cheap Eats
Where to Eat on a Budget in NOLA
Cochon
Coop's Place
Fiorella's Cafe (fried chicken!)
Dat Dog
Melba's Po Boys
Just fill up on more beignets

Other Things to Do in New Orleans, Besides Eat (If You Must):
Visit the Garden District
Take the historic St. Charles street car line
Audubon Park (you can also picnic here!)
Visit the Ninth Ward (respectfully, please)
Visit Jackson Square + wander the French Quarter
Check a calendar for a local festival (there are many.)
Eat more beignets (I regret nothing.)
(See more suggestions via my favorite NOLA guidebook.)

Beignet happiness.
 I wish for you many days of happy Nawlins dining and room enough in your stomachs for more.
And may you even have the time of your life and a few #NOLAConfessions to share…like that time we took a photo in the mirror with our waiter Jeff at Antoine's.


Also check out the map and list I've created on Pinterest (uses Foursquare, is awesome) of where to eat in New Orleans. It's a quick fix resource for my favorite places in a city.
I have created boards for Santa Barbara and Barcelona as well.  Follow along to be the first to see the additional cities!
Have you been to New Orleans? Or any place in the world just to eat?
Additional Reading for Your New Orleans Trip:
Eat Dat: A Culinary Guide to New Orleans
Where to Stay in New Orleans:
—
<< more food guides >>
:: save for later ::