The accidental discovery of French pharmacy beauty while traveling has completely changed my skin — and my perspective.
This is the story of a travel writer (aka not beauty blogger) who like many, loves visiting Paris and goes as often as possible. It's the story of choosing a different arrondissement for each visit and making a point to discover the neighborhood as much as possible. The mode of discovery is  always the same: wandering aimlessly on Parisian streets and through alleyways (see also: flâneur) and trying (or not trying, because how very Parisian) to do so with an air of calm (read: not wide-eyed and smiling.) This latest visit is the story of an accidental French love affair…with the pharmacy.
The arrondissement in question for this visit was Saint Germain-des-Pres (6th.) I knew that I would be roaming towards Le Grand Epicerie (just do it, people) for its food and wine. I wrote down the restaurants and cafes I wanted to sit for hours in, and had a few names from new local friends as well. I had a few museums and parks to see. I'd bike by the Eiffel Tower and walk along the Seine, because…Paris! (Already failing at proposed Parisian coolness.)
Normally I would do my best to avoid any obvious area of Paris that draws in a crowd. Yet on this mildly sunny day, slowly walking against a brisk wind, a horde of people at the corner of Rue Bonaparte and Rue de Four caught my attention. Swarms of women elegantly exiting…a pharmacy? Sans health issues requiring a prescription, I popped my head in to take a closer look.
Suddenly the elegance and refinement seems to have dissipated from the air. Women clutched to green plastic shopping baskets as they frantically wove in and out of narrow lanes. These weren't just Parisians running errands. Puzzled, I stepped aside and asked myself: what were all these people, tourists even, doing buying medicine?
After more than half a dozen visits to Paris, apparently I was the last woman to hear about the magnificent draw of French pharmacy beauty, in this case specifically City Pharma (26 Rue de Four.) There was something more to this — there had to be! Overwhelmed by this new discovery, I did what any good travel writer would do — I went home to do some research alongside my friend Google.
In all my trips to Paris various themes had emerged: art, architecture, food, wine, (bread!) These are the beautiful pursuits that the French have mastered and that I have always sought to learn from. How had French beauty, which is really skincare…illuded me all this time?
As a traveler, I'm fascinated by the routines and daily lives of people in countries other than my own. How does another culture do things differently, and sometimes, better? The answers may surprise us, even in something as simple as how we take care of our skin.
Illusion no more. I sought out to explore armed with the knowledge of many, still not quite sure what I'd find delving into the shelves at City Pharma.
Two hours there and four months since then, I have a solid staple of new skin care obsessions that I feel compelled to share.
Many of the products I discovered have a cult beauty appeal, but for me I am just glad to have found such a sensible approach to skin care, especially for my sensitive skin. I'm already planning my next visit to France for when the supply runs low (any excuse, non?)
French Pharmacy Skincare Favorites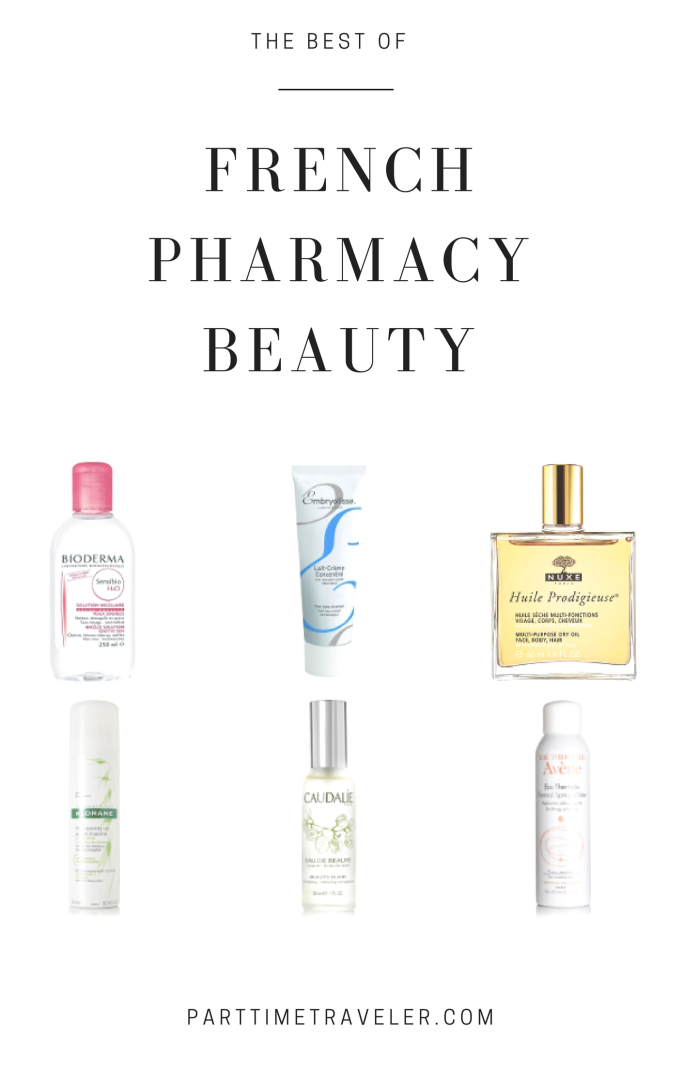 A few quick notes:
The names below are clickable, which I thought could be helpful as most can be a bit tricky to find in the USA.
Brands such as Nuxe and La Roche Posay (two of my favorites) have even started selling at Target! <3 (Keep in mind, you save at least half and sometimes more by buying in France.)
Many products are also available on Amazon now (at that same higher price point. But still!)
Essentials:
Bioderma Micellar Water: When I first heard that French women don't like to wash their faces with tap water, I thought it was quite silly. After trying this French favorite in place of my face cleanser, I get it. For one thing, it is so much easier and more convenient to wash your face this way (no sink required!) Micellar water consists of tiny little oil particles in water that draw out dirt and oil from your face. Best of all, it's gentle for sensitive and acne-prone skin (like mine!)
Simple brand sells a micellar water in most drugstores for a very reasonable price (I use their face wipes) but this Bioderma bottle is a favorite for a reason. I love using it as a makeup remover as well. No residue is left on your face, and it just feels incredibly fresh. It's also perfect to take on the road (many pharmacies sell mini-bottles, which I will definitely be picking up next time.) Who knew!
Embroylisse Lait-Creme Concentre: Another cult classic I had never heard of, this is, quite simply, the best moisturizer I've ever encountered. It works with all skin types and for some many different uses. I picked up the one made with orange by recommendation from the pharmacist and I love it, but I'm looking forward to getting a tube of this classic original.
Nuxe Huile Prodigeuse: This might 'take the cake' as my favorite product of all. Made of a blend of several different natural oils, it's incredibly soothing and somehow still light. Best of all, it smells like pure heaven. I don't love scents and hardly wear perfume, but I can't even believe how much I love the way this smells. Use on hair, face, or body (best of all right after a shower or bath!)
Klorane Dry Shampoo with Oat Milk: Well known to many in the States, it's the only dry shampoo I use. Get a big bottle for a big discount when in France. Another beauty fix that saves a lot of time, and is great for traveling when showers are less accessible.
Caudalie Beauty Elixir: This is tough to list as an essential because it's a bit pricey, but I picked up a small bottle of this and it's my favorite little luxury. It works as a toner and refresher, similar to a thermal water, but with essential oils it just smells lovely and acts as a pick-me-up when I'm feeling sick or tired (often when traveling, especially for long journeys in a plane or car.)
Avene Thermal Water Spray: Again, the skeptic in me thought: why would I buy and carry around water to spray on my face? First I can't wash my face with tap water and now I have to spray it with special water from a can? Alas, I bought a tiny bottle to try — and fell in love. It's literally adding moisture to the skin, but there's something else about this water that soothes, smooths, and softens my face and calms my sensitive skin. I love to spray it on after cleansing (and while on a plane!) or if my face feels particularly dry.
Other favorites:
Cytol Nat Centella cream (not pictured): I can't find this for sale online anywhere other than Amazon, where it comes in at $30. I bought it for around 6 euros, so I'm going to have a hard time replacing it at home for that price but it's an essential for me. Heals scars, sunburns, inflammation, or my case, redness and spots from acne. Incredible stuff. (Update: I recently bought La Roche Posay Cicaplast B5 and I also love this for soothing troubled skin!)
Lucky for many of us, most of these products are available outside of the French pharmacy (decent availability in US and UK.) They run about 50% less if you buy them in France (especially at City Pharma, which has significantly lower prices than other French pharmacies,) so it may be worth holding off if you plan to buy and have a trip coming up.
Before this accidental discovery, the only product I'd really taken to while traveling was Tiger Balm (best thing ever.) So even if you have never considered shopping or foreign beauty products an appealing part of travel, the French pharmacy for me was a lesson — in the discoveries we find even when we think we know a city or a culture. With an open mind, there's no telling what we might encounter when wandering on any given afternoon.  And if you're not planning a trip but wish to discover a bit of the self-care and sensuality of Paris, this is a small window into bringing that experience home.
Ever since the incident in Colombia, I've come to value small acts of self-care and luxury no longer as frivolous or indulgent but little acts of kindness to ourselves. Things like scented candles, long walks, soft fabrics, and healthy skin care awaken our senses and enhance the quality of life in ever small but significant ways. With my French pharmacy favorites, it isn't so much about the products themselves (though I'll admit, I'm a convert for life) so much as the experience of discovering them, and the memories they bring to life each time that I use them.