A Breakfast Burrito to Die For, The Best Bahn Mi in the City, and More
I'm so excited to announce a new series for Part-Time Traveler (per your requests!) Each month I'll highlight five spots — the best restaurants in San Francisco that I'm truly loving in this moment.
They'll be a combination of what's new and exciting in the SF restaurant scene (because let's face it, I probably went there to try it and I probably have some opinions,) as well as some classics that I either went back to for the hundredth time or finally got around to.
My hope is that they will be a regular answer to the question "Where should I eat in San Francisco right now?"
Best Places to Eat in San Francisco
Top SF Restaurants, beloved by this local
Volume 2
Written December 2018 | Updated July 2021
'Aina
—
Modern Hawaiian Restaurant // Dogpatch
900 22nd Street
*As of May 2019, 'Aina is currently closed.
Having just spent several weeks on eating on three of the Hawaiian islands, I was curious about this newer restaurant serving what looked to me like high-end Hawaiian food. (I was especially intrigued because most of the best Hawaiian food I ate on the islands was very no frills.)
I learned from my visit that āina is a Hawaiian word meaning 'the land which feeds us.' The concept is something of a Bay Area approach to the food, but taking inspiration from the spirit and tradition of Hawaiian culture — even flying in many of the ingredients.
The result was delicious. I thoroughly enjoyed my brunch meal there, and I found it to be something new and inventive and even a little exciting. It's a great addition to the diverse platter of SF dining options.
(Just don't order any caffeine when you go if you've spent the morning at the SF Coffee Festival. Take it from me.)
Menu Highlights: Kalbi loco moco, smoked lomi trout, taro French toast (brunch.)
I've heard a lot from others about the katsu and the kalua pork otherwise! They also do a set menu at the chef's counter on evenings Thursday to Saturday (reserve in advance.)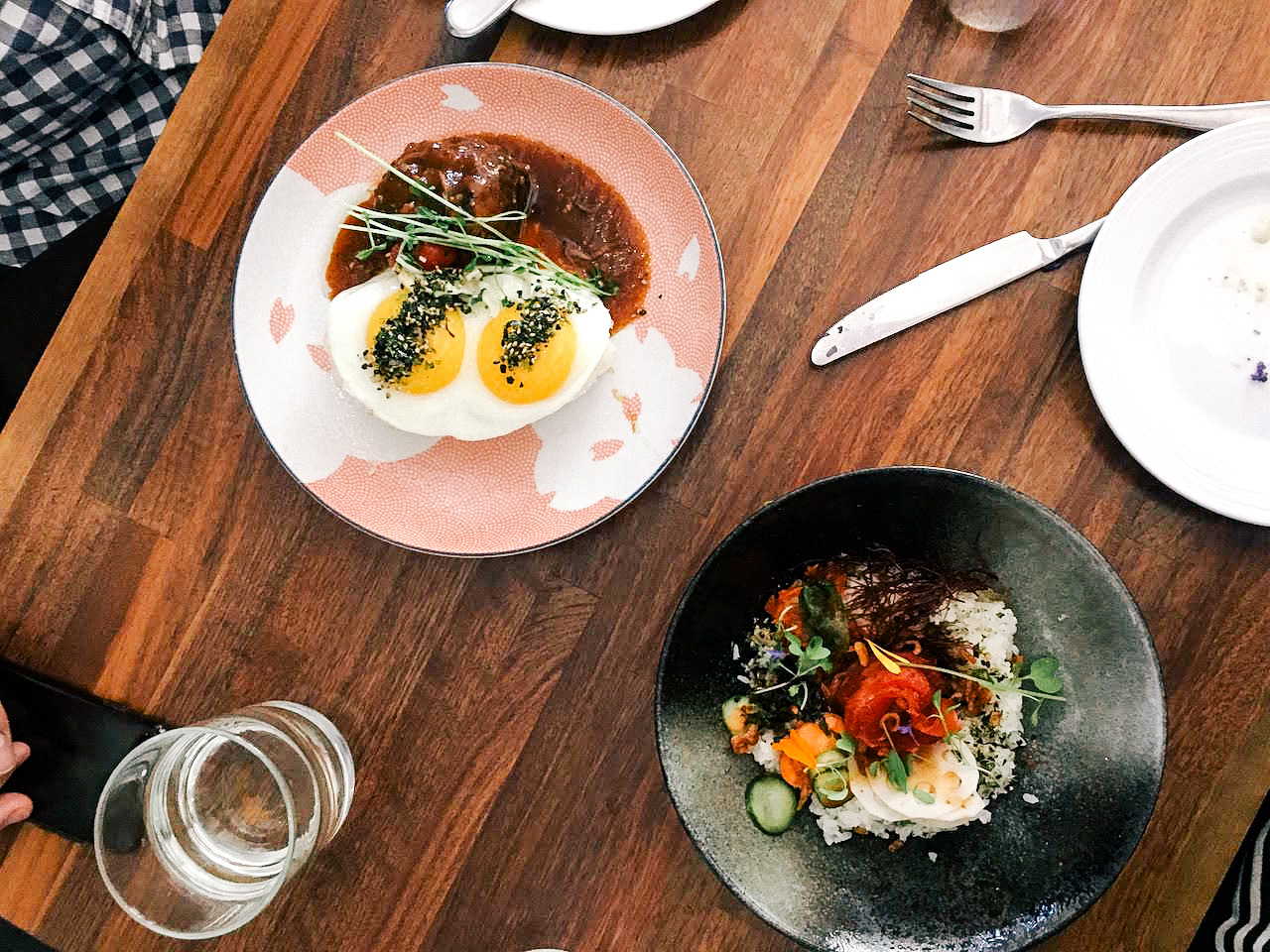 San Jalisco
—
Mexican Restaurant // Mission
901 S Van Ness Ave
Every so often, I'll be talking with someone (usually an Uber or Lyft driver, tbh) about a specific type of food and I'll get some wildly incredible — but relatively unknown — recommendation to a spot specializing in that cuisine or dish.
It's one of my favorite things about eating in SF. Sure, the trendy new joints and the well-established classics are fun. But there is something really special about asking where to find the best pozole (my obsession) or in this case, birria (a Mexican soup/stew with goat that is richly satisfying!) and getting pointed in the right direction, usually to a family-run, neighborhood spot.
That is exactly what San Jalisco is — its name a blend of San Francisco and Jalisco, the state in Mexico from which the family's grandma hails from. The cooking is heartfelt, the portions generous, the interior bright and fun. The people here are extremely warm. Coming in for a breakfast burrito or a massive bowl of soup feels like getting a giant hug — a hug that's welcome anytime (but especially comforting say, after a night of drinking.)
Menu Highlights: Birria, pozole, breakfast burrito (their chorizo with potatoes is one of the best I've ever had.) Their Micheladas are also really good — though huge, so be prepared to drink a lot of one if you're in the mood.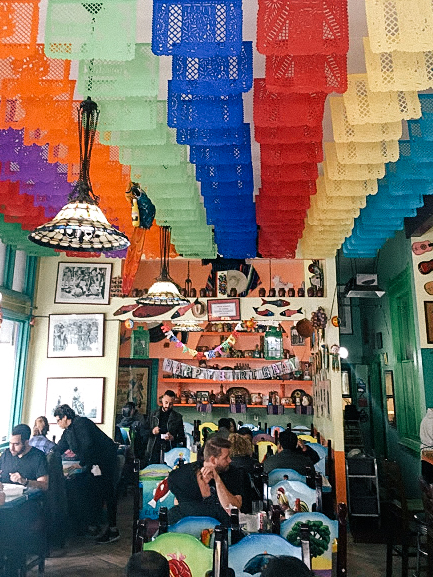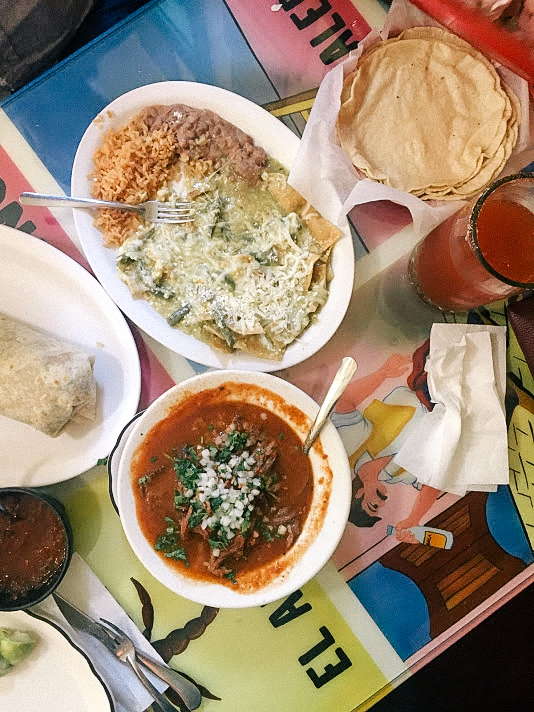 Saigon Sandwich
—
Vietnamese // Tenderloin
560 Larkin Street
Chances are, if I've talked to you about SF food, I've talked to you about Saigon Sandwich.
I've strayed away from my ongoing relationship with their divine (and insanely cheap) bahn mi mostly because I got out of the habit of going to the area just to eat one. The small doorway and humble kitchen is located in less-than-favorable location of the Tenderloin, but one bite was all it took to remember I need to go out of my way to eat there. And I need to start recommending it again.
Their simple menu is just bahn mi with a few different options. Besides remaining one of the last truly cheap eats in San Francisco, I love everything this place stands for. It's old school, it's just a handful of people serving up only one thing and doing it extremely well, and it's a place to step into an unpretentious meal with big flavor that seems harder and harder to find these days. (Go get one!)
Menu Highlights: Bahn mi with roast pork, optional pate. (Only $4 or $5!!!) Cash only.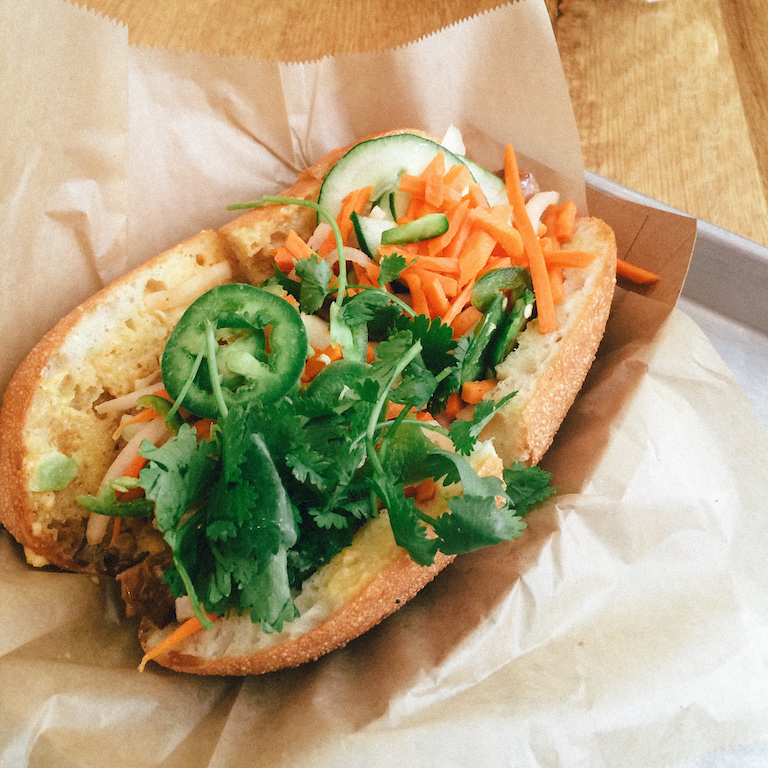 Bar Crudo
—
Seafood Restaurant // NoPa
655 Divisadero Street
Bar Crudo was one of the first happy hour spots I discovered when I moved to the city, and it remains a favorite nearly five years later. It's also the place that made me first fall in love with Divisadero (still my favorite section of the city to eat and drink in.) I find it underrated, and for some reason, still unknown by many who love SF food.
I've celebrated everything from a random Wednesday night to my 30th birthday with the fresh seafood and lovely wines they serve here. The interior has a nice feel — so it's great for date night or a celebration with friends. Yet it's still approachable and fairly affordable. When looking at several spots across the city for in-season fresh Dungeness crab, it was the best value I found.
Of course the best value of all is their happy hour, which goes from 5-6:30 daily. You'll want to arrive on the earlier side of it if you can — I'm not the only one who gets excited about this place.
Menu Highlights: Happy hour, all day err day. Oysters on the half shell ($1,) seafood chowder (with bacon – yessss,) fish tacos. Off happy hour? The crudo sampler, uni toast, and lobster burrata salad are all memorable winners.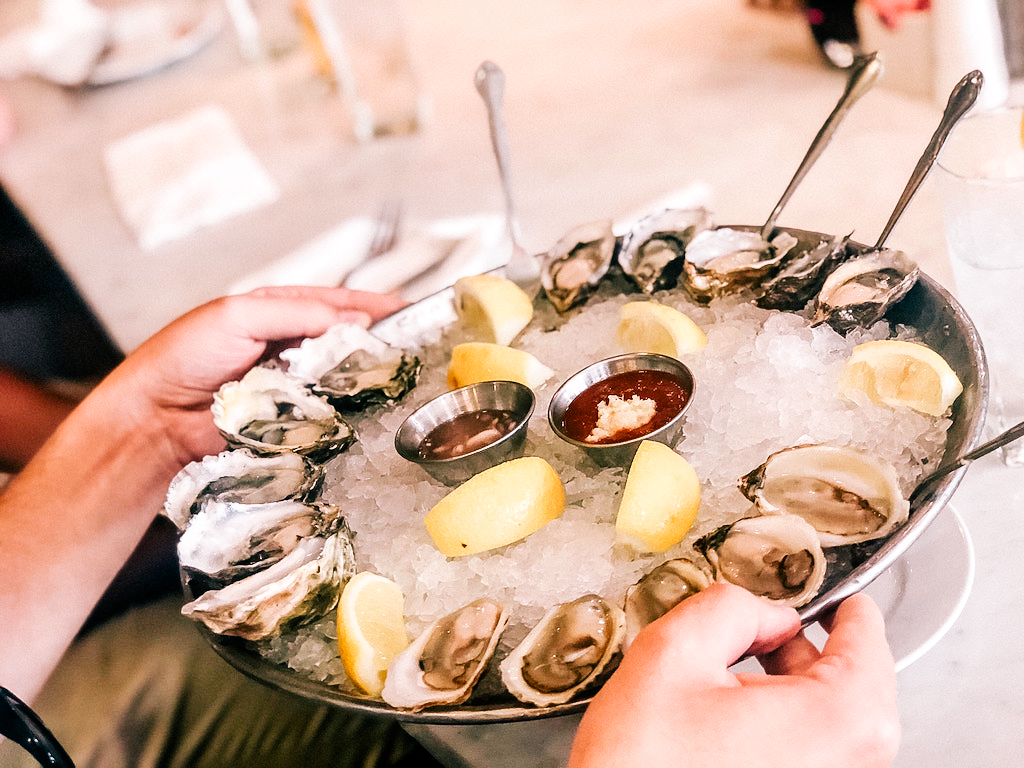 Arsicault (the best croissant in San Francisco)
—
French Bakery // Inner Richmond
397 Arguello Boulevard
Ah, I feel like I'm slowly revealing all my secret SF food spots here with each month's post. And with that, I simply must tell you about the best damn croissant I've had outside of France…on an unassuming corner in the Inner Richmond (which I admit, makes me love it all the more.)
That's not to say word hasn't gotten out about this place. You'll want to come early — especially on weekends, as there can be long lines and they do only serve until they sell out. Yet most of the time I find the line is filled with neighborhood locals, cyclists who stop in for fuel during a long ride, or those in the know about this insanely good French bakery. The third-generation owner uses recipes handed down from family in France. Best of all, they haven't even let the Bon Appetit 'Best Bakery in America' honor (2016) go to their heads.
Get thee to this hot, flaky, buttery croissant whenever needed. It's worth making a trip to no matter where in the city you're coming from.
Menu Highlights: Almond croissant, chocolate almond croissant (for those of you who are like me and don't want to choose.) Even the plain is great — it's definitely the best croissant in San Francisco.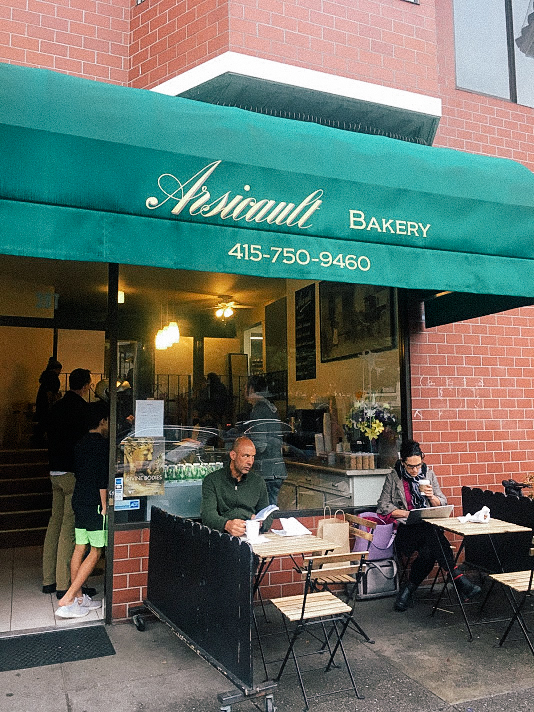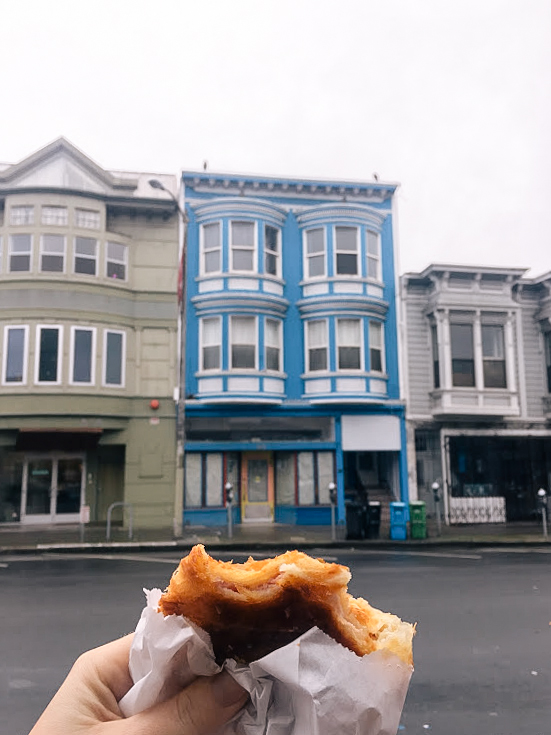 Honorable Mention (aka outside SF:)
Wursthall
310 Baldwin Ave, San Mateo
As a newcomer to the giant fan base of Serious Eats editor and author of The Food Lab Kenji Lopez Alt (seriously, all his recipes are the best,) I have found myself traveling south to continue to sample the goods at his first restaurant. It's a beer and sausage hall yes, but I find the fusion of cultures that I love so much about dining in the Bay Area throughout the menu. Whether it's fried chicken that takes inspiration from both Korea and Nashville, or a bratwurst inspired by Mexican meats — or even a simple German potato salad…they're doing great things here. And you want to taste them.
Some of them may even be the best version of that dish you ever had, or a combination of flavors or textures you haven't had before. Worth the trip from the city (you can get there easily via Caltrain.)
Note: you can sometimes find off-menu items from the test kitchen (that can be ordered) by following Kenji on social media. Shhh.
Menu Highlights: Kenji's Korean fried chicken, spaetzle, the smashed cheeseburger, currywurst fries, any of their seasonal salads, the al pastor bratwurst.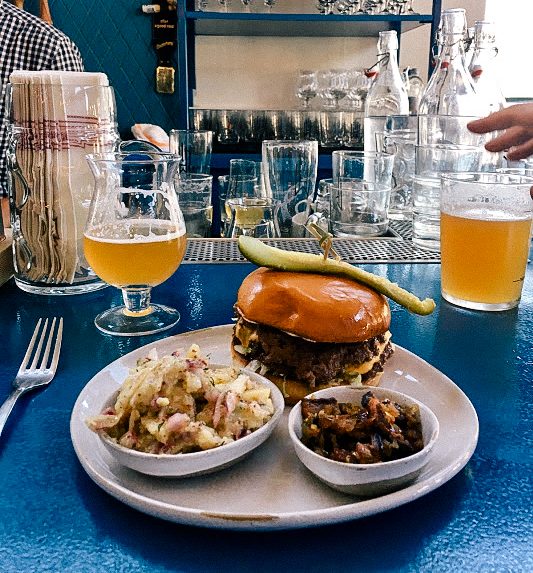 What are your top or best places to eat in San Francisco? What SF dining questions do you have for me? Bring them on!
:: save for later:

Best Restaurants in San Francisco: Series One