Xinjiang Hand-Pulled Noodles, Ethiopian with Live Jazz, and More
Hello and welcome! I'm a San Francisco food and travel writer who loves exploring and sharing the dynamic SF culinary scene. Each month I'll highlight five spots — a list of where to eat in San Francisco that I'm truly loving in this moment.
They'll be a combination of what's new and exciting in the SF restaurant scene  (because let's face it, I probably went there to try it and I probably have some opinions,) as well as some classic places that I either went back to for the hundredth time or finally got around to.
My hope is that they will be a regular answer to the question "Where should I eat in San Francisco?" whether you're a local or a visitor to my fine city!
Where to Eat in San Francisco
Top SF Restaurants, beloved by this local
Volume 4
 Written February 2019 | Updated July 2021
This month I'm taking a look at some of my favorite international eats in San Francisco — items you might not find on your plate otherwise. After hosting a few visitors from out-of-town and doing an interview on my top under-the-radar spot, I figured it was about time to shine a little light on some more unique cuisines and worldly flavors we're lucky enough to have at our fingertips here.
Aside from being some of the tastiest places I've eaten here, these spots are all low profile meaning: good for your heart, soul, and stomach, and not bad for your wallet. In a world and a city that can get caught up in the latest shiny name or the most Michelin stars, I hope this month will challenge you to look outside the obvious at some of the incredible places here that may get more local regulars than national press.
First up:
—
(Authentic) South Indian Food // Mission District
1007 Valencia Street
Although I've always loved Dosa next door (and on Fillmore Street,) this South Indian eatery is much closer to what I ate when I was in South India. It's just great food served up with zero frills and often on the tins you will get them in in India.
South Indian food is different than the North Indian curries and naan that we often have at Indian restaurants in North America. It is a bit lighter and you get a whole range of other flavors, mostly from the fermentation in its main flavor vessels — the idli and the dosa. It often uses more coconut as well, but somehow also in a light way.
If you have tried South Indian food, you're bound to love this spot. And if you haven't…now's your chance! This place is approved by my friends who are originally from South India as well!
Menu Highlights: Try the mini-thali, Udupi combo (which comes with both iconic idli and vada,) or paper Masala dosa if you want to try a few different flavors and aren't sure where to start. Don't forget the chai!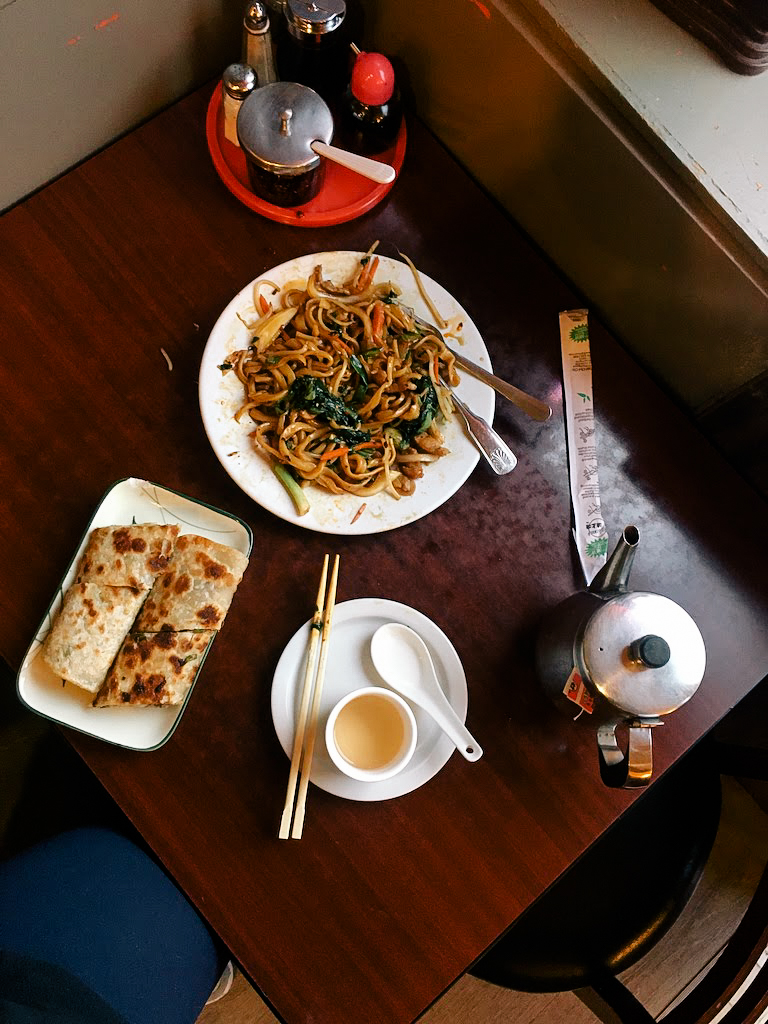 —
Xinjiang Chinese Food Restaurant // Parkside
1042 Taraval Street
I had hardly heard of Xinjiang food (well, I had, but only thanks to visiting a friend while she lived in China,) let alone realized I could find it in San Francisco. The region, located in Northwest China, produces some of the most different (and most delicious) dishes from China that are quite a departure from what we know to be Chinese food.
I went in search of hand-pulled noodles and left with so much more. Xinjiang region is home to a majority Muslim population, meaning that the food is often Halal, cumin is a standard spice, and lamb is a frequent protein (mmm.) Trying Xinjiang food is more than just an opportunity to experience a regional Chinese cuisine — it's a way to taste a completely new flavor profile.
Also be sure to check out the House of Pancakes (no, not IHOP)  just down the street. It's an insanely delicious Chinese spot that also has Xinjiang noodles and is a little more well known (in fact, I found Shandong Deluxe when I was trying to eat at House of Pancakes and it was closed.) Definitely get the beef pancake as well as lamb skewers from here.
Menu Highlights: Lamb dumpling, Xinjiang hand-pulled noodle (a must,) and the beef pancake. If you're with a group, the Xinjiang chicken with wide noodle dish is incredible and unique (but probably feeds like four people.)
—
Ethiopian Food (+jazz!) // Fillmore/Western Addition
1419 Fillmore Street
I love this place so much that I spent my birthday here last year! The combination of live jazz and delicious Ethiopian food makes for a great night out. It's great to go with a group, so that you can order a variety of Ethiopian dishes that are best shared. I like to go for a drink and order right before the music comes on (you can check their schedule online, but the music plays seven nights a week!)
Menu Highlights: Veggie sampler (appetizers,) tibs, spicy lentil sambussa, honey wine.
Aicha
—
Moroccan Restaurant // Polk Gulch
1303 Polk Street
Another cozy spot serving up what tastes like homemade eats, this time it's for a miniature trip to Morocco via your palate.
Most nights Aicha is fairly quiet, making it a great place to linger for awhile over a spicy plate of comfort food and good conversation. To me it's highly underrated, and one of the more reasonable places for an evening out.
Hot take: This place is BYOB! You can bring in wine or beer from the nearby liquor store, and if you are planning on dinner out with beverages, this may just be the best budget spot in town.
Menu Highlights: Zaalook, lamb shank tagine, mergez couscous. Don't forget the mint tea!
—
Lebanese Restaurant // Hayes Valley
4001 Judah Street
I love not having to choose from a menu when everything sounds good to me. And at this Lebanese spot, everything sounds good.
It's on an unassuming corner in Hayes Valley, but this place again feels homey and welcoming. With its platters of food and large pours of wine, it's another place you can get great flavor and spend a leisurely evening enjoying them at length.
Menu Highlights: I live for the fatet batinjan. The hummus with beef, zaatar pita, kibbeh, and mutabal are also all fantastic. You can also opt for a Mazzat platter and just let the server doing the choosing for you!
Other new restaurants that are top of my list to try:
Verjus: a new wine bar, ahem, I mean bar a vin modeled after one of my favorite little spots in Paris. Brought to life by the team behind Saison, and opened to great reviews so far.
Kaiyo: I can't believe I haven't been here yet, as it's a Japanese-Peruvian place within a few blocks of my place. Perhaps next month will be the month!
What tops the list of your favorite places to eat in San Francisco? What SF dining questions do you have for me? Bring them on!
:: save for later:

Best Restaurants in San Francisco: Series One
Best Restaurants in San Francisco: Series Two
Best Restaurants in San Francisco: Series Three